While blog reading, I recently just found my new favorite fall cookie recipe!  In the past few things, I've been craving all things caramel… caramel macchiato, caramel apple pops, apples dipped in caramel, and of course any dessert with caramels would have been perfect!  So when I stumbled upon these Caramel Stuffed Apple Cider Cookies, I told myself it was a must for making.  I mean, the main flavors and ingredients, caramel and apple cider packets, are like the epitome of fall, don't you think?  I sure do!  And let me tell you, when I brought these babies into work, people were taking seconds and thirds and fourths, no joke!  They were gone in no time, all 2 dozen that I brought in (I may have eaten the other 2 dozen, OK, maybe I gave some of those away as well).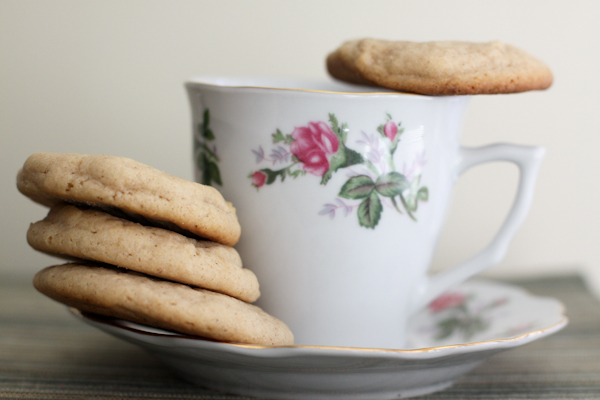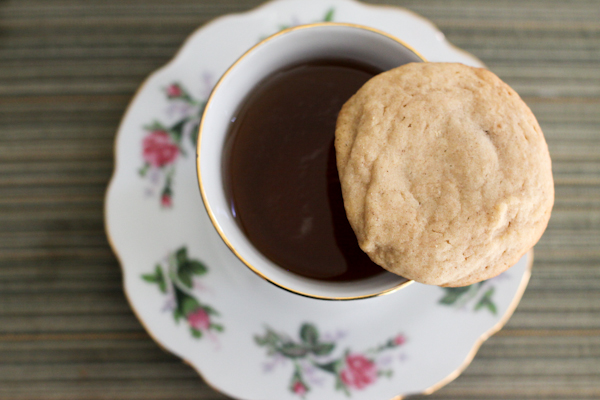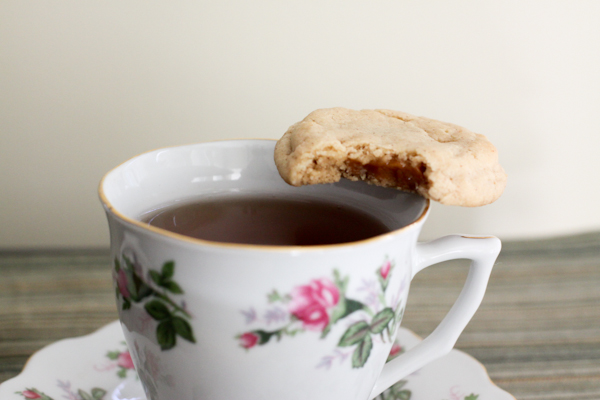 Ingredients
1 cup unsalted butter, nearly melted
1 cup granulated sugar
1/2 teaspoon salt
1 (7.4 ounce) box Alpine Spiced Apple Cider Instant Original Drink Mix *Not sugar free*
2 eggs
1 teaspoon vanilla extract
1 teaspoon baking soda
1/2 teaspoon baking powder
3 cups all-purpose flour
1 (14 ounce) bag Kraft Caramels
Instructions
1. Preheat oven to 350 degrees F (190 degrees C). Line rimless cookie sheets with parchment paper. It has to be parchment this time.
2. In a stand mixer, cream together butter, sugar, salt, and all 10 packets of apple cider mix until smooth and fluffy. Beat in eggs and vanilla extract, then mix in the baking soda and baking powder. Add the flour and mix until just combined.
3. With a standard (size 50) cookie scoop, scoop the dough scrapping off the excess as you go up the bowl. Flatten the dough slightly in your hand and place a caramel in the center. Work the dough around the caramel sealing well. Place the cookies two inches apart on the sheets.
4. Bake 12 to 14 minutes or until golden brown around the edges. After baking, carefully slide the parchment with the cookies onto the counter. Let cool until they are no longer soft but still slightly warm. Twist gently to remove, and cool the rest of the way upside down on the parchment or on a cooling rack.
Makes 51 cookies (it may sound like a lot, but just make them all, they are THAT good).
*These cookies are best served over a warm cup of tea, coffee, hot chocolate or any warm drink to soften up the caramel insides.  Or I suggest nuking them in the microwave for about 15 seconds for a similar effect.*
My goal these days as I'm on travel restriction from work because of baby is to bring in a dessert every (or every other) Friday for my coworkers.  It totally makes for a homely, aromatic smelling kitchen every Thursday night at least, oh and wider hips too but that's in preparation for baby.  😉
And oh yes, I do have a GIVEAWAY WINNER to announce today!  The winner of the $25 credit to Maple Boutique is Melissa from Simply, Melissa Ashley!  CONGRATS!  Please send me an email to claim your prize and I'll get you in touch with Maple Boutique!!
What are some of your favorite fall desserts?