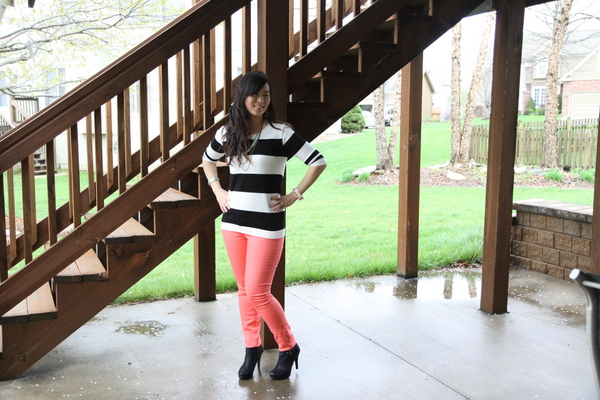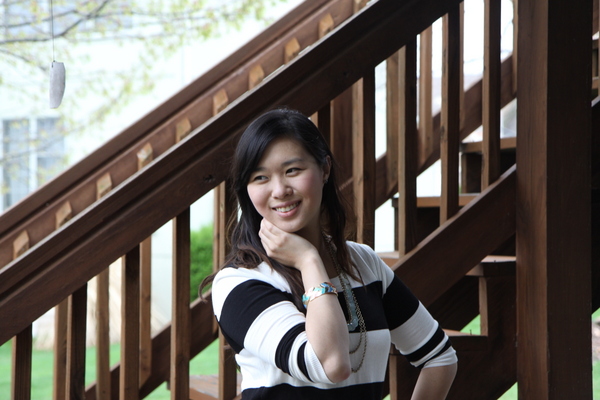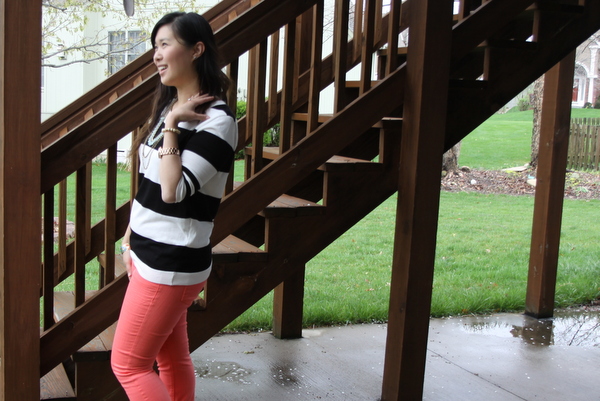 Shirt: Forever 21 (similar) | Necklace: Forever 21 (similar) | Pants: Charlotte Russe (similar) | Bracelet: T+J Designs | Shoes: YesStyle
Want to know what my go-to outfit for wearing colored denim is?  You are looking at it.  Stripes on top, colored denim on bottom, throw on a pair of shoes, and some jewelry and you are good to go.  That's pretty much what I wear when I don't have time to put together a more unique outfit!  If there's two things in my closet that I have too much of, it's stripes and colored denim.  Yet, I am still on the hunt for the perfect pair of mint denim, do I really NEED them, probably not, but I really want them.  And don't worry, I still haven't shopped yet in April.  I even won a ModCloth gift certificate giveaway from Julie Ann Art, but am going to try my hardest to wait until May to use it.  Aren't you so proud of me, friends?  🙂  AND I still haven't even gone thrift shopping yet (remember I said I'd give myself a $35 budget at thrift stores).  Honestly though, I just haven't had the time.  Work has really decided to kick itself into high gear and is keeping me REAL busy.  When I get home, I went to spend time with my little bundle of joy.  My "me" time is pretty much writing blog posts and reading some blogs here and there.  So if you haven't seen me around your little part of blog world in awhile (so sorry!), you'll know why.  Everyone keeps asking me how I manage to do it all, the answer is, I don't stop moving, I don't take a break…  I generally like being busy, but I hope I don't get burnt out one of these days!  :/
By the way, are you familiar with Chantilly Songs?  If you are a fan of good tunes, you must head on over to her blog to have a listen at her Up To The Moon EP!  It's amazing stuff, friends!  She had an Online Release Party yesterday and I shared a little post about what I'd wear to the party (if it could be in real life)!
P.S.  The winner of the Ladyee Boutique giveaway is Melissa W. of Sigh…Gush…Gasp!  Congrats girl!  Send me an email at sandyalamode(at)gmail(dot)com with your mailing address and we'll get the necklace sent right out to ya!  🙂
P.P.S. There are THREE current giveaways going on right now!  Go enter here, here, and here!  😀
If you could just have one more hour each day, what would you do with that hour?