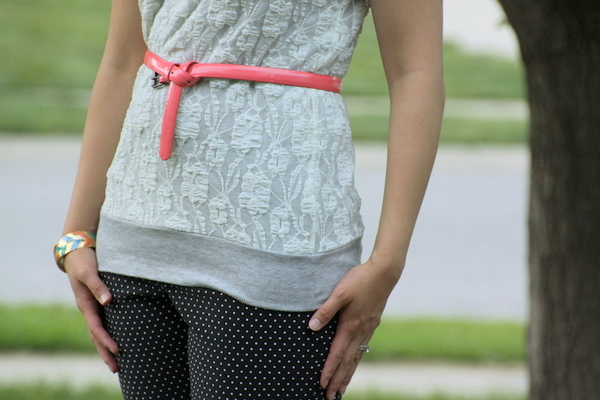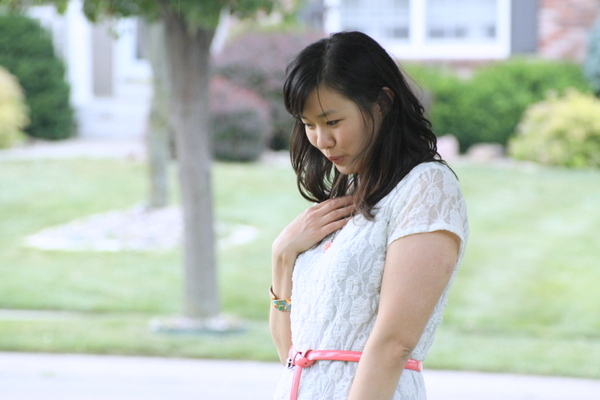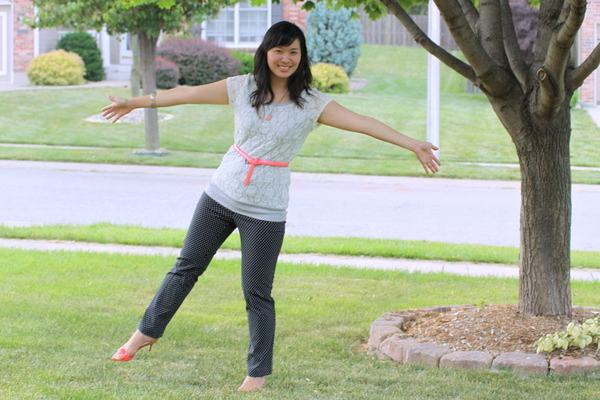 Shirt: Anthropologie | Pants c/o Lisette L (style #801) | Necklace: Oh, Hello Friend | Bracelet: T+J Designs| Belt: Forever 21 | Shoes: Zara
With any trend, sometimes I'll just jump right in and make the purchase (like mint things or all sorts of colored denim, although ironically it's taking me forever to find the perfect pair of mint jeans, but that's a post for another day) but sometimes it does take me a lot of researching, searching and contemplating before deciding to jump on a trend. The latter was the case with "polka dot pants". When Lisette L first contacted me a few months ago to try out their Flaterie Fit pants, I was skeptical at first on how these pants would look on me. These pants are ones that you pull on, have no zippers or buttons, and looked to be body hugging so I was worried how they'd fit around my curves, or rather show off too much of my curves. But being a new mom and all, I was willing to give them a try since they claimed to slim the abs and contour the hips and that's kind of exactly what I need, and that my friend, is exactly what they did! These pants really do fit like a dream, they are super comfortable without being too tight or restricting, they are a mix of rayon, nylon and spandex stretch that feel so soft against your skin (much more comfortable than jeans, in my opinion). And the best part is that I can wear them too work since they look like a "work pant" or "trouser"! Each style has a bunch of different color options and I was so excited when the style I wanted to try, the 7/8 Ankle Cut, had a B/W polka dot option! Black with white dots was a classic and safer option for me, to get my feet wet with this trend. And now, I want to try out The Skirt next, since sometimes I still need to suck in when wearing my other skirts, and that's obviously not a sustainable way of going about my day! 😉 To find a store near you or to register to win a pair of pants, visit here.
By the way, my lace tee fits like a dream as well. I've gotten many compliments on it and it's totally on sale for $29.95 right now (that's totally a steal from Anthropologie). You need to get one.
P.S. The winner of The Royal Daughter Designs facebook timeline + twitter background giveaway is Annelise of Aunie Sauce! Congrats! Send me an email at sandyalamode(at)gmail(dot)com and we'll get you hooked up with your new design!
Do you have a go to pair of pants that creates a slimming effect for you?