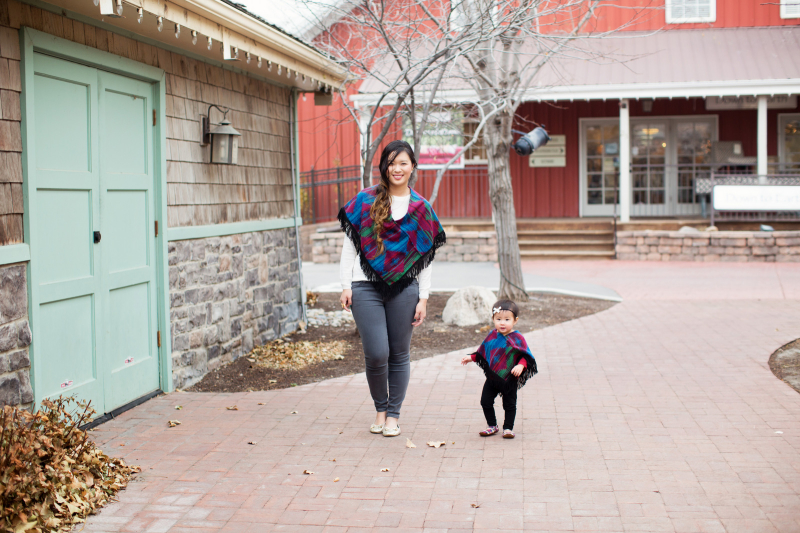 Well if these matching mommy and me ponchos aren't the cutest thing ever, then I don't what is! Usually in my mommy and me looks, we are generally just coordinating our outfits, but it really is fun to dress the same or have the same piece for one of the items. I am obsessed with the pattern if these ponchos for winter, and they come with tassel or pom poms end, you can choose! We both styled them with a tee, pants and flats. Who wore it better? I kid. Don't answer that.
And oh boy do I have a sleep training update for you…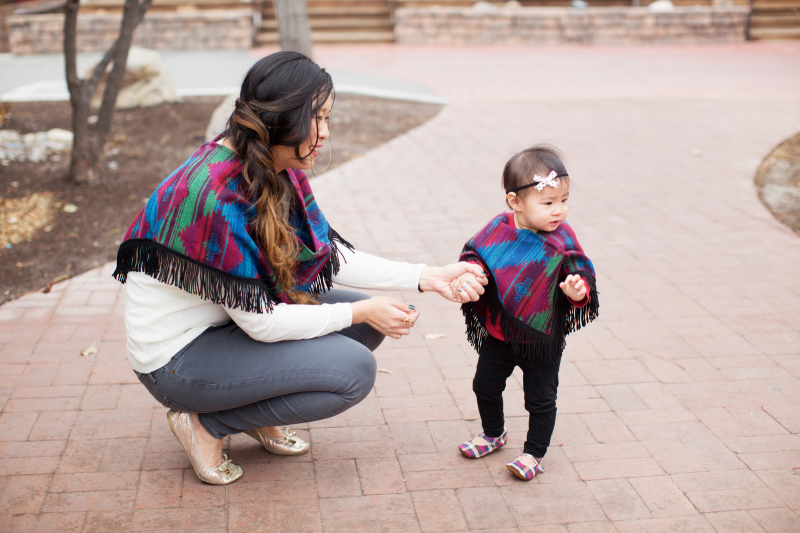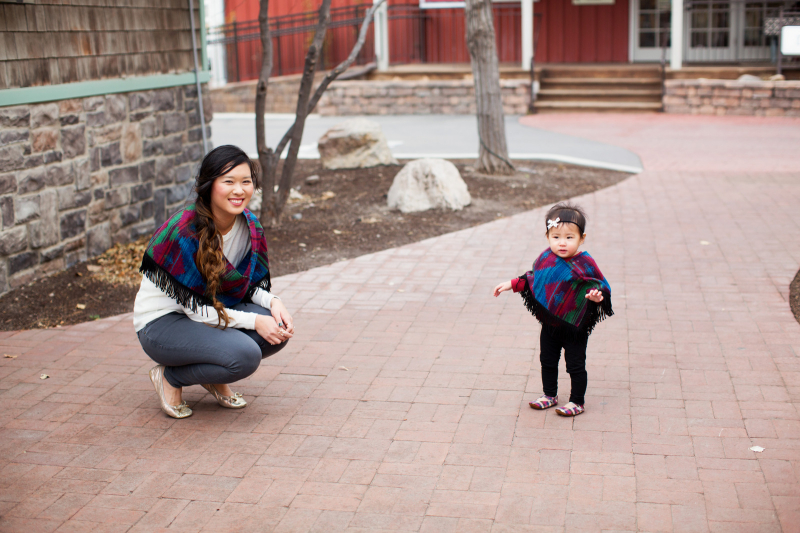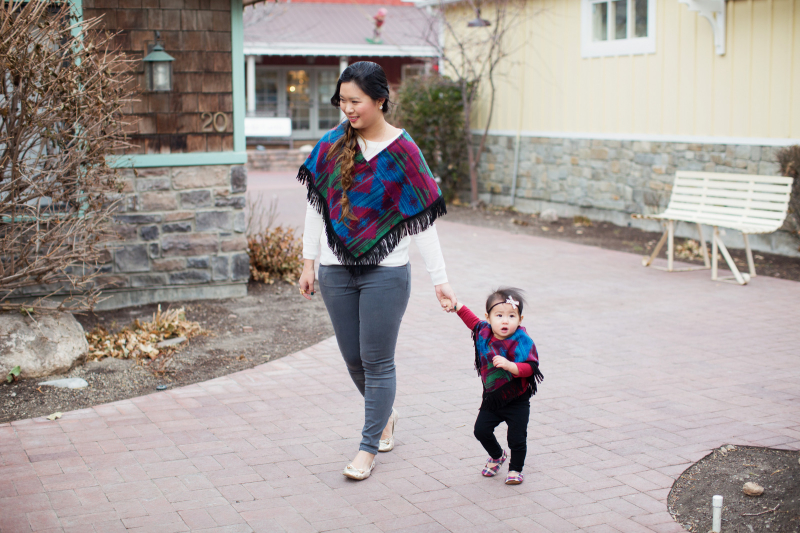 My outfit:
White Tee: GAP
Jeans: Hudson
Poncho: Teeny Tiny Threads
Shoes: Talaria Flats
Hair styled by Tanglez Hair and Makeup
Vivian's outfit:
Top: H&M
Pants: Target
Poncho: Teeny Tiny Threads
Shoes: Nori Child
Headband: Bijoux Kids
Photography by Diana Putnam Photography
Shop Mommy and me ponchos:
So we got back from our trip last night, it was a 2.5 week trip in Ohio. It was late, the kids went to bed late, but we ended up deciding to treat today like a normal day and take the kids to school and we went into work. And then my brilliant self decided I would start toddler sleep training Vivian (15 months old) tonight after 2.5 weeks straight of co-sleeping. So it went down like this. at 8:30PM, we started bathtime for the two of them. By 8:40, we took Vivian out, changed her, read her a book, fed her her bottle, and I say a Chinese song and an English song, kissed her goodnight and put her down in bed. She got up standing and was crying, I left the room. 🙁 I waited it out 3 minutes. I went in and picked her up and sang her Twinkle Twinkle, kissed her goodnight, and put her in crib. As I walked out, she started to stand up and cry hysterically again. I was texting with my friend who just went through the same training with her son, and she told me I should not pick up Vivian. Oops, one mistake down, but I'll fix it next time. After 5 minutes, I went in, pat her on the bum, sang a little song and kissed her goodnight and put her down laying down. As I left the room, she stood up and starting crying again. GAH! Then I waited outside. Mind you Austin was being a little talkative in the room next door and we had to make sure he talked quieter. There was some gaps, of silence. 10 seconds, no crying. Then crying. 15 second, no crying. Interesting… But mostly cried for 7 minutes and I went back in, sang her a song and kissed her goodnight and put her down again. I also threw her second paci in the crib as backup in case she threw one of them out of the crib, because she likes to do that. I went outside and waited, she was crying. After 7 minutes or so… she stopped crying. She stopped crying for more than a minute and then when that happens, you set your countdown timer again for that interval so back to counting down from 10 minutes it was. Still no crying. She was asleep. 25 minutes or so later, she was asleep, my friends! Small victory. I think I used the Ferber method, sort of? Or at least my version of it.
But then Austin was messing around and wouldn't go to sleep and we had to threaten him with a few things and he was crying. He cried so loud he woke up Vivian probably 45 minutes after she fell asleep. I went into her room one time and gave her paci and left. She stood up and cried for like 30 seconds and as I closed the door, she stopped crying. Maybe she is picking it up? Austin likes us to wait outside of the room and that's something I am working on cutting down and out too. But by 10:40, I was able to go downstairs and here I am. My goal is to be able to have that whole routine done by like 9:30-10. Baby steps. 🙂 It is only sleep training Day 1, after all. Oh and let's hope they can sleep through the night too, both of them. It's still early to tell.