Thank you to buybuy BABY in partnering together for this post.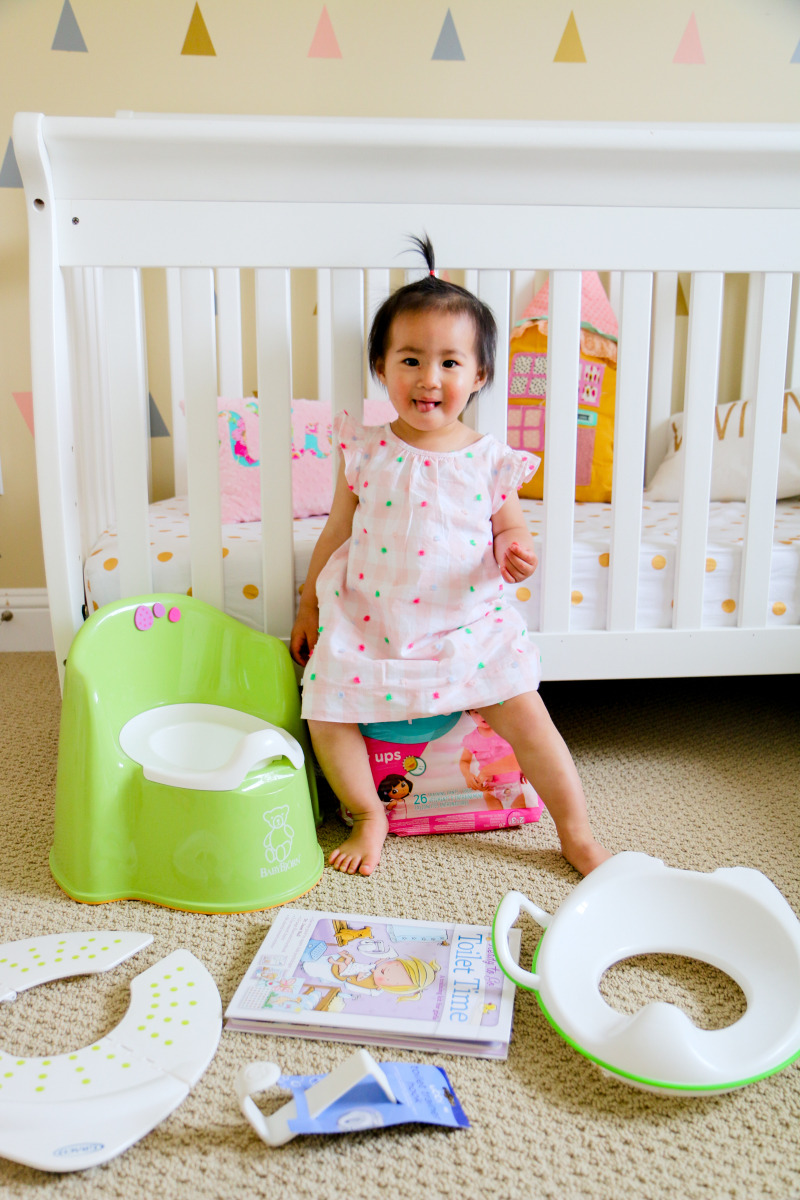 If you are looking for how to potty train your child in just one day, well you might be in the wrong place. A couple years ago, I potty trained my son and it was one of the most difficult toddler milestones ever. We started at 2 years old, had him sit on the potty every few hours, made sure his daycare was on board as well, we were gung ho about getting him trained. BUT, he hated sitting on the potty, he refused. And if your child doesn't sit down on the potty, the verdict is out there on how successful it can be… I was told that at school that boys sit to pee and poo at age 2 and then switch to standing for pee and sitting for poo at age 3, just because when they are 2, it can get really confusing. Makes sense. Anyhow, we battled it for half a year, then decided to move across the country and have another baby in that time so all potty training efforts were stalled. But then when my son turned 3, something in him clicked. He wanted to be like a "big boy" and use the potty. And thus he essentially potty trained himself without a fight and now another year later, he hardly has any accidents.
My daughter who is now a 21 month old toddler, is getting to that age where the dreaded "potty training" will soon begin. Well, I am sure if you read all those guides out there on how to train your toddler to potty in 1 or 3 days, it will seem so easy and it's not something that has to be dreaded… but in all reality, every child is different, every child goes at their own pace and what I have learned from my son, is that you have to let them tell you they are ready. But again, I am no expert on this topic… but what I am an expert on is shopping. 😉 So i wanted to share 10 essentials for your toddler's potty training journey that I have found helpful with my son and what I've been starting to use with my daughter.
And as always, with anything parenting related, there's a mixed bag of techniques and ideas and opinions, and I am just sharing what has worked for us, while it may not for your child.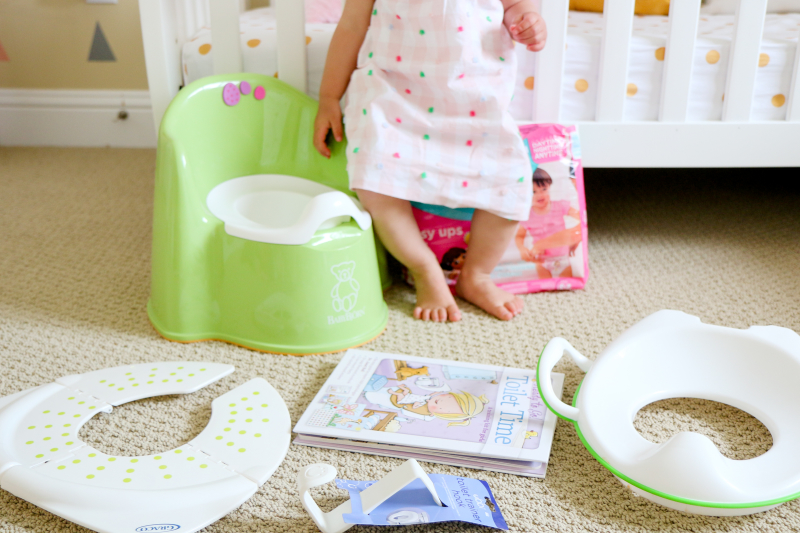 1. BABYBJORN Potty Chair – Probably the most important item in your child's journey is a potty seat. Now there are TONS of different brands, styles and colors of seats so shopping for this was one of the hardest things for me. Do we go with a plain one? Do we go with on with a fun car design? Do we buy one that has a flusher and makes noise? I honestly just looked at reviews that were out there and decided on this one for my kids. It has that "well" part which is detachable for easy dumping into the real toilet.
2. BABYBJORN Toilet Trainer – Because I am one of those moms that likes to be over-prepared and I know that my kids can be very particular. I also bought this toilet trainer that fits on top of an adult potty. With kids, you never know if they will like the smaller standalone potty or if they will want to be more "adult" and use the adult one.
3. Graco Travel Folding Potty – And for the last potty I will mention, a travel one is always a great idea! For my son, we always brought the above potty with us everywhere, BUT it would have been much nicer to carry a smaller potty… especially when you are in a crowded restaurant or something. I love that this one folds up pretty small so that you can put it into a bag that fits into your diaper bag.
4. ToddleGreen Flushable Potty Liners – These potty liners are great for the standalone potty chairs. It actually makes it WAY easier for the poo to slide out into the toilet… haha hopefully that didn't give you a TMI visual.
5. Dreambaby Step Stool – For those toddlers who like the toilet trainer that fits on top of a toilet, you may want to invest in a step stool for them so they can help themselves up to the potty by themselves. Again, anything to make them feel "big" and empowered can help and it's one less thing you have to do.
6. Ubbi Potty Hook – For those toiler trainers or travel potties, hanging it off of a cabinet in your bathroom with this hook is probably a good idea. We didn't have one with my son and the potty was just on the floor behind it and didn't look great. But having it on a hook makes it much easier to access and looks nicer.
7. Pampers Kandoo Flushable Wipes – While toilet paper might be just fine, these wipes are more sensitive for kid's skin and claim that they provide 30% more cleaning than toilet paper. Anything to keep things more sanitary is always a good idea.
8. Gerber Cloth Training Pants – There's always a big debate whether to use pull ups or training pants or just regular underwear and because I am overprepared, I just make sure to have them all on hand. Training pants are an easy pull up and pull down and have more absorbency than regular underwear.
9. Pampers Trainers – And for those that want some extra protection, getting actual pull ups trainers is another option. Even if your toddler uses training pants in the day, these are a great option for nighttime protection because potty training in the night usually takes much longer even if your child has mastered day time training.
10. Ready To Go Toilet Time Potty Book: Boy or Girl – And probably most important, getting your child prepped with books or videos that walk them through the "potty" process to get their mind thinking about it and learning the flow, is essential to your toddler's potty training journey. Making sure they realize what you are trying to get them to do before you just throw this random huge task on them definitely can't hurt!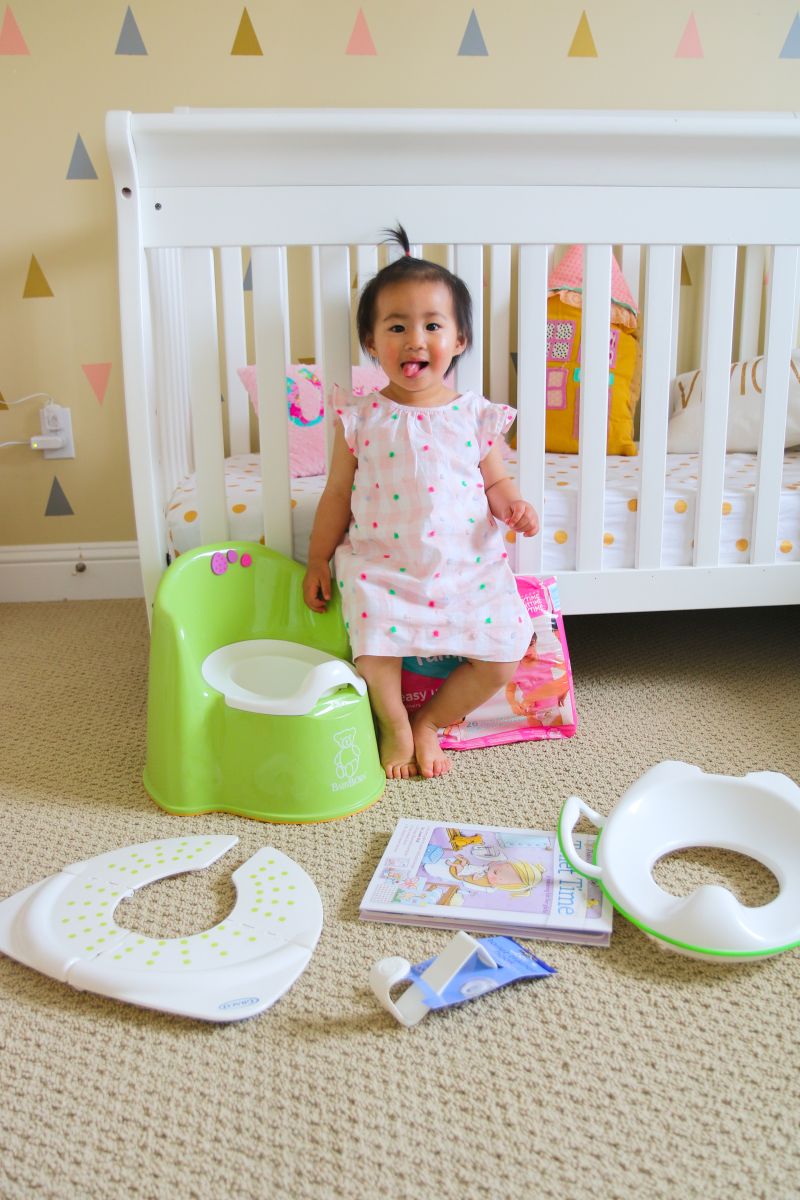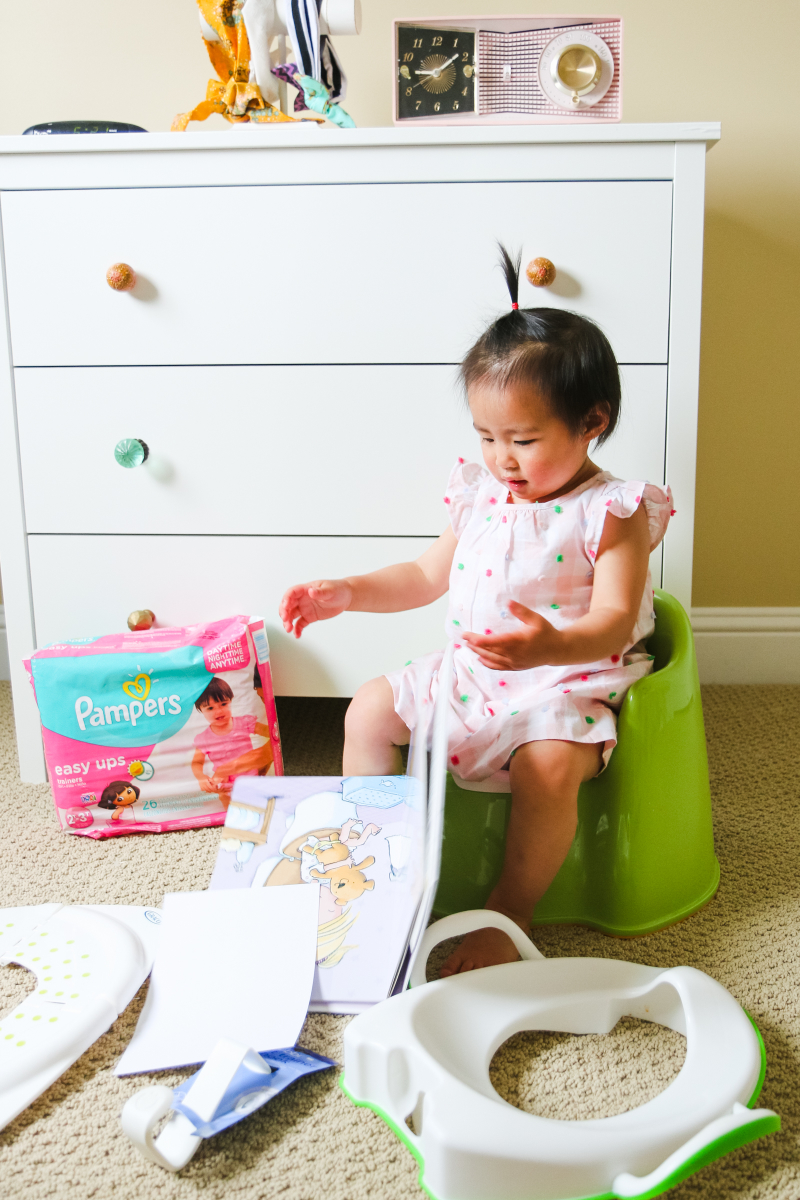 All of these items on my checklist can be found at buybuy BABY, they have a section in their physical stores where you can pick up all of these items since they are grouped together. I didn't include rewards onto my list as these are items you likely may have in your house already. Whether it is an M&M, stickers, or a chart to track progress, rewarding your child for their progress is an incentive that some parents like to use.
Lastly, from my experience, making sure that you and your child's other caregivers are all on the same page is extremely important. You don't want to be sending your child mixed messages as it can cause more frustration. And as experienced through my son, for us, letting your child tell you they are ready is essential to successful potty training. As long as they are not teenagers and still not trained, then you are probably doing OK. 😉
Are there any other essentials that you used when potty training your child? Or any specific products you think have helped that I missed?