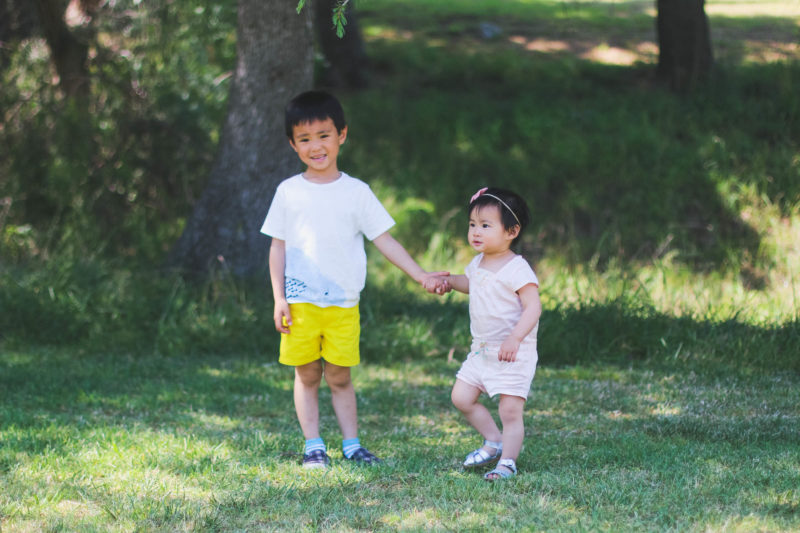 These pictures were taken a few weeks ago when we were in California visiting family. Now that these two are at an age where they can kind of actually play together, it just makes my mama heart so happy. Sure, they still fight over a thing or two, but when Austin is in a good mood and likes to hold Vivian's hand and bring her around and show her around to everything, it's just the cutest. And Vivian LOVES holding hands with people, and giving hugs and kisses too. It's just the sweetest. Their clothes are from the Carrement Beau line over at Childrensalon.
There is a little part of me that is toying with the idea of wanting another baby to cuddle with. But we have our boy and girl and I don't know if I want to deal w/ sleepless nights all over again. And right now the fact that we can each watch a child at bedtime, is pretty nice, and we're not outnumbered! Although my mom always says that 3 kids, 6 kids, it's all the same chaos and I've actually heard that from some of my friends too (although I don't believe it ha!). I'm not getting any younger and every day that goes by, my kids are getting farther and farther away from being babies, even though they will always be my babies.
Austin's outfit:
T-shirt c/o Childrensalon
Shorts c/o Childrensalon
Vivian's outfit:
Playsuit c/o Childrensalon
Sandals: Tea Collection
Headband: Little Poppy Co
Here is a little debut from my niece, Joy. Seriously, when Austin and Joy get together, it's the best thing EVER to watch. Their little 4 year old minds are adorable, they keep each other company, and they also fight too… which is pretty normal. I just wish we had more family that lived closer by to us, that might make the push for having a 3rd baby easier, but it definitely is hard because we don't really have any family around to help out. 🙁 When did you know your family was complete? How many kids do you want?
To see their dressed up wedding outfits with Childrensalon, click here. To see more Carrement Beau items, click here.