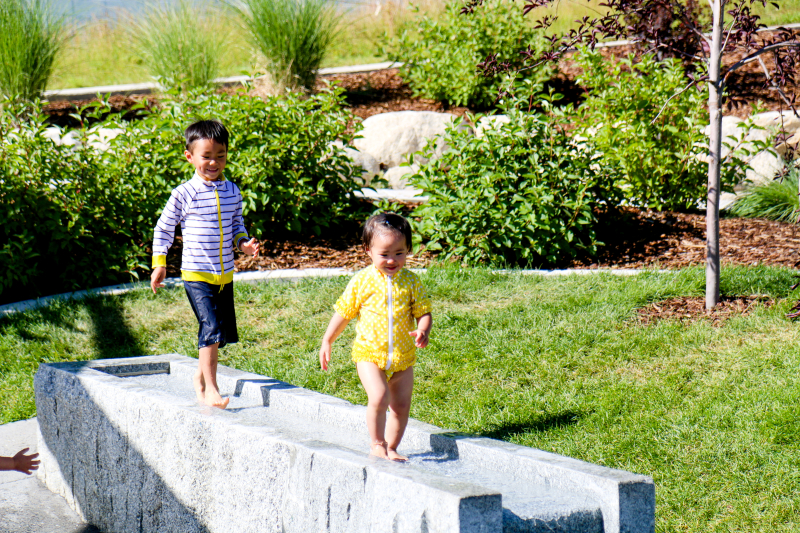 Can I tell you that living super close to a splash park is one of the best things of summertime? My kids LOVE playing in the water (they are still a little terrified of pools, but splash park are a breeze), it's hours of FREE entertainment, and we get to be outside. However, especially when the temperatures are 90-100 degrees, it's super important to have UV protection and for the kids to wear and reapply sunscreen. When we were playing at this park the other day, I saw an adorable little 6 month old squishy chunky baby in an itty bitty two piece bikini and it was so so cute. I told the mom how adorable she looked, and she immediately asked where I got Vivian's cute swimsuit. I told her it was from SwimZip and she said that she should probably get her a cute, UV suit too to protect her daughter vs. just being stylish. Hey, I can appreciate it both ways as sometimes I do choose style over function, but actually I love that SwimZip doesn't compromise on either. Vivian's adorable little polka dot two piece has the ruffles in just all the right places. 🙂 And Austin's little boy suit is just perfect for his style, it looks like something he would actually wear for play too almost! Oh and I have to say… the maize and blue is just a little bonus as my alma mater was Michigan (go blue)!
Vivian's swimsuit c/o SwimZip
Austin's swimsuit c/o SwimZip
Round towel c/o SwimZip
And if you didn't know, round towels are all the rage right now. NO joke, especially if they come in fun patterns! Move over rectangle towels! I want to fill up my entire beach bag with round towels, I kid you not.