Ever since we moved into our house years ago, we didn't put much effort into the backyard. The backyard actually didn't even have a closed off fence, but we asked our landlord to put one in before we moved in since we knew we would be spending time back there. Truth is, we only had really spent time back there for bubbles and an occasional outdoor meal. But, I recently won the Jungle Jumparoo in a giveaway and we have been spending SO much time outdoors. It's sad that Summer and warm weather is coming to and end though, however, the great thing is, we plan to move this to our upstairs playroom for more continued fun all through the cold months. I have to tell you, lately, my son has been wanting to watch "shows" all the time, but the Jungle Jumparoo has really gotten him to do some outdoor play, to jump, to swing, to climb, to throw, to use his imagination. It's totally an exercise in disguise for kid's, which is every mother's dream!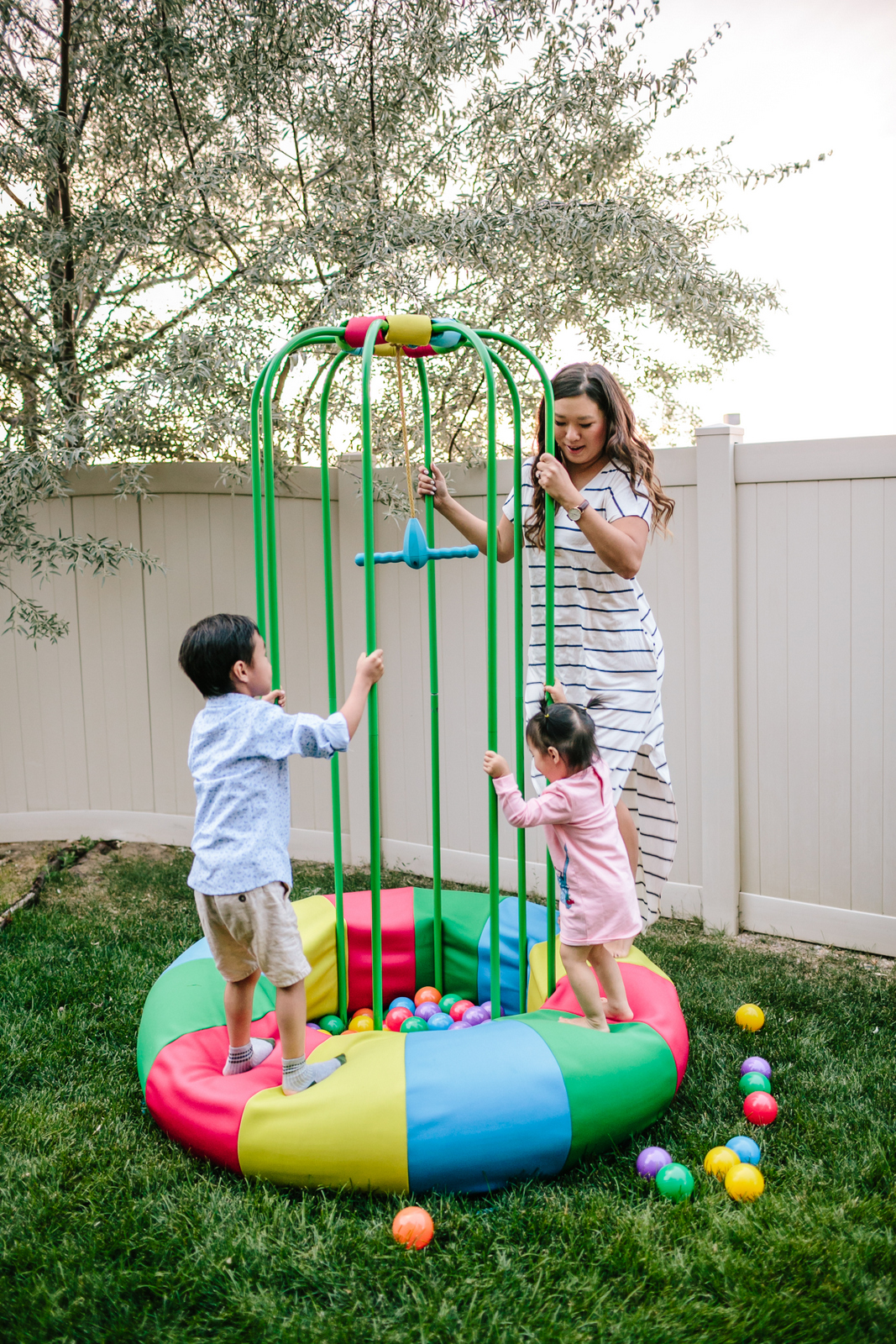 Photography by Summer Nicole Photo
Taken from their website, "Did you know that 1 in every 3 kids in the US are considered overweight or obese? Did you know that obese kids have an 80% chance of staying obese their entire lives? In order to live long and healthy lives, exercise is a must. But these healthy habits start at an early age. Physical inactivity is a major risk factor for developing coronary artery disease. It also increases the risk of stroke and such other major cardiovascular risk factors such as obesity, high blood pressure, low HDL ("good") cholesterol and diabetes. The good news is, exercise can be both fun and exciting! Did you know that 10 minutes of jumping provides the same level of cardiovascular health benefits as 33 minutes of running? A study by NASA reports this means jumping is 68% more efficient than running. Jumping uses almost every muscle, especially your heart muscle! With use, these muscles get stronger. Jumping improves circulation and allows children to gain better body control and overall balance, stamina and awareness of body positioning. This can have a positive effect on performance and physical activity and ability."
Seriously, I love all of the benefits that this trampoline or jumping apparatus has to offer! But the better part is that my kids truly love it too! The one we have is the larger one and it's great for kids age 2 and up. We've got the tube cover and bumpers bundle, sprinkler top, and rope swing.and these pit balls. Right now, I am running a giveaway over on my Instagram account @sandyalamode for a Jungle Jumparoo. But if you don't win… or want to buy one now, you can always use the code SANDYALAMODE for $100 off your purchase of one!!