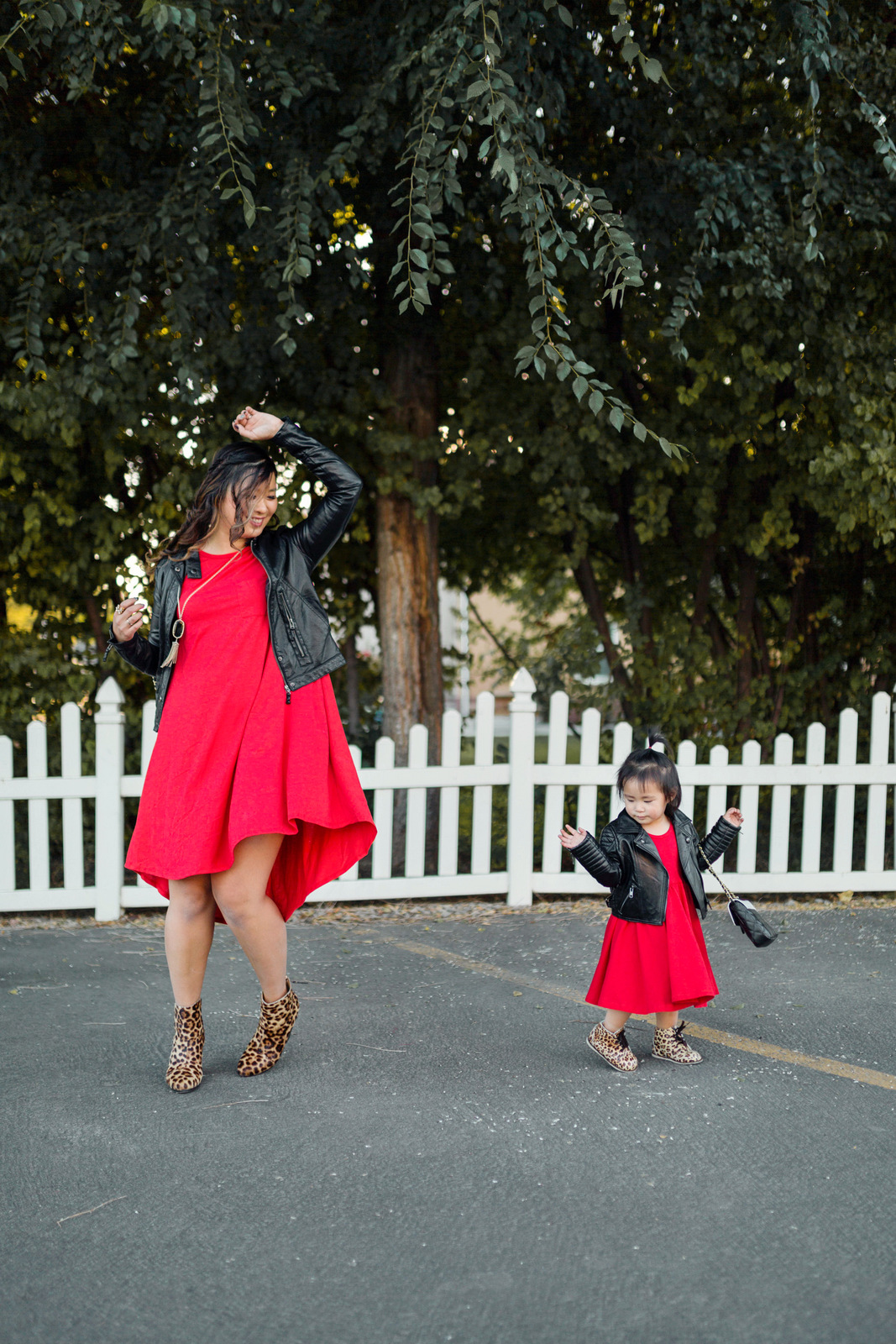 If I could twin with my girl every day and ensure that she looked up to me and wanted to be around me every day for the rest of her life, I would. The almost twos and twos have been amazing so far (minus some fierce tantrums), but this girl is the cutest little copy cat. She copied all the words you say, she mimics your moves, and just has the sweetest little voice and mind of her own. At daycare, apparently she is a little boss and I have no idea who she gets that from (probably her Daddy). 😉 And ever since she was born, her cries and screams were the loudest we've ever heard, and still are.
This red dresses, leather jacket, leopard print outfits and Chanel (inspired for her) bags was the MOST FUN to put together. My dress is from LulaRoe Jen Sabelka and LulaRoe Christina Kim (who is having her first FB sale on Sept 19 at 9PM EST). Christina is my friend from college and I am so proud of her following her dreams with this business. And if you haven't owned a LulaRoe Carly style dress before, you have to get your hands on one, or more. They are the perfect every day swing dresses that can be dressed up or down. I love that they are tapered out at the bottom and you can totally size down when getting one. I normally wear a size Medium in dresses, but own a size XS and Small. Vivian's red dress is from Alice + Ames. of which we own MANY dresses. Their dresses come in lots of fun colors and prints and are the ABSOLUTE best for dancing and twirling in. If you have a little girl, trust me, you need to get your hands on some. See below for the rest of our outfit details!
Photography by Shailynn Photography
My outfit:
Dress c/o LulaRoe Christina Kim
Jacket: NY & Co.
Shoes: Sam Edelman
Necklace: Kendra Scott
Bag: Chanel
Hair styled by Tanglez Hair and Makeup
Shop my outfit:
Vivian's outfit:
Dress: Alice + Ames
Jacket: Eve Jnr via Mini Joops
Shoes: Zimmerman Shoes
Bag c/o Janie and Jack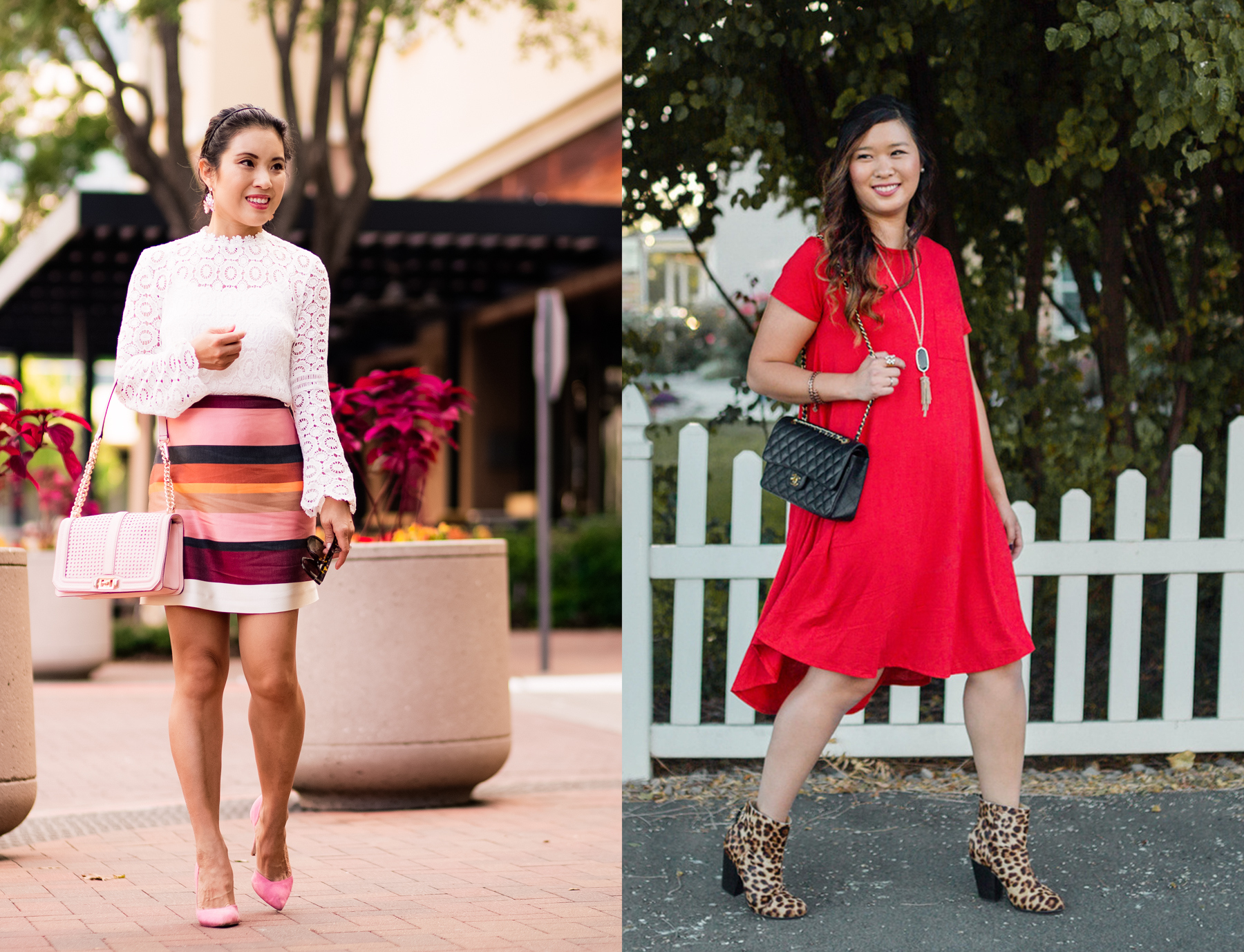 Kileen | Me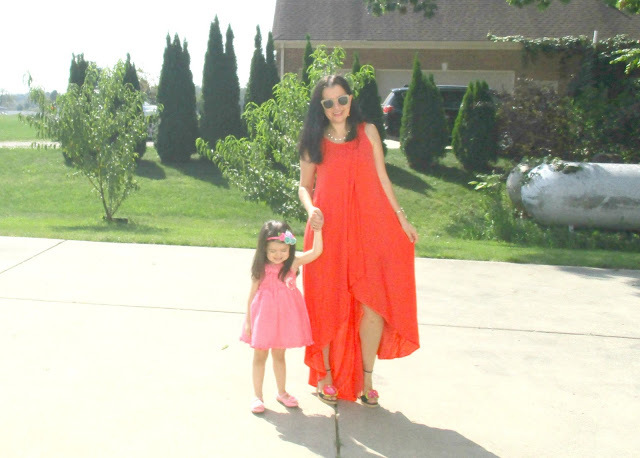 Last week's most clicked link is Ada of Elegance and Mommyhood with her adorable mini-me! Congrats and thanks for linking up!