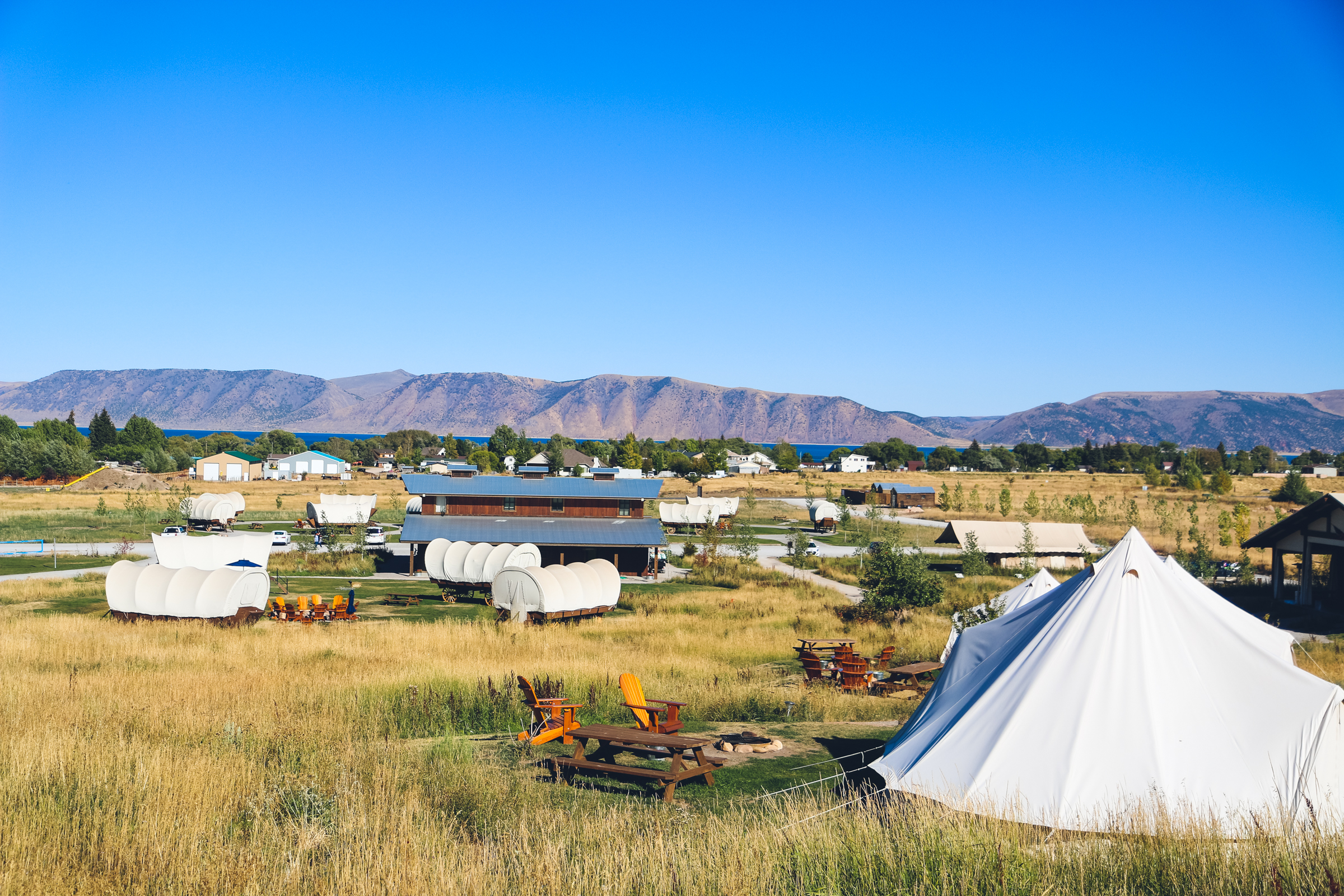 A couple weekends ago, my husband's parents arrived into town (they are staying for a month) and we took our little family up to visit Bear Lake, which is in Utah and Idaho. Since it was about a 2.5 hour drive from our house, we decided to stay a night there in Conestoga Ranch, a luxury glamping resort. And let me tell you, I haven't seen my kids that happy in a long time and it was an amazing time. You see, we aren't your typical camping family, but when I heard that Conestoga Ranch was actually glamping, I was sold. They have only been open since 2015, but I can already tell they are going to be quite popular in Summers to come. Because of the chilly Utah fall/winters, they are open May through October only and on the September weekend we went, the first day was absolutely perfect 70s temperature but in the morning when we woke up, it was a little chilly and rainy.
For our little family of 6, we stayed in one of their Grand Tents. It was the perfect size and option for us and really just looks like a hotel room or cabin – with a tent roof!
Grand Tent Features:
Can fit 2-8 people
1 king bed, 4 twin beds (can get the option of 2 twin beds and 2 bunks)
The tent comes fully furnished.
There's a full bathroom in the tent, sink, bathtub/shower, toilet, lots of towels, shampoo, conditioner.
There are space heaters for when you get cold or fans if you get hot.
Each Grand Tent comes with your personal fire pit and you get a complimentary s'mores kit upon arrival.
They have hooks for hanging clothes, chairs for sitting, dressers for clothes.
There are electrical outlets in the tent and WIFI too. So don't worry, you don't actually have to be unplugged, although you should try your best to so you can enjoy family time. 😉
There is a mini fridge, so great for storing kid's drinks (we bring their milk everywhere we go).
The price is $220 a night.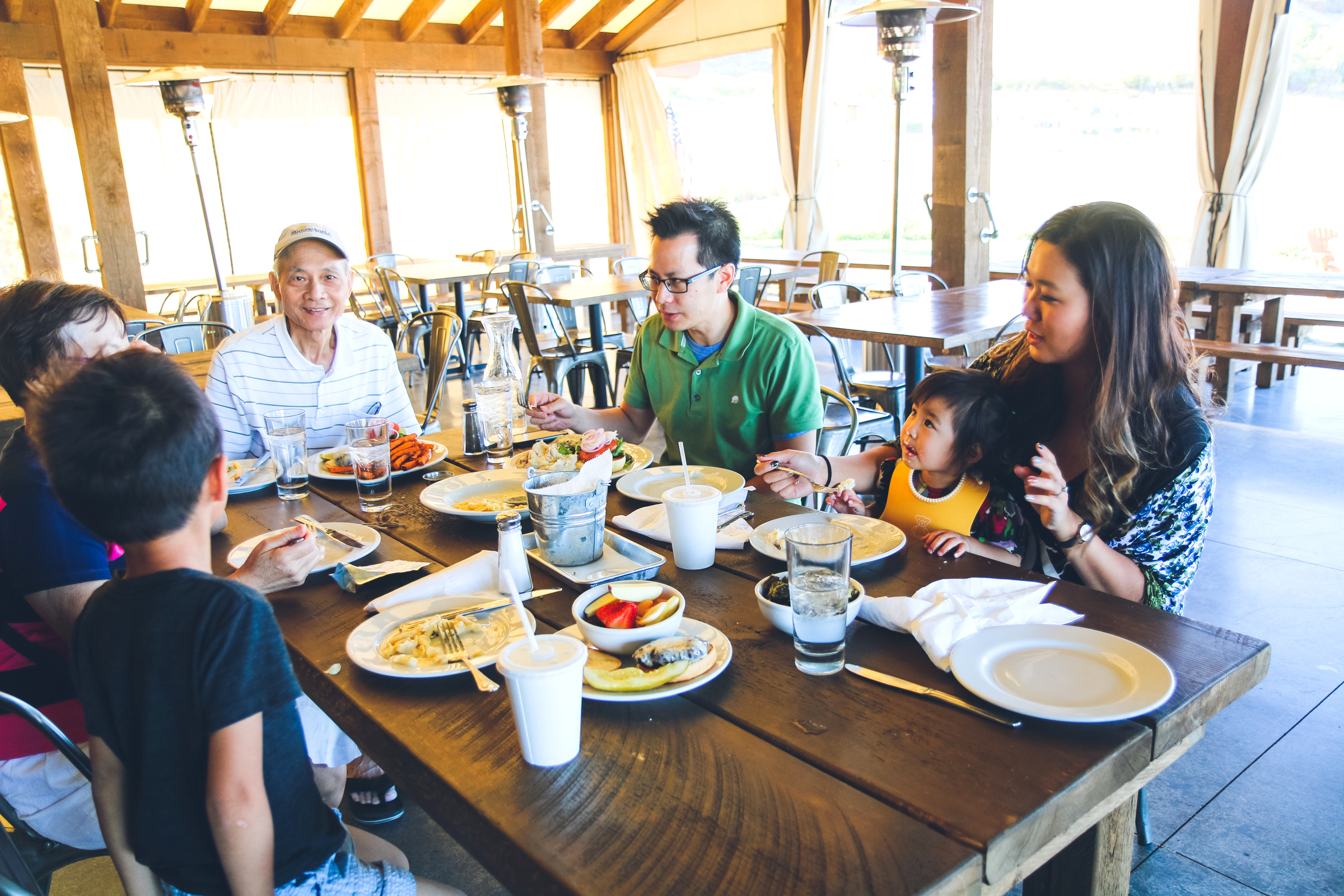 After we had checked in, explored and unpacked, we were getting hungry so we headed down to the Campfire Grill Restaurant, which is an on site restaurant and the food was SO good. There were legit food options for adults and kids alike and we all enjoyed our meals. We enjoyed things like burgers, fish, truffle fries, mac and cheese and more. You can see a sample menu here. The restaurant is open to the public, so you don't have to be a guest of Conestoga Ranch to eat there and they serve breakfast, lunch and dinner. It's an open air restaurant that allows you to have great views of the Bear Lake area.
Then after dinner, we explored a bit more of the ranch. They have amenities such as a General Store where you check in, a playground which my kids loved, a game tent and outdoor games surrounding it. I really feel like they gear towards families and kids which was a real plus for us. The kids were just so happy running around, exploring and being free!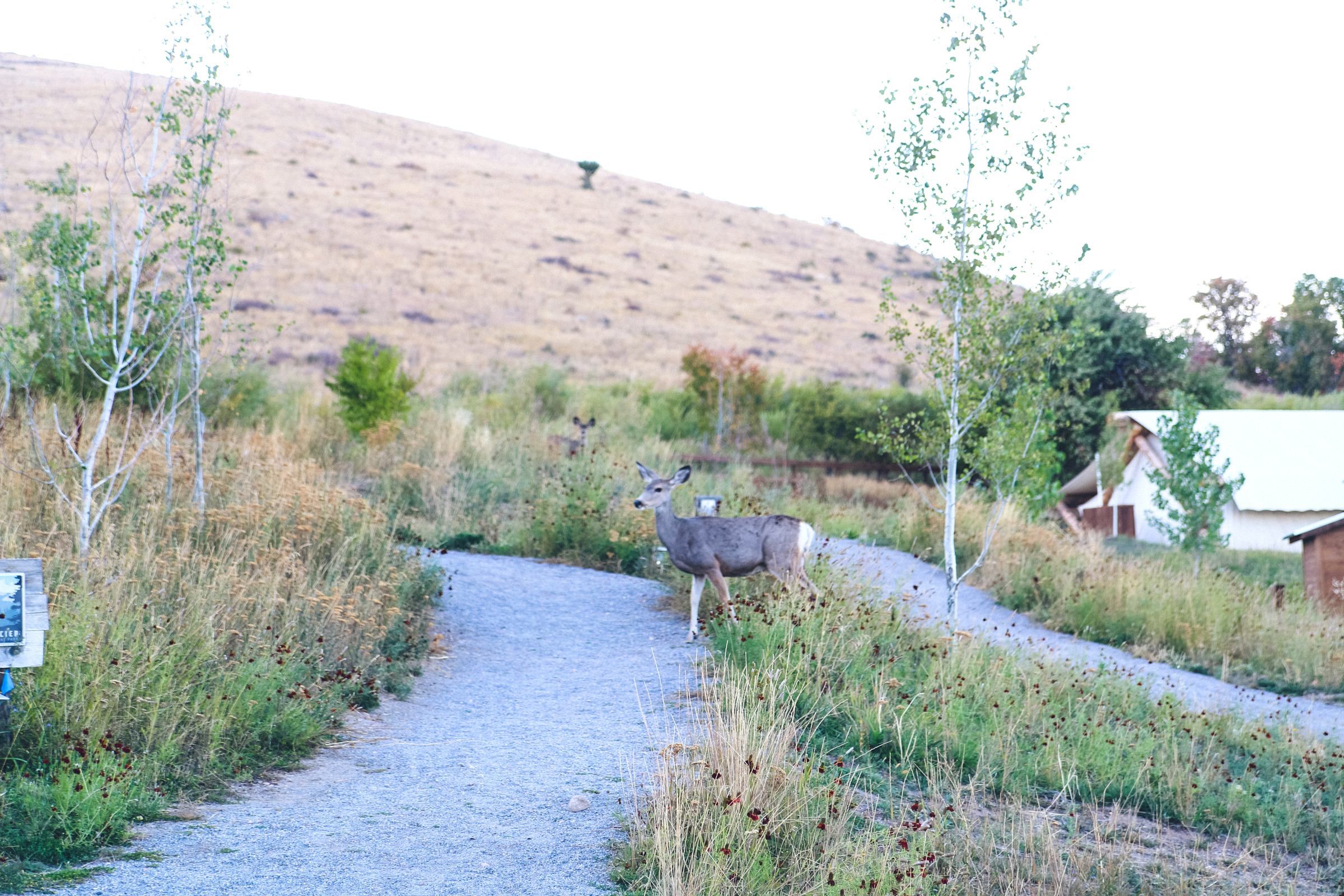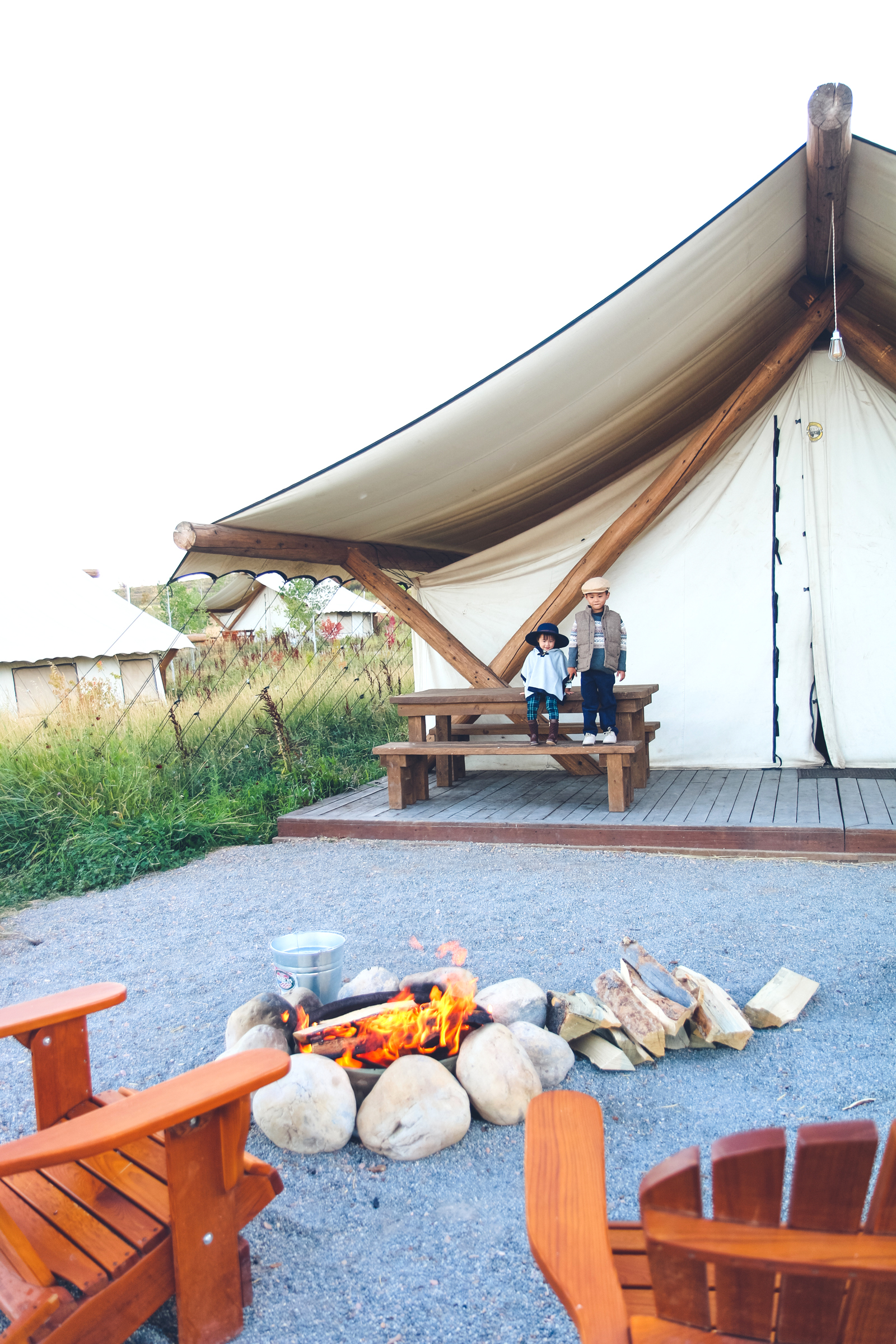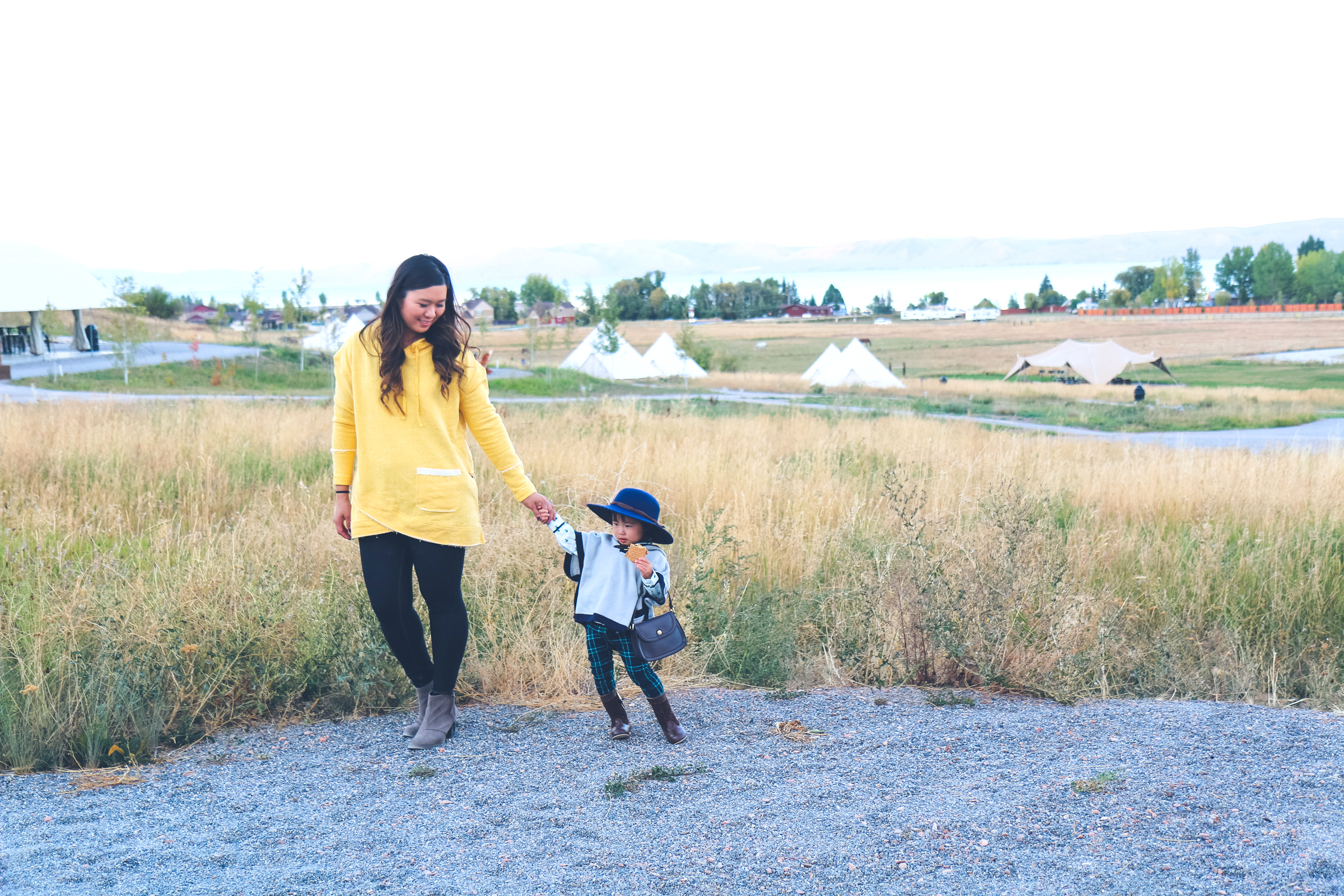 Austin's outfit c/o Janie and Jack
Sweater | Pants | Cap | Vest | Boots
Vivian's outfit c/o Janie and Jack
Button Up Top | Cape | Pants | Boots | Hat | Purse
My outfit:
The kid's got to ride in a golf cart back up to the tent and on our way we saw a family of deer! In the evening, it started to get a bit chilly, so I changed my kids to some warmer clothes in preparation for campfire s'mores! Like I said above, at check in, you get a complimentary s'mores kit (but you could buy more supplies at their General Store if you wanted to eat more). Although Austin and Vivian were a bit afraid to get too close to their fire, they made their mom and dad do the toasting marshmallow and making s'mores work for them to enjoy. Needless to say, the kids loved the sugar. 😉
That evening, we were able to do our whole bedtime routine in the comfort of the Grand Tent and snuggled up with the space heater running. We didn't have to bring any of our own blankets or pillows, as it was all provided.
The next morning when we woke up, we got dressed and actually got to get a peek inside the Covered Wagon and Traditional Tent ($115 a night). I have to say, they didn't look that big from the outside, but when you got inside of them, they looked so cute and actually quite spacious! To see more floor plans and photos, visit here.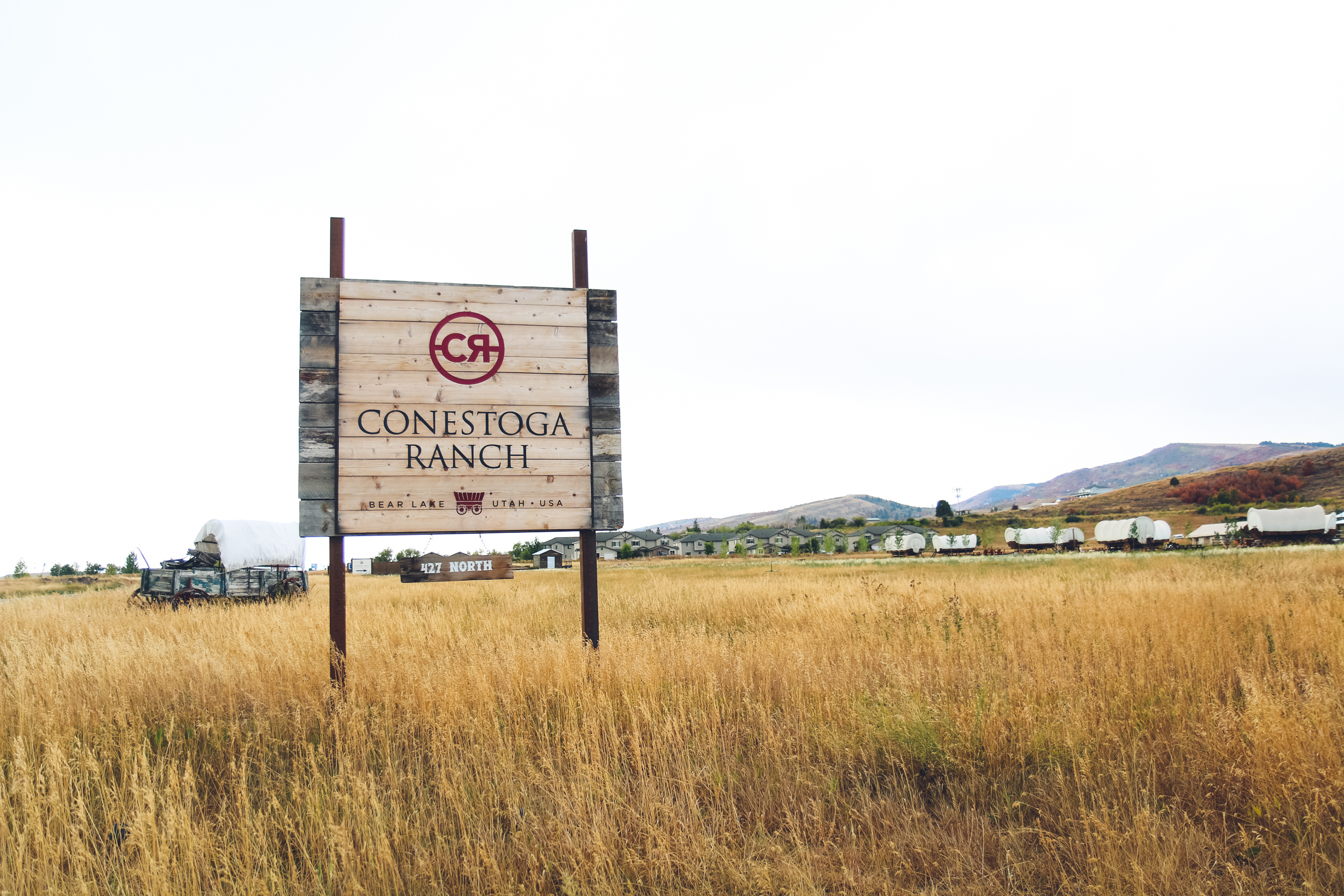 We truly loved our experience at Conestoga Ranch at Bear Lake and we are highly thinking about making it a yearly family tradition! Next time I would probably go a little earlier in the season, to ensure that it is warm weather. And for those thinking about taking your kids camping for the first time, I highly suggest a glamping resort like this to "ease" your kids into the idea of camping, and if you hadn't gathered these from the photo above, here's a comprehensive list!
10 Reasons To Take Your Family Glamping (Over Traditional Camping)!
Less packing. – The tents/cabins/etc. are usually fully furnished! They even have towels in the bathrooms!
No having to fuss with tent set up. – Your "tent" or housing is already set up. No having to make sure you set up is sound or sleeping on the floor!
It's warm! – There are space heaters!!
You can pee… in a toilet! – There's a bathroom in your tent/cabin or close by! I don't know about you, but squatting in the woods is not easy for me.
They will start your campfire for you. – Just ask the front desk to start your fire for you, and bring your firewood. Easy s'mores!! No having to do the hard work yourself!
There's plenty of food options… as in, you don't have to bring your own food or find your own food. – No fishing or trying to find your own food, just eat at the restaurant or bring food for your mini fridge!
You'll probably sleep better. – You get to sleep on an actual bed instead of on a sleeping bag on the floor. I don't know about you, but 5 pillows and a nice comforter on a mattress sounds just like home.
It's more stress free. – You don't have to forget that you didn't pack something, there is more time to enjoy with your family doing fun things.
Exploring a new place. – Honestly, I don't know how our family would do with camping, but glamping is our style and we got to explore Bear Lake, which we had never been to before!
It's the best of both worlds. – You get a little bit of the outdoors, but the luxury of indoors. You get to sleep under the stars and with the sounds of the wilderness, but you can stay warm
Pin for later!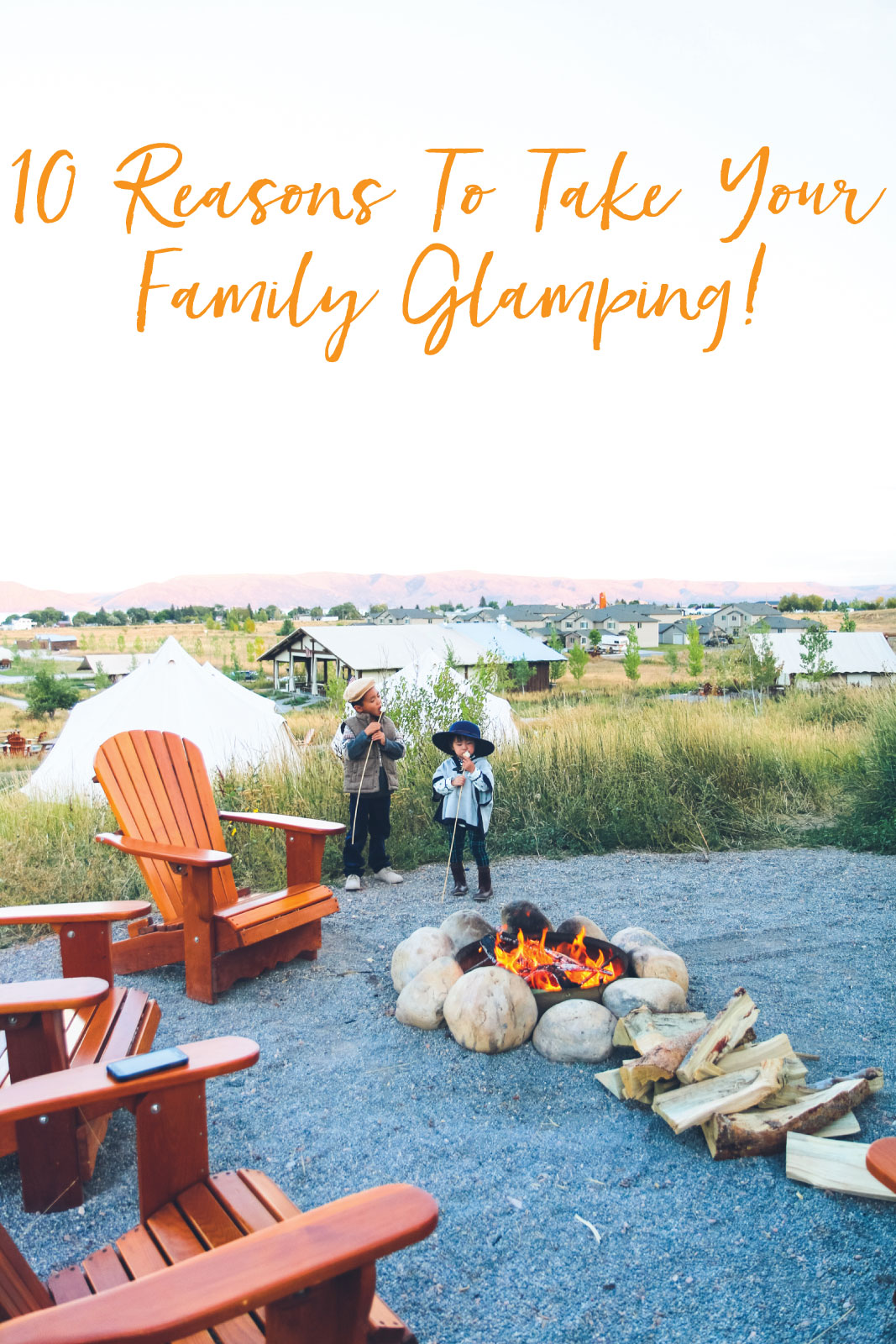 For more information on glamping at Bear Lake…
Conestoga Ranch
427 N. Paradise Parkway, Garden City, Utah 84028
844-Go-Glamp | info@conestogaranch.com
Have you gone glamping before? What are your thoughts?