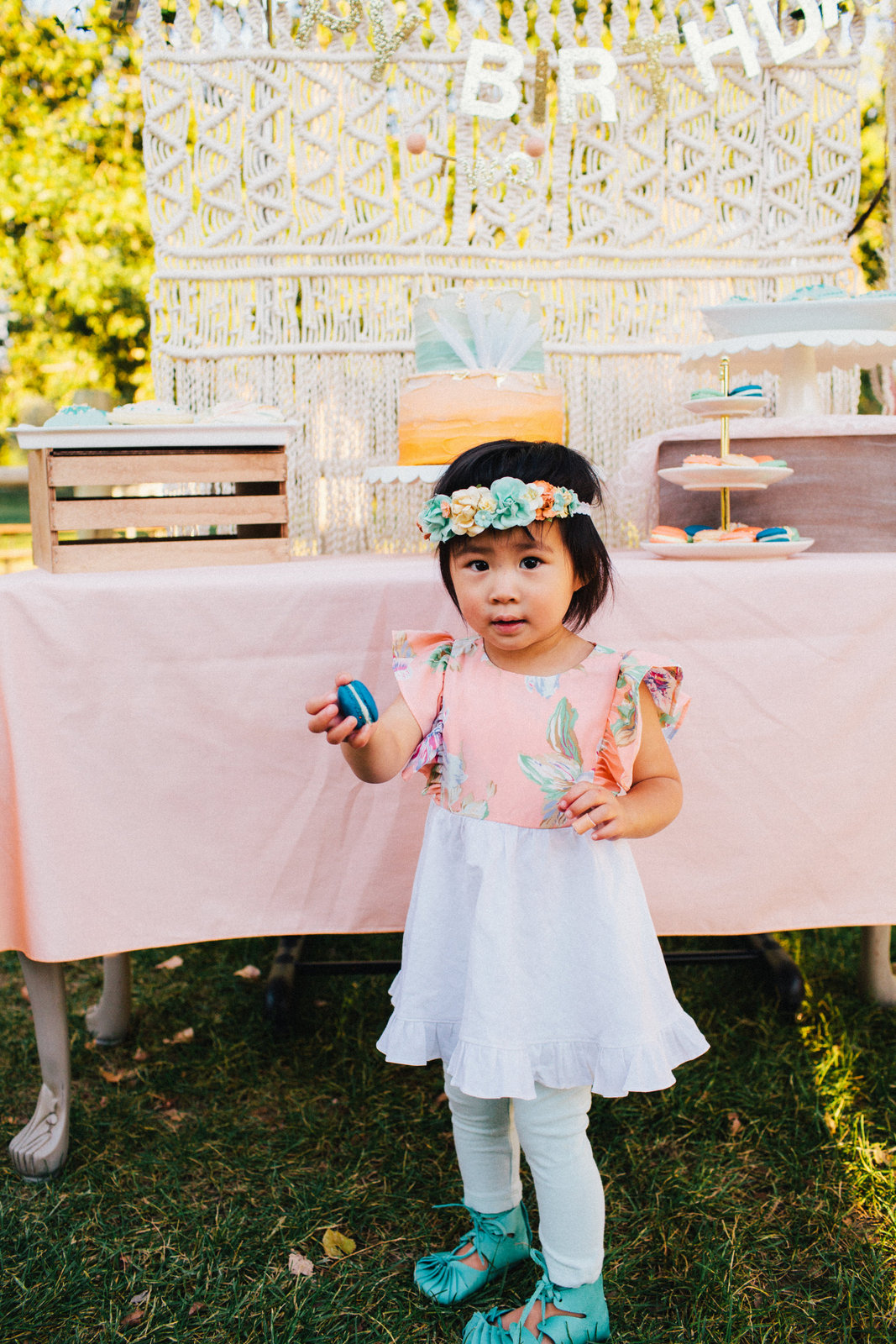 How crazy is it that Vivian's 2nd birthday came and gone and we are well in to the Terrific Twos! Her party took months of planning (like usual) and I just love how it turned out. I decided on a Bohemian or Boho Birthday Party theme over the Summer and just had so much fun with it. Coming up with a party theme is always the hardest part but first step in any party planning process! Next, I decided to pick some colors and landed on peach, mint, blue and gold! It was a little difficult deviating from my fave color pink, but I love the color palette that I chose. And well peach was close enough to pink. 😉 There were a lot of details I wanted in her Boho Bash such as dreamcatchers, feather, a teepee and of course a party wouldn't be a good party without a variety of delicious desserts! We held the party at a park and were in a covered gazebo right next to it. The weather was perfect and the kids had so much fun. See below as I show you all the details and my thought process!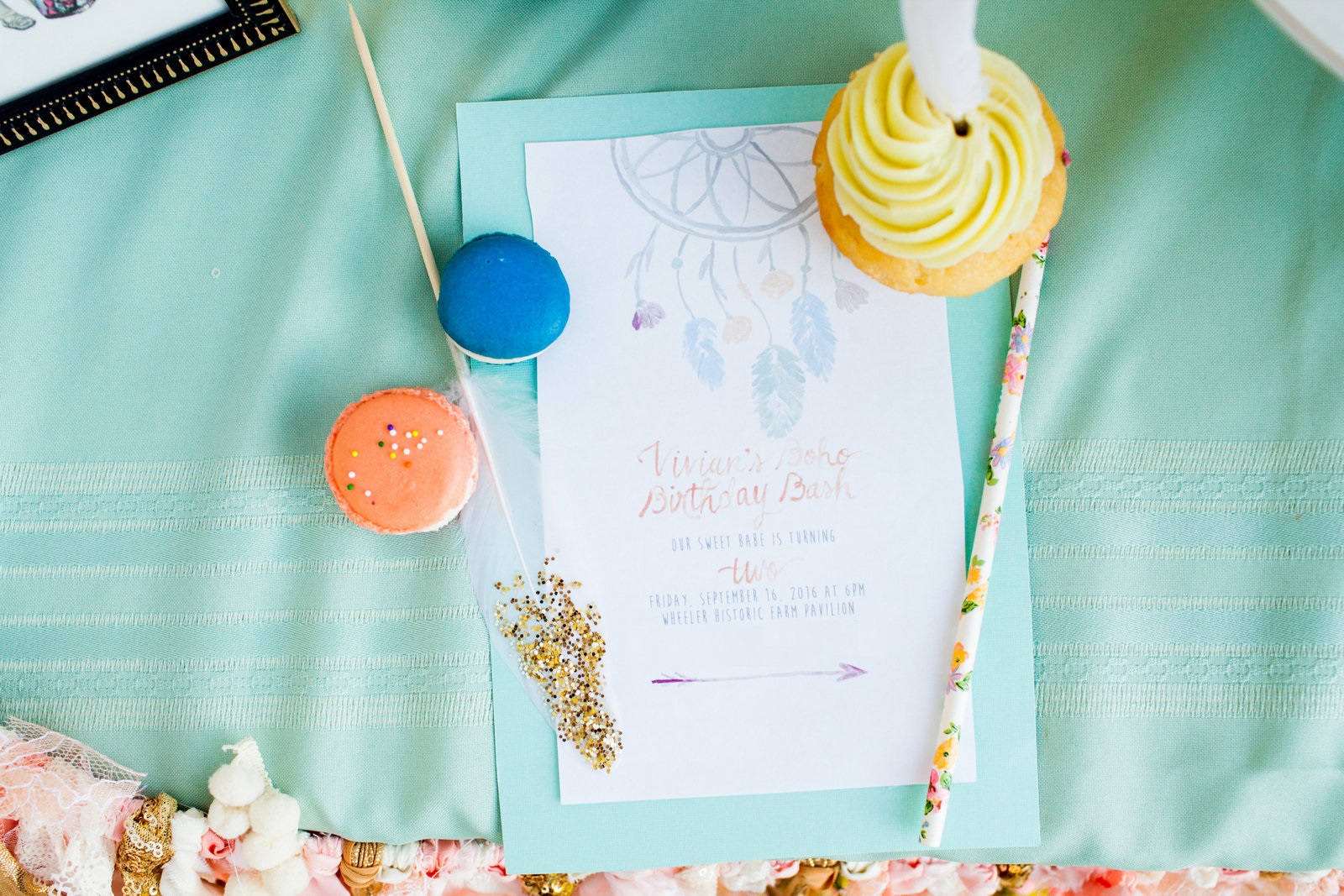 This invitation was custom designed by my girl Lauren Ashley Clements. I absolutely adore her work (some details were removed for this picture).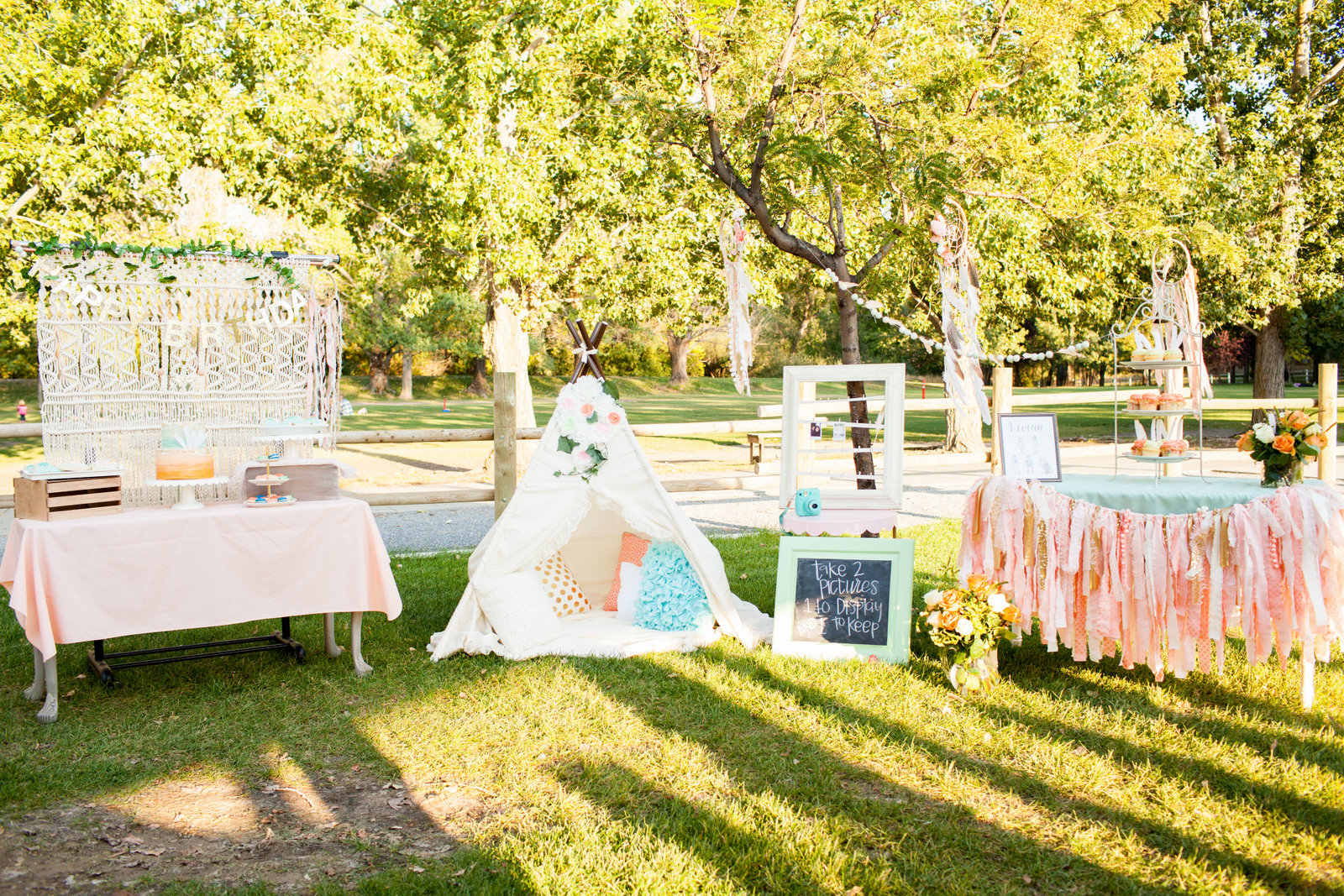 The set for her party was made up of 3 main areas. On the left we have the main cake and dessert table, in the middle we have the teepee area which was used as a photo booth area, and the right was an extra dessert table (because we just had that much dessert) HA! Special shout out to Ivy Lane Events for helping me complete and set up my vision! If you are in Utah and need some event or party planning help, she is your girl!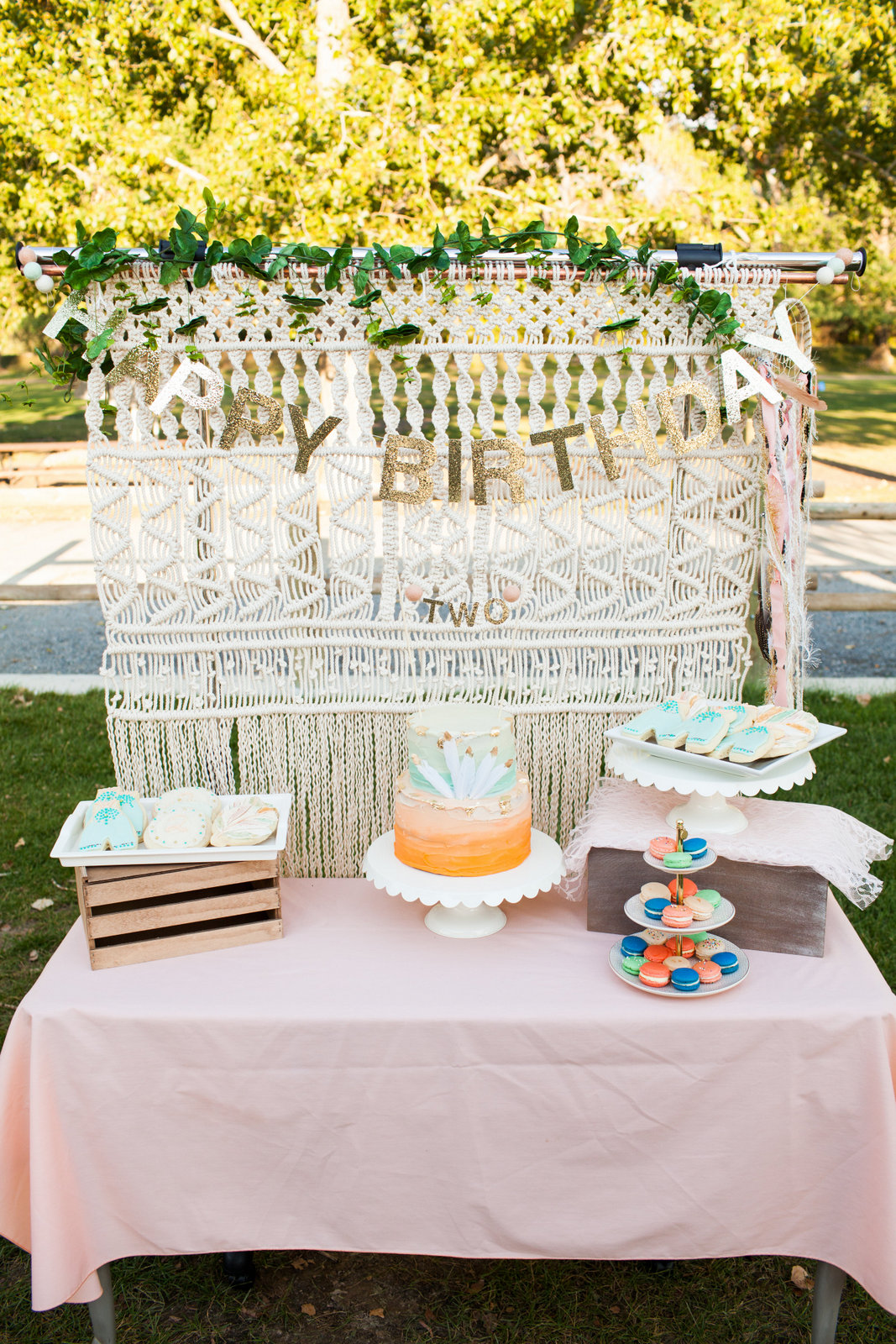 First of all, how gorgeous is this macrame backdrop custom made by Needle and Knot? The detail on it is absolutely gorgeous and I thought it was the perfect fit for a Bohemian themed party. I basically tied is to a clothing rack and it was a pretty easy setup that way!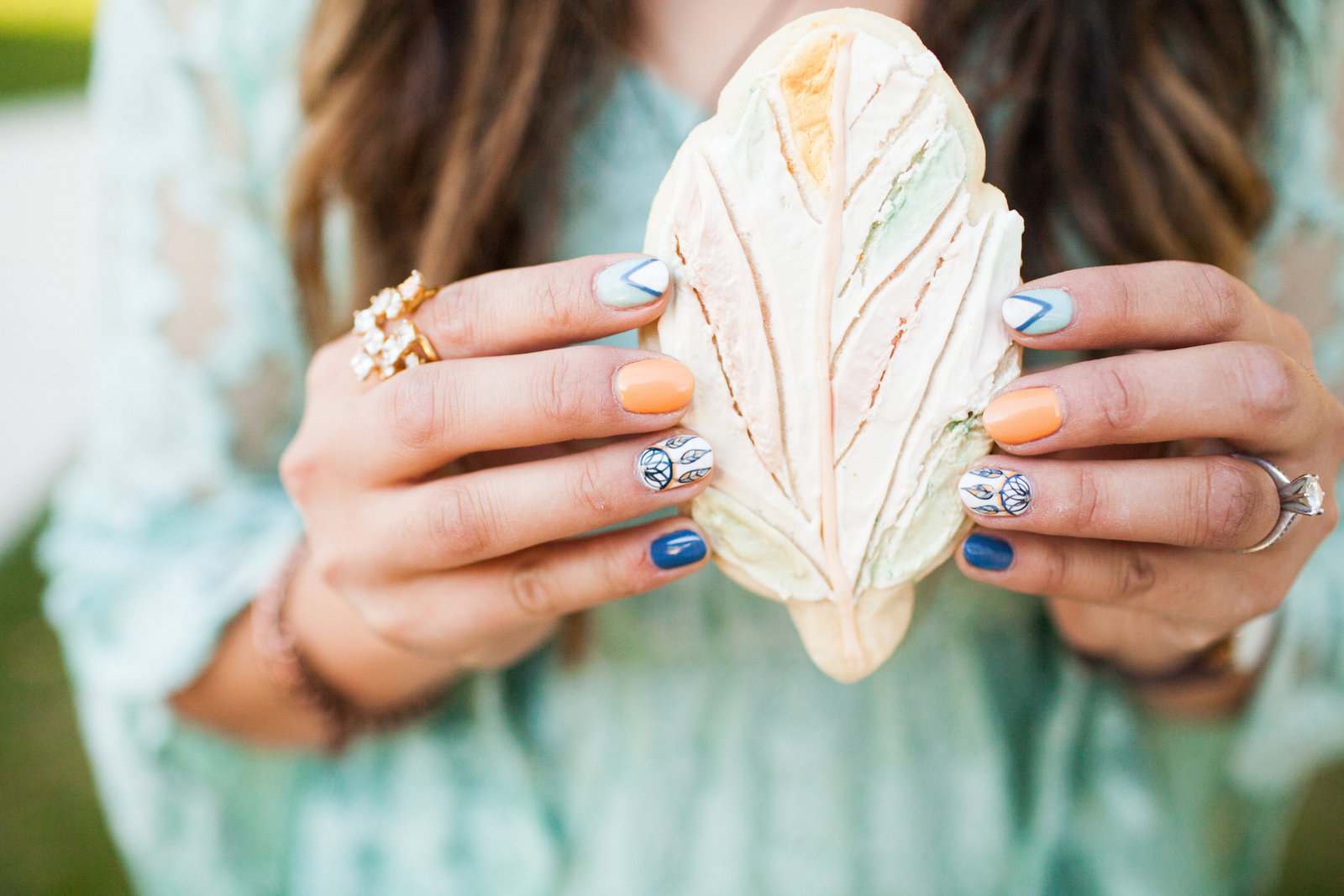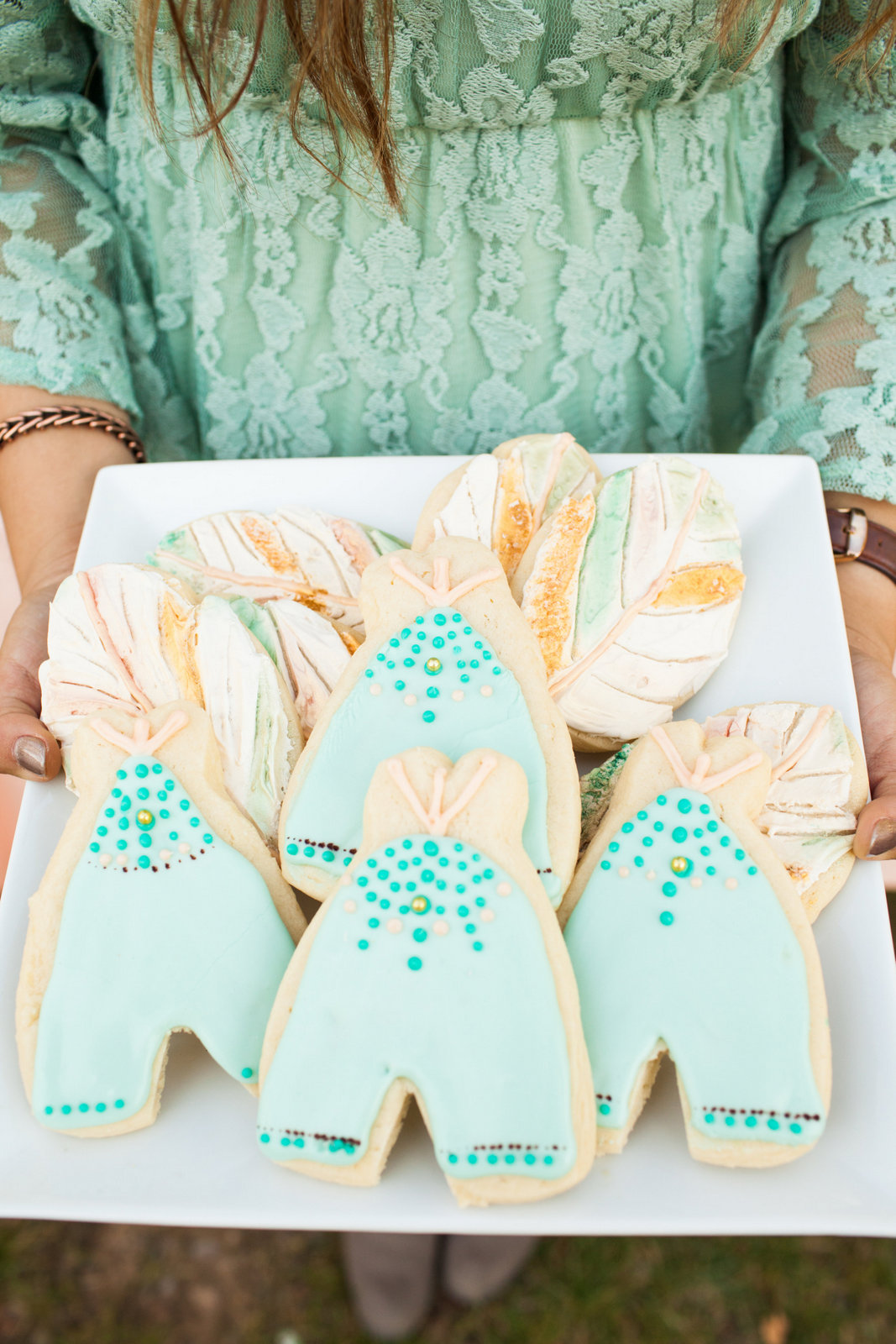 The cake, cupcakes and cookies were custom made by the owner of The Sweet Tooth Fairy– a Utah dessert shop. SO YUMMY and pretty!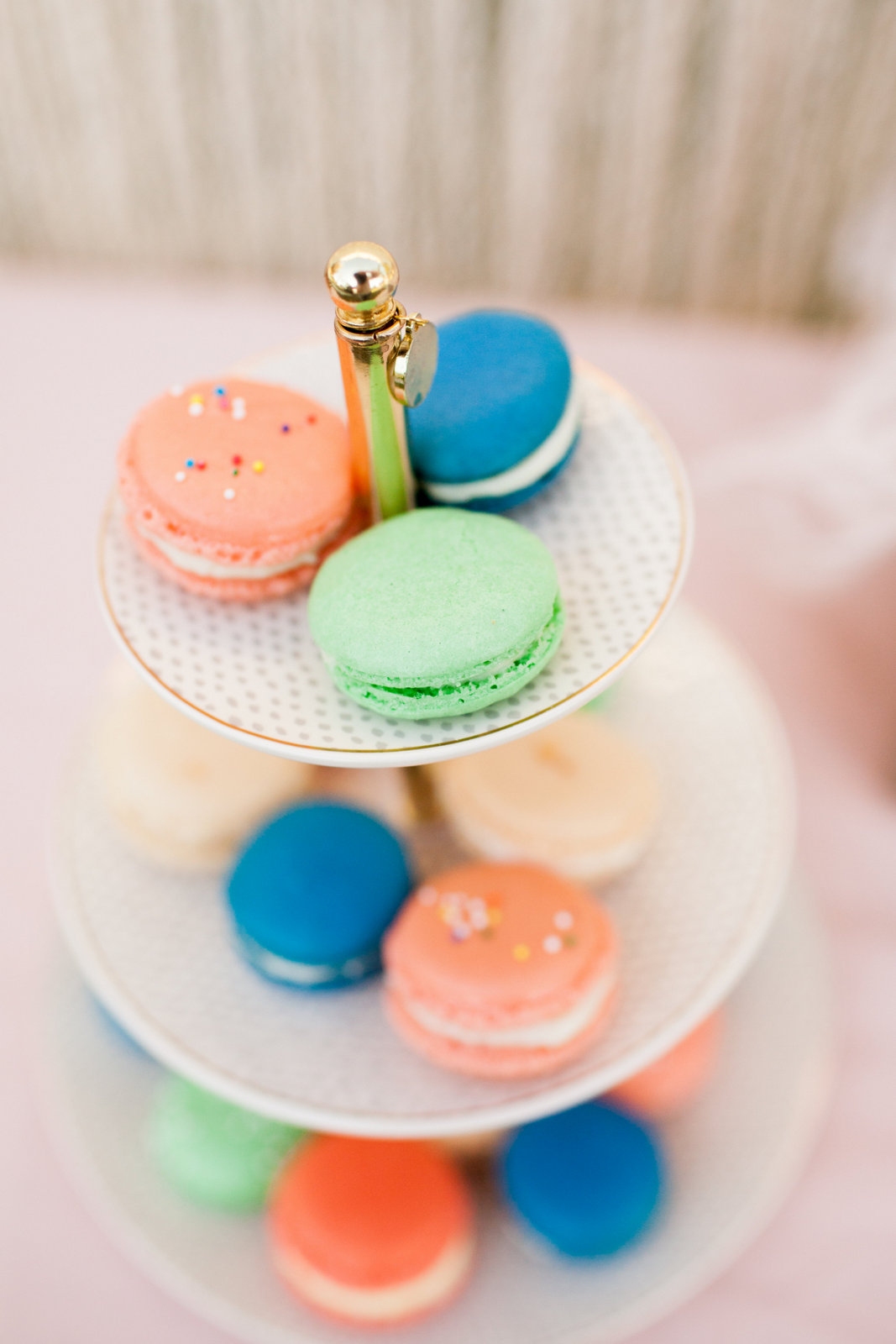 The Blonde Who Bakes baked these gorgeous macarons to fit the color theme. I love that she added sprinkles to some of them for some fun flair.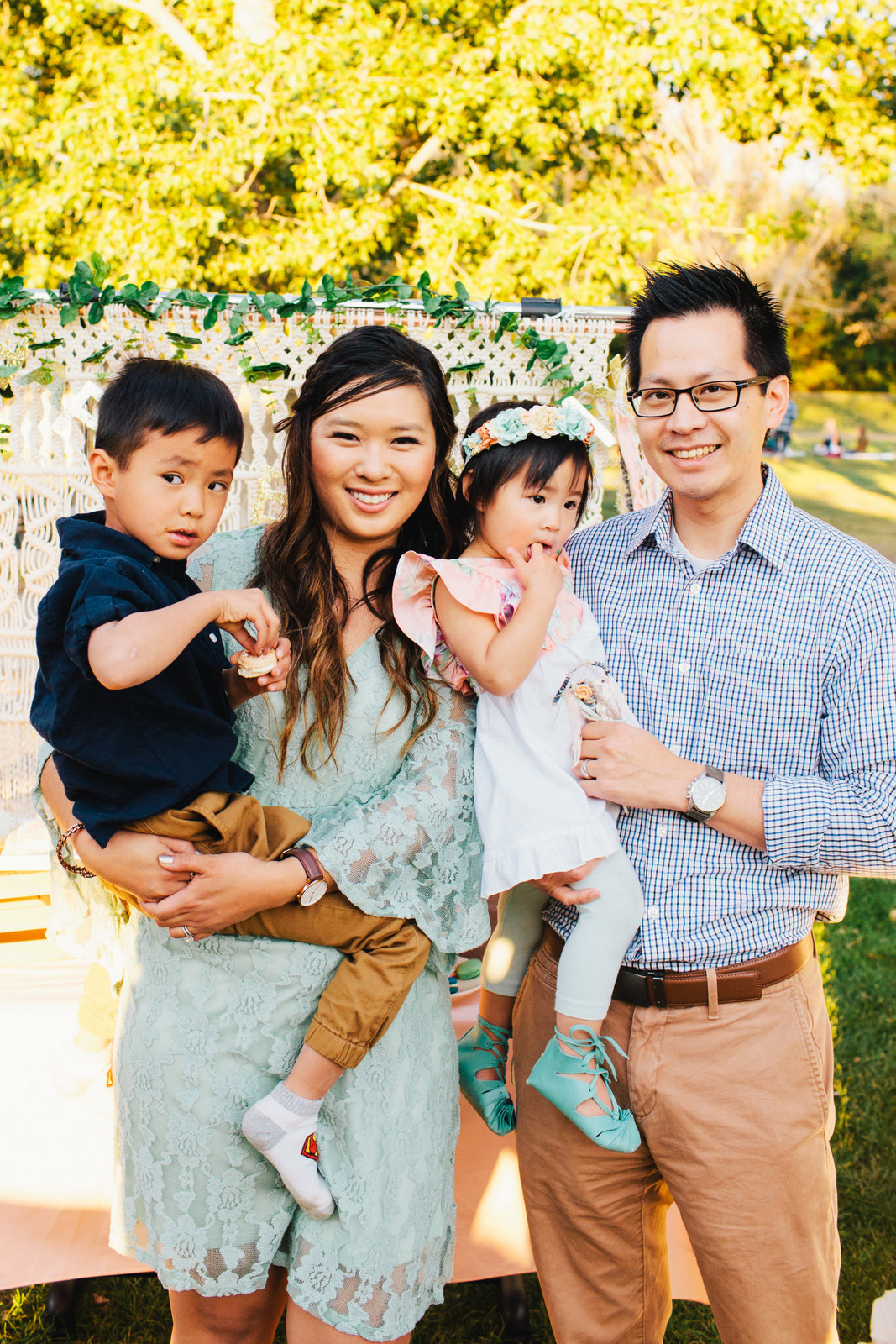 I kept the desserts rather simple and just made sure they fit with my color and style theme! I might still be dreaming about them now.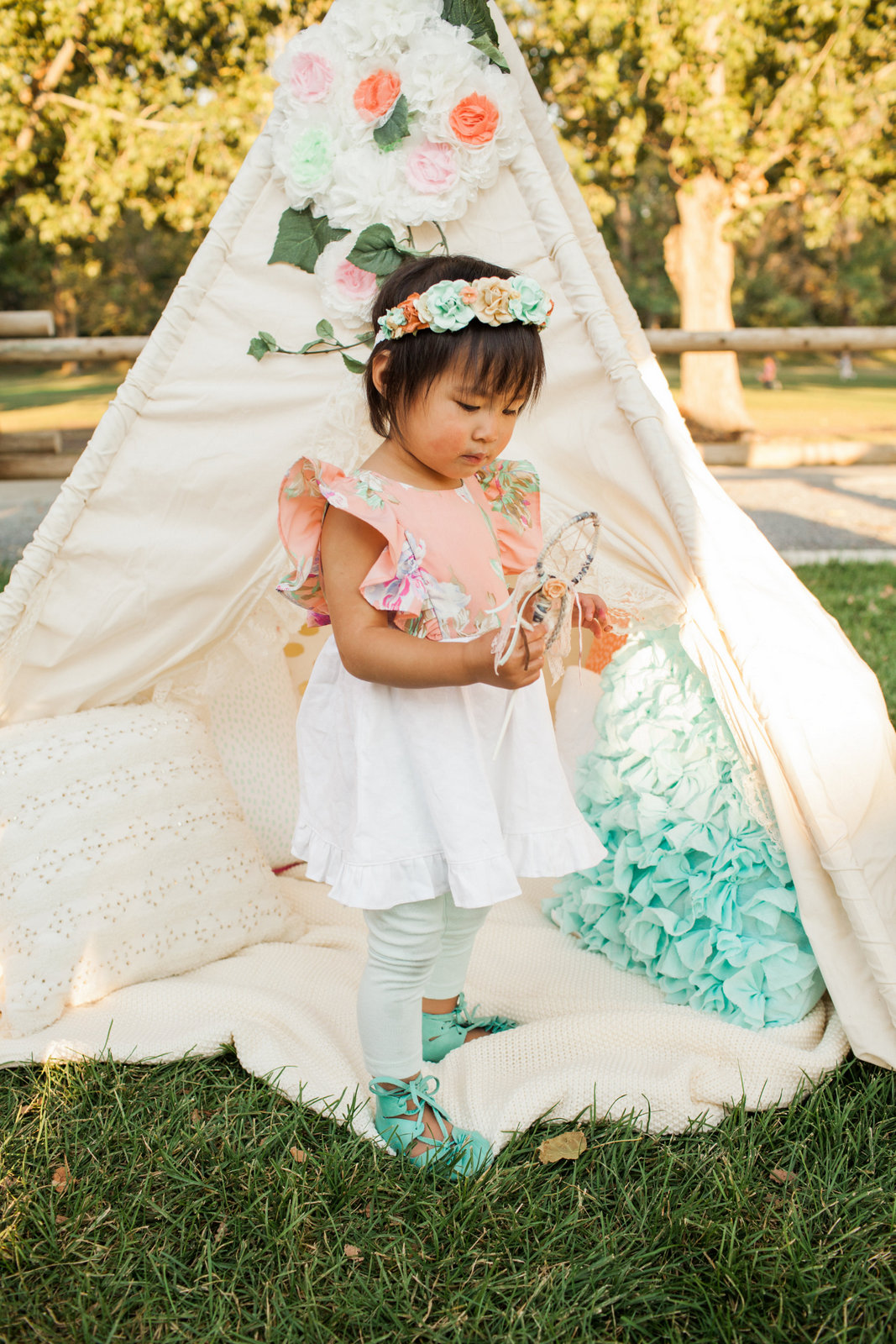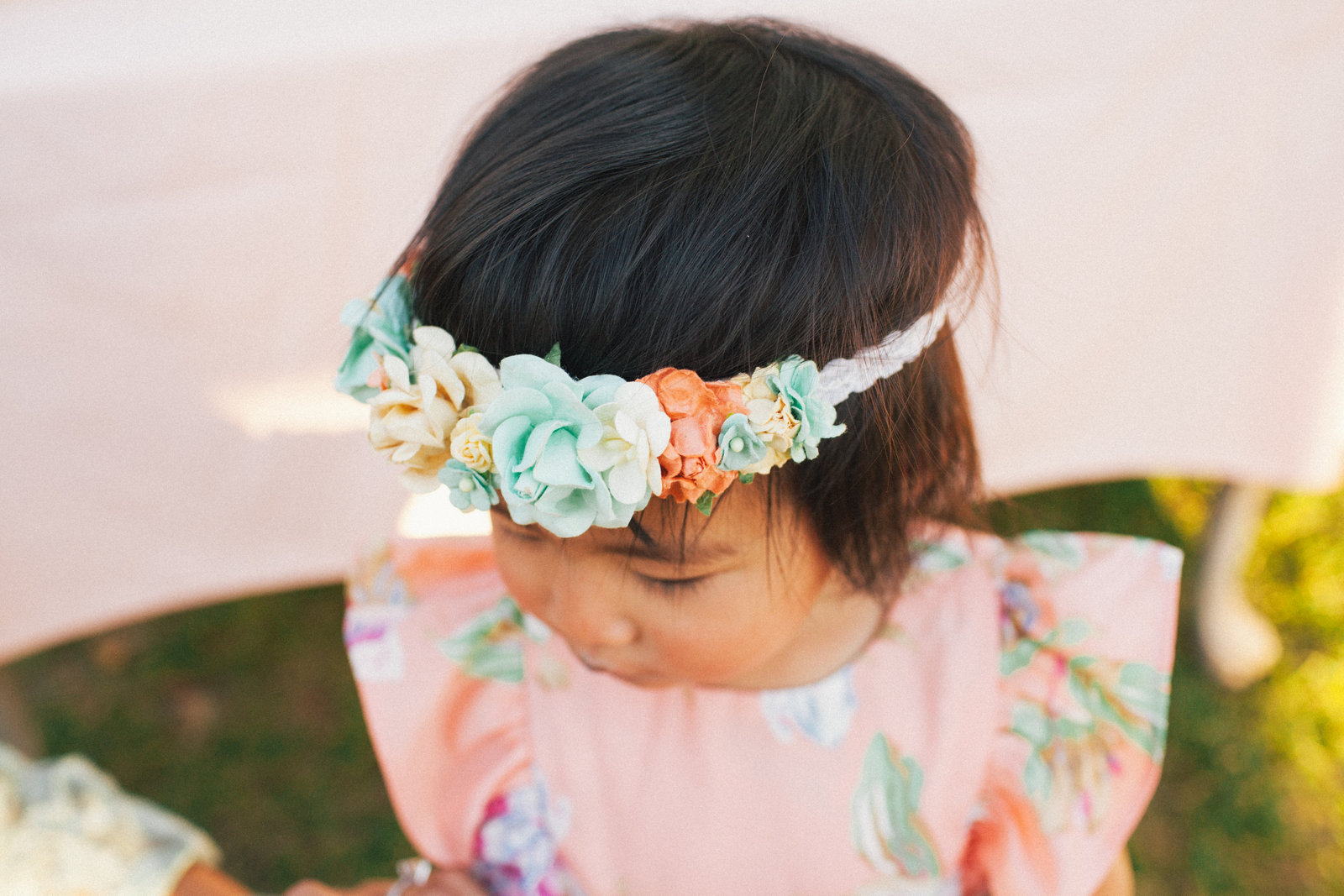 Vivian's outfit was custom created by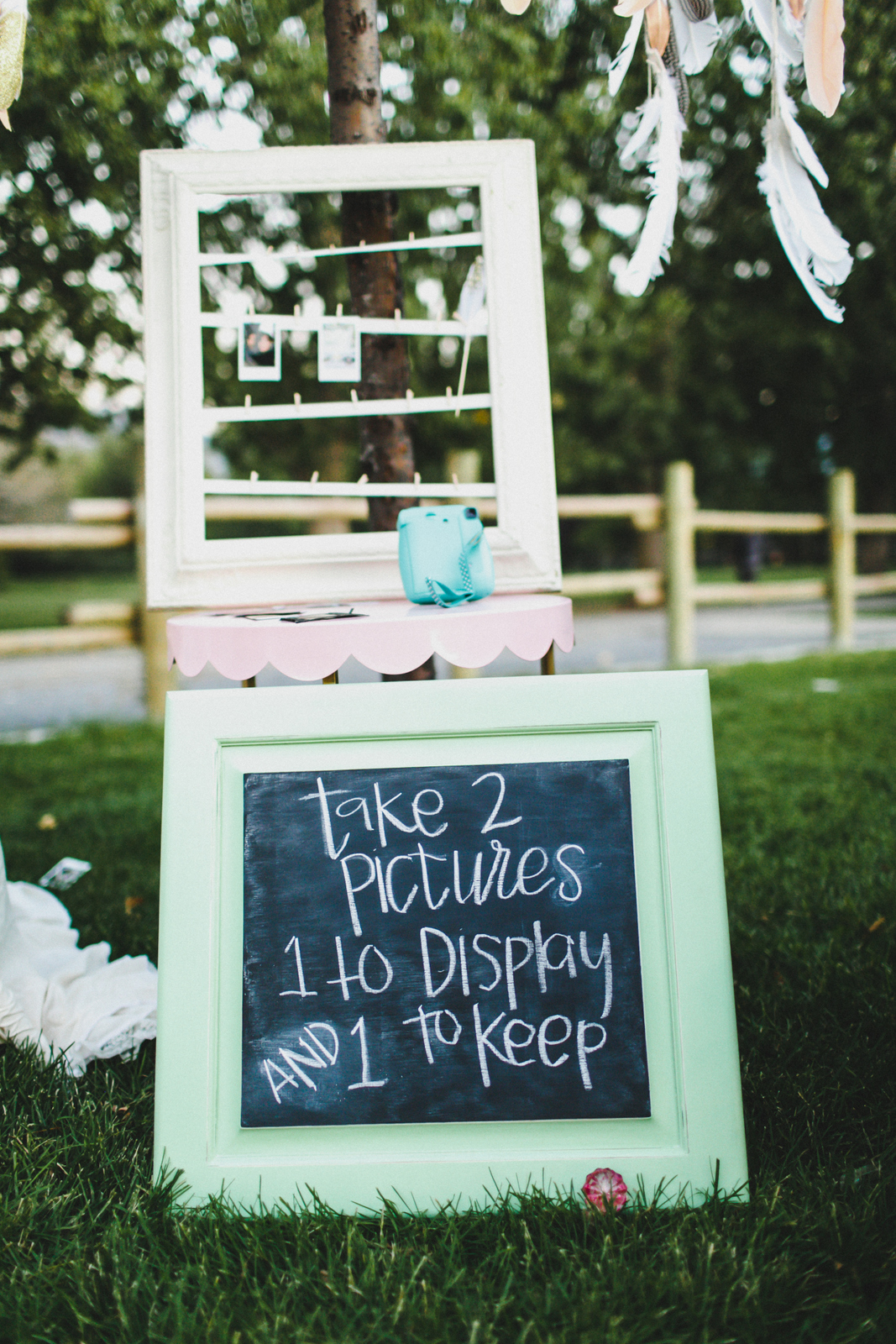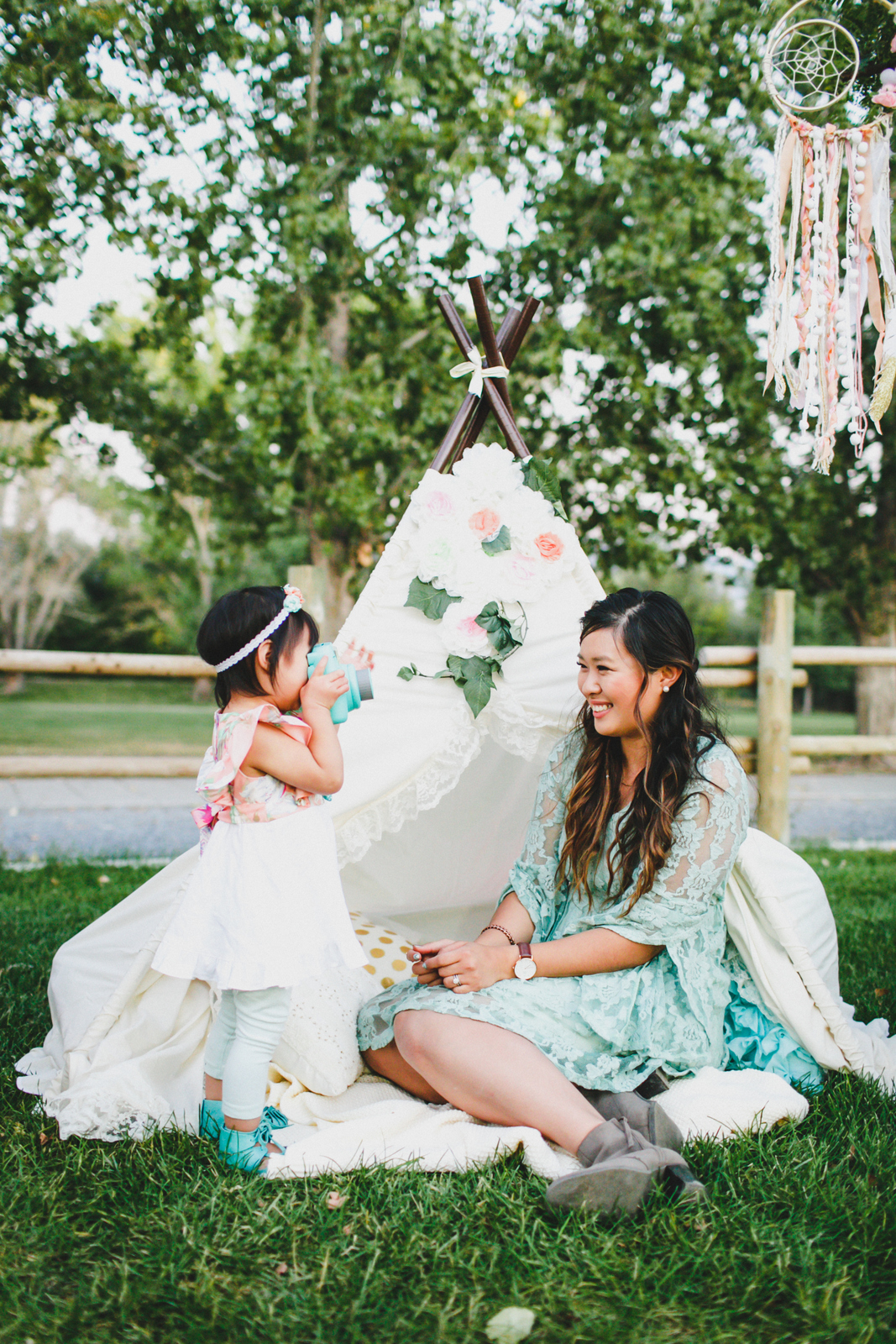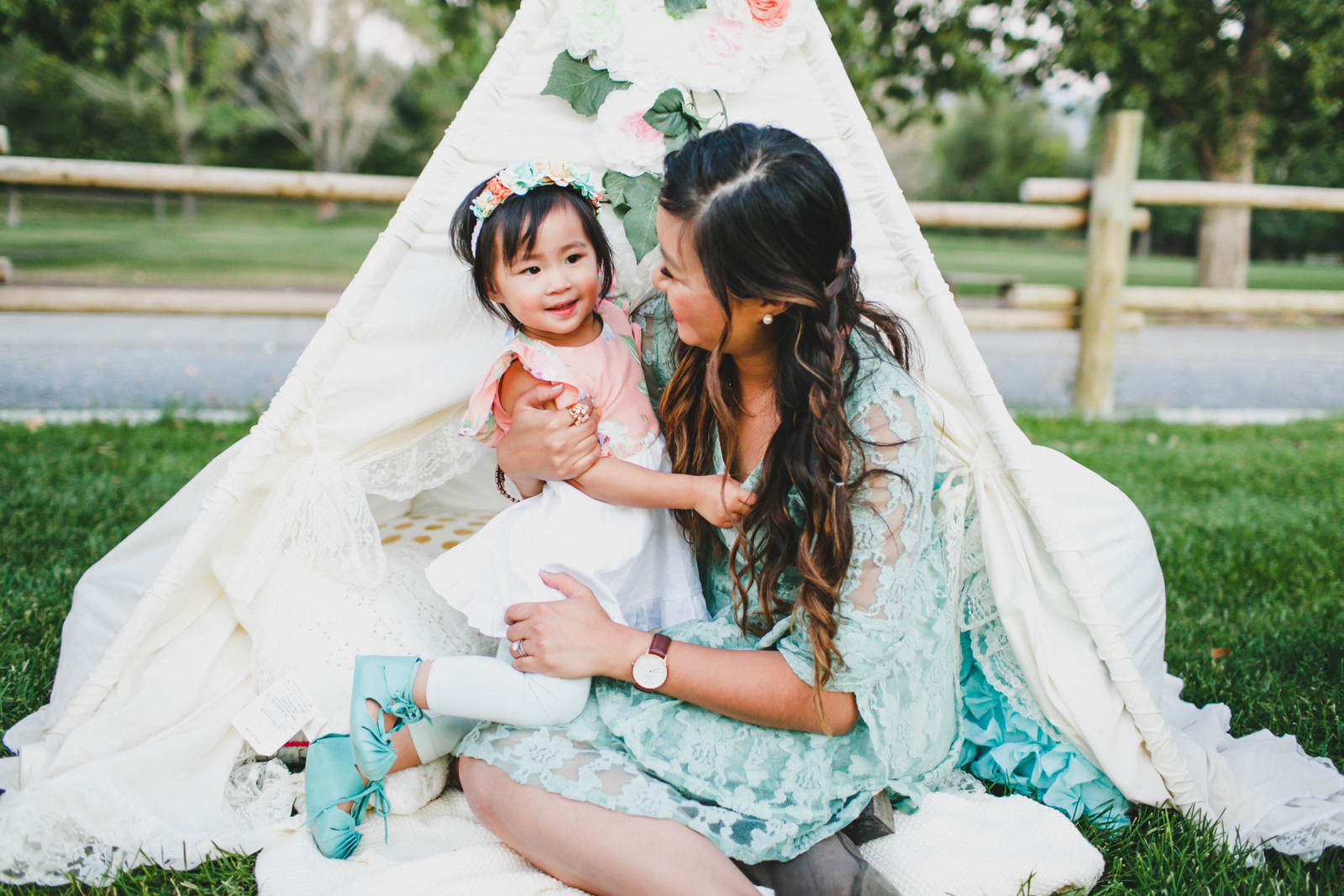 For the photo booth, I thought that a teepee would be just the perfect spot for kiddos to play in and to get pictures in. Even big kids took pictures in there and it was quite hilarious. I made sure to get plenty of film for the Instax Mini and I asked people to take two pictures, one to keep and one to hang. Ivy Lane Events helped me create a frame with ribbon that people could clip their pictures too. It was such a fun thing to have for the guests!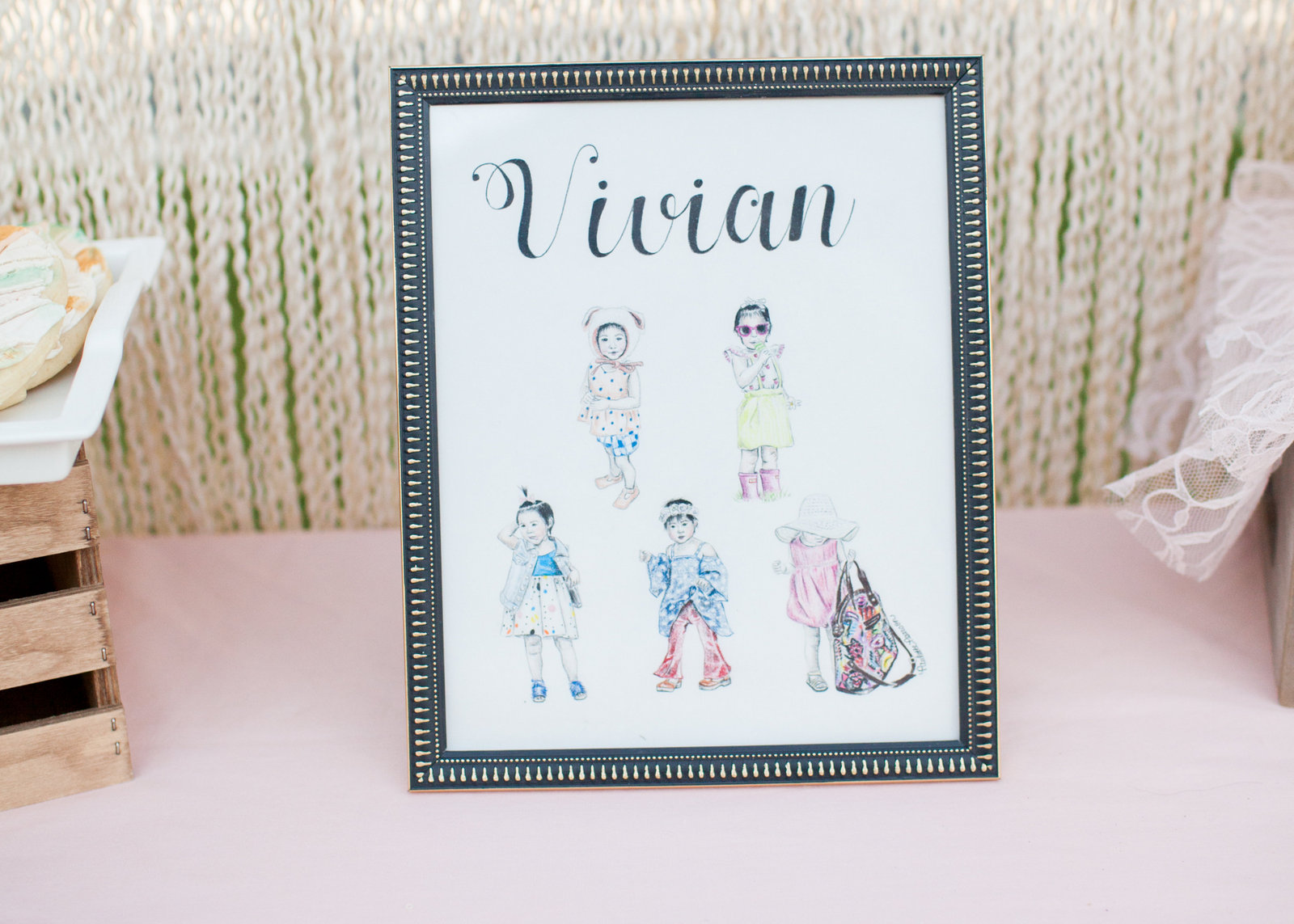 These little illustrations of Vivian by Paulette's Palette are amazing. I am so happy she did this for us so we have a keepsake forever. These photos are of some of her outfits throughout this past year!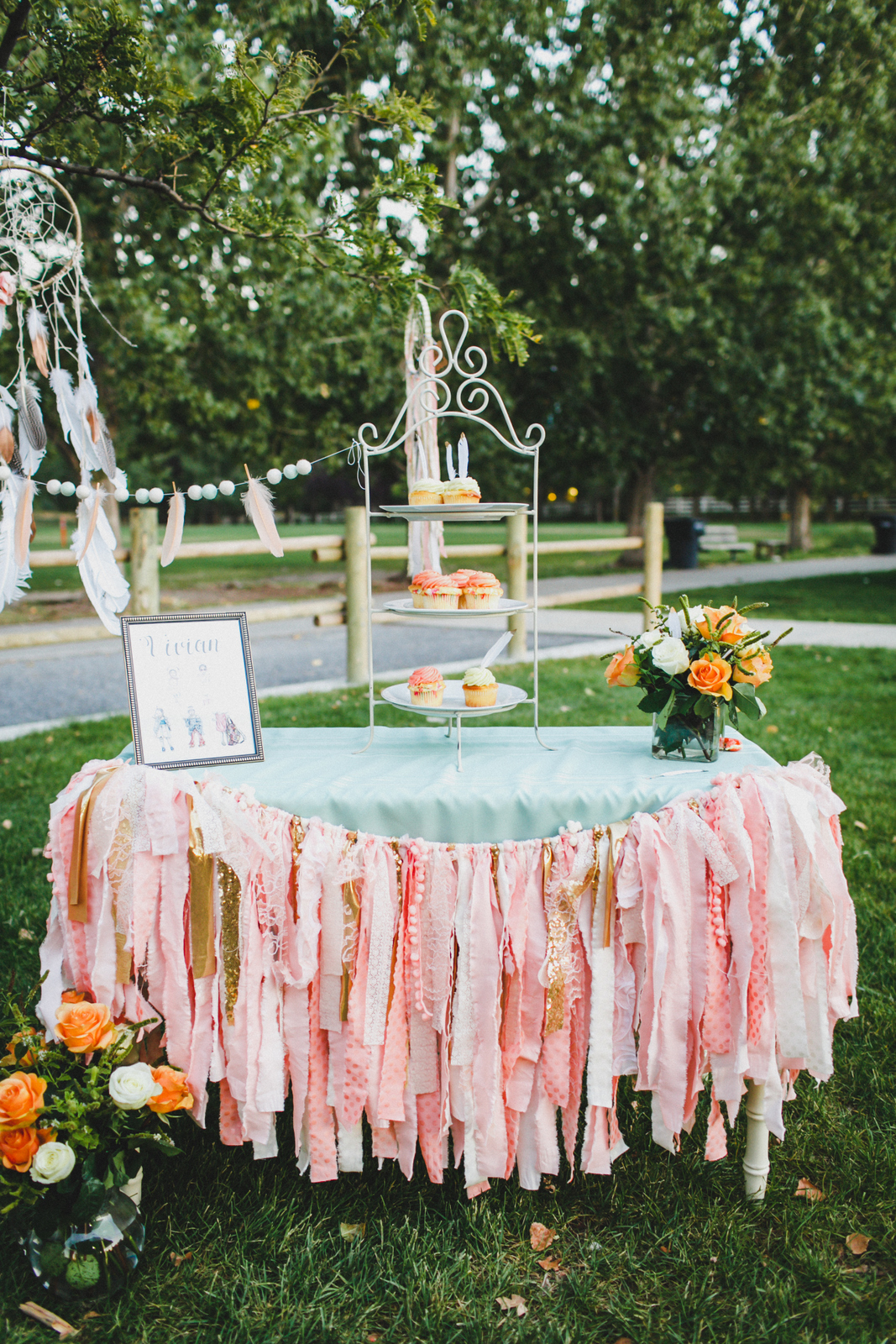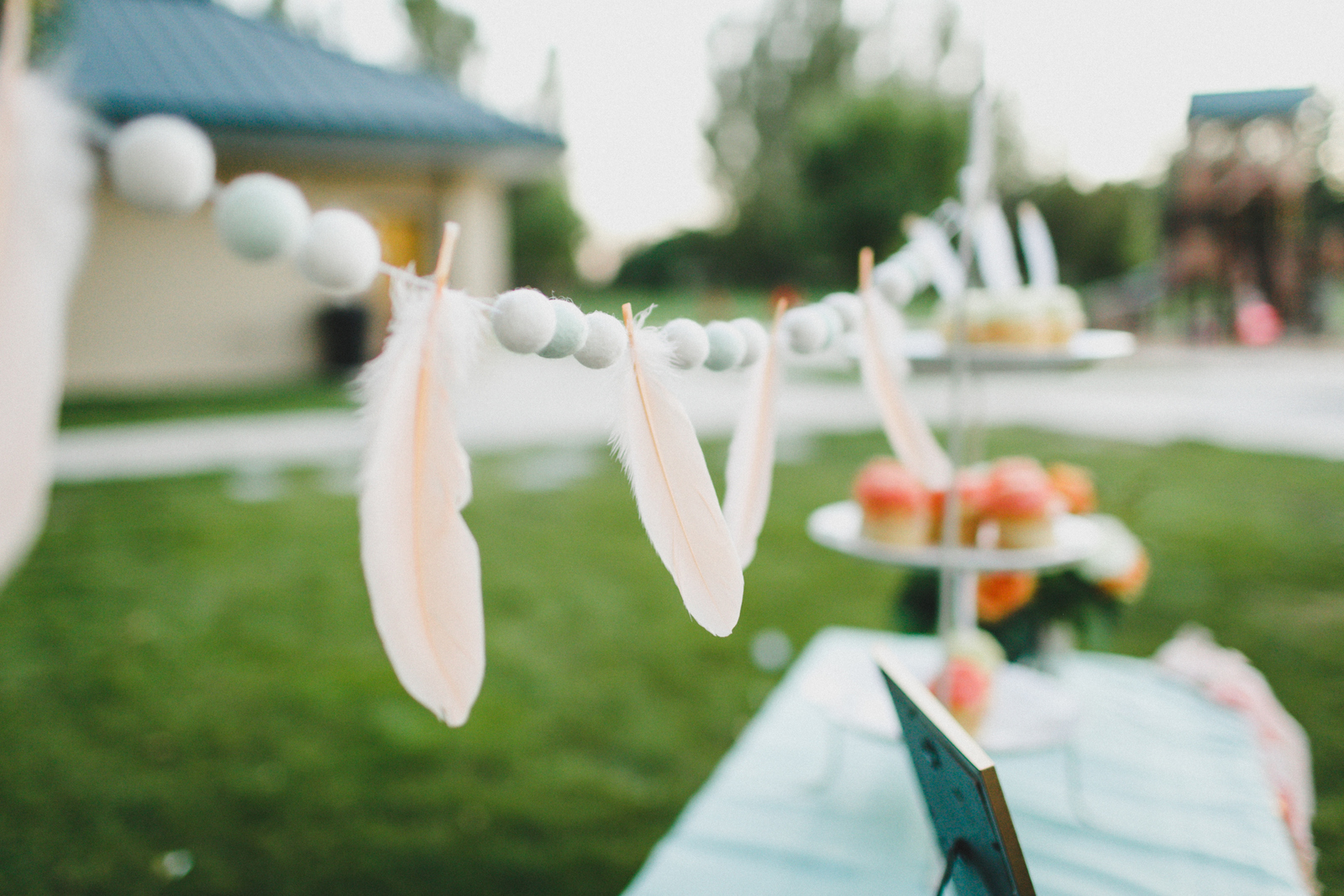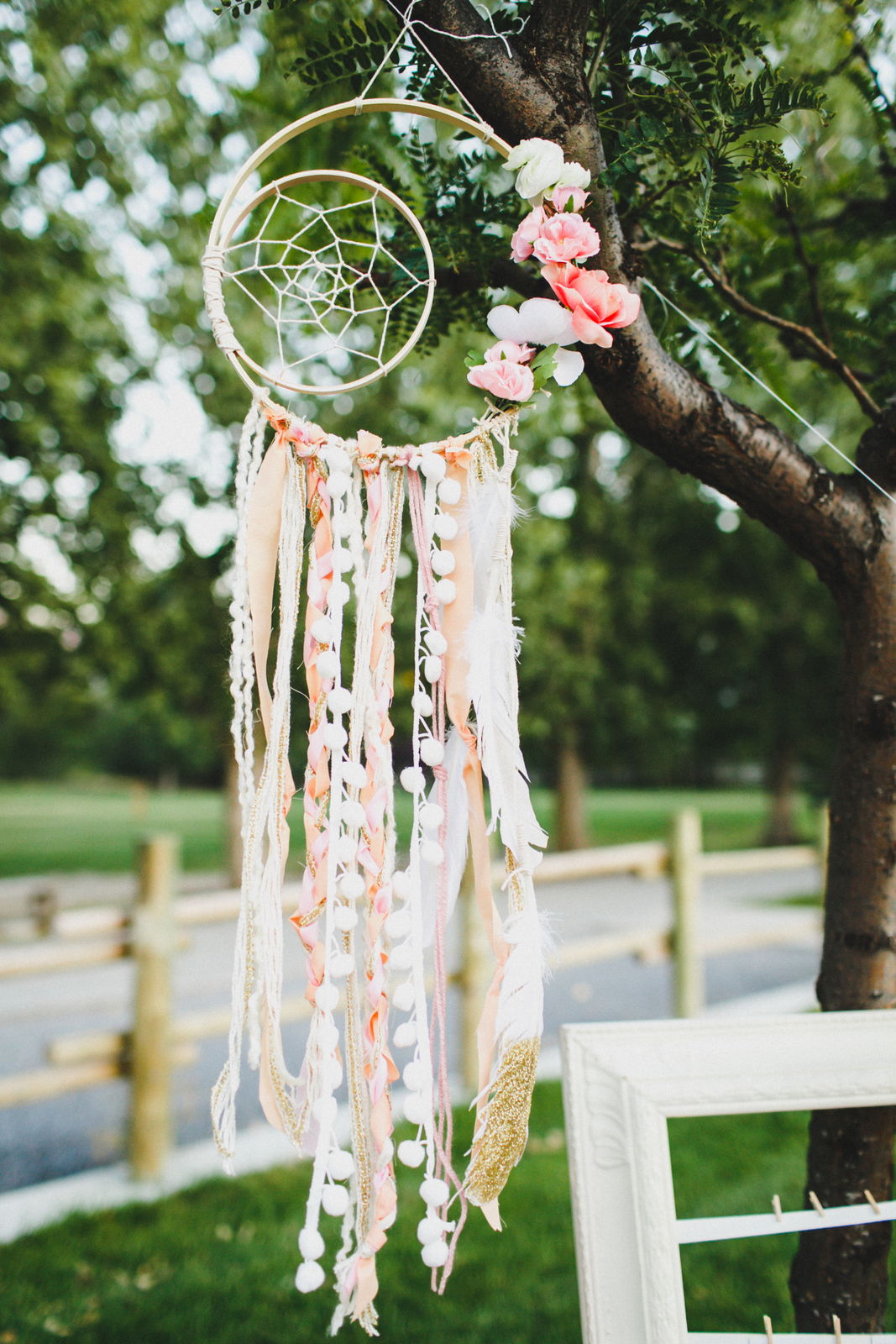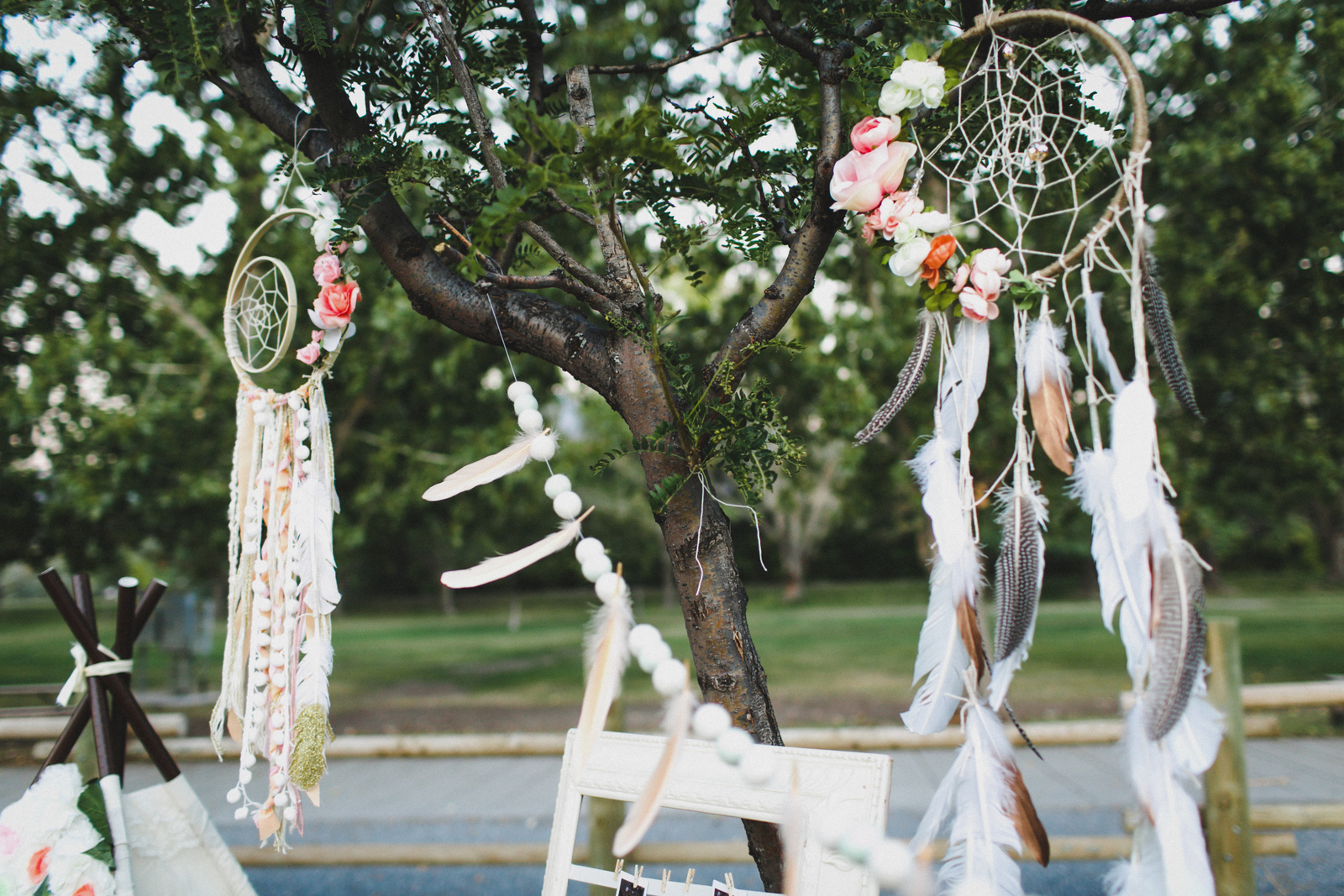 And can we take a minute to swoon over the fabric garland and these amazing dreamcatchers? Seriously obsessed and so perfect.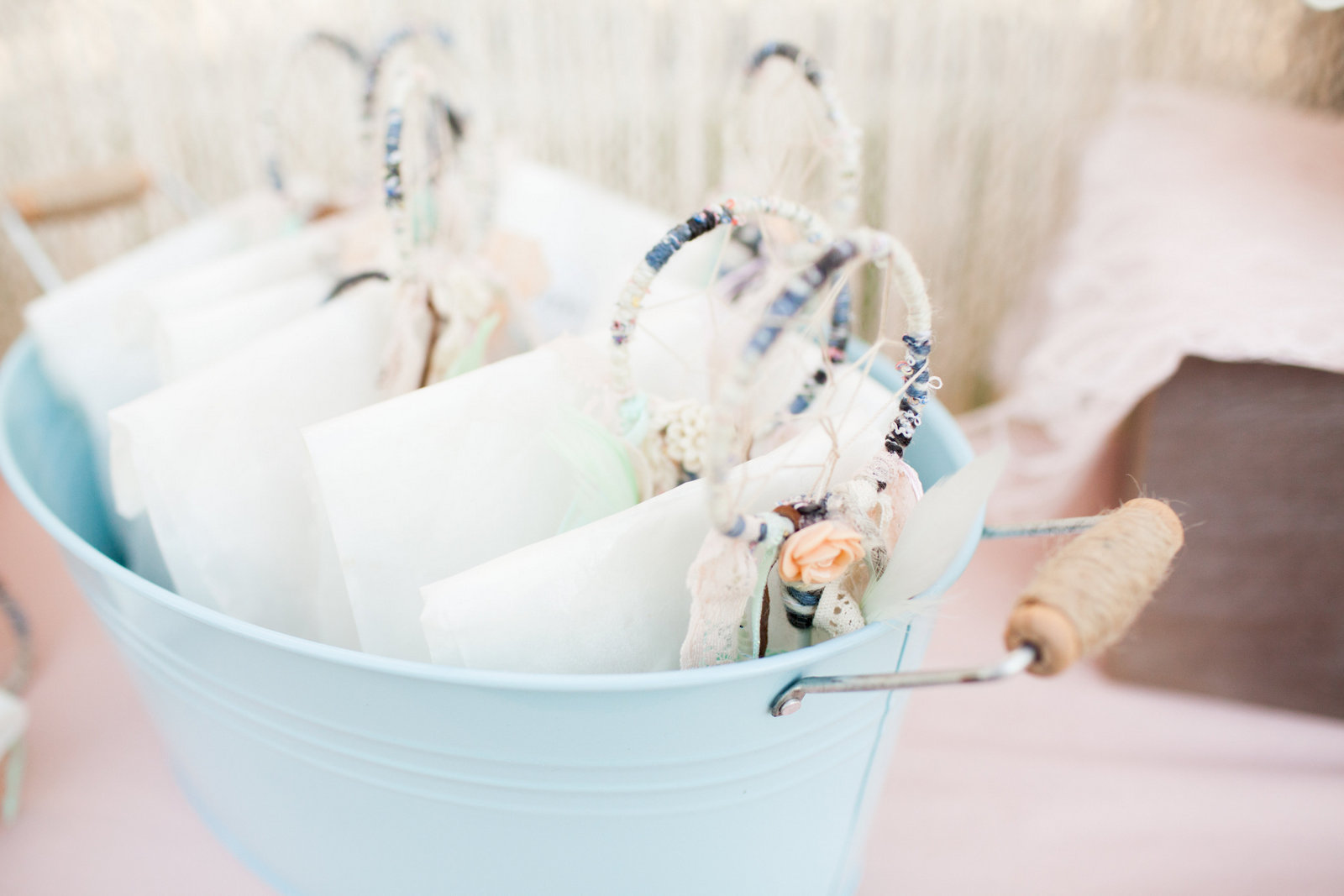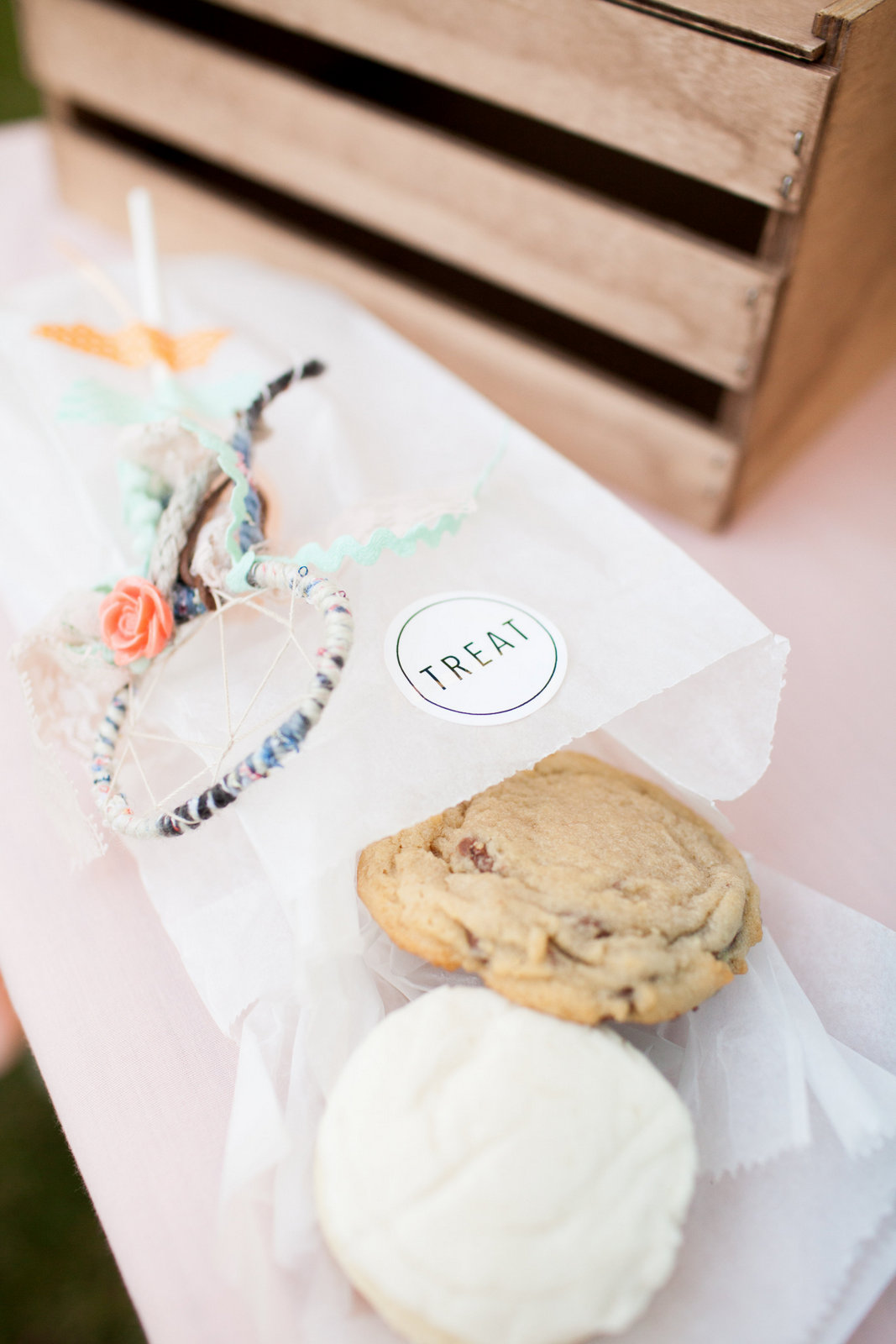 And lastly, each child got to go home with a sugar cookie and chocolate chip cookie (two cookies for Vivian turning two) from Treat Cookies. I also taped a beautiful handmade dreamcatcher wand to each of them for the children to play with and remember her party.
And now for the details!
Party Details:
Custom Invitation (some details removed): Lauren Ashley Clements
Macrame Backdrop: Needle and Knot
Cake, cupcakes, teepee/feather/2 cookies (custom made by owner Megan Faulkner): The Sweet Tooth Fairy
Macarons: The Blonde Who Bakes
Happy Birthday Banner: Hooray Everyday
Cake Topper: Hooray Everyday
Dreamcatchers: Blair Bailey Design (one, two, three, four)
Teepee: Sugar Shacks Teepee
Teepee Topper: Sugar Shack Teepees
Side Table: Target
Camera: Instax Mini
Chalkboard: Harley Kay Designs
Feather Ball Garland: Hooray Everyday
Shabby Chic Fabric Garland: Pearl and Jane
Vivian's Drawings: Paulette's Palette
Cookie Favors: Treat Cookies
Dreamcatcher Wands: Little Party Babes
Paper Straws: Etsy
Plates: Amazon
Cups: Amazon
Gold Flatware: Amazon
Vivian's outfit:
Custom Dress: Cuteheads (the top part is an old LulaRoe kimono I used to own, see how I wore it here)
Headband: Garden of Arden
Shoes: Bukugypsy
My outfit:
Dress: Pink Blush
Shoes: Old Navy
Hair styled by Tanglez Hair and Makeup
Event styling help by Ivy Lane Events
Photography by Pierson Photo Company and Summer Nicole Photo
Shop the party (click on any image below to take you directly to buy it!):
Pin or save this post for later: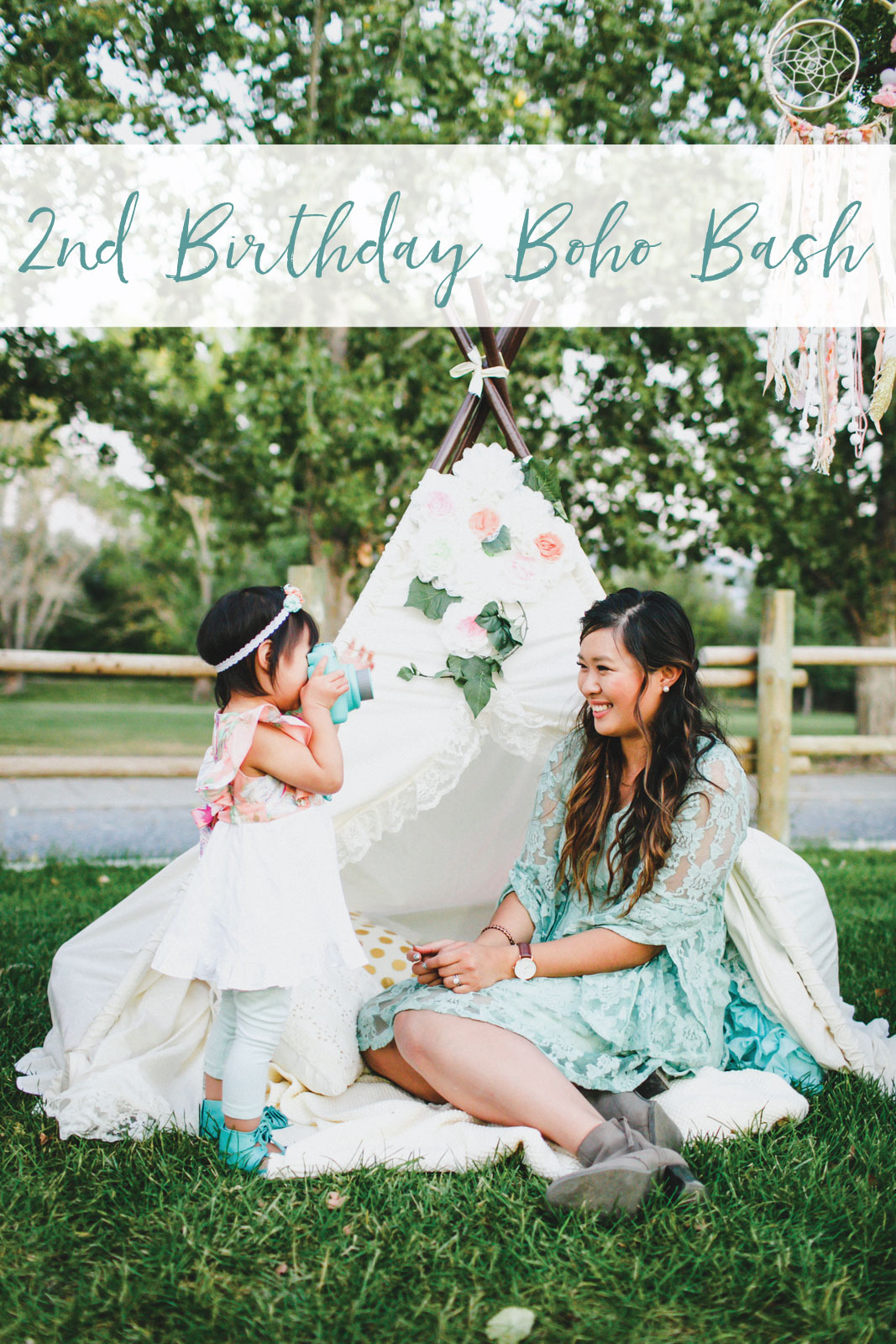 To see Vivian's 1st Birthday Garden Party, click here.
Save
Save
Save
Save