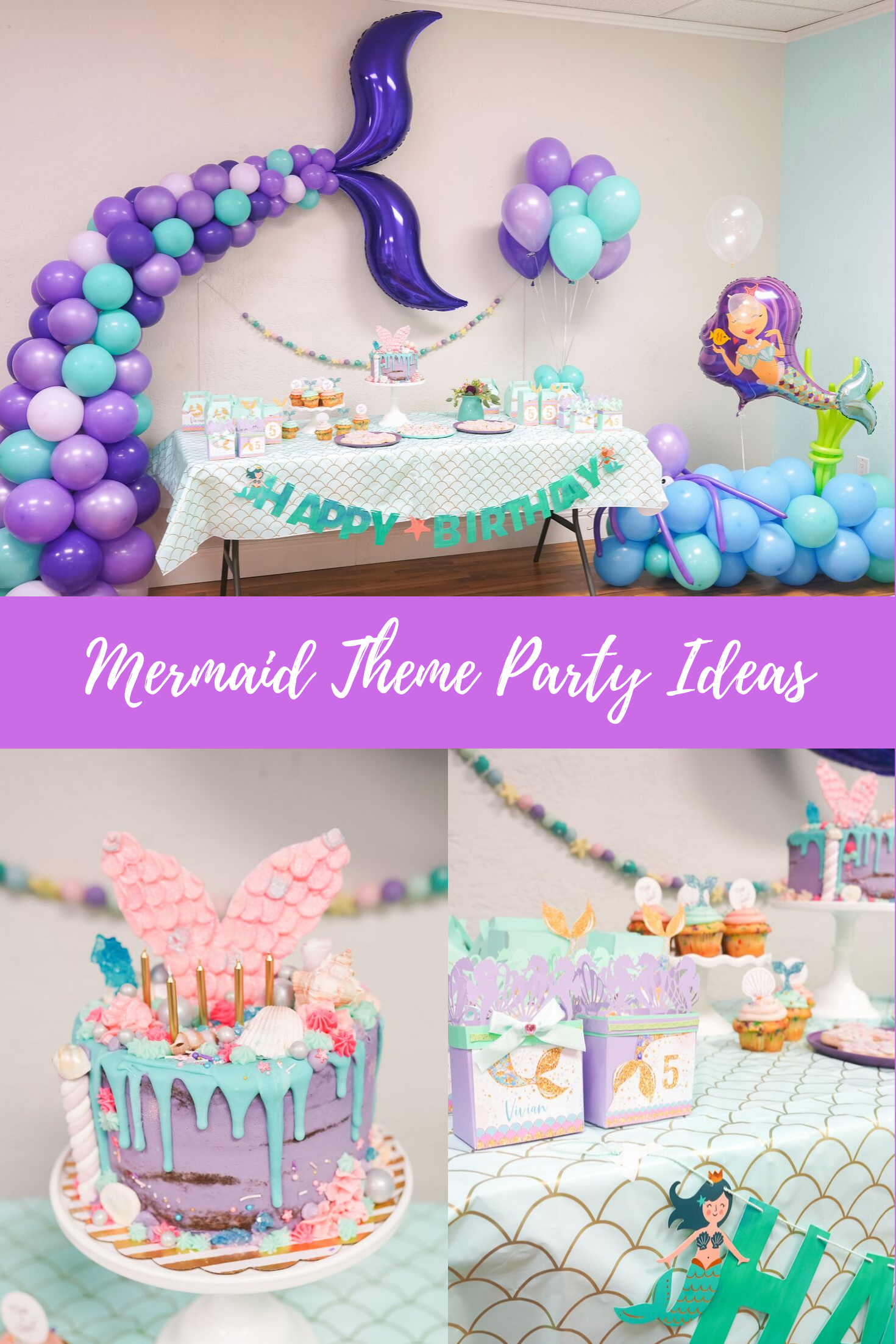 This past weekend we had Vivian's 5th birthday party and I have to tell you, I legit did not plan on going all out for this one, but I was pleasantly surprised by the end result of the dessert table!! I feel so blessed that we had a local Utah companies help us out with the party to make it a success! A few weeks ago, Vivian had wanted a "Sparkle and Shine Panda Party" which I was getting a little nervous about since that theme seemed difficult to pull off. But in the past few weeks, she changed her mind to wanting a "Mermaid Party" and I felt a bit of relief because that seemed (and was) way easier to pull off! As always, my main focus for the decorations is around the dessert table, and it makes a great backdrop of photos too!!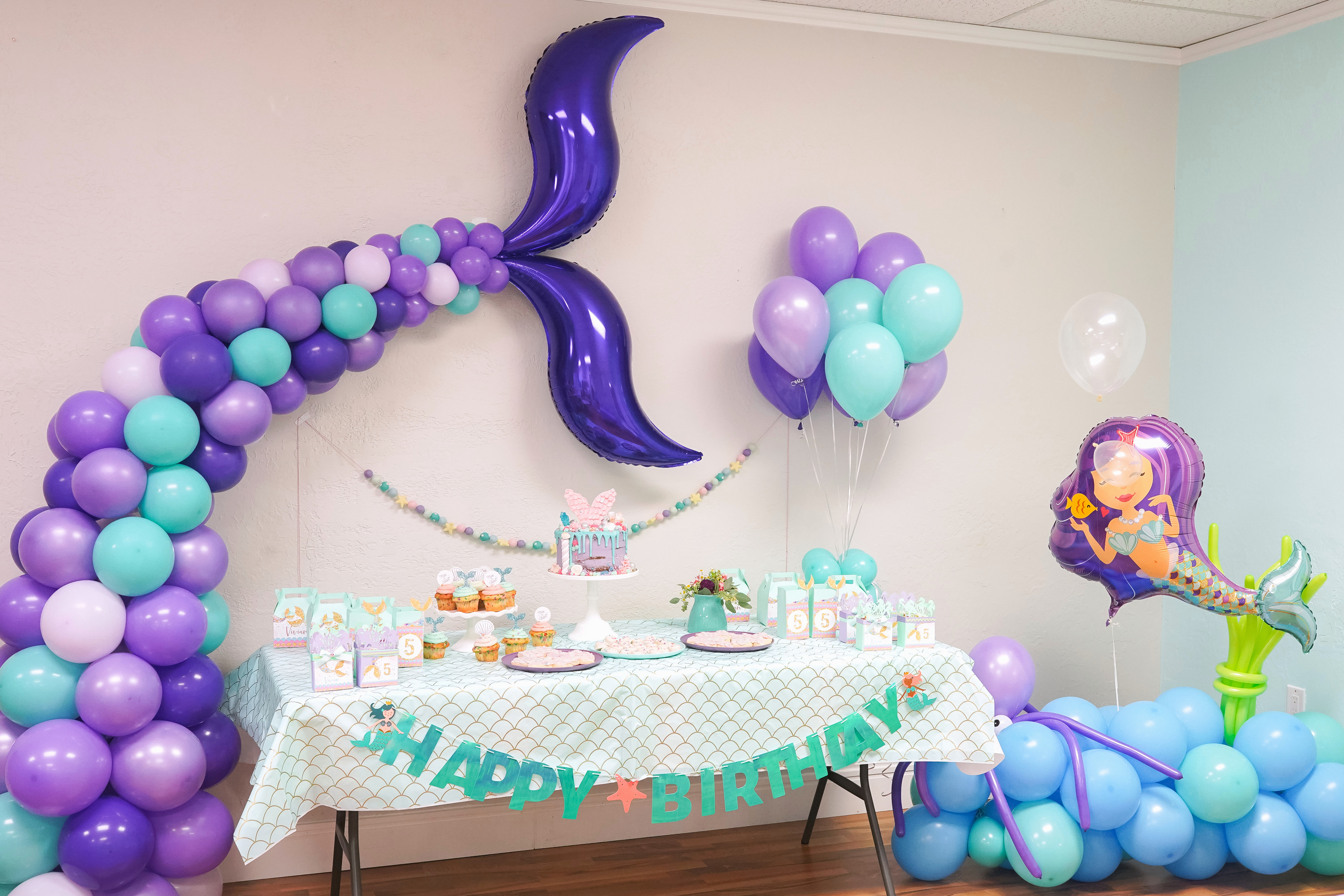 Balloon setups really make a statement to a dessert party table! The uber talented Mayu Balloons Decor created all of these amazing balloon decorations that completely blew me away!! That mermaid tail and the octopus were the PERFECT pieces and the purple and mint themed colors were just what I was going for! She came about an hour early to set it all up and she even made these little treat boxes for Vivian too! If you are in the SLC area, I highly recommend her to create the perfect balloon masterpiece for your next party, wedding, graduation, special event!!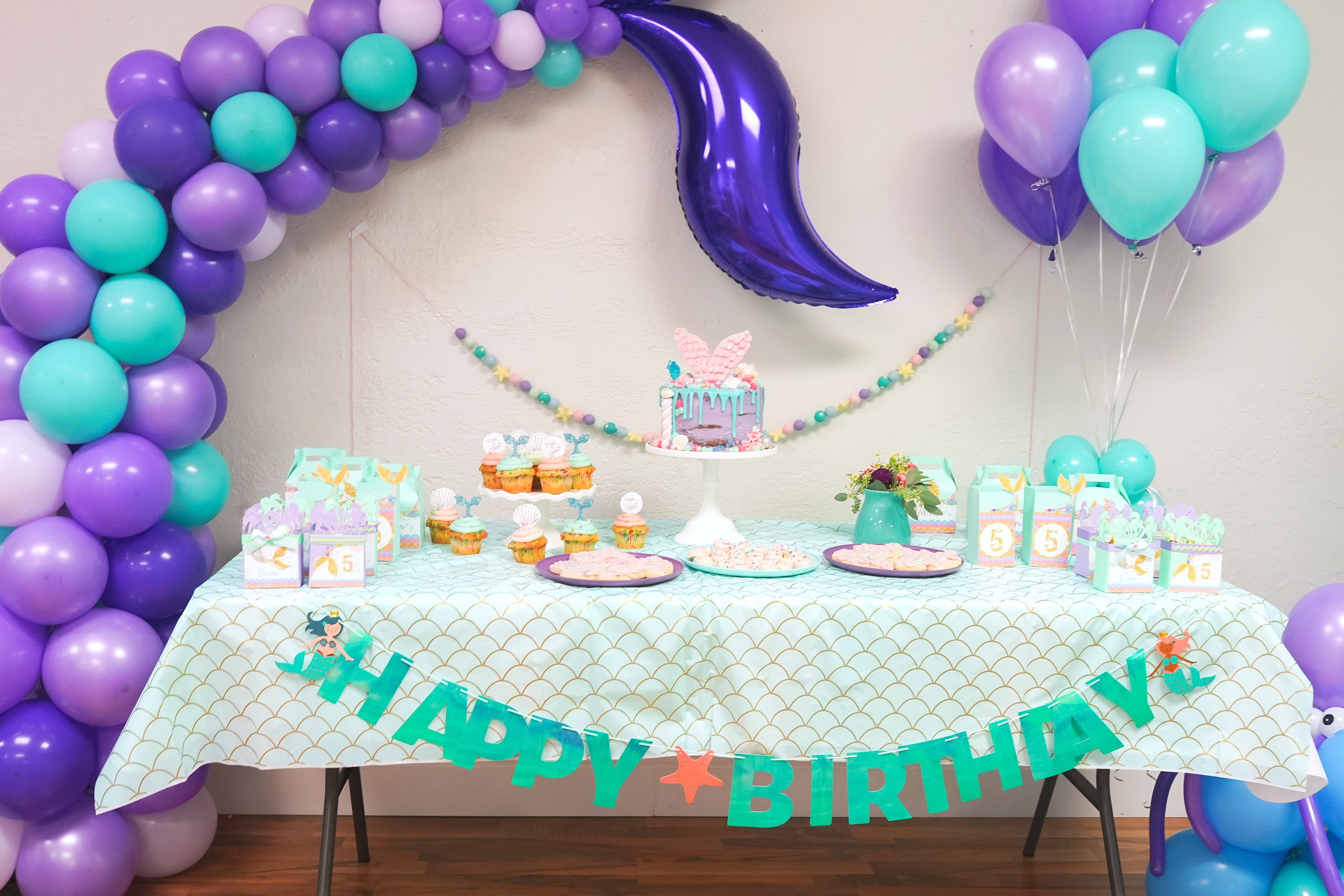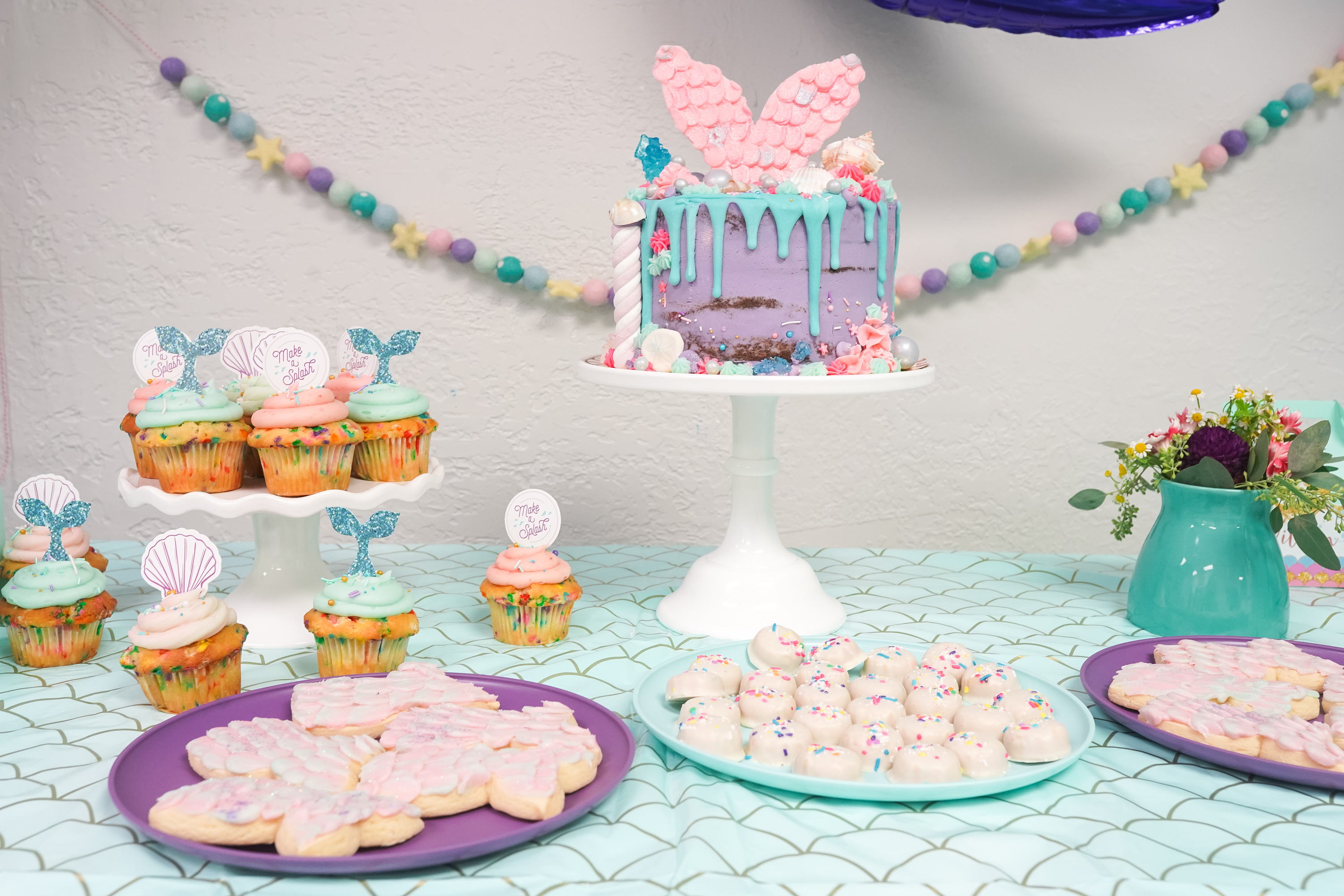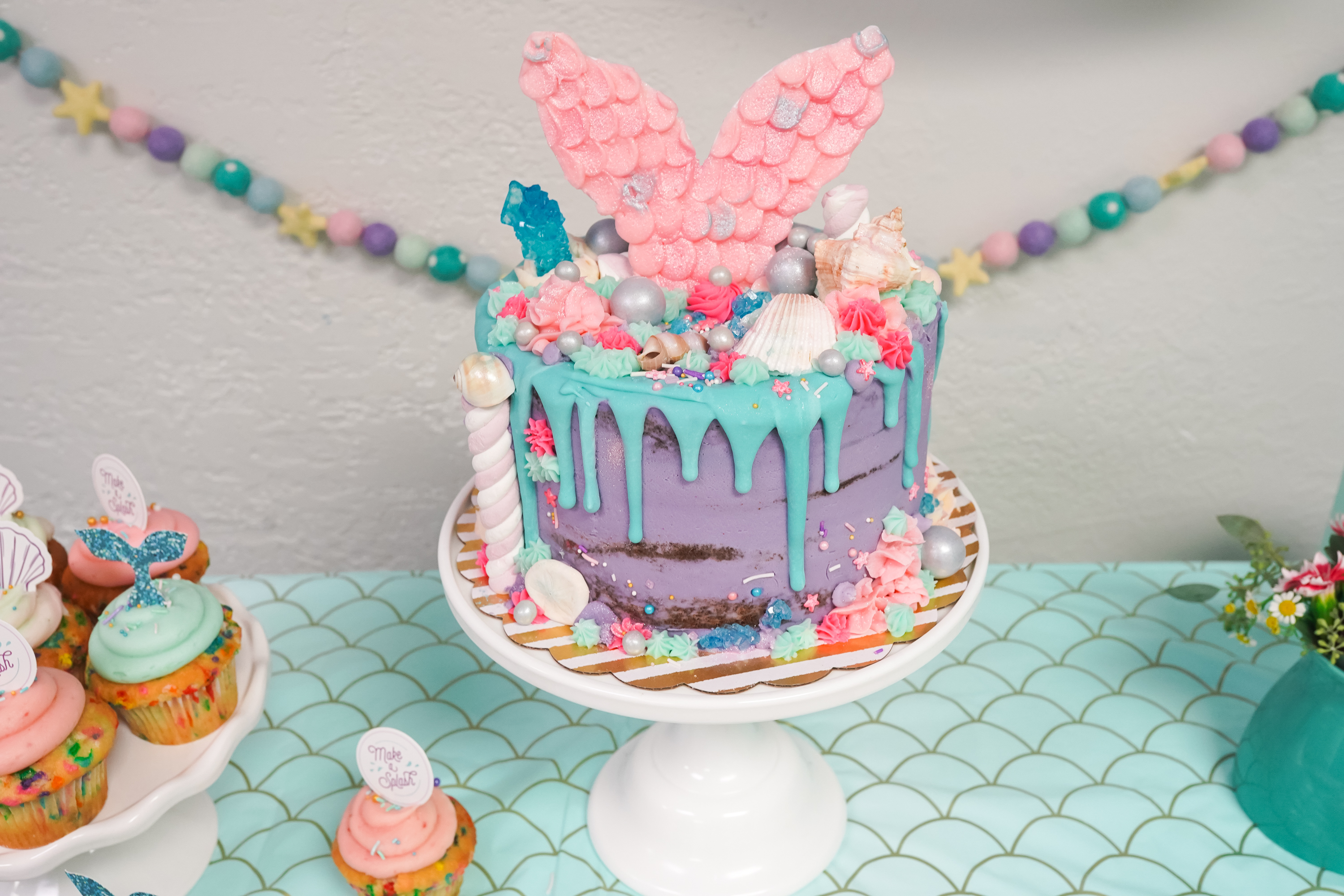 Sweet Tooth Fairy helped to fill the table with the most fabulous mermaid tail cake, cupcakes, cookies and cake bites that were the perfect sweet treats for Vivian's parties! I was seriously so impressed to all the beautiful details on the cake and Vivian was thoroughly surprised when she saw it! It only took her a few tries to blow out the 5 gold candles we put on top, hehe. Sweet Tooth Fairy always does a fabulous job with themed desserts and they have retail locations you can stop in to as well.
And the little felt ball garland behind the cake was made by Pearl and Jane. They make the cutest garlands fit for all holidays and themed parties!! They also make great home decor pieces too!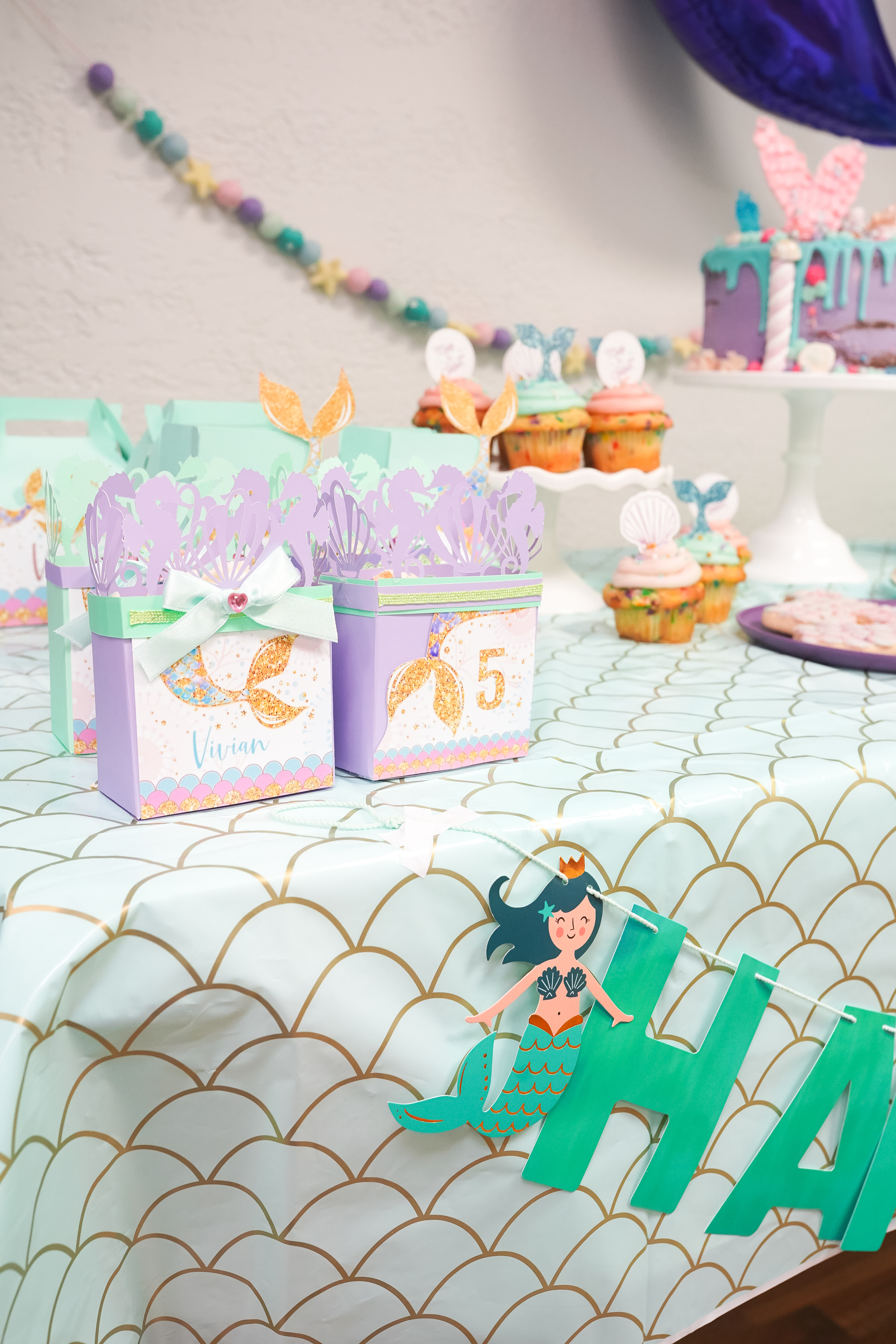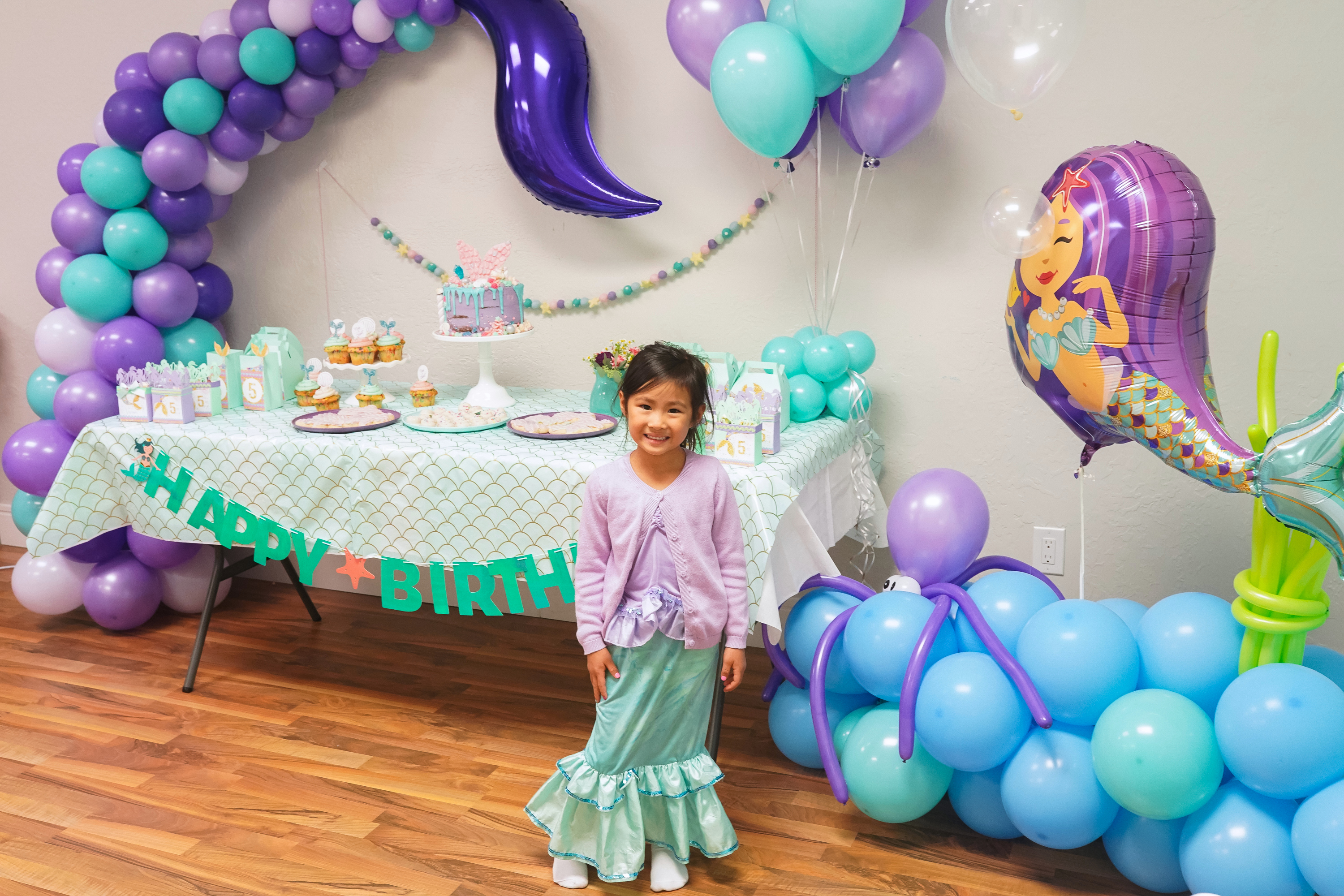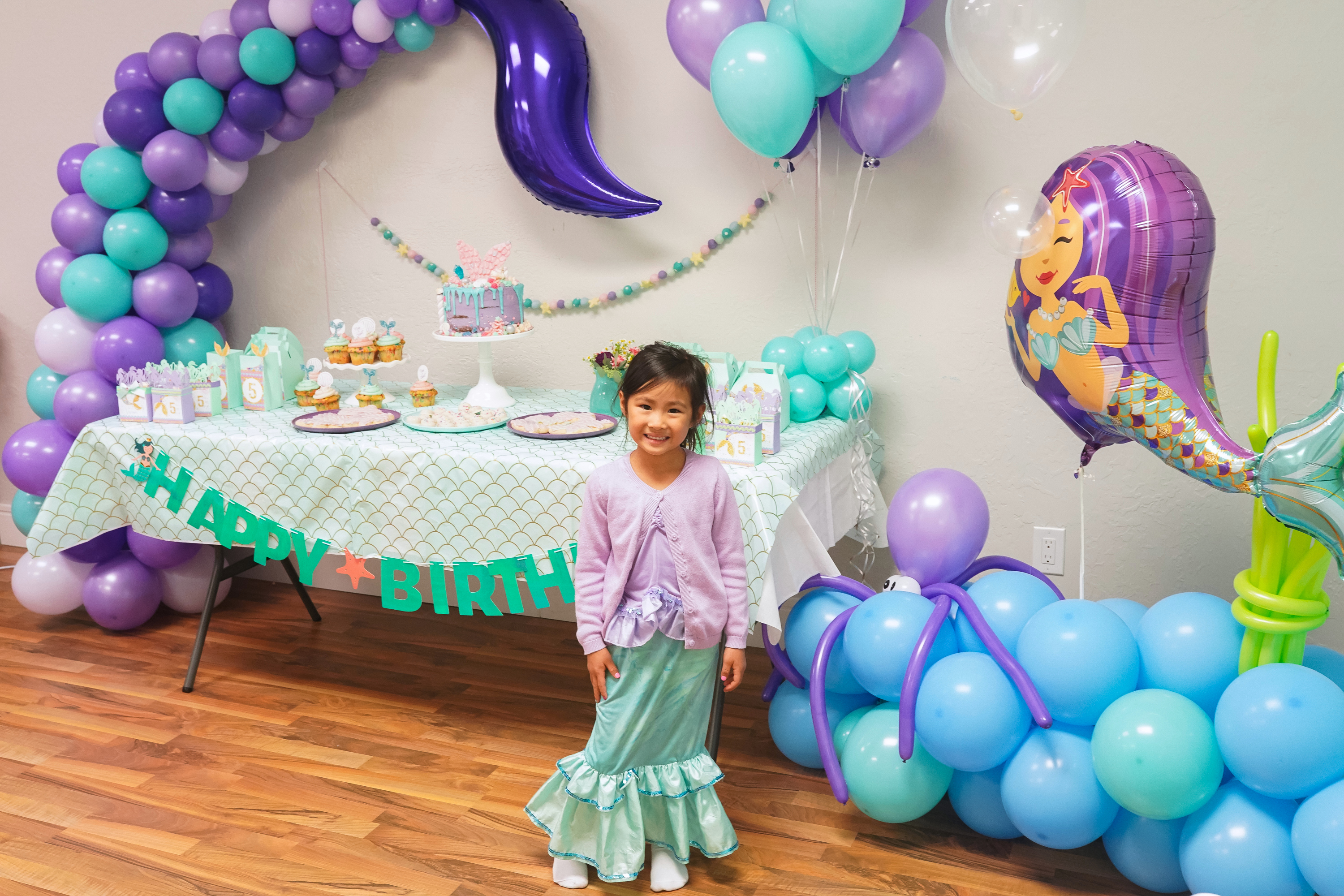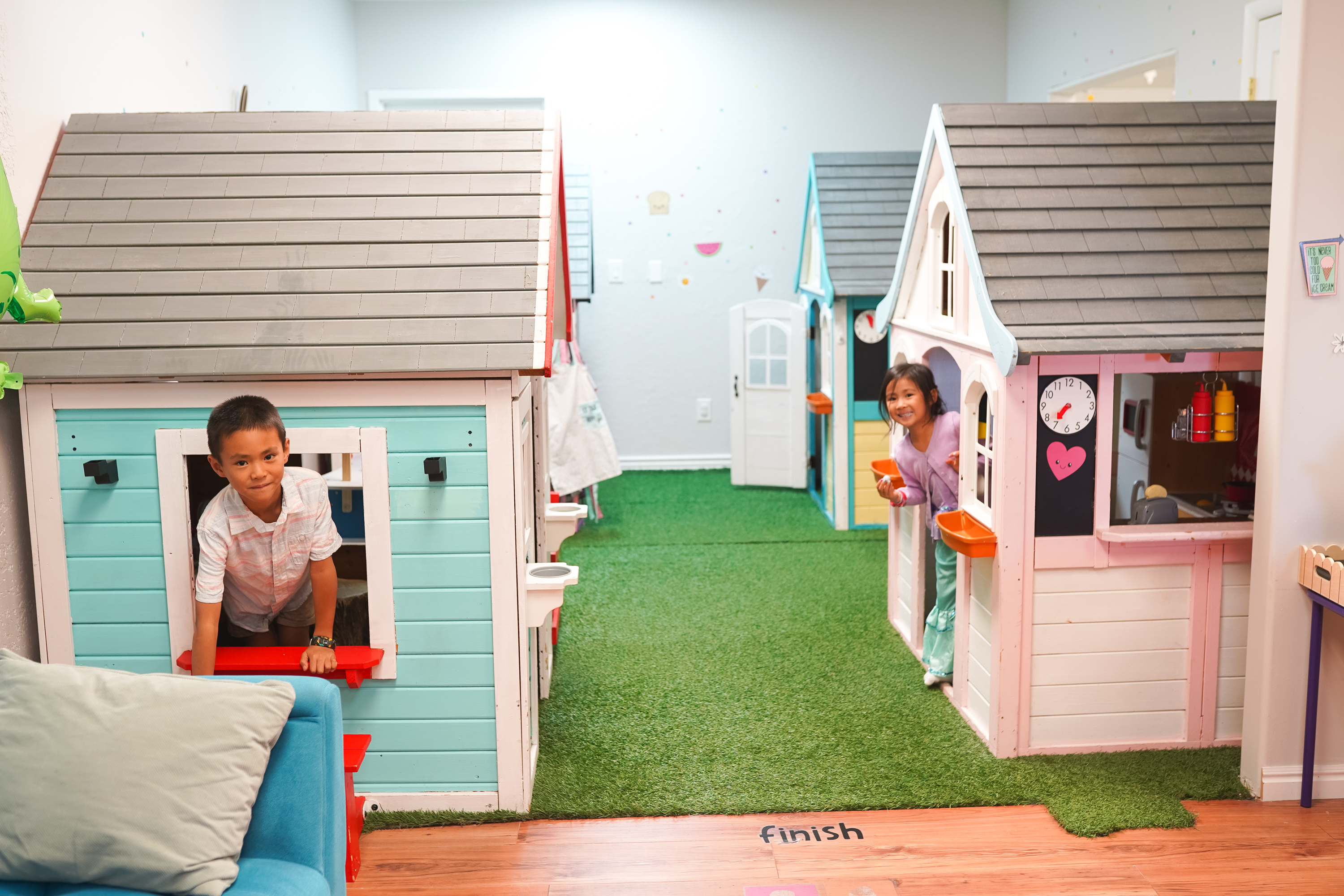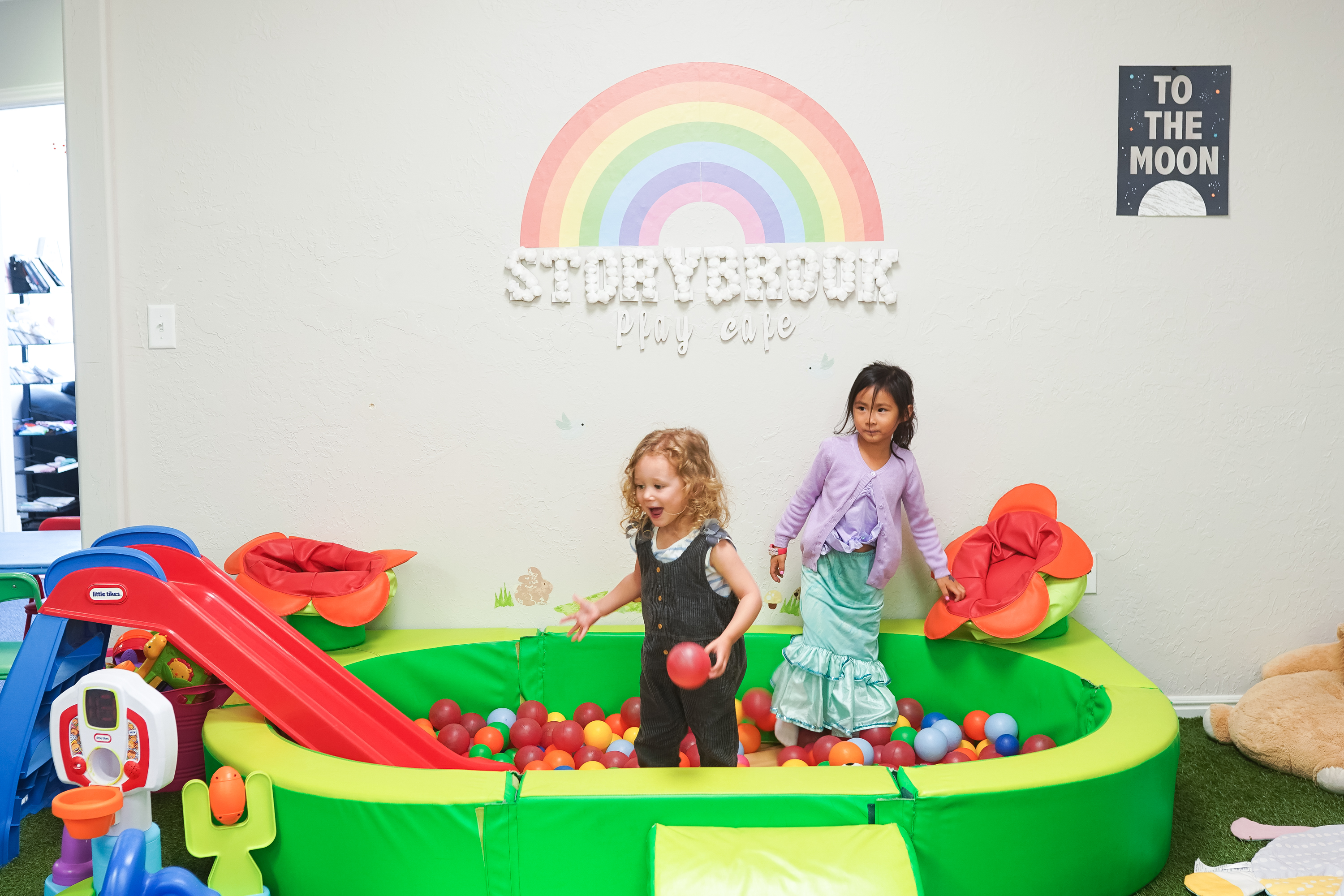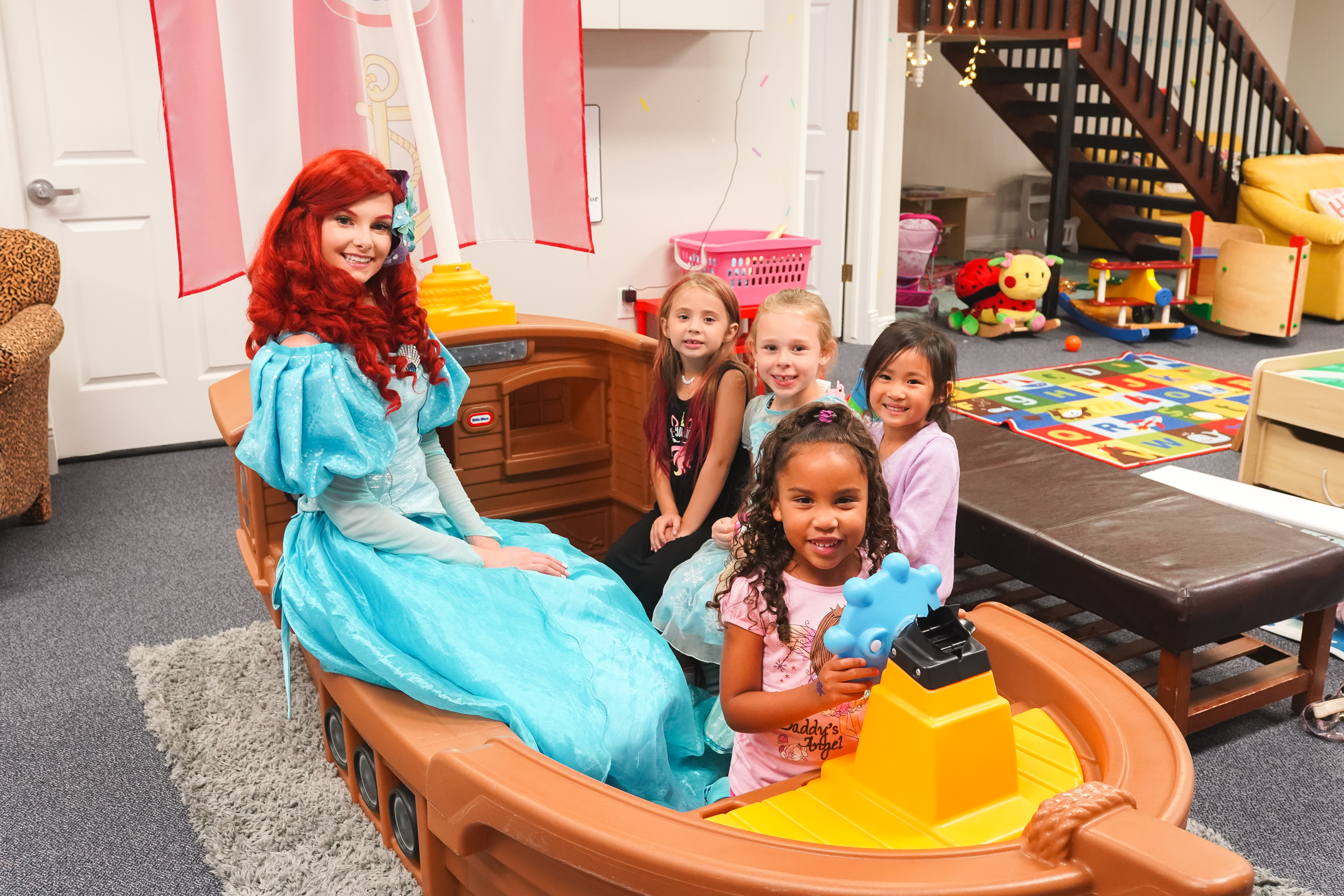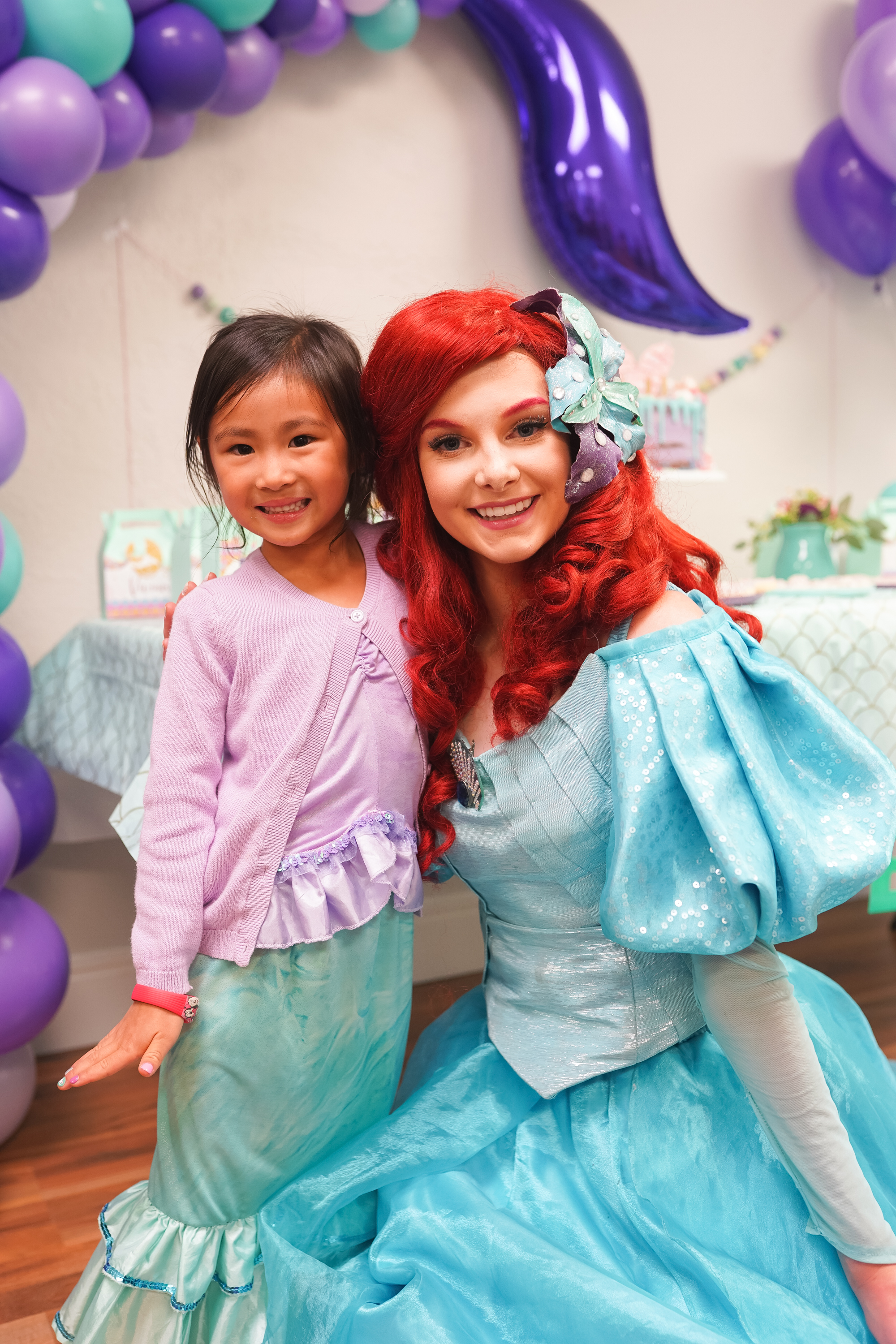 The venue where we held the party was at Storybrook Play Cafe in Sandy, UT. This was the PERFECT venue for her birthday party because it is basically a 2 story area with ALL sorts of play and is great for young kids. You can actually go there on a regular basis and bring your kids if you are looking for something fun for them to do for a few hours or really just need to get out of your house! From bounce houses to dollhouses to a sand room and play kitchens, they have SO much to keep your child occupied. We set up the dessert table in their little cafe area (which by the way, they offer a ton of food options too). We also were able to get Ariel to come to their party for an hour and she did glitter tattoos and lots of other fun activities and the girls were so happy!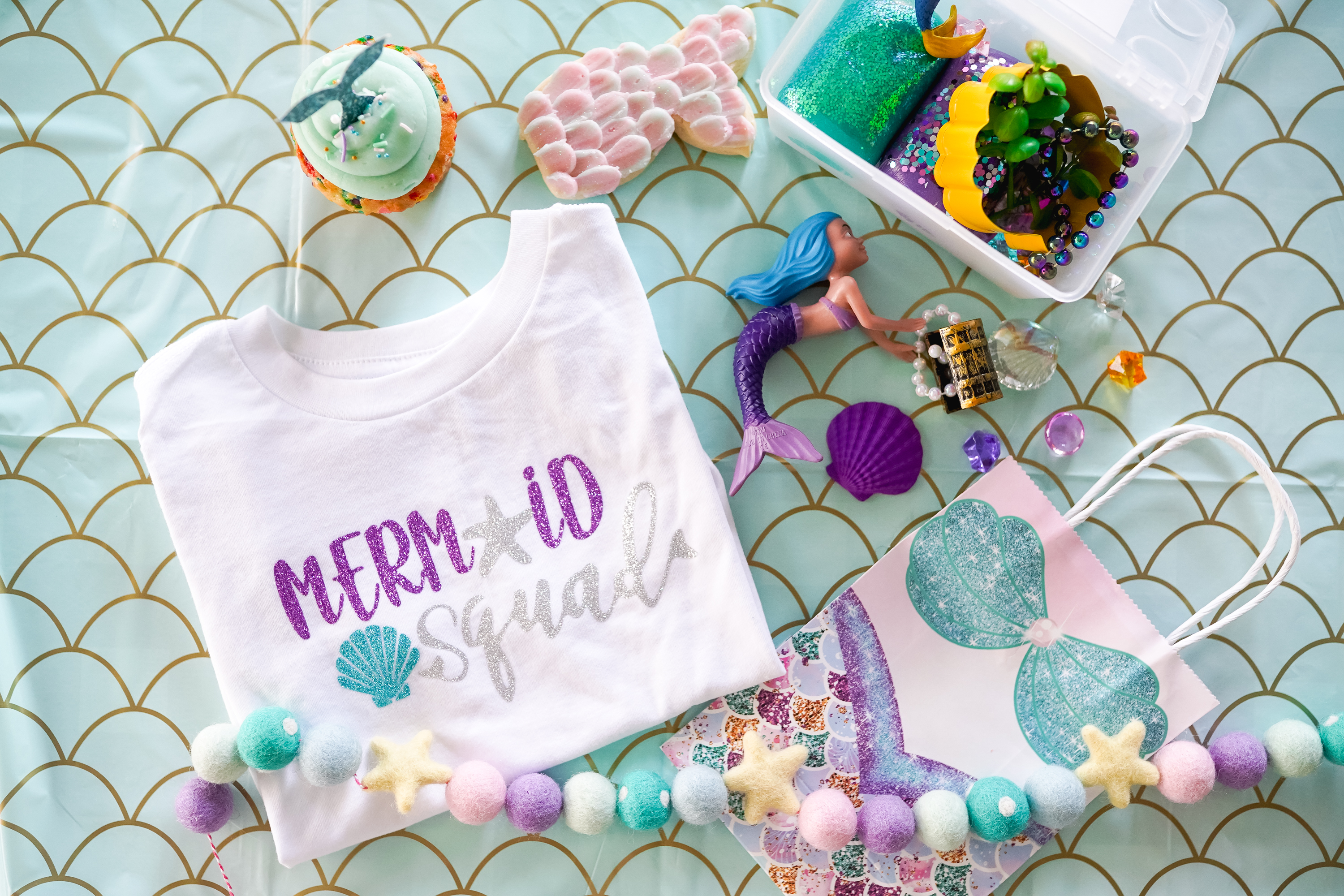 And as for favor bags, DRT SHRT was so nice to make these "Mermaid Squad" t-shirts that went home with each of Vivian's friends. I just told them the colors and sizes I wanted and they were super fast! If you have any family reunions or events coming up where you want a customized T-shirt, they do a great job! And lastly, I recently discovered Doughsie Dough, which are basically sensory play dough kits and such a great idea!! They have a ton of themed kits for girls and boys and trust me, it will keep them occupied quite nicely! We gave out the Mini Mermaid Kits to all the girls as favors and they loved them so much!! They came with glitter play dough, mermaids and all the little trinkets for a perfect under the sea play!
And then a lot of other mermaid party supplies I picked up from Target and a local party supply store. I will link all of those items below – just click the pictures to check them out!
Click here to see all previous birthday parties I have planned!