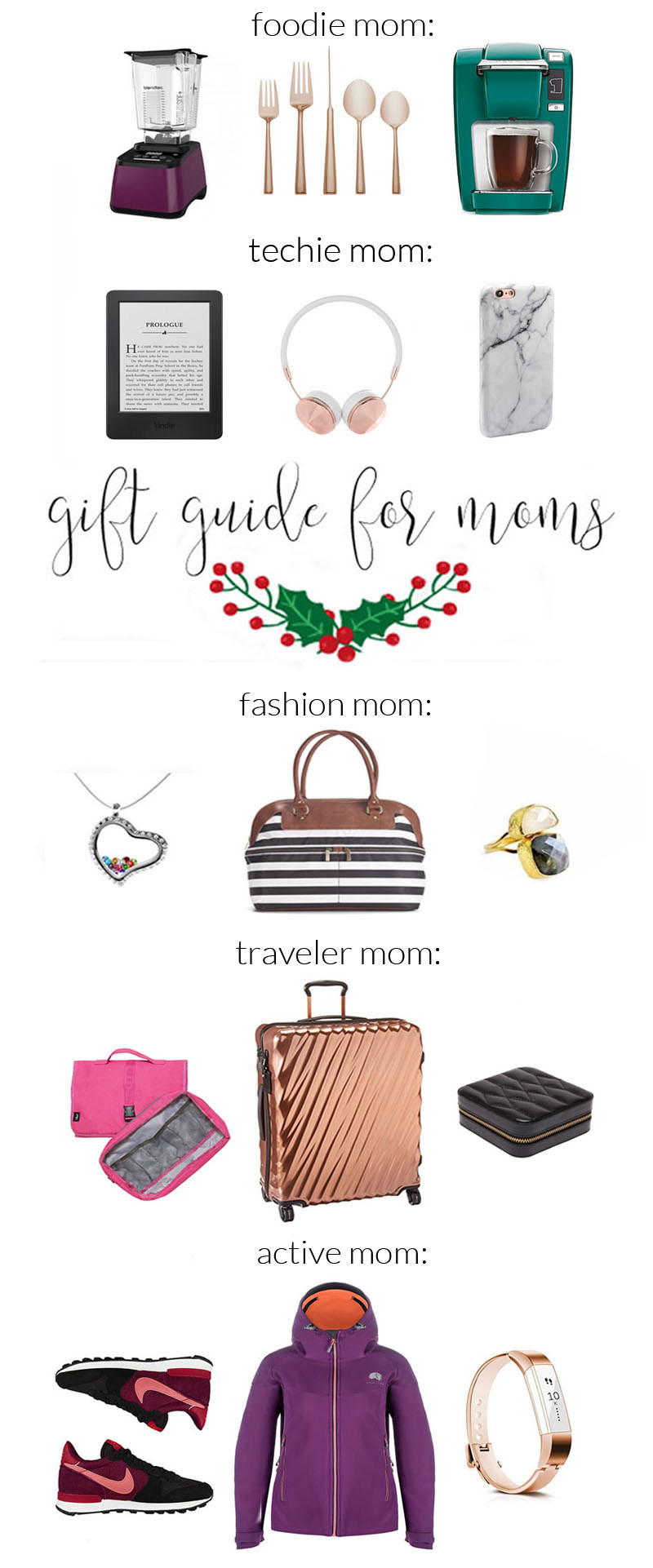 I feel like shopping for the holidays is already starting to wind down for people. which makes me feel like a slacker, because there are still a few key people I haven't shopped for yet! Ahh! Is anyone else pretty last minute like me? Well, at least I have half of my shopping done, so that's a plus right? So for those last minute planners, I wanted to share a holiday gift guide for all types of moms. Whether you are shopping for your mom, a sister, a cousin, or a friend, I've got a few "types" of moms covered and 3 gifts for each! P.S. Apparently there is a rose gold theme going on here, but are you surprised? It's the best metal color EVER!
Foodie Mom:
Blender – I own this blender and have had it for awhile now and LOVE it. We make smoothies with it regularly, it chops food up great, runs real smooth, and comes in a ton of pretty colors to match your kitchen decor, woot!
Rose Gold Flatware – It's rose gold. Enough said? 🙂
Brewing System – We don't own one of these, but I want one oh so bad!! Again, it comes in pretty colors to match kitchen decor too! Peppermint mocha anyone?
Techie Mom:
E-Reader – These are great for book worm mamas!
Headphones – Listen to Chistmas tunes in STYLE!
Phone Case – Lately, I've been SO obsessed with marble EVERYTHING!
Fashion Mom:
Charm Necklace – I actually got one of these for my own mom and filled it with charms in the colors of birthstones for her whole family! <3 And I've met the owner of gLockets, and she is just the sweetest!
Diaper Bag – A shoulder bag and a backpack, in the chicest stripes! Newlie Co seriously kills it in the diaper bag (that doesn't look like a diaper bag) department!
Ring – You can't ever go wrong with a gorgeous cocktail ring as a gift!
Traveler Mom:
Cosmetic Organizer – There's nothing better than being ORGANIZED while traveling in style.
Roller Suitcase – If I didn't already recently get a suitcase set as a gift, this would have been my next pick! You can't miss this in baggage claim, and it's GORGEOUS!
Jewelry Case – seriously the cutest little jewelry case with the perfect amount of compartments!
Active Mom:
Sneakers – Umm what a gorgeous pair of sneakers for winter? I love that color!
Jacket – This jacket looks super warm for runners and keeping warm while being active!
FitBit – The cutest little band for your FitBit! Yes, rose gold again ha ha!
What type of mom are you? 😉