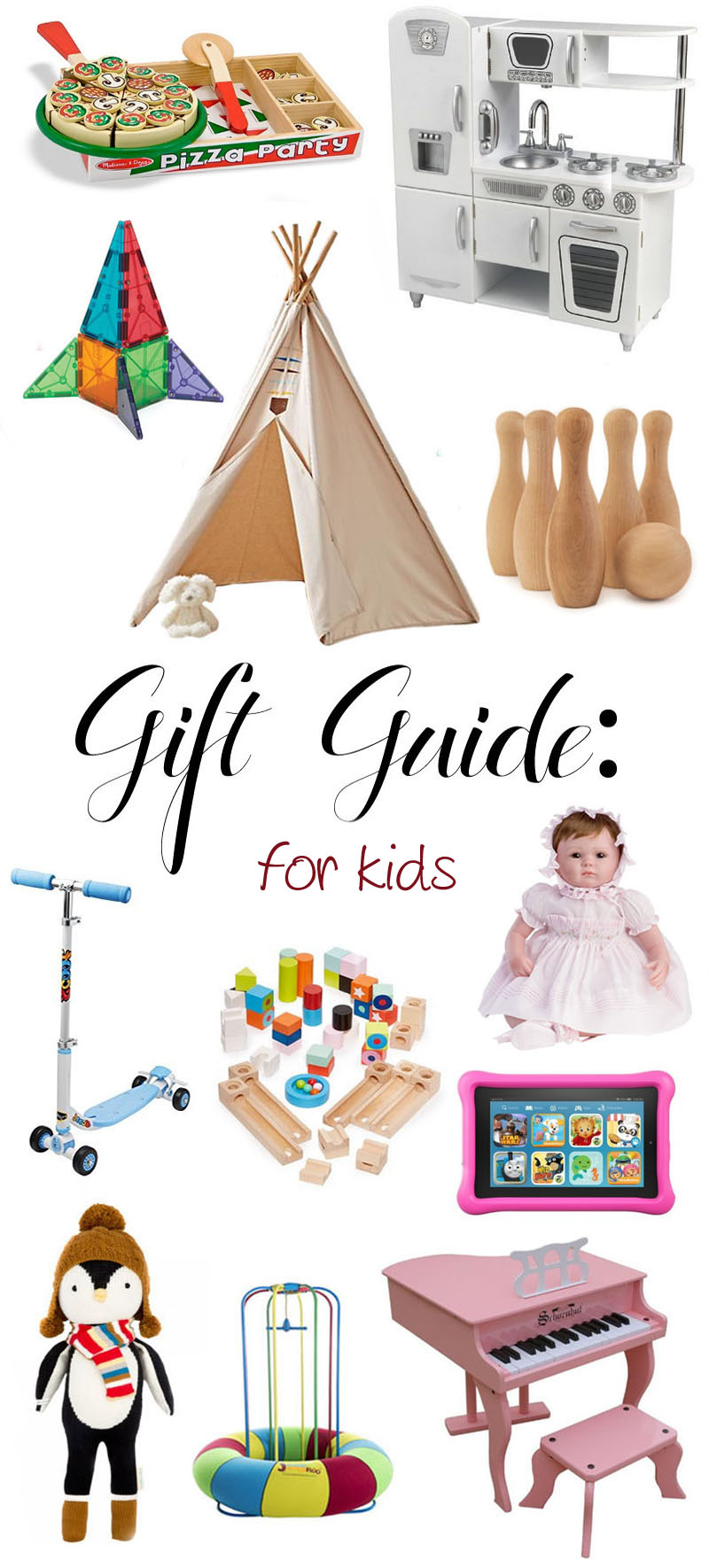 It's the biggest shopping day of the year, CYBER MONDAY! And I wanted to share this holiday gift guide with you where many of the products are on sale right now!!! I've also linked some of my favorite retailers below and their deals going on today!!!
Pizza Set – My kids have this pizza set, the cookie set, the sandwich set and the cake set and they LOVE it so much. They use it in their play kitchen and can pretend to be cooks and servers. Right now this set is 15% off!
Kitchen – This kitchen is sleek and comes in a ton of different colors! It is now 44% off and would make an AMAZING holiday gift for kids!
Tiles – If you want something to keep your kids occupied for HOURS, then get 2 sets of these! My kids played with these while we were at my brother's place in Las Vegas last week and the kids LOVED them. Both Vivian and Austin were able to play with them in their own way.
Teepee – We own 3 teepees and the kids love using their imagination and hiding in them. This one is on sale for 20% off now!!
Bowling Set – These are functional and look good for photoshoots, we love them!
Scooter – Keeping your kids active is super important and we own Fuzion scooters for the whole family!
Marble Run Set – This set would be such a great learning tool and it just looks super cute! You can buy it with some other products for yourself to get between 15-25% off!
Baby Doll – This vintage looking doll from Feltman Brothers is so adorable. It has soft skin, is baby scented and comes with accessories too! You can now get $50 gift card with this doll purchase!
Amazon Fire Kids Tablet – i don't know about you, but my kids are always taking my phone and tablets, that it is about time to get them their own, especially my 4 year old! These are 25% off right now!!
Penguin dolls – These plush dolls are so cute! We own the mermaid and Vivian loves her "baby". They are offering free shipping through Cyber Monday only!!
Jumparoo – We have had this for awhile now and we used it outside in the Summer and now it's indoors in our playroom for the cold weather. The kids literally jump on it every day! You can get $100 off with code SANDYALAMODE.
Piano – AHHHHHHHH how cute is this pink baby grand piano??? It is 14% off now, hurry up and grab one!!
Here are the links and codes to some of my favorite retailers CYBER MONDAY sales for 11/28/16. I'll be updating this list throughout the day as well!
ASOS: 20% off with code THANKFUL30
BaubleBar: up to 35% off with code SAVE35
Chicwish: 25% off
Express: 50% off + free shipping
Evy's Tree: Buy 2 Sophies, get 15% off
GiGi NY: up to 35% off
Gray Monroe: Get $10 gift card for every $25 gift card purchase
Nordstrom: extra 20% off select sale items
Shopbop: up to 25% off with code GOBIG16
Sole Society: 30% off
Tory Burch: 30% off any purchase of $250+ with code THANKS
LOFT: 50% off everything with code CYBERMONDAY
Kendra Scott: 20% off with code SALE20
Rebecca Minkoff: 25% off orders of $100+
Target: extra 15% off items that are already discounted! Comes off in cart!
Old Navy: 50% off everything
Free People: extra 50% off all sale items
Forever 21: extra 30% off sale items
J. Crew 40% off your purchase
Kate Spade: 30% off your purchase with code WIRED
Macy's– take an extra 20% off with code CYBER
H&M: UP TO 30% OFF
20% off your order of $30+ with code 5144.
25% off your order of $50+ with code 0275.
30% off your order of $100+ with code 8284.
Offer valid until 11/28/2016
Save
Save
Save
Save
Save
Save
Save
Save
Save