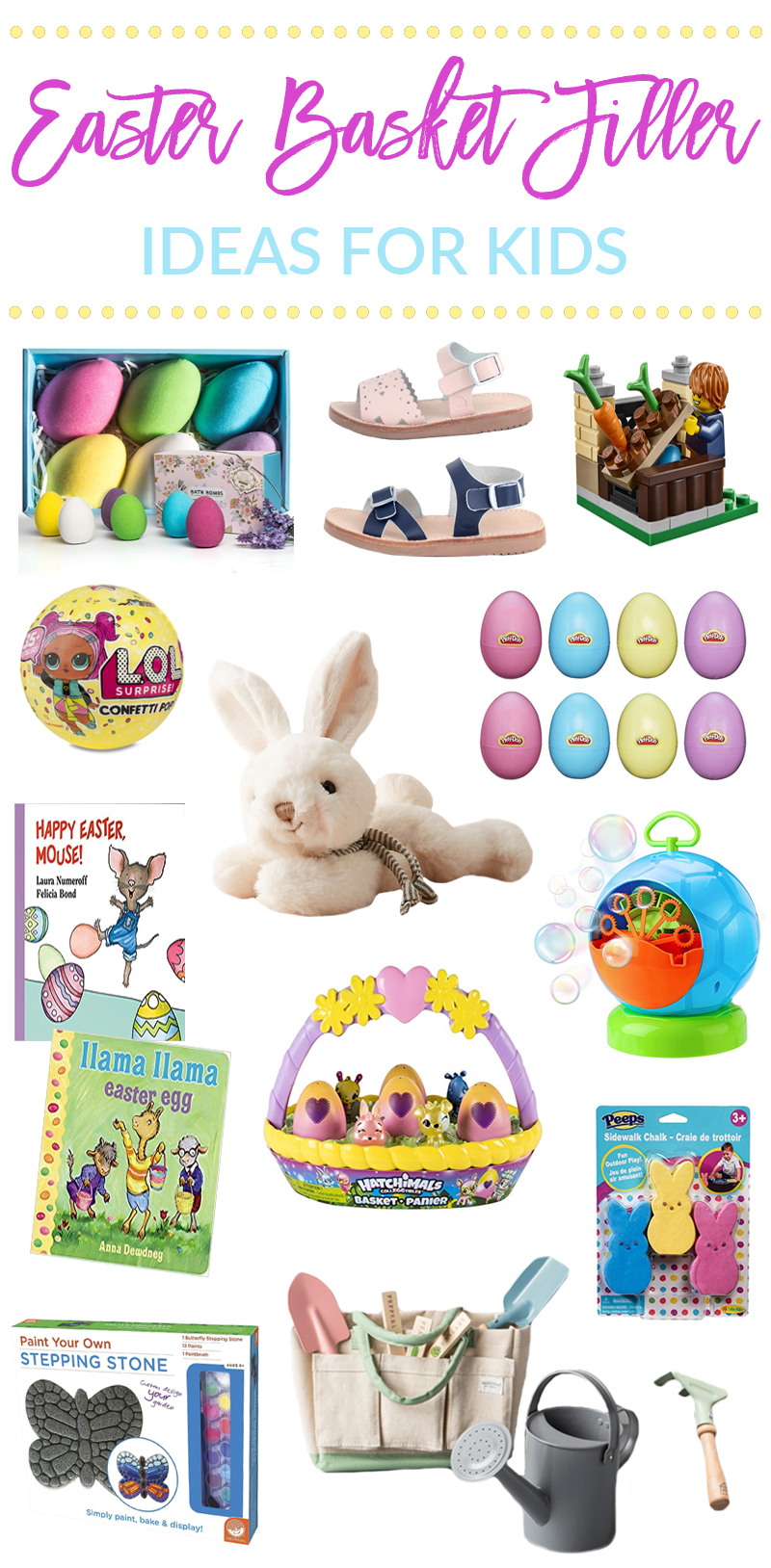 If you haven't started thinking about what to get your kiddos for their Easter Baskets, well it's probably time to get on it! It's a great time to get your kiddos some fun outdoor activity gifts, new toys, clothing for Spring, anything egg/bunny/carrot shaped will do! I've rounded up 25+ Easter basket filler ideas that are great for kids! A lot of them are gender neutral, but some may be more geared towards girls or boys. And I'm definitely using this guide for my own shopping for my kiddos baskets too! But if all else fails and you don't have time to shop, Target dollar spot finds are usually pretty on point too! Also – thank you to all those who responded to my Instagram story when I asked for these Easter basket filler ideas! Many of your suggestions are in this guide! <3
Easter Basket Filler Ideas – Outdoor Activities
1. Bubbles – What kid doesn't love bubbles!? We have this machine and it can provide hours of entertainment!
2. Stepping Stones – I love this set because it can be a craft and a piece that you put outside in your garden.
3. Sidewalk Chalk – Don't love the candy peeps? How stinking adorable is this sidewalk chalk in the shape of Little Kids Peeps!
4. Gardening Tool Set – Are your kids little outdoor helpers? Help them groom their green thumb with the cutest gardening tool set ever!
Easter Basket Filler Ideas – Toys
5. LEGO Easter Egg Hunt Kit – My son is absolutely going to go crazy over this, and I am sure any LEGO fan would! There is also this Easter Eggs Painting LEGO Set and these Transportation Egg Sets (LOVE LOVE)!
6. LOL Surprise Dolls – If your girls are LOL Doll fanatics, well here is just another reason to get them another set to add to their probably already massive collection. Also, how cute is this LOL Underwear set to go with it!?
7. Bunny Stuffed Animal – My daughter's stuffed animal collection is outrageous, but hey it makes her happy. They are all her "babies" that she can boss around!
8. Play-Doh Eggs – Self explanatory, because what kid doesn't love Play-Doh!?
9. Hatchimals Basket – This is probably a pretty classic gift since they are already shaped in eggs! But this Spring Basket one is pretty darn cute!
10. Squishy Toys – These are totally kind of random, but they are Squishy bunnies and chicks that are just a fun little thing to play with. And they have amazing reviews!
11. Where's Baby Bunny Game – An interactive hide-and-seek game for adults and kids to play together. I love this idea of getting the whole family in on the fun.
Easter Basket Filler Ideas – Apparel & Accessories
12. Summer Sandals – My kids LOVE their Freshly Picked sandals and they are coming out with some new colors (hello rose gold) soon! I know my kids will be living in these all Summer long!
13. Bunny Backpack – I bought this for Vivian a few weeks ago and she LOVES it. It's the cutest little backpack with bunny ears! I also love this darling little bunny crossbody bag!
14. Bunny Ears – You probably will want this for their Easter outfits or during egg hunt, but bunny ears are a must!!
15. Sunglasses – It's definitely time to stock up on a new pair of shades for your kiddos.
16. Pajamas – How cute are these Bunny Pajamas? It might be time to retire your Christmas PJs, or size up!
17. Kid's Headphones – My kids use these for travel and they are great. If you get multiple, you can wire them together so they can listen to the same thing!
18. Princess Dresses (use code SANDYALAMODE15% for 15% off) – From ice queen to mermaid, these dress up dresses are Vivian's absolute favorite!! And they would make a great Easter basket gift!
Easter Basket Filler Ideas – Home / Bath / Beauty
19. Egg Bath Bombs – Bath bombs are always such a fun little thing for kiddos, they smell good, color the water, and just make bathtime fun! And how about these that have TOYS inside!?
20. Tubby Todd Bath Bundle – This adorable set of shampoo, body wash and lotion is super adorable!
21. Nail Polish – I'm getting this water based kids nail polish for Vivian. She loves having her nails painted!
22. Band-Aids -I don't know about your kiddos, but my girl LOVES Band-Aids. Like she has a tiny bruise or cut or boo boo and wants a Band-Aid! Apparently we need to stock up!
Easter Basket Filler Ideas – Books / Craft
23. Easter Books – There are so many good Easter books out there, but some of my faves that I want to get for my kiddos are this one and this one!
24. Ultimate Crayon Collection – Your kiddos crayon collection may be used up or broken – so it's time to stock up again!
25. Egg Stampers – I actually put these in my Easter Basket guide from last year, but these were def a hit!
26. Stickers – Who doesn't love stickers!? Vivian loves to put them all over my clothes, furniture, herself… ha!
Easter Baskets
And of course, I couldn't leave you without giving you some basket options!