Hi friends! I am back with another Trunk Club, this will probably be my last Summer box as the Nordstrom Anniversary sale is near which means FALL CLOTHES! As a recap, you get assigned a stylist (mine is awesome), she works with you on what new pieces you need to add to your wardrobe and then sends a box to your house a few days later. You get 5 days to try things on, keep and get charged for what you want, send back what you don't want or even exchange items. If you have a Nordstrom card, any styling fee is waived. I was hesitant about getting a Nordstrom card back in the day, but it's got amazing perks like points that can be used towards Notes, which is just free credit back to Nordstrom haha!
Sign up for Trunk Club HERE!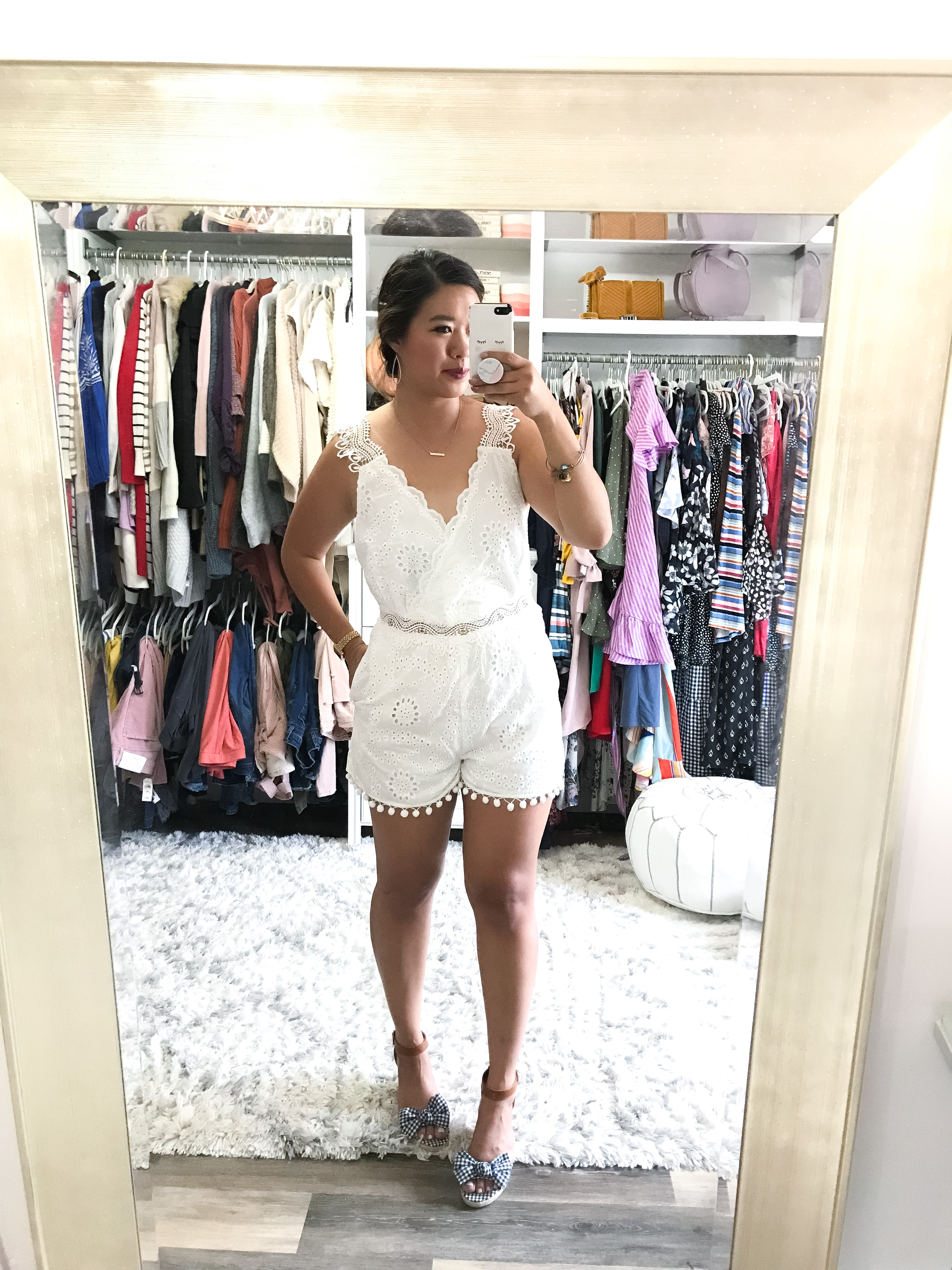 1. Willow and Clay Eyelet Romper – size Medium – OBSESSED is the first word that comes to mind with this romper. It has so many cute lace details, a pom pom shorts trim, and is so so so cute for Summer!!! the size Medium fit great all around for me, but this one does require a sticky bra (as the back of a strapless bra may show).
2. CeCe Carnival Stripe Dress – size 6 – This dress is SUPER fun with the hot pink and white stripes! Would be super cute to wear for a fun summer concert or carnival!! Unfortunately for me, I don't think I will get a lot of wear from it for the price, so won't be keeping this one.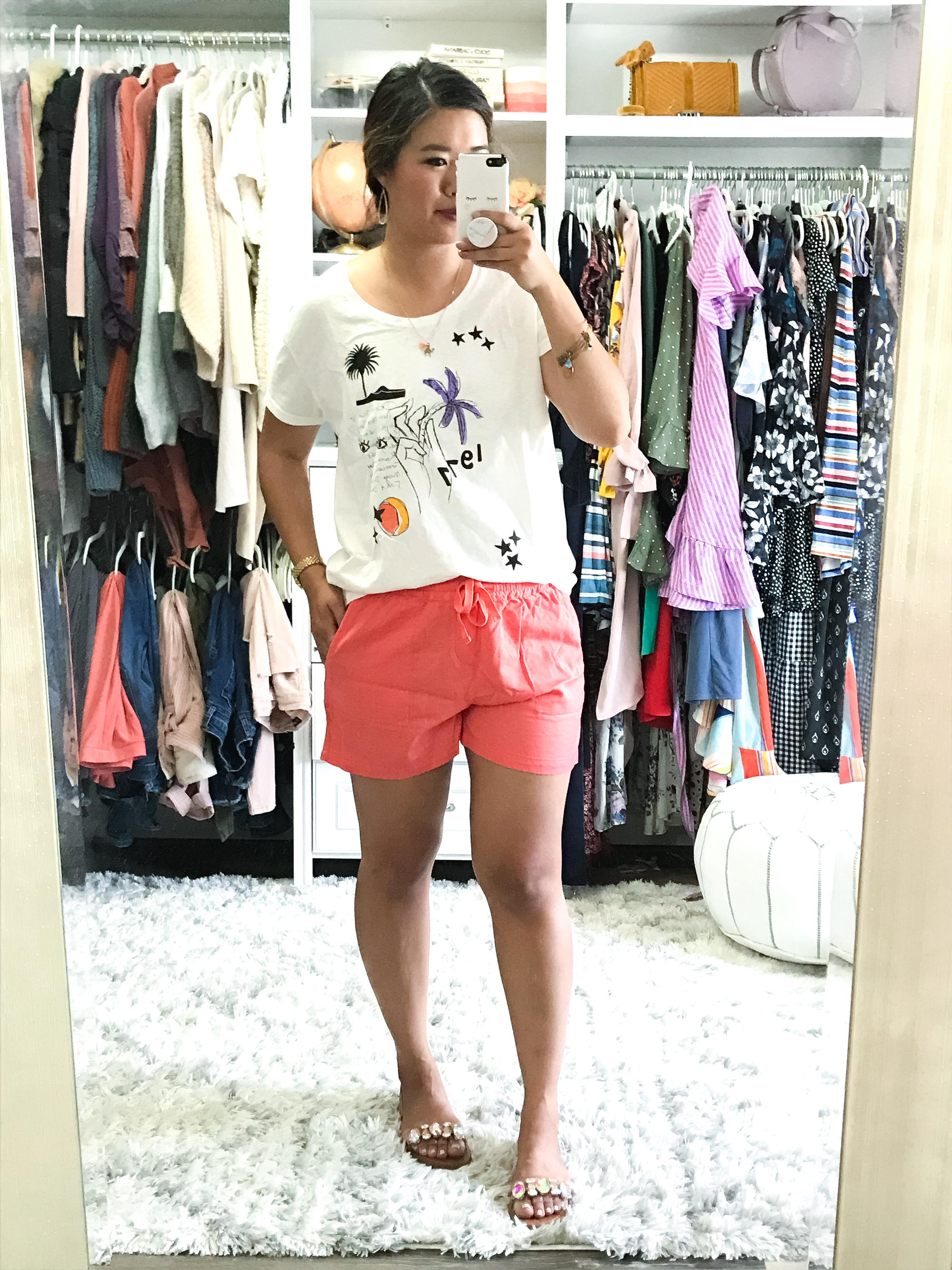 3. Scotch & Soda Desert Tee – size Medium – Where are my desert dwellers at? This tee is for you! I love that it is hand-drawn artwork on a tee and it's just so fun! Even cooler is that it comes with a camel necklace that kind of plays into the artwork of the shirt! I've never seen anything like that before! Scotch & Soda is a new brand to me, but I am digging their style! The Medium ran a tad big for me, I think a Small would be better!
4. Calson Pull On Twill Shorts – size Medium – I think my stylist Cecilia knows me pretty well because I love a good pull on short! These ones come in 4 colors and are just the easiest little shorts to pull on… especially when you are running out of the door like me!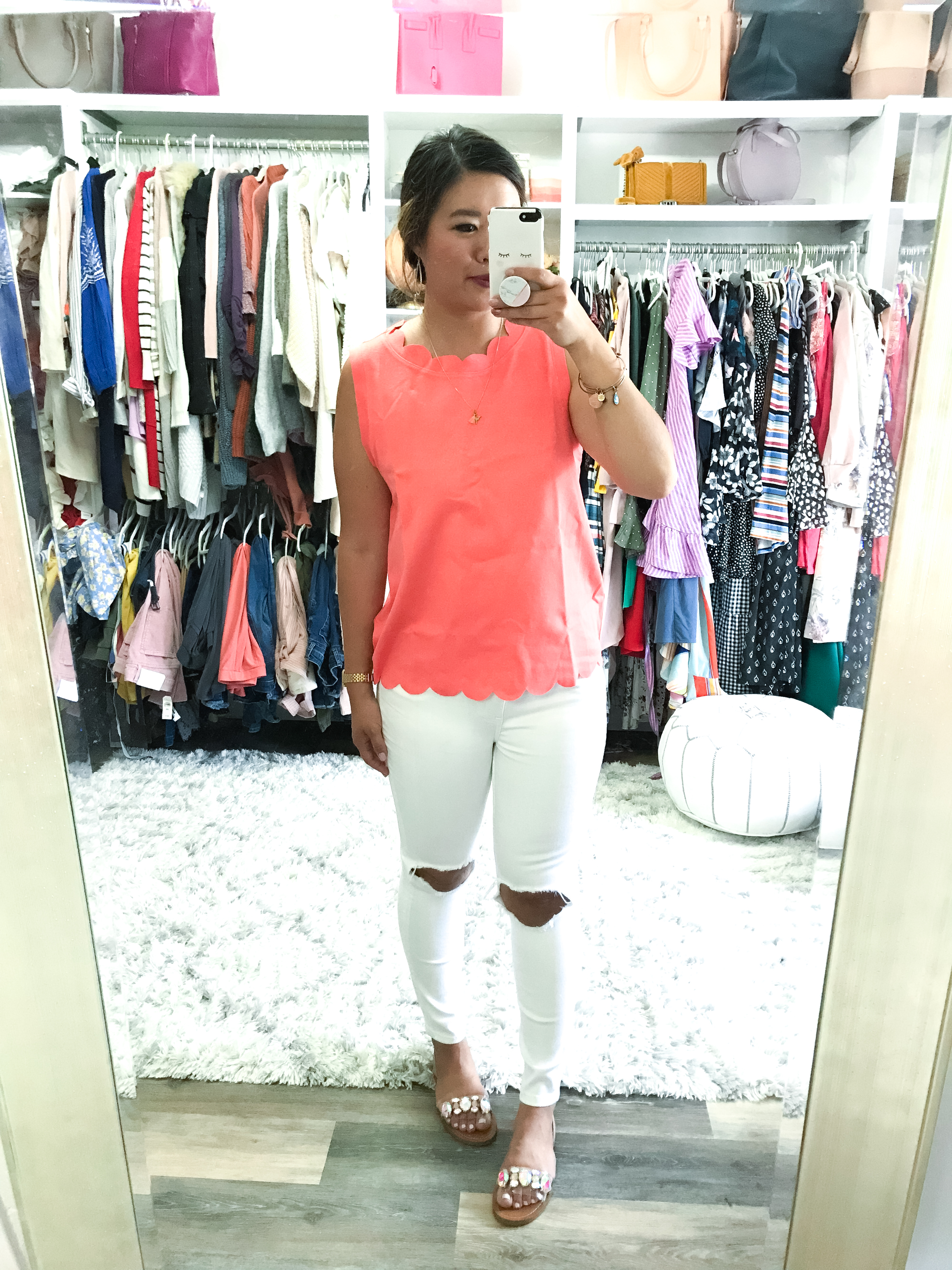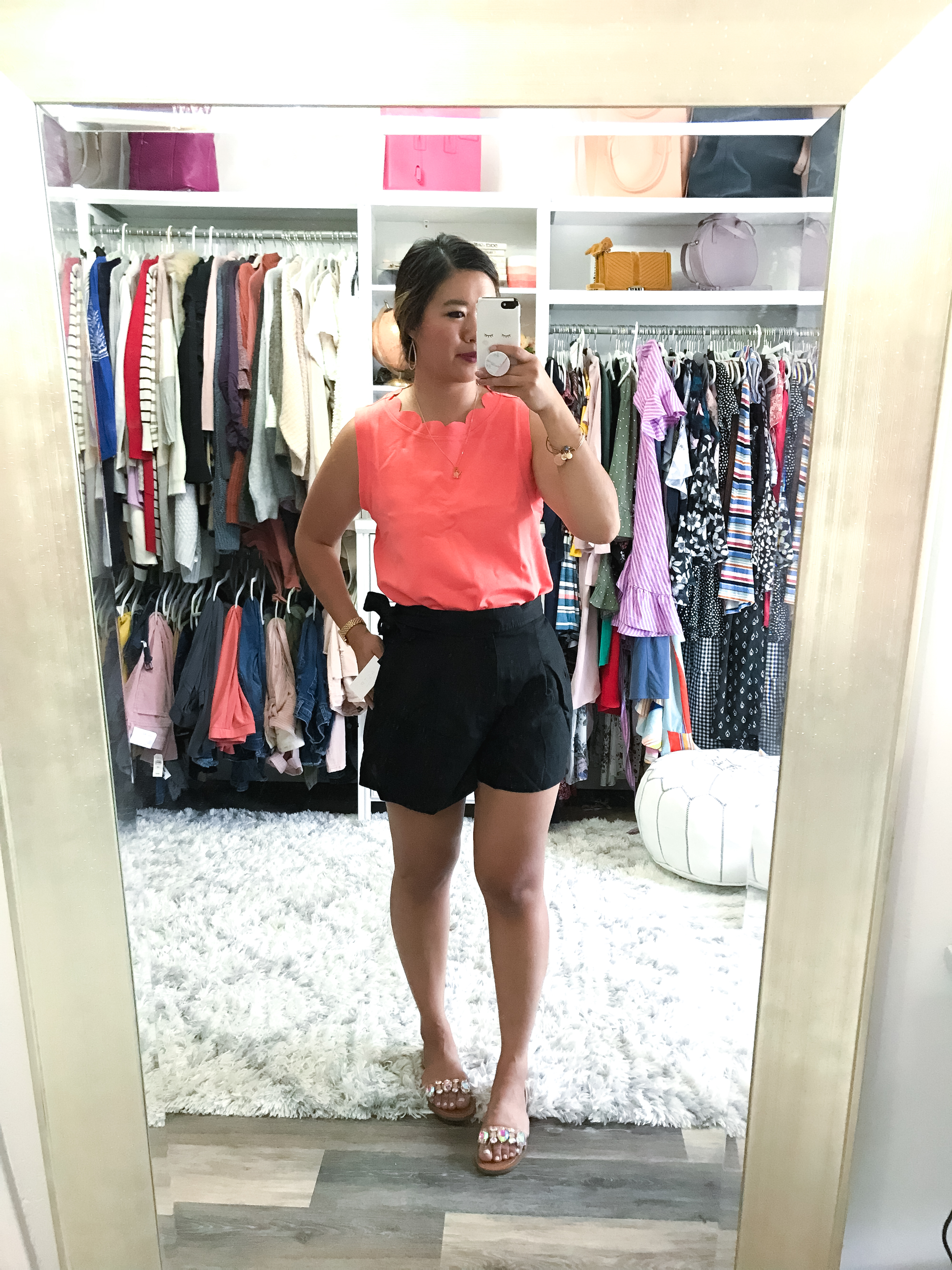 5. Everleigh Scallop Edge Sleeveless Top – size Medium – This top is SOO cute! It comes in 5 colors and is a great price point!! I definitely think I am going to be keeping/getting this one, but I may need to exchange it to a Small! This top is great on its own or under a blazer for work!
6. ASTR Jayden Shorts – size Medium – These little front tie shorts come in black and a khaki and I think they are a good little short! They kind of feel like they can be dressed up or dressed down, however, I do think it is a bit expensive for shorts!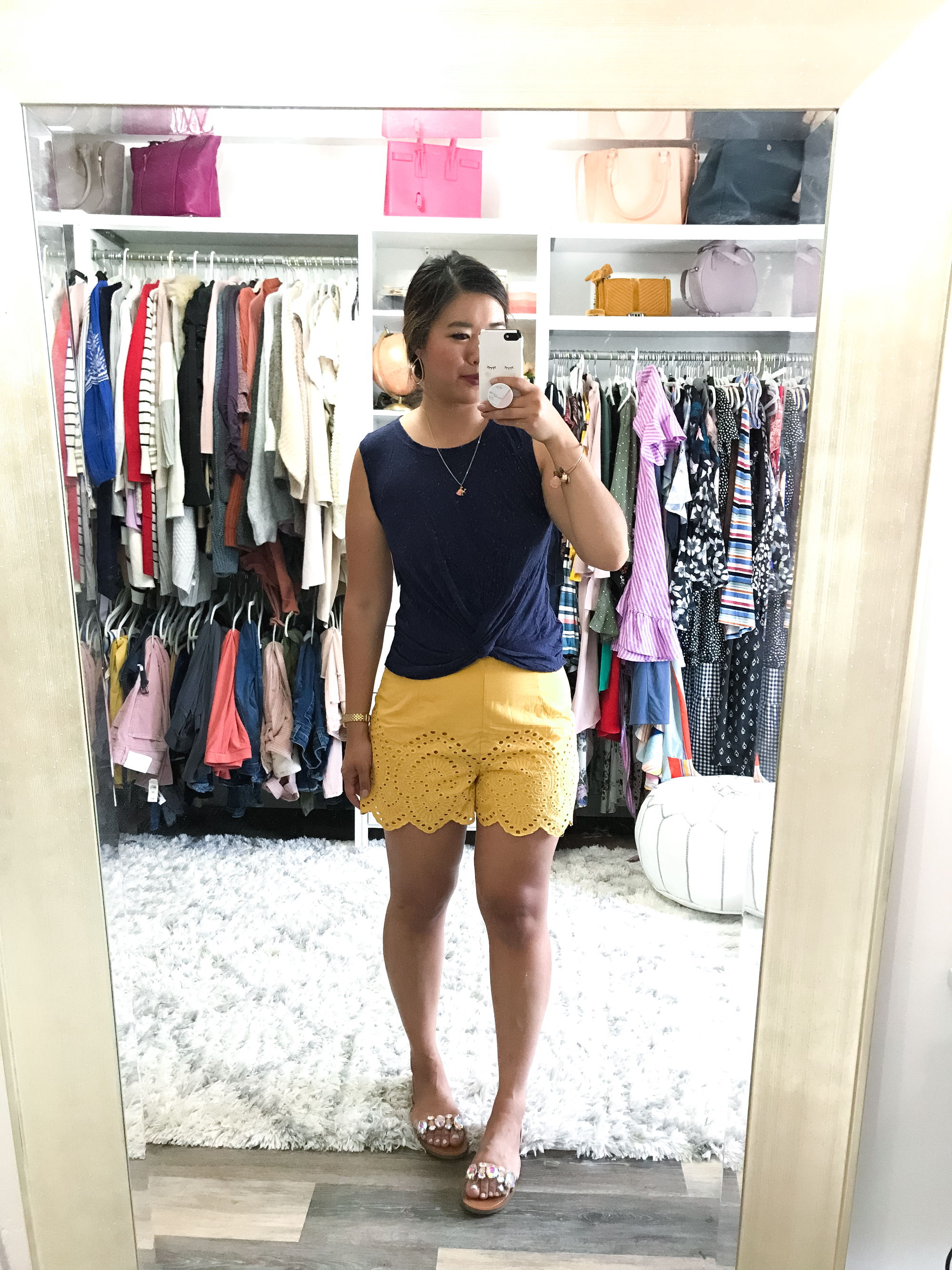 7. BP. Twist Hem Tank – size Small – I am LOVING twist hem tanks and tees right now and this one is fun! It is a little cropped, so best worn with high waisted shorts or jeans! I would imagine that if you wanted a bit of a longer look, to size up. I am digging all the colors and it even comes in stripes too! And at only $22, it's a steal!
8.Ten Sixty Sherman Eyelet Shorts – size Large – If there is anything my stylist knows about me, it's that I love yellow and mustard!! AND EYELET!! These shorts totally fit the bill. And because they are a bit more fitted and don't have stretch, I am glad she knew to size up for me on these. They are high – waisted and longer in the inseam, so just a great all around short!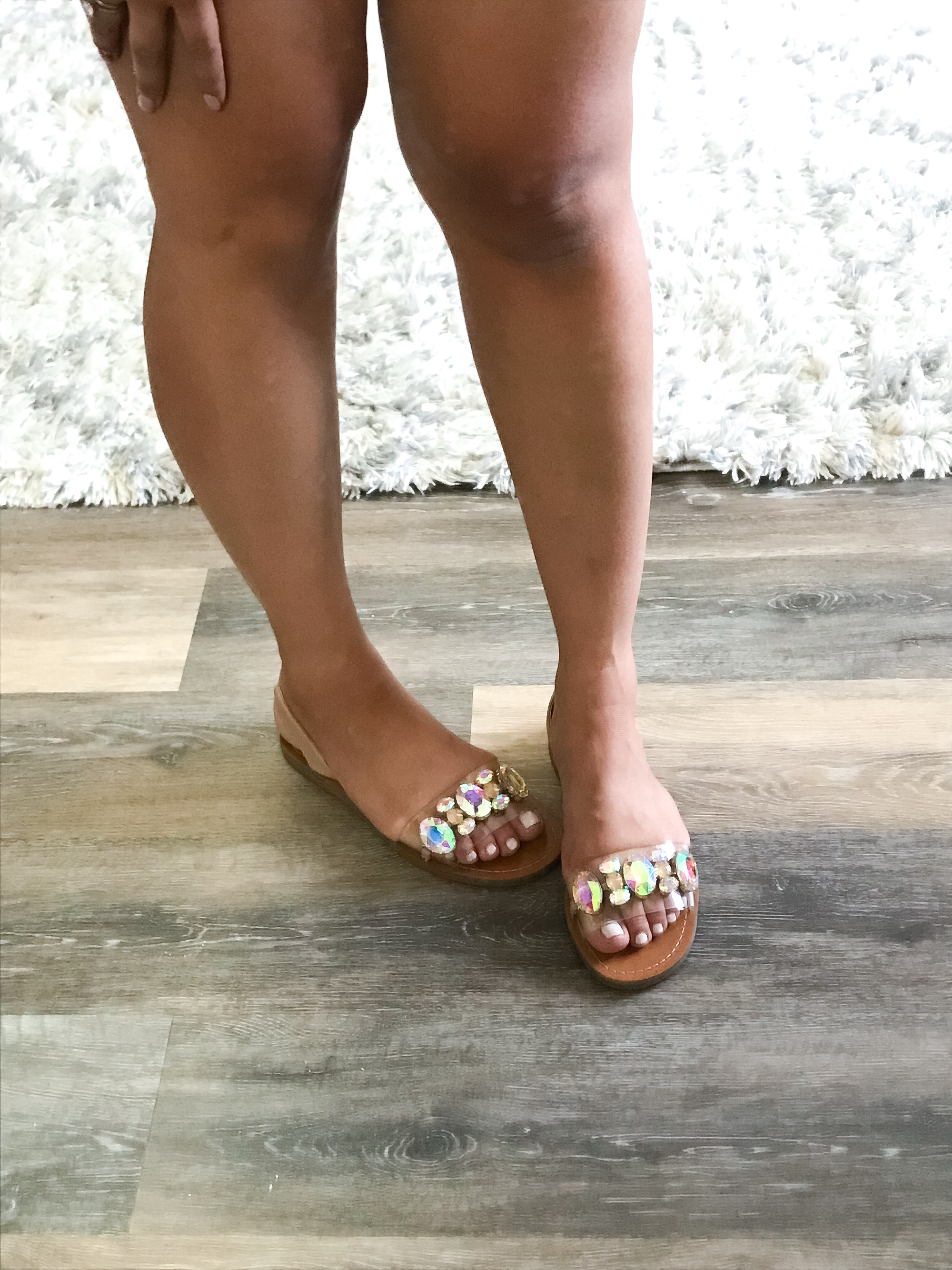 9. Steve Madden Alice Crystal Embellished Sandal – size 7.5 – How FUN are these sandals!? They are different from most the sandals I own so I think these are a def keeper! They are great beach sandals or to wear with a sundress or even just to spice up a casual tee and shorts outfit! I may need to exchange them for a size 8 though since I don't like when my heel is too close to the end of the shoe.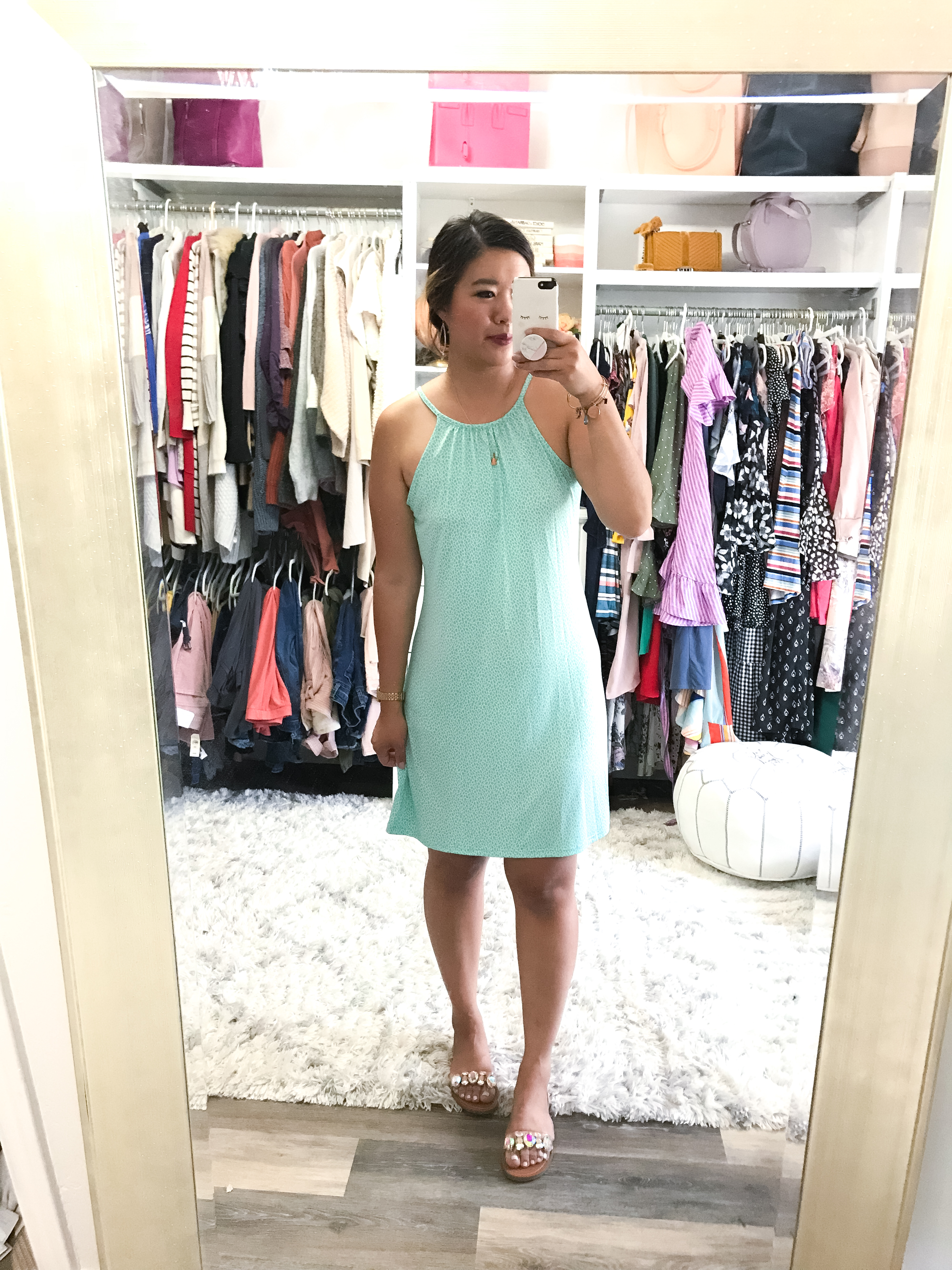 10. MICHAEL Michael Kors Leo Halter Top Mini Dress – size Small -This dress is a pretty color and style for Summer and will definitely keep you cool. It can be dressed down or up which is great. Unfortunately, I just thought it was a little too thin for my linking and not worth the almost $100 price tag, so it is being returned.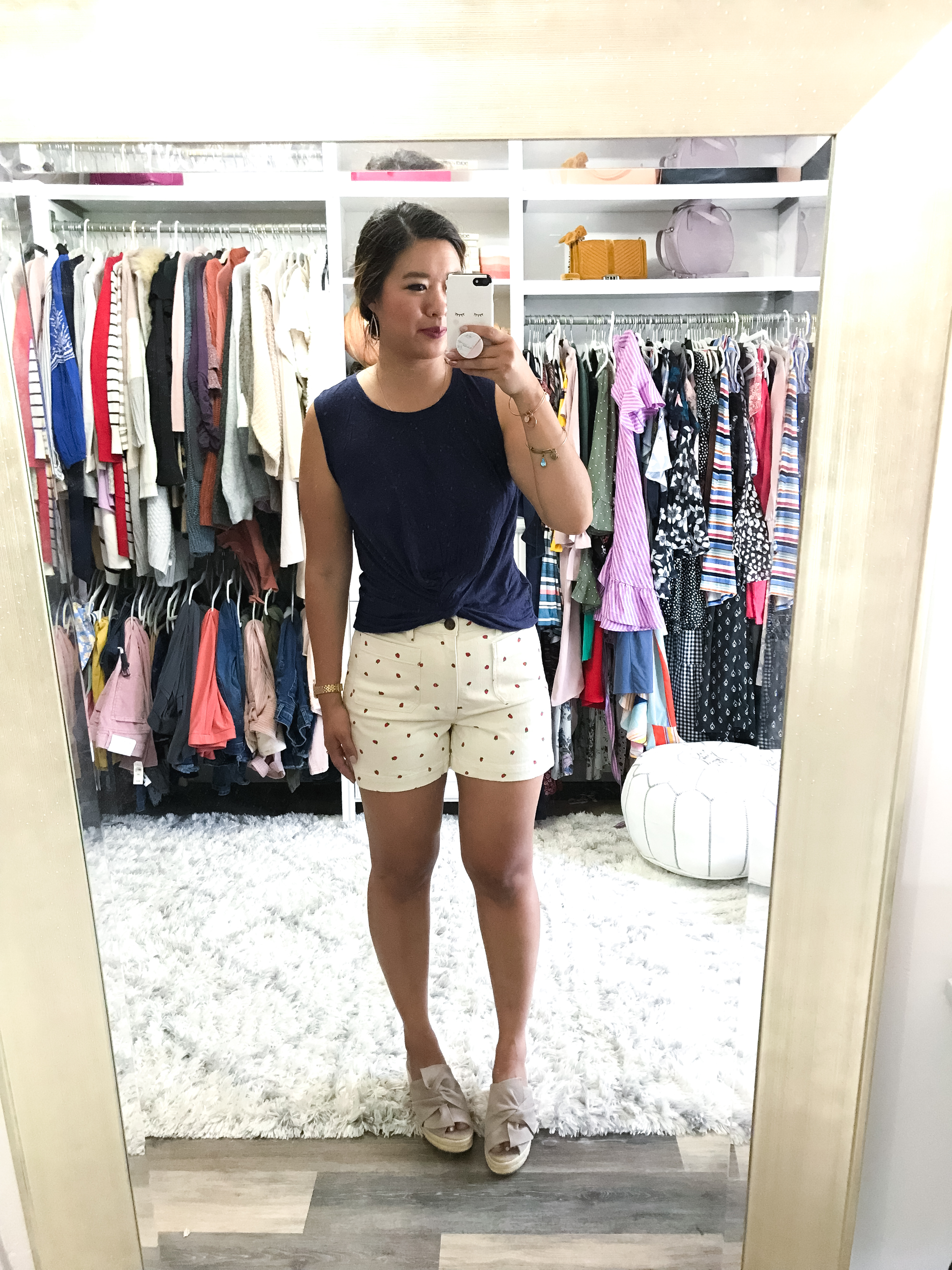 11. Madewell Emmett Fresh Strawberries Shorts – size 29 – Oh my gosh how sweet are these shorts!? They have little strawberries on a light khaki color! They might actually be almost sold out 🙁 but they have TONS of other cute things with strawberries on them!!!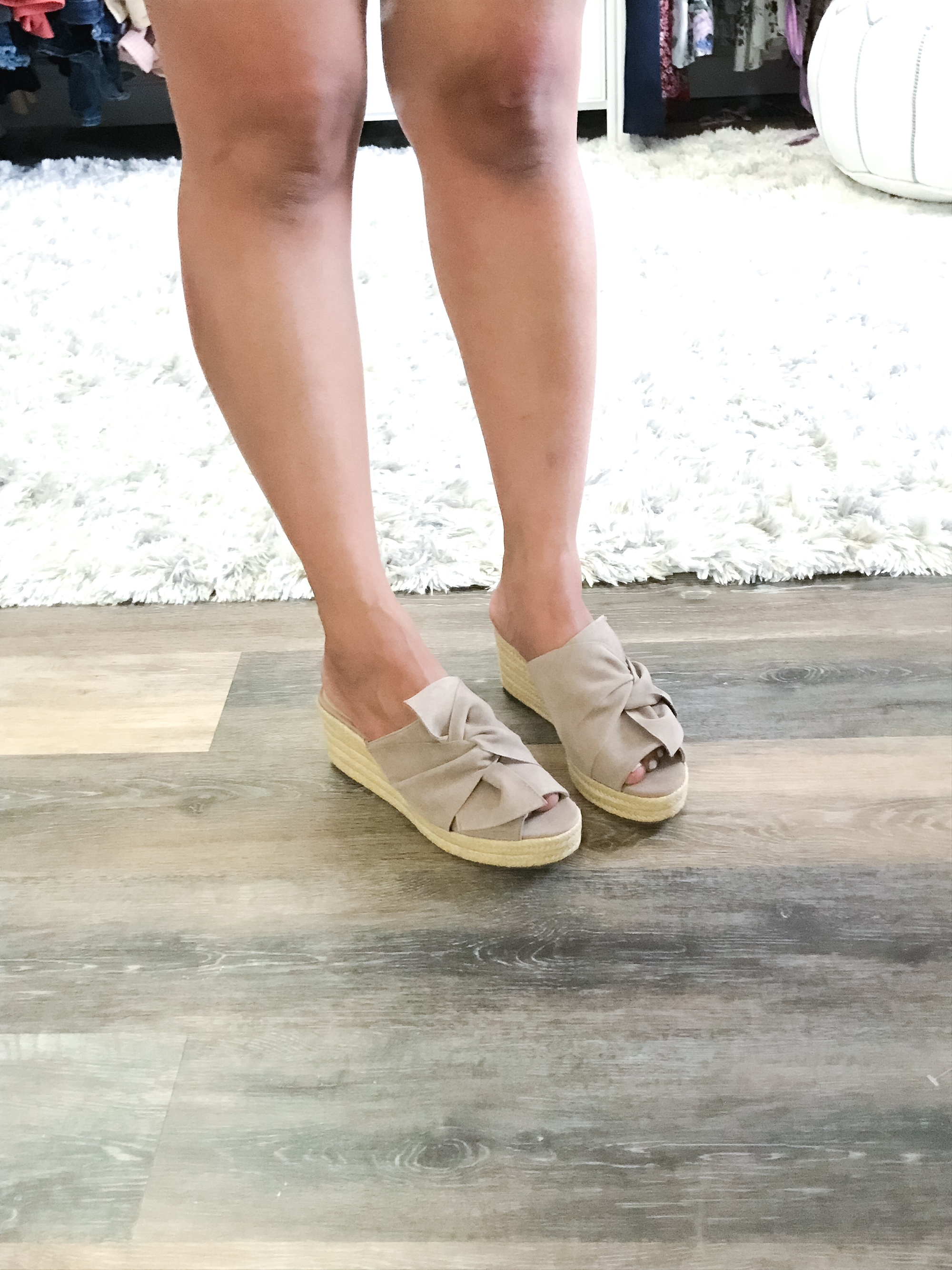 12. Sole Society Carima Espadrille Wedge – size 7.5 – These wedges are pretty dang cute and come in a few colors! Many reviews do say true to size, but I may be sizing up half size (since I don't even know if I am ever a 7.5 or 8 in shoes)! I love that the wedge is more of a platform which makes them SUPER comfortable!! The bow on top is also super fun!!
And that's it!! Shop all my Trunk Club pieces below by clicking the pictures!

See my previous Trunk Clubs HERE and HERE.
Which pieces from my trunk are your favorite???