I can't believe it's taken me this long to try on Trunk Club! In a nutshell, it's a styling service where you fill out a profile, you get a stylist and you chat with them about what types of clothes you are looking for. I had a pretty in depth chat with my stylist saying that I wanted to try out some white denim and get some more Spring pieces to my wardrobe and I'm here to show you what I got!! You get the pieces sent to your home, and you have 5 days to decide what to keep and what to return. They have a pre-paid envelope to ship it all back so there really is no cost to you! The best part about it all is that if you have a Nordstrom card, they will waive the $25 styling fee (which is charged if you don't have a card), and if you decide to buy something, the $25 will go towards what you decide to keep!
Sign up for Trunk Club HERE!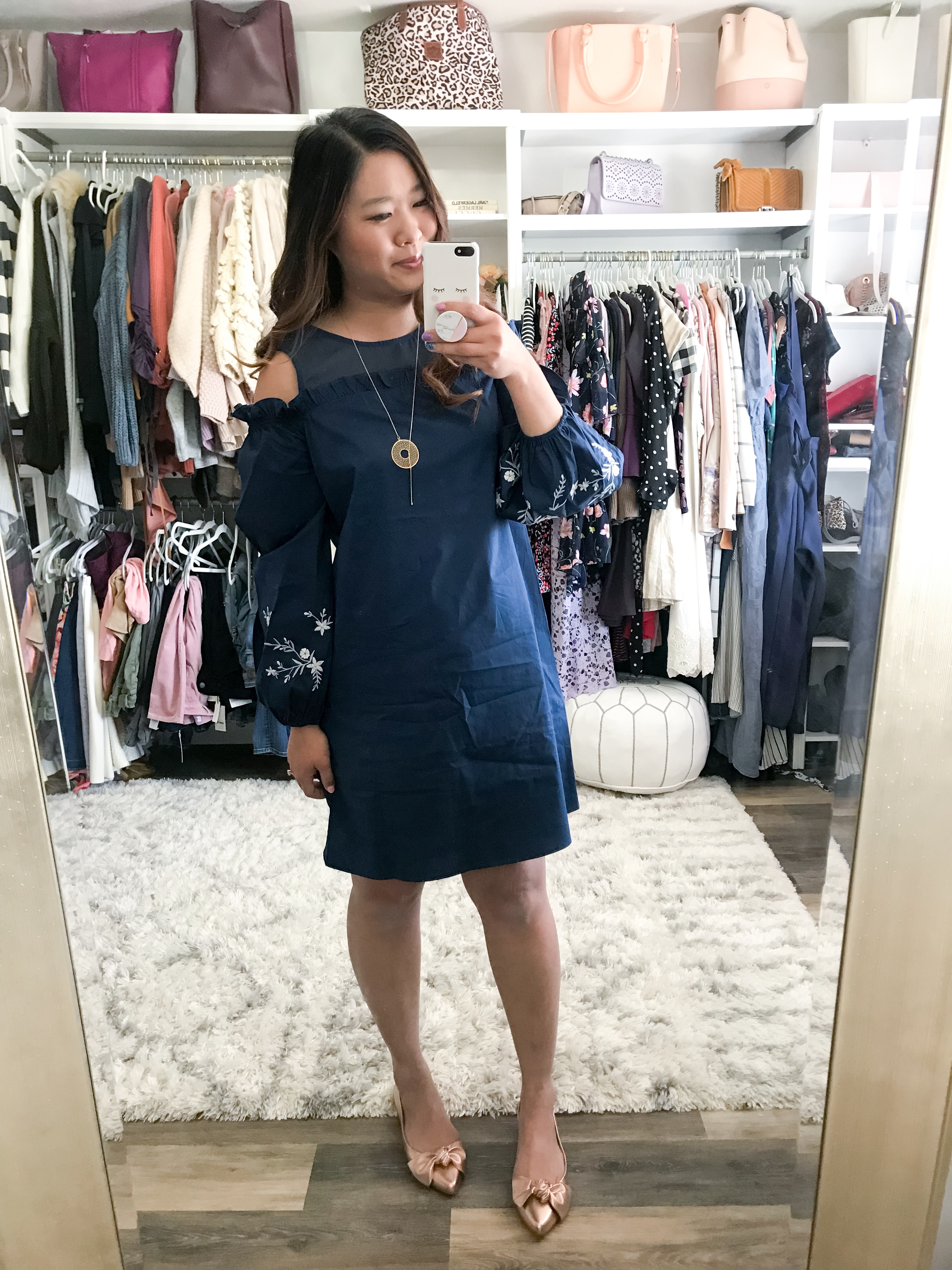 MY TRUNK CLUB REVIEW: SPRING FASHION
1. Navy Embroidered Cold Shoulder Dress – size 8 – This dress has so many fun details on it like a mesh top, ruffles, cold shoulder and embroidery! I love how unique is. It's a shift dress which means its NOT body hugging which is a plus. My only hesitation with it is that it can get wrinkly… and this mama barely has time to steam/iron! RETURN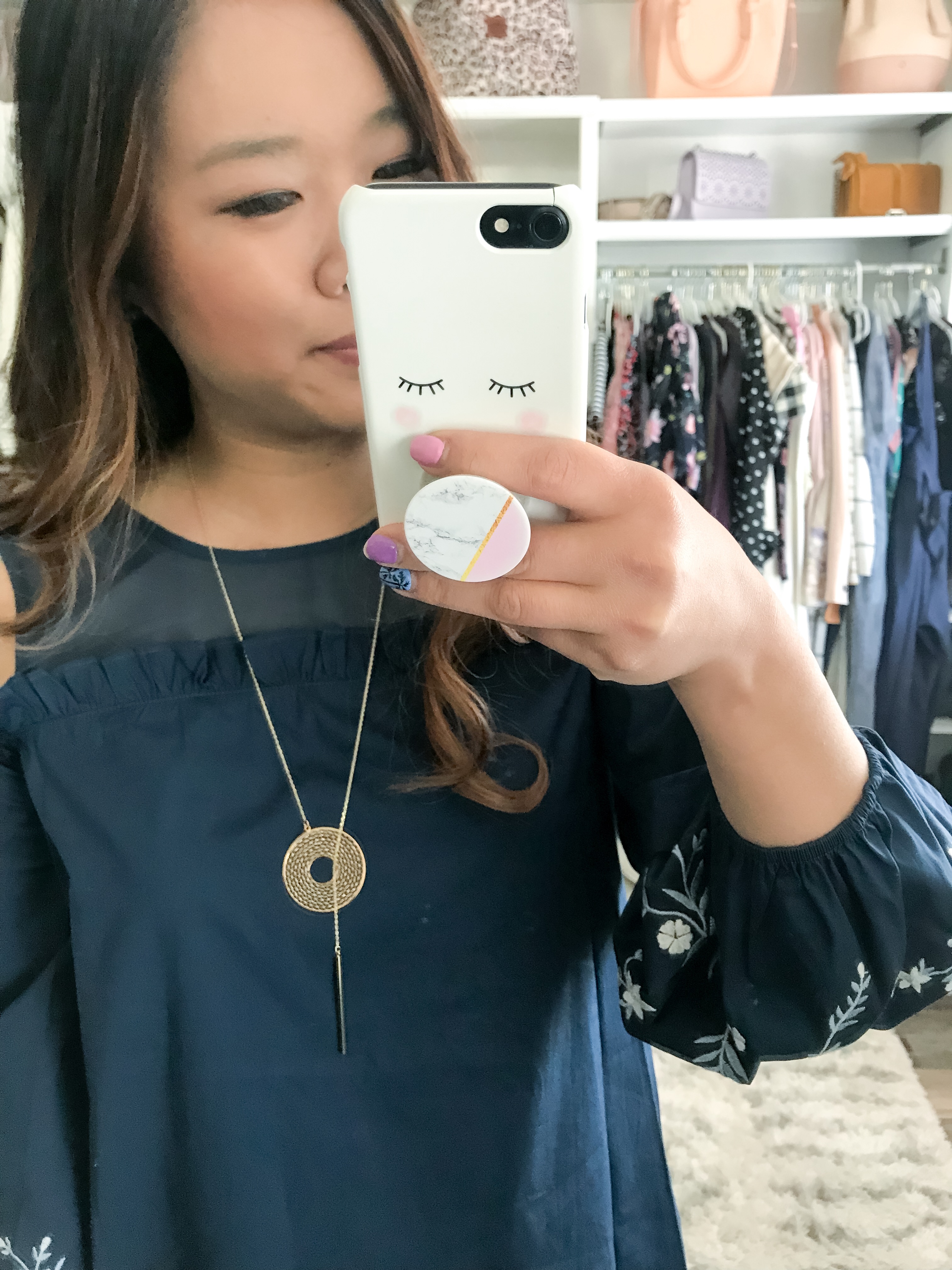 2. Circle Lariat Necklace – I love how beautiful and dainty this necklace is. There is no clasp but you stick the bar through the center of the circle. It makes it neat because you can adjust the length and how high or low the circle sits depending on the outfit. You will see it styled different ways as you scroll down! KEEP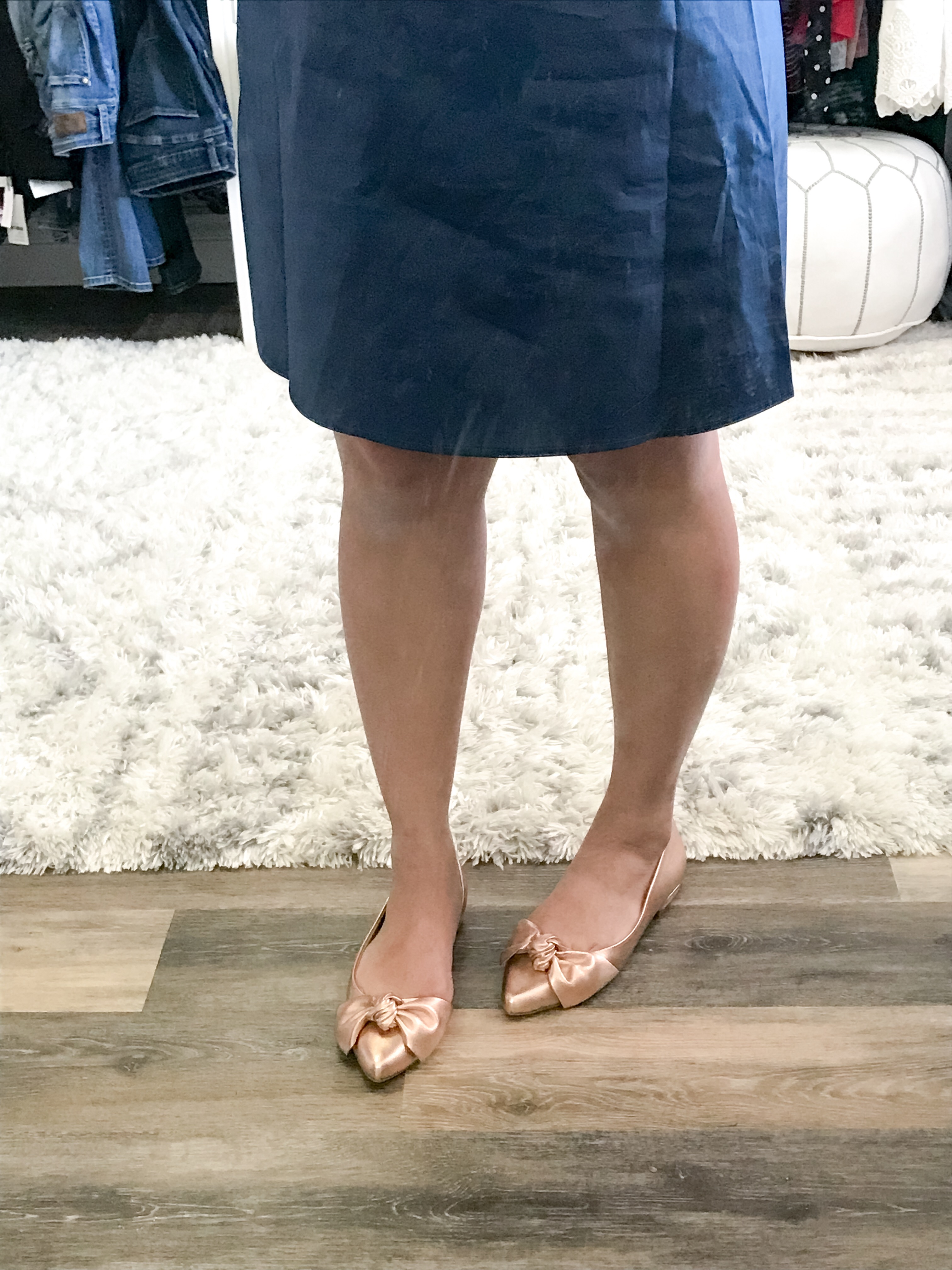 3. Rose Gold Bow Flats – size 8 – TTS. These little flats are love love love!! Rose gold is hands down one of my favorite metallic colors, these bows are so sweet. These shoes are a STAPLE for Summer!! The only thing is that I feel like I have lots of shoes already like this, but if I didn't I would be ALL OVER IT!. RETURN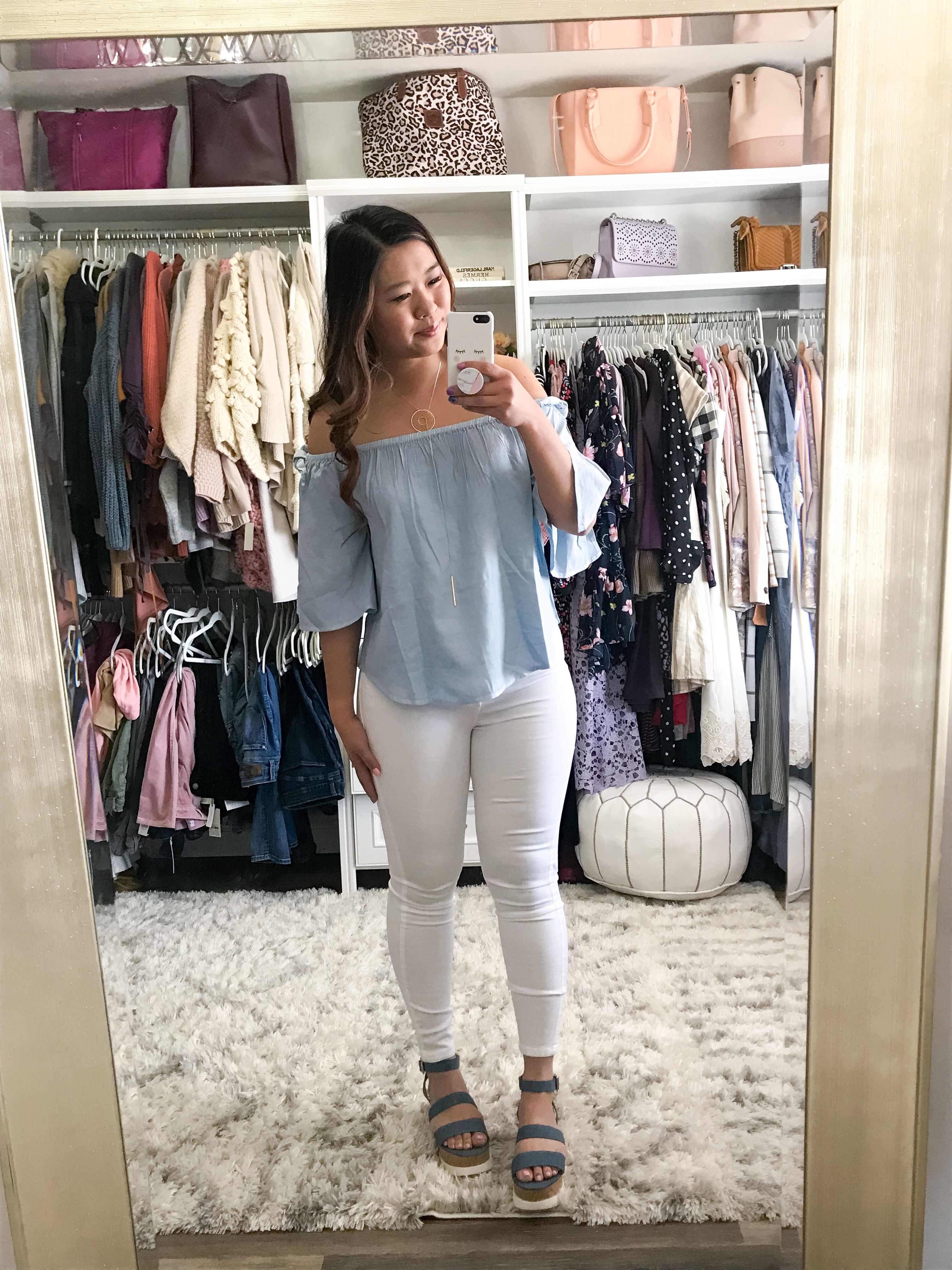 4. Off The Shoulder Chambray Top, size Medium – The material on this top is SO SO soft! Like way softer than it looks. I love this off the shoulder top with an opening down the sides. This top is so cute with long pants or event cut off shorts or overalls!! KEEP
5. Topshop White Skinny Jeans. size 30 – I am normally a size 29, so we sized up in this one. But no, no, no. I didn't like these at all. They are high waisted, but you could see my underwear line, they were just too thin. And I think my legs do NOT look flattering. RETURN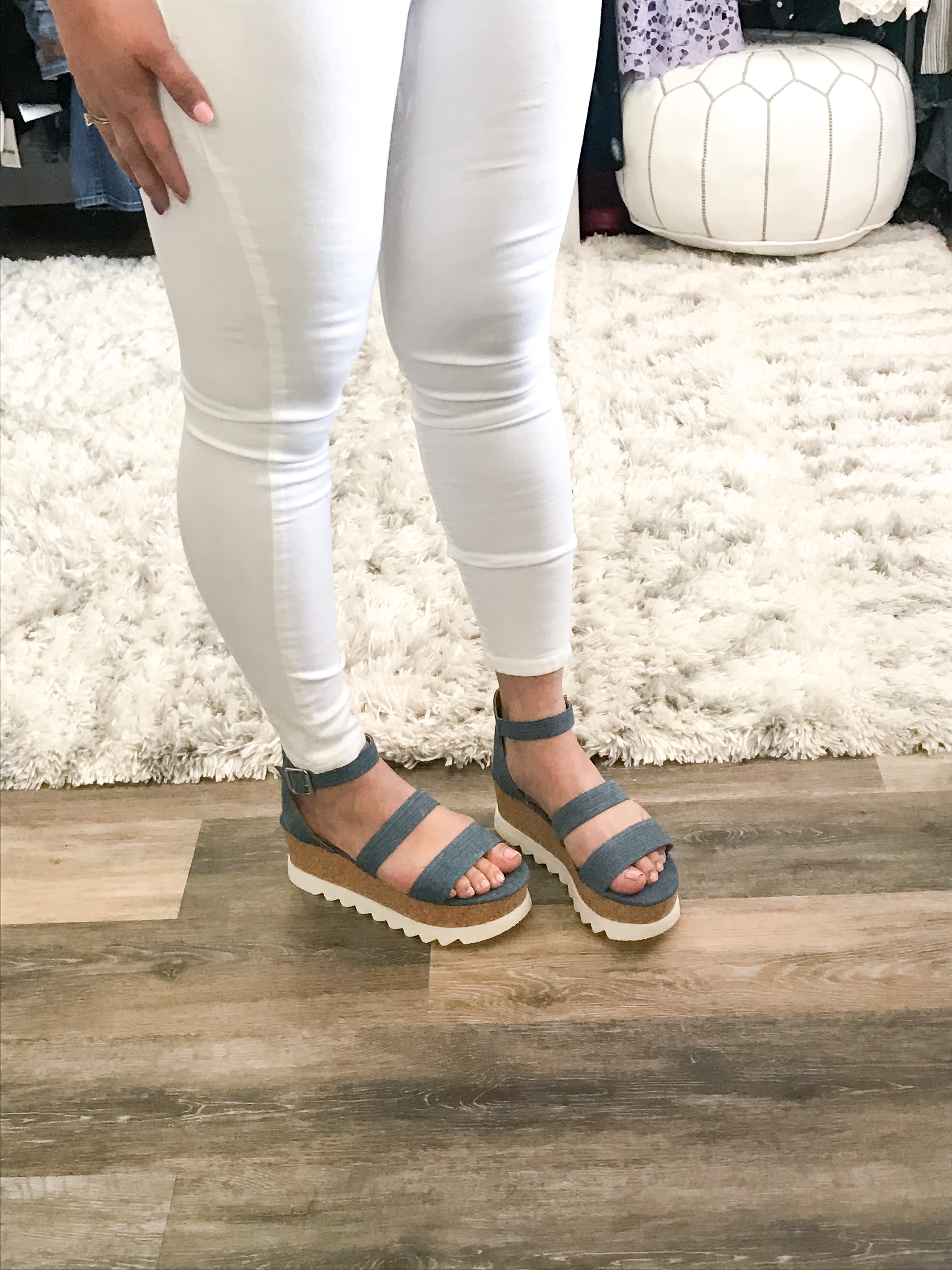 6. Platform Sandals, size 8 – TTS. Platform sandals are going to be the IT sandal of this season and I really really love these chambray ones!! I think chambray pairs so well with white denim or white shorts!! But these shoes do come in a variety of colors and patterns. I also like that they are flat so they should be pretty comfortable!! KEEP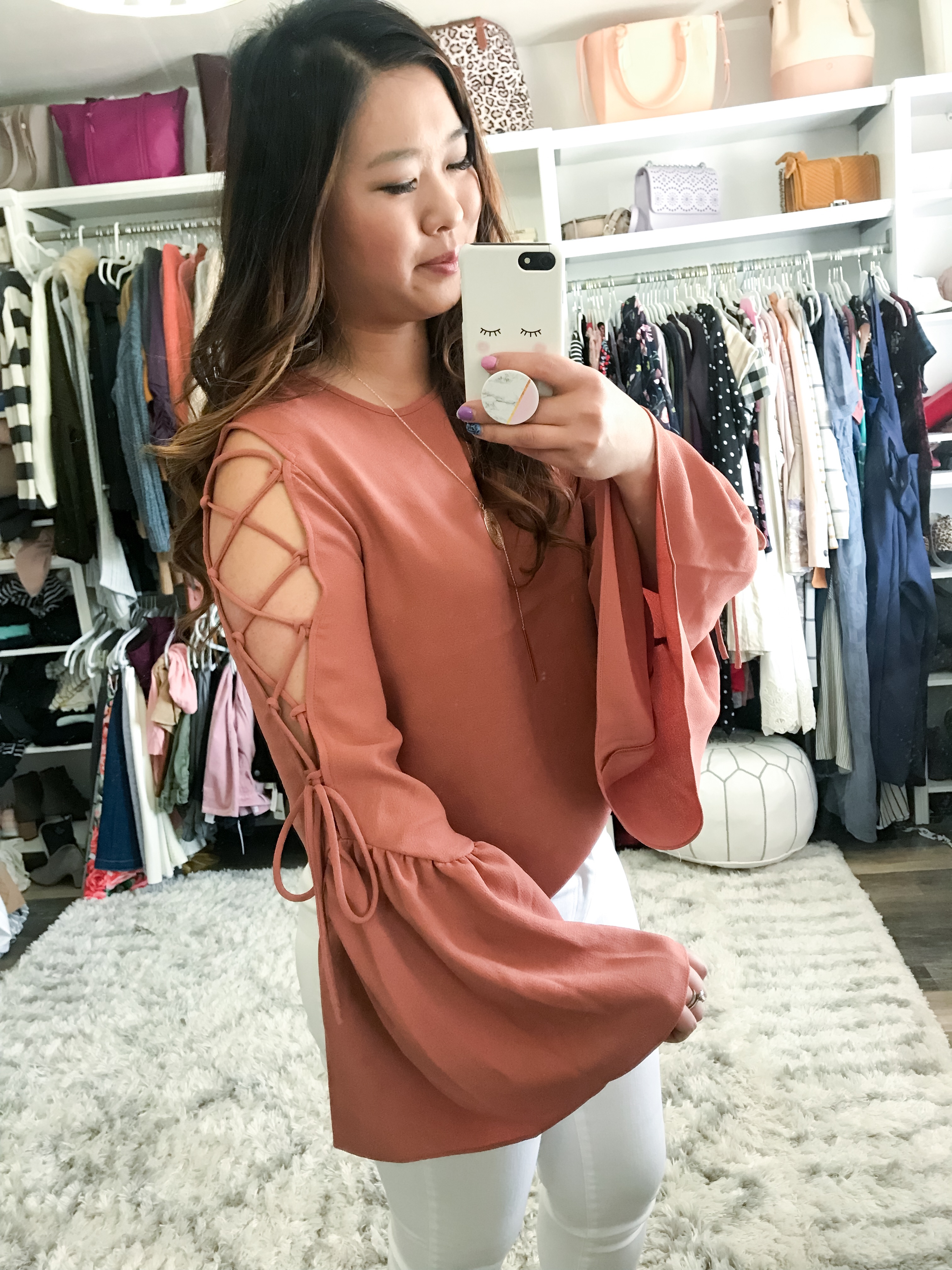 7. Laced Cold Shoulder Top, size Medium – I love love this top and the fun details. The lace sleeve and bell sleeve are totally calling my name. I wish the color were more "Spring" though, it kind of reminds me of a Fall color! RETURN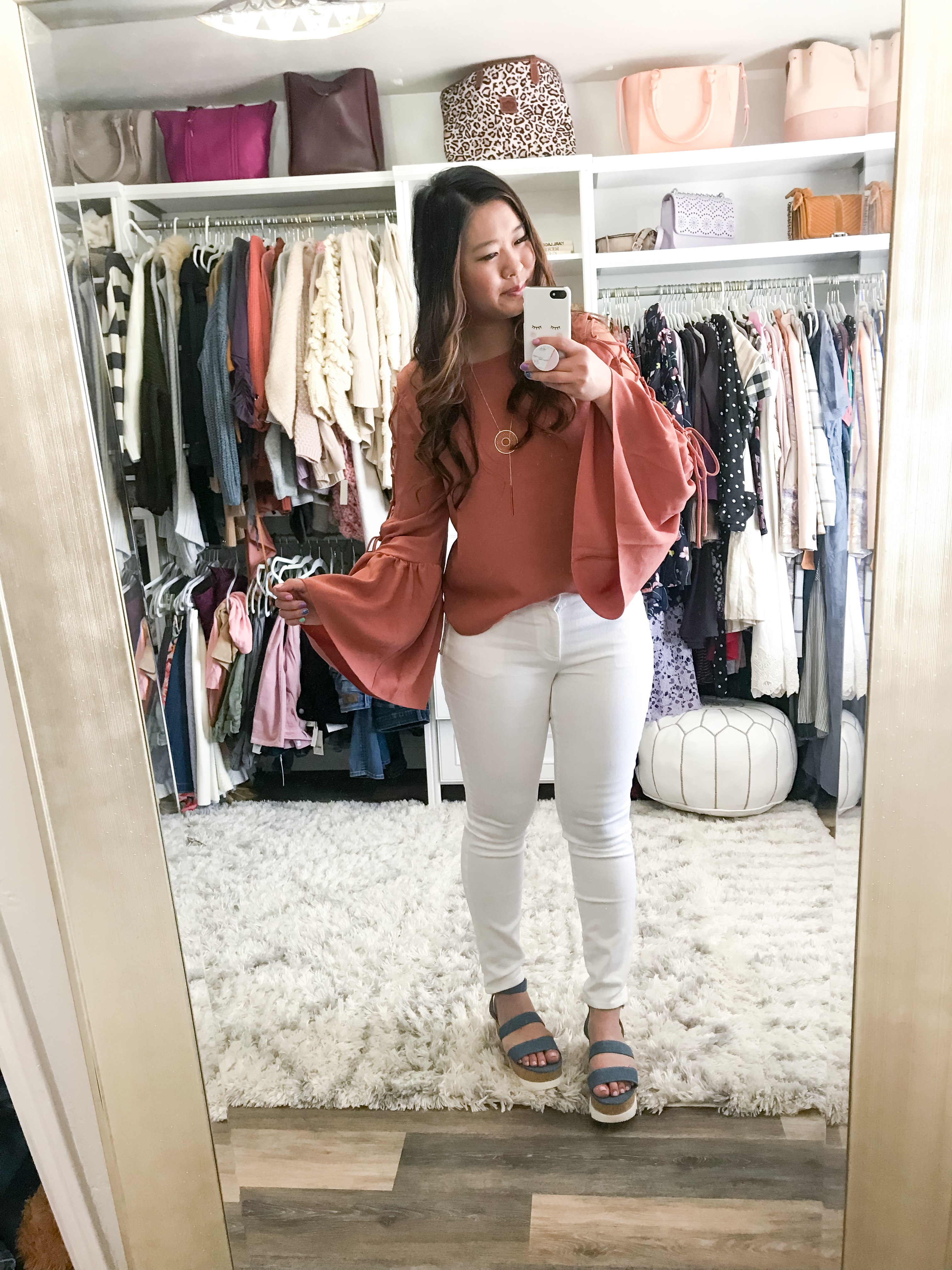 8. Vince Camuto White Skinny Jeans, size 28 – I am normally a size 29 and I got a 28 and they fit! This material is thicker than the other one and it does have real pockets. The pockets were a tad see through but I could actually probably get on board with these!! I am going to try and do better though, but these are pretty up there! RETURN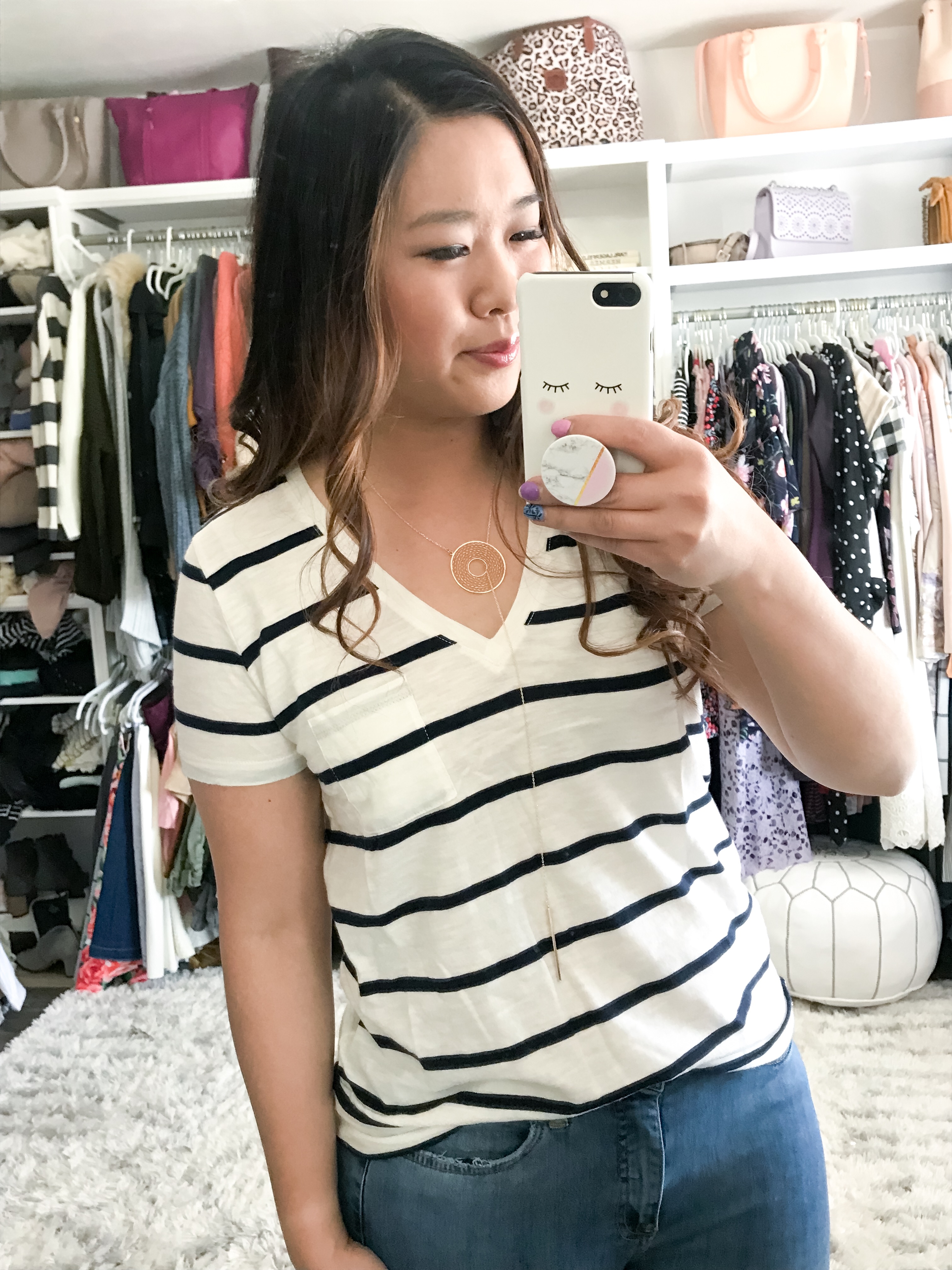 9. Striped Tee, size Medium – When I polled my Instagram story followers this tee got a resounding pretty much KEEP! And keeping it I am!! I already own this tee in solid colors and love it. It's a great price too. I was thinking I had too many striped tops but then realized that this was navy and white and most my tops are black and white so I could keep this one. 😉 KEEP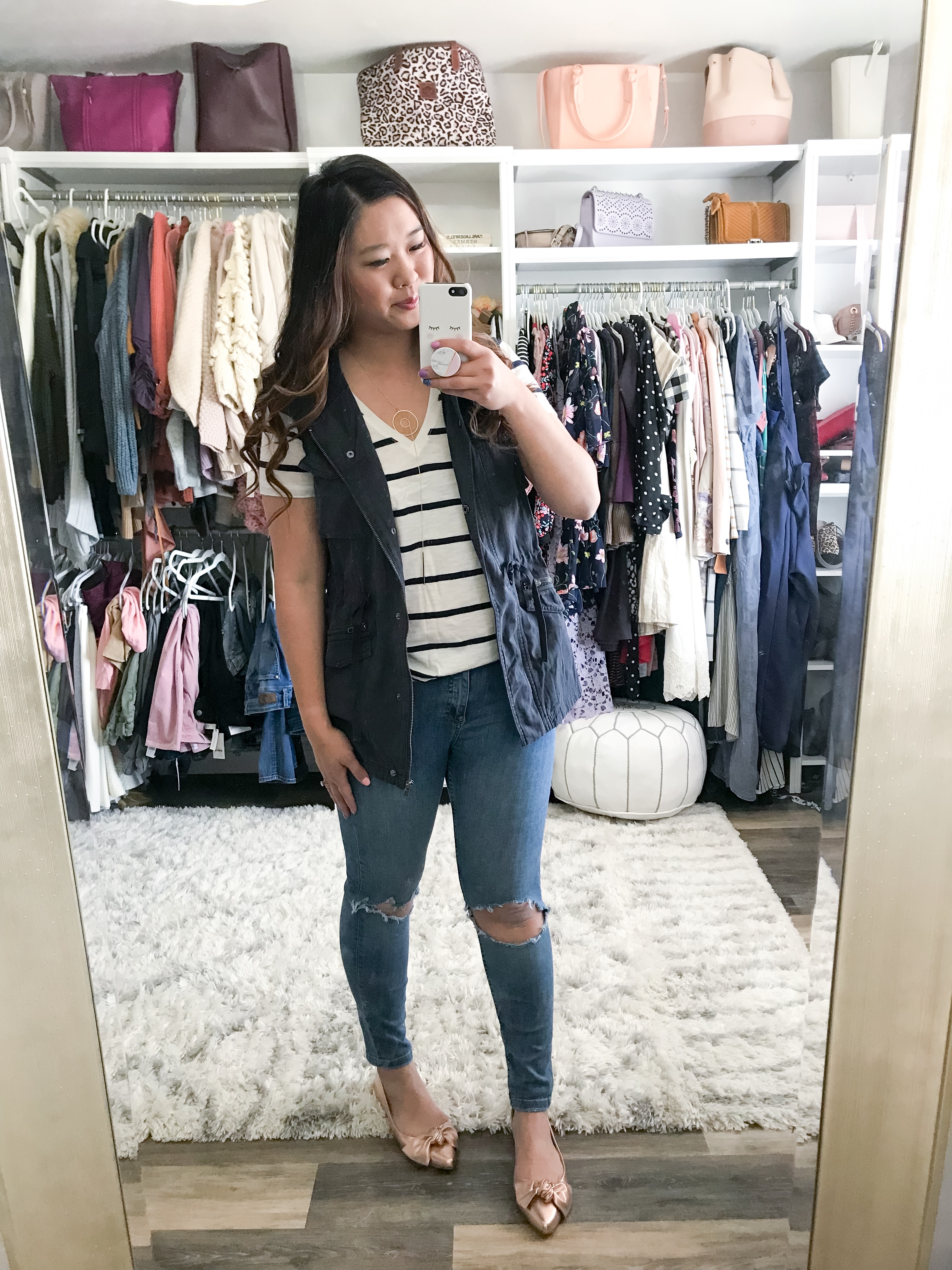 10. Utility Vest, size Medium – I love love this vest and so did many of you!! I think I will need to swap this one out for a Small though, it felt a little bit. And in the listing it did say to size down if in between. It comes in blue and green and it's just a great layering piece over a basic tee! I can't wait to wear it all Spring!!! EXCHANGE FOR SMALL
I actually got a TON of questions about the ripped jeans in the last look as well!! They are only less than $100, high waisted and SUPER flattering!! Here is a light wash and a darker wash!
And my phone case is HERE, you can get your initials on it too!
Which pieces from my trunk are your favorite???
SIGN UP for TRUNK CLUB HERE!!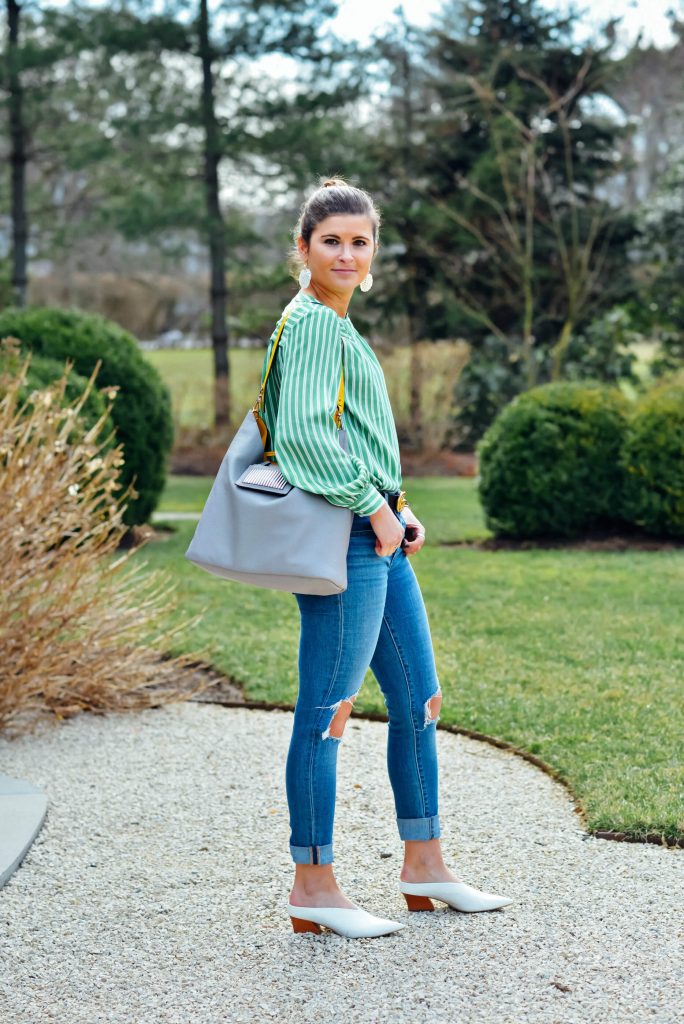 Last week's most clicked link for On Trend Tuesdays Linkup was Tilden of To Be Bright!! Thanks to all that linked up! If you have a fashion post or Instagram, please add it below! And don't forget to check out my co-host Cute & Little!