This week Target is doing 25% off Spring Deal Days promotion and today (3/7) Women's, girls, toddler girl dresses, and select Women's rompers/jumpsuits are 25% off!! It's a great time to start buying those Spring dresses for weddings, vacations, Easter and just for every day! I can't wait until I can just throw on a dress and sandals and call that an outfit! 🙂 Below are some dresses and jumpsuits that Vivian tried on in a little mommy and me coordinating outfit try on! Note: Only select dresses/jumpsuits are on sale, but either way, it's all pretty affordable!

Also – shorts for the whole family are 20% off with code SHORTS20! Shop Women's shorts, Men's shorts, Girl's shorts, Boy's shorts, Toddler girl shorts, Toddler boy shorts.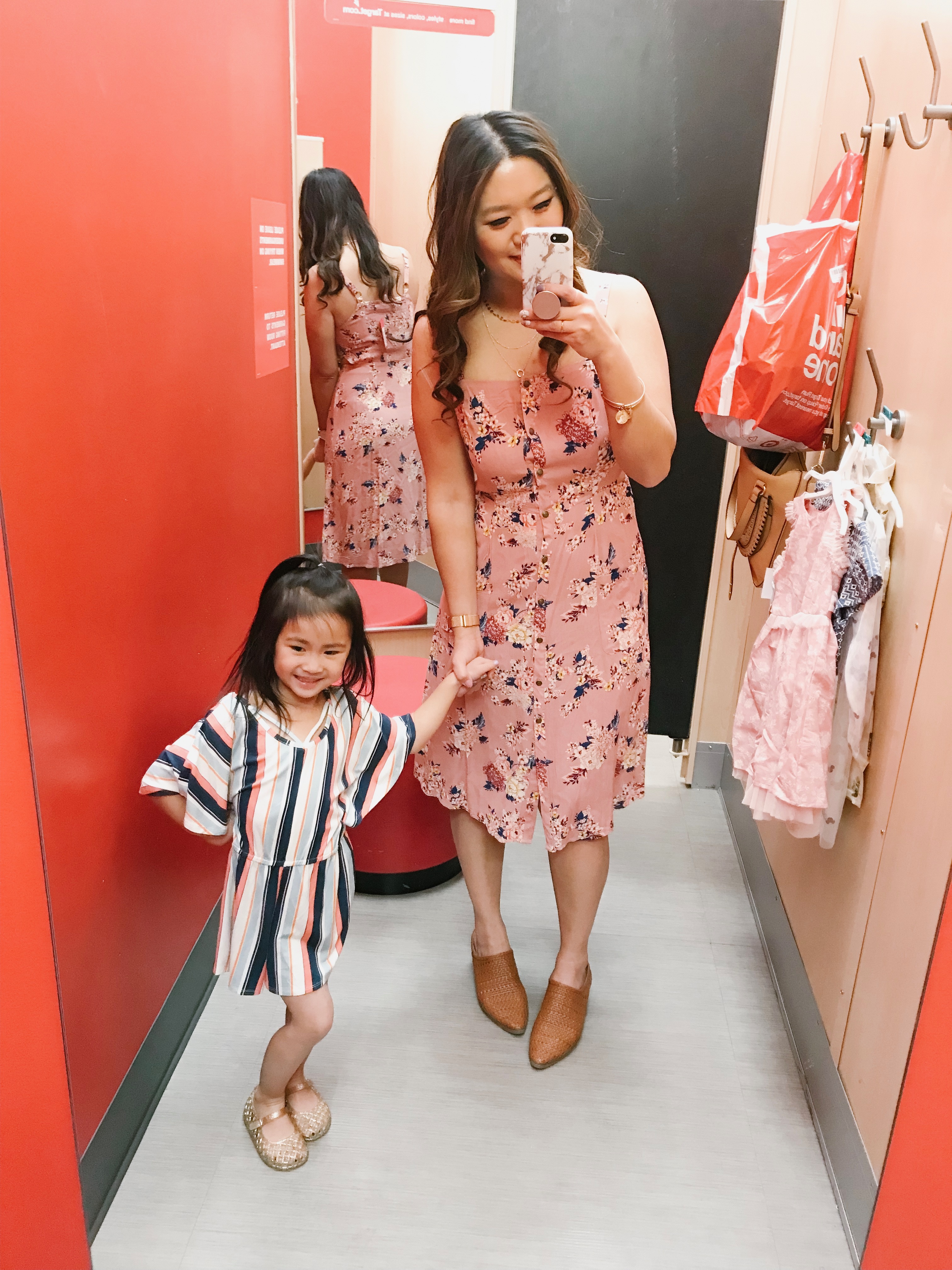 Vivian's Striped Romper (XS) // Vivian's Jelly Sandals (9) // Pink Dress (S) // Mules (Size up half a size)
I'm dying because after we took these pics, we realized that both of Vivian's legs were in ONE of the romper legs, OOPS! This one is actually for big girls so it is big on my tiny 4 year old, but Art Class did just launch for toddlers and there are some cute dresses in te line! My dress is a super pretty pink floral with a cut out side!! I would say this dress is more of a casual everyday dress. You can add a denim jacket to this look!!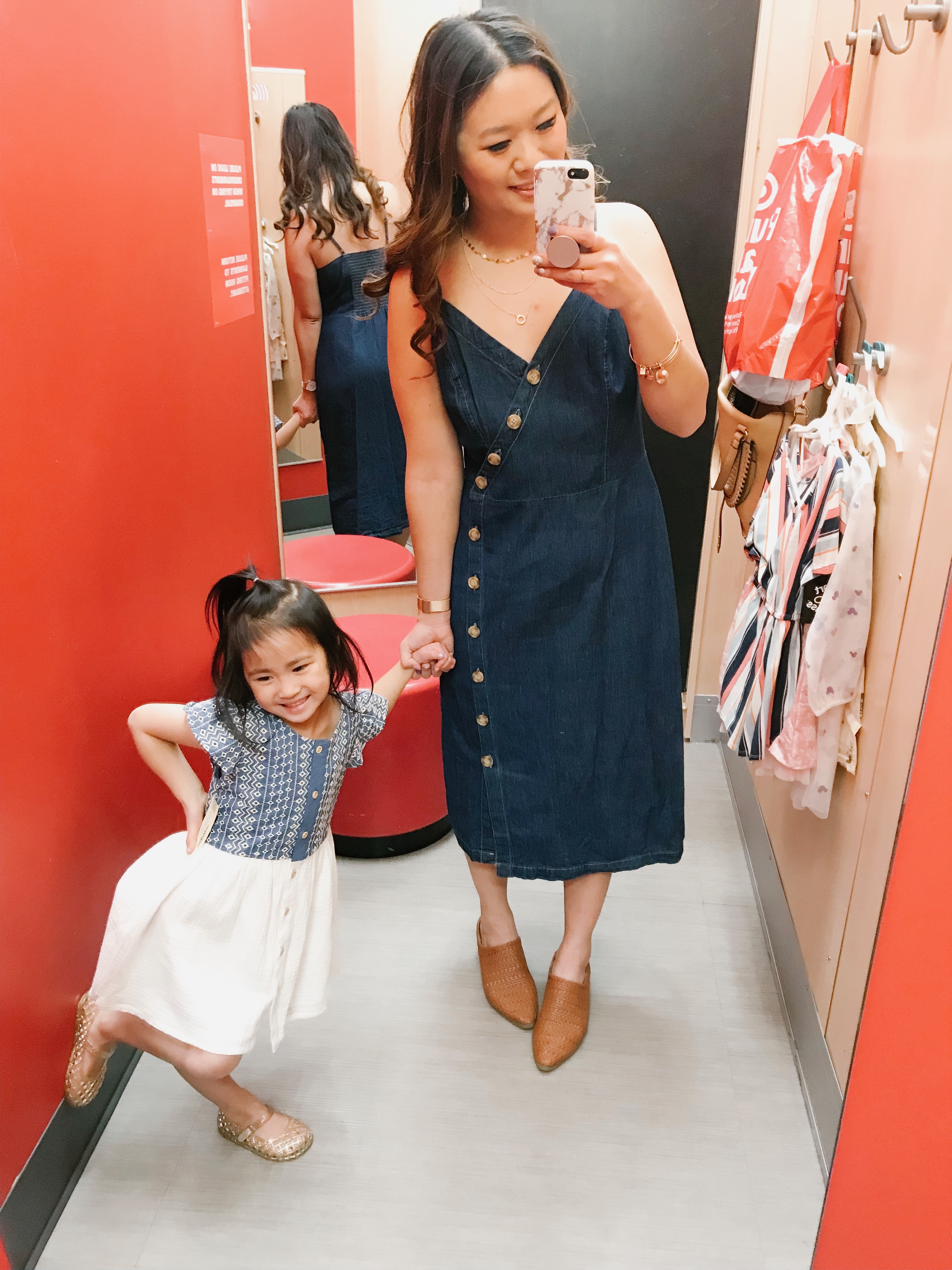 Vivian's Dress (4T) // Jelly Sandals (9) // Denim Dress (M – need S) // Mules
Vivian's dress is super pretty with the mixed fabrics and details on top. She really loved this one too! My denim dress is adorable with the buttons going down. I can imagine it styled with a shirt underneath or a sweater over or dressed down with white sneakers!!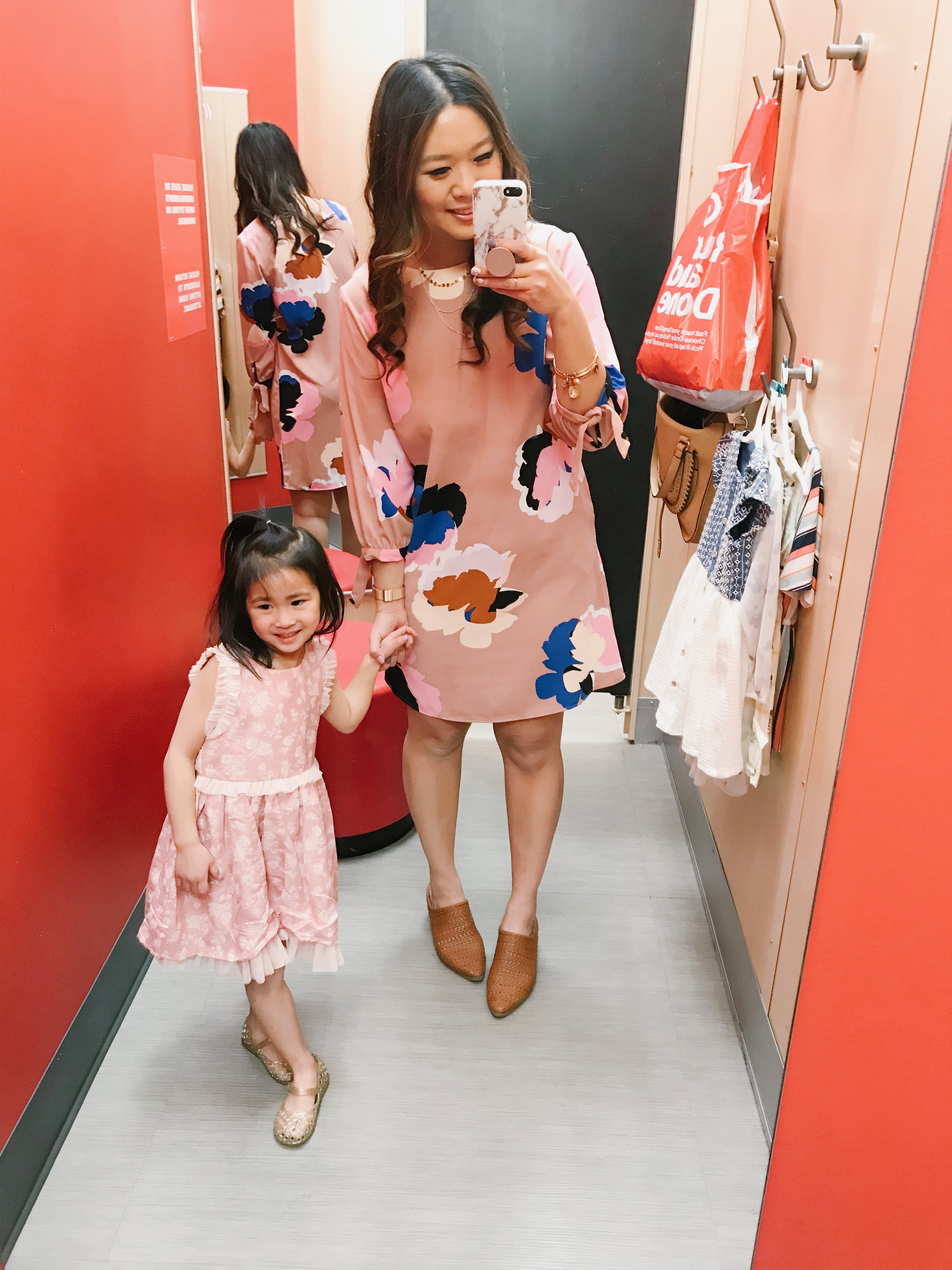 Vivian's Pink Dress (4T) // Pink Floral Dress (S)
We love the Mila & Emma line at Target – it was created by social media twin influencers over at @kcstauffer! I think a lot of their dresses would be PERFECT for Easter!!! My dress is such a pretty big floral print and it would be great for weddings, church, Easter, brunch, date night, work – it's a great dress! You could also belt it to give it some shape!!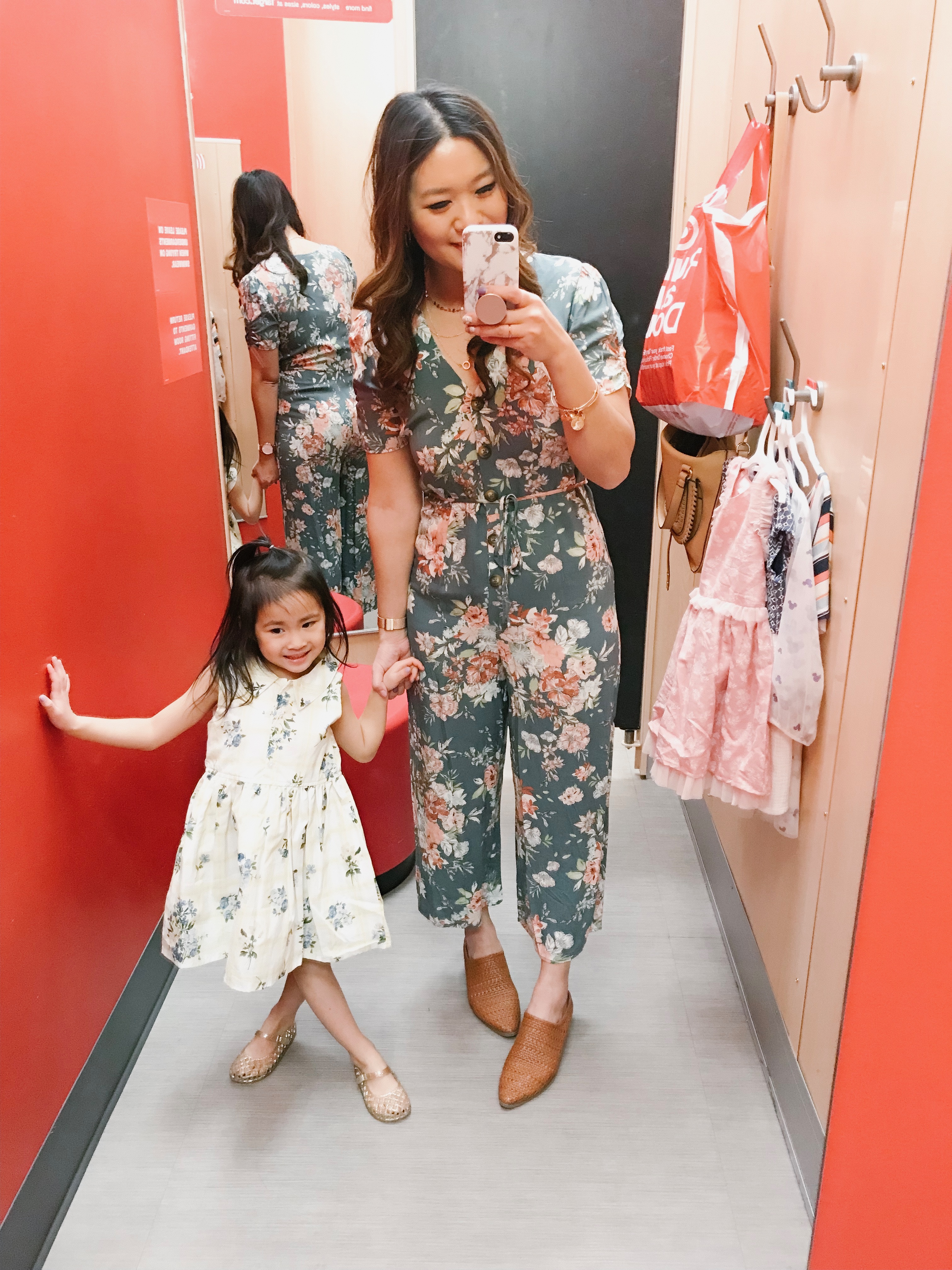 Vivian's Dress (4T) // Floral Romper (S)
Another Mila & Emma dress and this is the one that I picked up first when I saw the line come out. It's got a pretty yellow grid with blue flowers all over it and it's just adorable!! My turquoise jumpsuit might be my fave! Vivian insisted tying the belt for me, although I looked at the stock photo and apparently it was tied in the back. Also though, I think you could swap out for another belt too! The material is so soft and it's just such a beautiful jumpsuit for Spring!!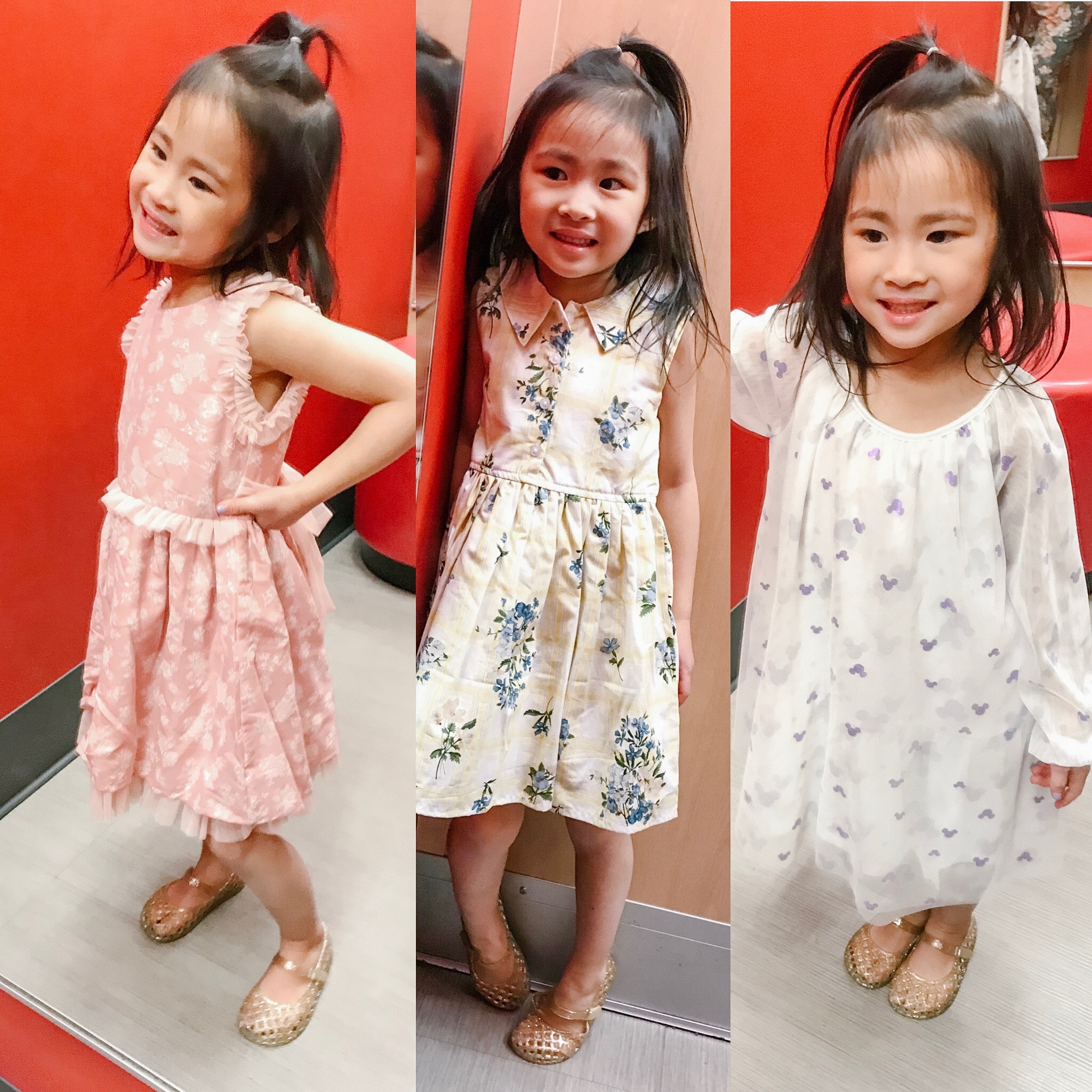 Pink Dress // Yellow Dress // Mickey Dress (4T – runs big, need 3T)
Ha, Vivian wanted me to take some solo photos of her too! The dress on the right runs a bit big, but it's the perfect dress for your next Disney event!!
Shop Women's dresses/jumpsuits (most on sale)!
Shop girl's women's/jumpsuits (most on sale)!