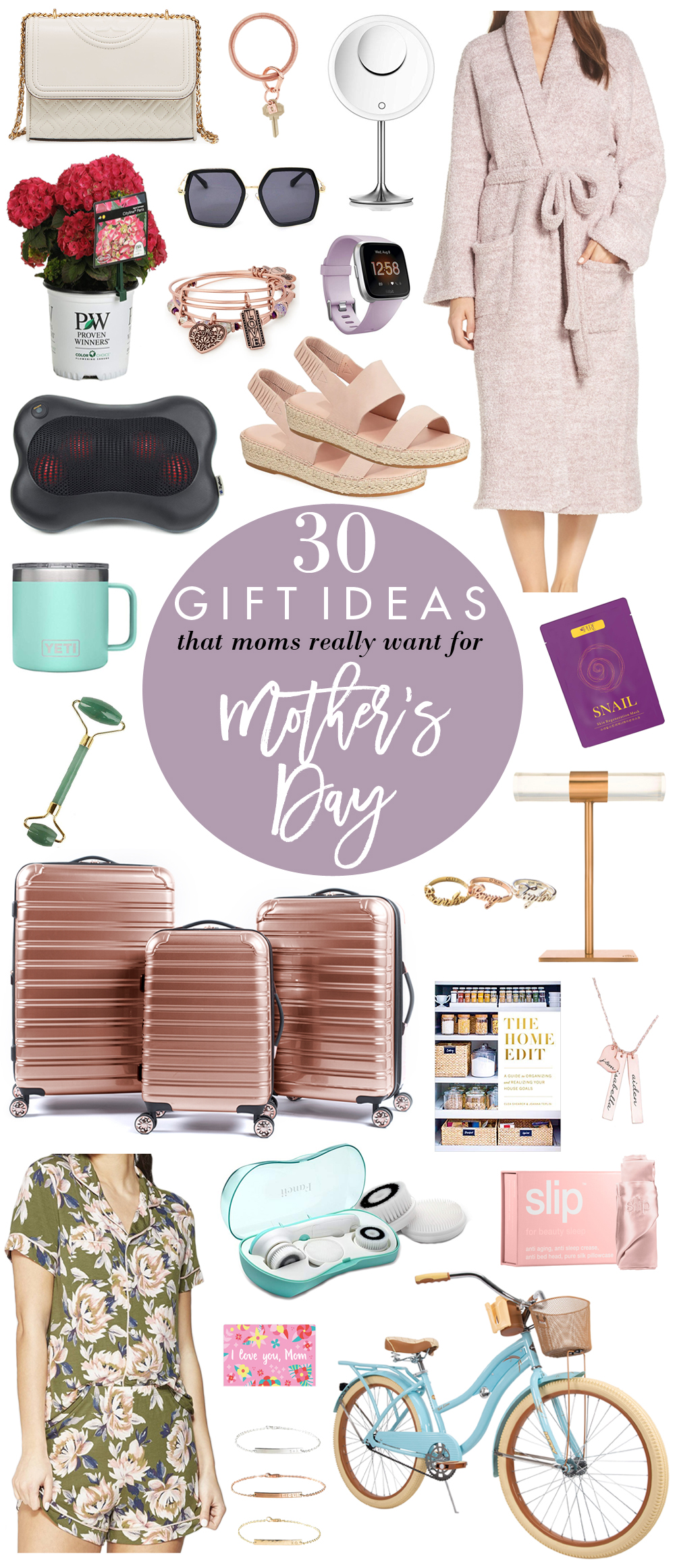 Can you believe it's May!? I sure can't!! This year is totally flying!!! I polled my Instagram story followers for their favorite gifts they have received or have given for Mother's Day, with a promise to compile that list, so here it is!! Of course (at the bottom of the list), there are some practical things that may be what a mom REALLY wants, but I know that most still like to give a physical gift as well, just as a small token of appreciation. So without further ado, here is the list! I have to say, that I personally own a handful of these items and am adding many others to my wishlist! If you sent in an idea, THANK YOU for your help!!!!
Tory Burch Purse – This purse is gorgeous! It is a bit of a splurge but the mom in your life will be so happy to receive this. The design and color is timeless. It comes in a ton of colors but ivory is the one I have!
O-Venture Key Ring (code SANDY15 for 15% off your order)- This key ring frees up your hands when you're on the go. I use mine daily and it makes finding my keys so much easier!
Vanity Mirror – I love that this mirror is a fraction of the cost of the name brand vanity mirror. It has a removable magnetic mirror that is 10x the magnification which helps when you're needing to get up close and personal with yourself.
Barefoot Dreams Robe – If you've ever owned any Barefoot Dreams clothes, you know how incredibly soft and cozy they are. This robe is like a giant cloud giving you a hug. It's seriously so good! I wear mine weekly!
Potted Flowers – Amazon Prime user? Get your flowers on Amazon and help her start her garden! It would make a great gift if you're in a bind and if you're not willing to spend the hiked up prices for flowers at the stores. You can also get bouquets and ones with pretty vases too!
Sunglasses – My favorite designer dupe sunglasses at the moment! It's so chic and fun! Grab them in leopard print too!
Alex and Ani Bracelet – These are my go to every day bracelets. There are so many designs and charms to choose from!
FitBit Versa – This watch was a huge hit during Black Friday sales. It's a great watch if you love tracking your health and fitness.
Massager – I love that this massager comes heated to help with muscle tension. Also, over 9,000 great reviews can't be wrong!
Cole Haan Sandals – These are seriously like walking on clouds! They are amazingly comfortable and I am sure the women in your life will thank you for buying them for her. (Read my review of them here)
Yeti Mug – One of the best mugs that keeps my coffee hot all day long!
Jade Roller – This little skincare tool helps with wrinkles, fine lines, and puffiness. I heard it feels even better once you put it in the freezer for awhile!
Facial Masks – Korean skincare is all the rage nowadays! These may sound weird but the results are amazing!
Luggage Set – This luggage set is the best bang for your buck! It has held up well so far during my last few trips. I love all the color options!
Name Ring – These rings are pretty and dainty! If you wanted more than one, you could easily stack them!
Jewelry Stand – Help keep all the jewelry organized in style! I love the design of this stand which also comes in a smaller size.
Home Edit Book – If you don't follow The Home Edit on IG, do yourself a favor and follow them! I could look at this book for days and gain lots of new ideas on how to help keep myself organized.
Name Necklace – This was a popular suggestion. I love that the names can be engraved on the charms!
Pajamas – Lounging in pajamas is a mom's favorite past time. Why not give her some of the cutest and softest pajamas to do that in? See my review of all my fave sleepwear here!
Facial Cleaner – This is an affordable facial cleansing spin brush that comes with three exfoliating brush. This way, you can have a spa day at home any time!
Silk Pillowcase – There is a reason I continue to put this pillowcase on my gift guide. It seriously is that good! My hair and face feels so much better once I started sleeping on this. Or try this more affordable version here!
Amazon Gift Card – Pretty self explanatory, no? Who wouldn't want an Amazon gift card to spend on whatever they want?
Engraved bracelet – I am obsessed with how minimal and dainty this engraved bracelet is. You can choose what to engrave on them and wear them stacked!
Bicycle – Someone suggested a bike when I asked in my IG stories what the best gift you have ever received was and I love it! The idea of riding the bike with your kids in the summer months and making memories with them is a priceless gift!
Nap – Sometimes taking an uninterrupted nap and waking up feeling refreshed is just what a mom needs.
Spa Day – What women wouldn't want to be pampered for the day with massages and facials?!
Maid Service – I am sure this is at the top of almost every mother's wish list! It would definitely be nice to sit back and relax while someone else cleans up for the day.
Hotel For a Day – Being alone to shower, to go to the restroom by yourself, watch whatever you want to watch on the t.v., having to not yell at anyone to share their toys is seriously a dream that can happen just for a day.
Breakfast in Bed – Such a classic but it always feels nice to be woken up and starting off the day without having to cook!
Car Detail – I got one of these a few months ago and not only did it help me declutter my car, but I could see the floor again, and there weren't crumbs in it
You can click on the links above or the pictures below to shop!!

Hope this guide is helpful if you are shopping for your mom, a mom, or just send this post right on over to your hubby / baby Daddy / kids… 🙂