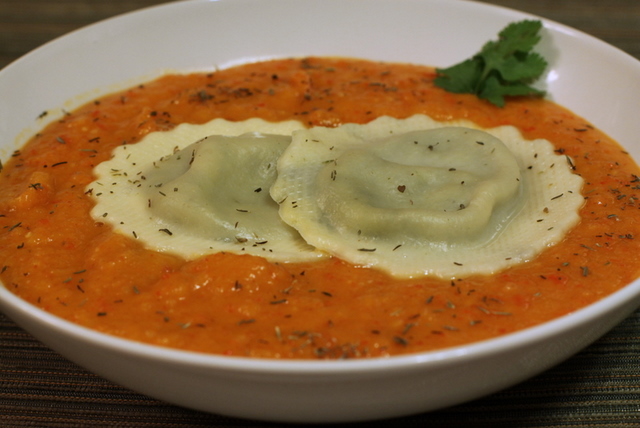 The weather has been quite crazy lately where I live, last Thursday it was 60 degrees and then over the weekend it snowed! 🙁 Hopefully it will be the last snow of the season! Anyhow, I thought it would be great timing to introduce this recipe, perfect for when a cold day sneaks up on you. A few months ago, I had a delicious butternut squash soup at a local restaurant and the flavor was surprisingly sweet! And if you've read my blog, you know that I have a major sweet tooth. So I decided to try and make some on my own. My husband is a huge fan of sweet potatoes so we always have those in stock in our house and I figured the texture was pretty similar so I said let's throw that in too. We also had some red pepper that we bought and didn't know what we were going to use it for, so I said why not? Bake all of those in the oven, mix them in a pot, throw in some chicken broth and spices, puree it up, throw in spinach ravioli to add some texture and abracadra, bada bing bada boom, you're done!
Ingredients
1 large butternut squash
2 sweet potatoes
1 roasted red pepper
1 tablespoon olive oil
1/2 onion chopped
2 cloves garlic, minced
14 oz. can chicken broth
dash of thyme, cinnamon, cayenne pepper, curry powder, ginger
1 pinch salt and pepper, to taste
spinach ravioli (optional)
Directions
Cut butternut squash, sweet potatoes, and red pepper in half length-wise and place face down in a baking dish.
Roast vegetables at 375 degrees F for 35 minutes or until tender.
In pot, saute the garlic and onion in olive oil.
Scoop out softened butternut squash, sweet potatoes and chop red peppers and put into the pot.
Add chicken stock and spices. Bring to a boil, reduce heat and simmer for 30 minutes, stirring occasionally.
Remove soup from heat and puree with a hand mixer or in a blender.
Serve with cooked spinach ravioli.
Mmmm tasty! A hint of spice and a hint of sweet, sure to make your stomach happy! This is a pretty thick soup so it could act as a sauce as well… as in it could be called Spinach Ravioli with Butternut Squash and Sweet Potato Sauce. Either way, it's SOUPER delicious! 🙂