It's no secret that this Spring is all about color, color, color! Pinks, oranges, neons, just anything bright and bold is IN! I've always been a fan of hot pink/fuchsia so I'm excited to be able to bust out the things I've owned as well as snag a few new pieces as well. Here are fuchsia colored items that have caught my eye! Don't you just love when I go shopping for you? 🙂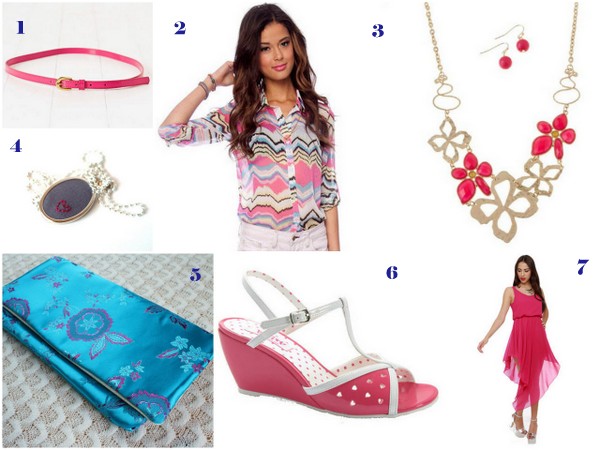 1 If you aren't quite bold enough to embrace this color, add a little pop with this Francesca's belt!
2 Loving the fun colors and pattern of this Tobi blouse!
3 Win this necklace and earring set GIVEAWAY from The Style Manor on A Girl's Next Best Friend (and buy some cute affordable handbags while you're there)!
4 This pendant from Little Bird Creations is just the cutest thing ever! What a fun little fuchsia heart detail!
5 Turquoise with an accent of fuchsia is a rad color combo in this Goodmarvin clutch
6 These B.A.I.T. Footwear Darla wedges are just darling, aren't they?
7 Now that I've warmed you up to fuchsia, you can wear this pretty draped dress from Lulu's!
By the way, can you believe that March is almost already over? Crazy how time flies with a newborn…! This weekend we have plans to go to the zoo and a BBQ with old friends. Hope the weather holds out for us!
P.S. Don't forget to enter my READER APPRECIATION GIVEAWAY! You can win a pair of Seychelles shoes, lucky ducks!
P.P.S. The winner of the Having a Hallelujah Good Time giveaway is Rachel K. of Ray Ray Designs! Congrats! Please email me at sandyalamode(at)gmail(dot)com with your mailing address and we'll get the Tupperware sent out to ya! 🙂
Have a wonderful weekend!