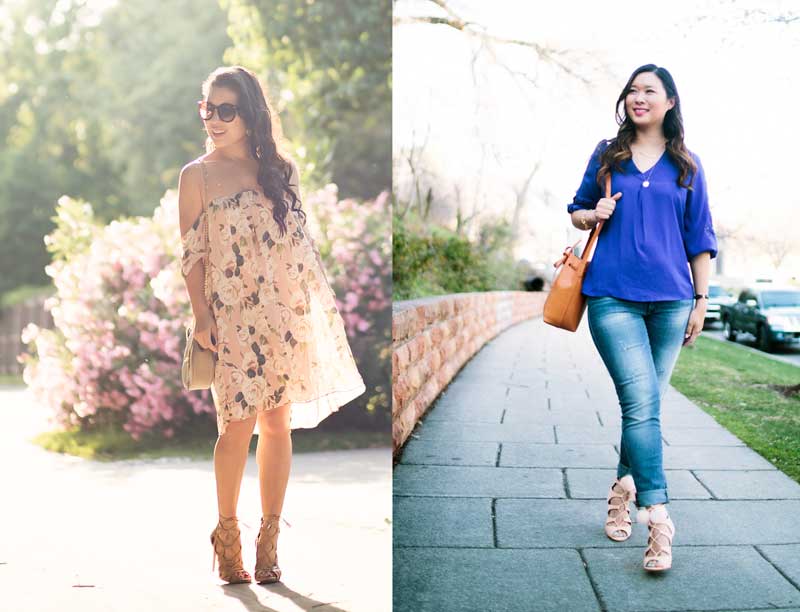 Kileen | Me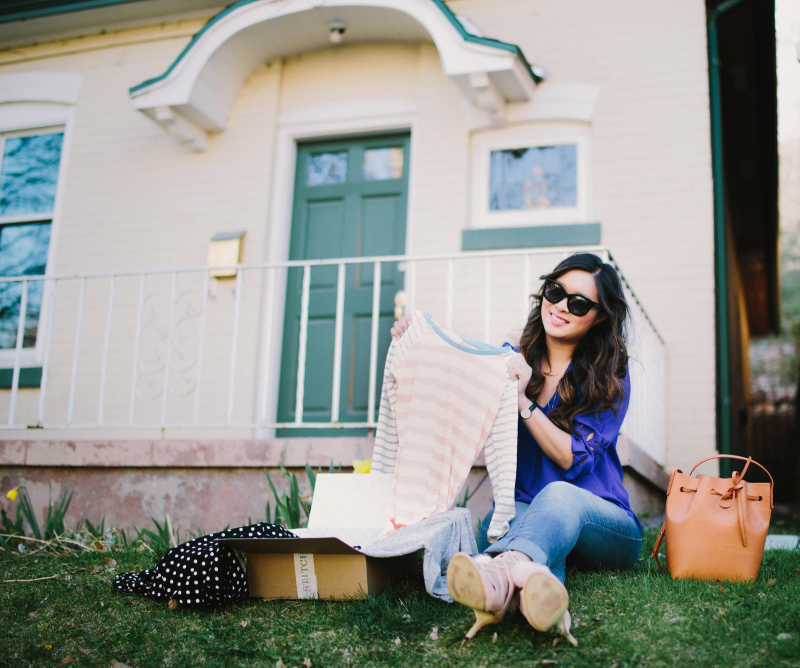 Have you guys heard of Stitch Fix
before? It's a great style service for women on the go, seriously. They shop for you and ship you clothes to try on with no obligation to buy. Because really, half the time when I go shopping at the mall (and that in itself is rare), I HATE going to the dressing room and trying on clothes. I just end up buying what I think I'd like and trying it on at the comfort of my own selfie mirror. Anyone else like this? Especially if you are a busy mom with toddlers in tow, you KNOW what I mean about not wanting to go out shopping with your kids, it's seriously an ordeal. How can you fit the stroller in the dressing room? You have an arm full of clothes you want to try on but your son is whining for some food? Yea, no thanks. Online shopping or clothing subscriptions it is for me!
So how does it work you ask? First, you go online and fill out a style profile. They ask you all sorts of questions about your body shape, size, budget, lifestyle, what pieces you are looking for in your wardrobe, etc. They even sometimes look at your social media accounts if you give them the info to really see what types of things you are in to. And then one of their Stylists will curate a box of 5 items for you to be sent out on the date you choose. For that box, you will be charged a $20 styling fee, which can be applied as credit towards anything you decide to purchase. You get 3 days to try on items and see what you like. They even send a little sheet of how to style the items you got. Then they have a pre-paid USPS envelope that you can use to ship back items you don't want. If you decide to keep a few, you will be charged the price they tell you. If you decide to keep them all, you get 25% off on the whole purchase! Lastly, you get the opportunity to provide feedback for your next box.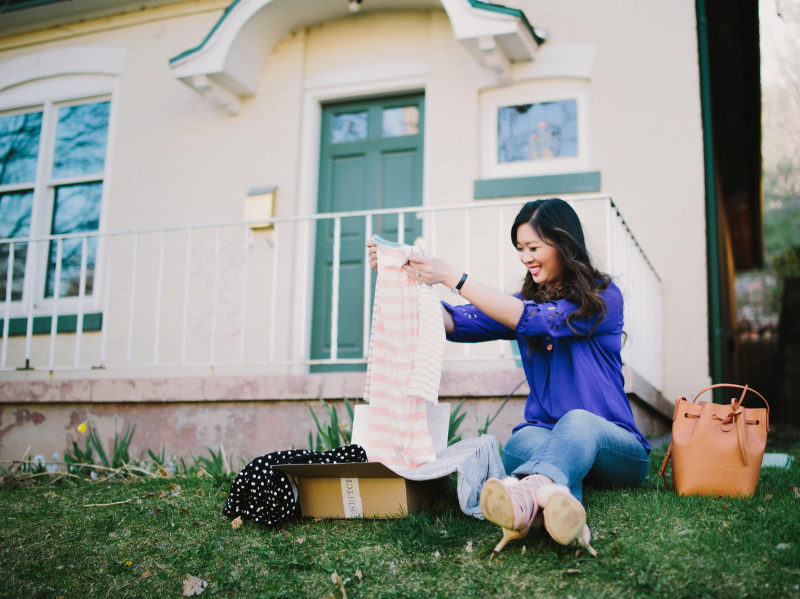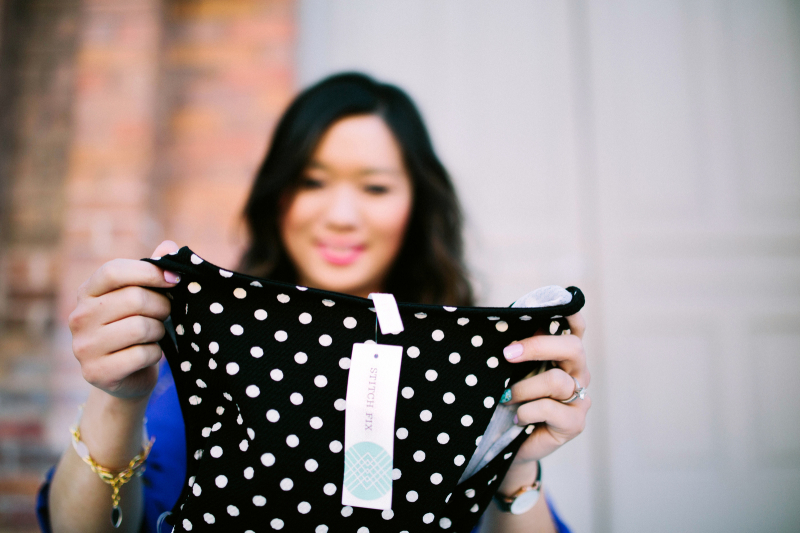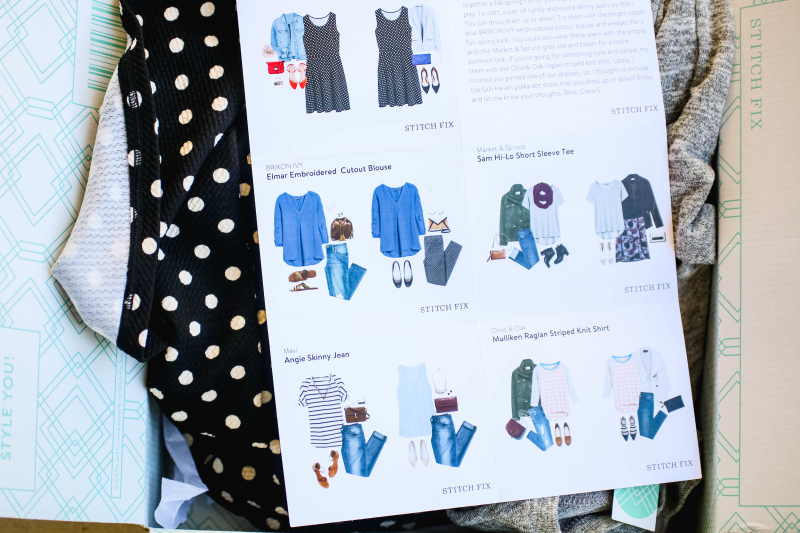 Photography by Dayna Turnblom for Jessica Janae Photography
For my recent box, I got the Brixon Ivy Elmar Embroidered Cutout Top and Mavi Angie Skinny Jean that I am wearing in these photos, as well as a Market & Spruce Sam Hi-Low Short Sleeve Tee, Clive & Oak Mulliken Raglan Striped Knit Shirt and a black and white polka dot dress. I told them that I wanted some more casual every day pieces as I feel like my wardrobe can be quite dressy at times. I really loved this blue top, the detail of it to make it a bit more unique and the fact that it's definitely age appropriate and would be great for work or going out. As for the jeans, I though these ones were a great lighter color that I didn't own and they were so comfy.. My stylist said she picked the black and white polka dot dress for me because it was like something I had on my Pinterest board, but I decided not to keep it because I thought it was a little tight on me. The grey tee was SO soft and I really wanted to keep it, but I also have a lot of tees already so figured I shouldn't. And then the striped top I wanted so badly to keep it because I loved the colors and pattern, but it was a bit clingy on my belly and I realized I should have probably sized up on my style profile. So lessons learned from my body after having 2 babies… is I should size up. I think the last time I got a Stitch Fix box was actually pre-babies…
Also, StitchFix is doing something so amazing for Mother's Day right now that I wish I could win!! Here are the details…
From Monday May 2nd at 9 am PST through Sunday May 8th, Stitch Fix is celebrating the most important woman in your life. Whether she's your mom, aunt, sister, teacher or best friend, she supports you through life's successes & setbacks with unconditional love.
Tell us about her & how she's positively influenced you for a chance to WIN a trip to San Francisco, a styling session (you get to keep the clothes!) & a photoshoot at Stitch Fix
HQ. This is for YOU & the woman you choose to mom-inate!
Here's How It Works:
Enter your first name, last initial & email in the entry form found on the Stitch Fix Facebook page.

Submit your story. Tell us about a time when this person coached you, mentored you or made some profound impact in your life.

Share your entry on Facebook & Twitter, encouraging friends & family to vote for you. More votes will increase your chances of getting picked!

We'll select our favorite story & contact the winners via email on May 9th, 2016.
Contest Link: https://offerpop.com/ad.psp?cid=804019&ref=Influencers

And if you are interested to see some other items that you could get in your Stitch Fix
package, you can visit my friends over at Lipgloss and Crayons, Walking In Memphis In High Heels and Chasing Davies to see their boxes! Also, don't forget to JOIN our Facebook group that's all about mama and mini style!
And the winner of last week's most clicked link if my friend Cecilia of Dearest Lou!! She is just an absolutely stunning mama of 1 and 1 on the way and she has the sweetest heart (I know her in person)!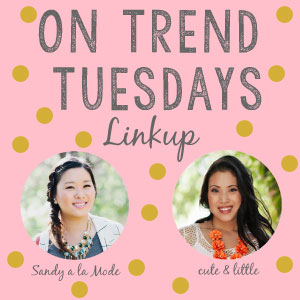 Now it's your turn to linkup! Please make sure to add the button or link back to myself and
Cute & Little
in your post and go and comment on at least 5 other blogs, please please!!!

We want this to be a community of fashionistas to keep you inspired and supporting each other is what we are all about!