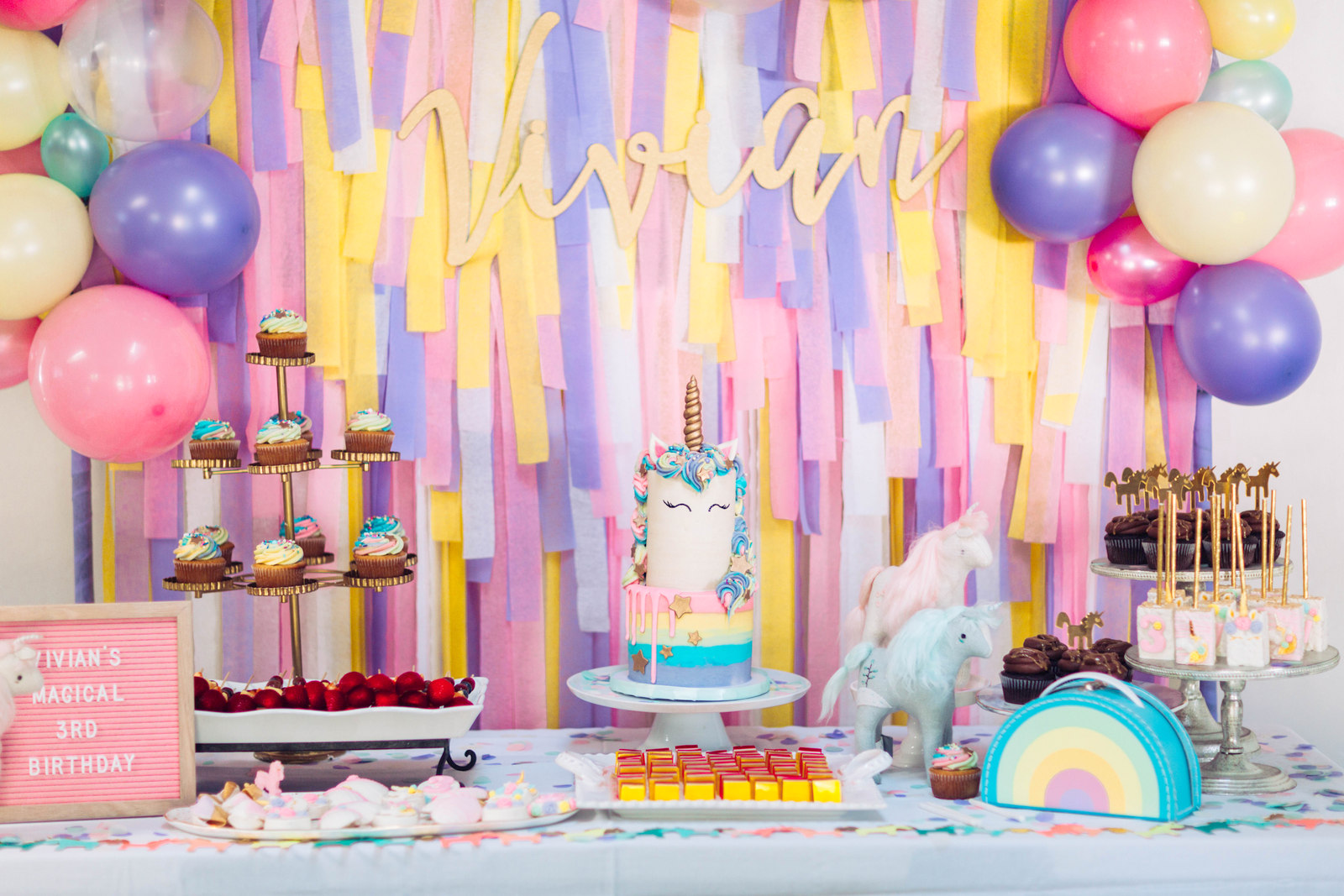 I can't believe I officially have a 3 year old and that her party has come and gone! For her 3rd birthday party, I decided to do a unicorns and rainbow party because well of course, Vivian loves all things ponies and unicorns right now. I don't think I can even count on two hands how many little unicorn dolls and stuffed animals she plays with on a daily basis. So naturally, a unicorn party was an easy choice! I decided to go with a more pastel unicorn and rainbow palette with pink, purple, yellow being the main colors, with touches of mint/blue and gold as well! Of course, when I party plan, the dessert table is always the centerpiece and most important part of the party. And this year's did not disappoint!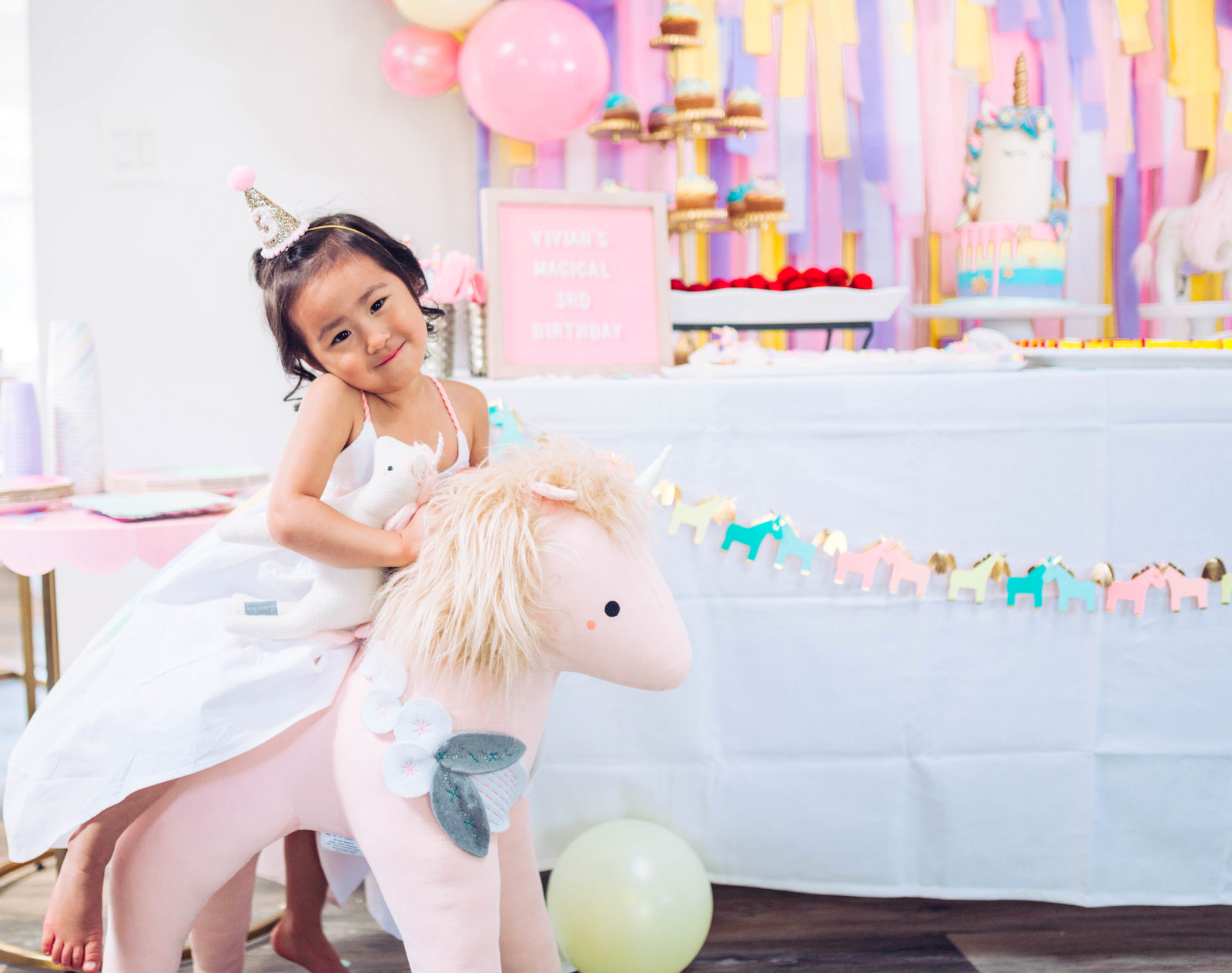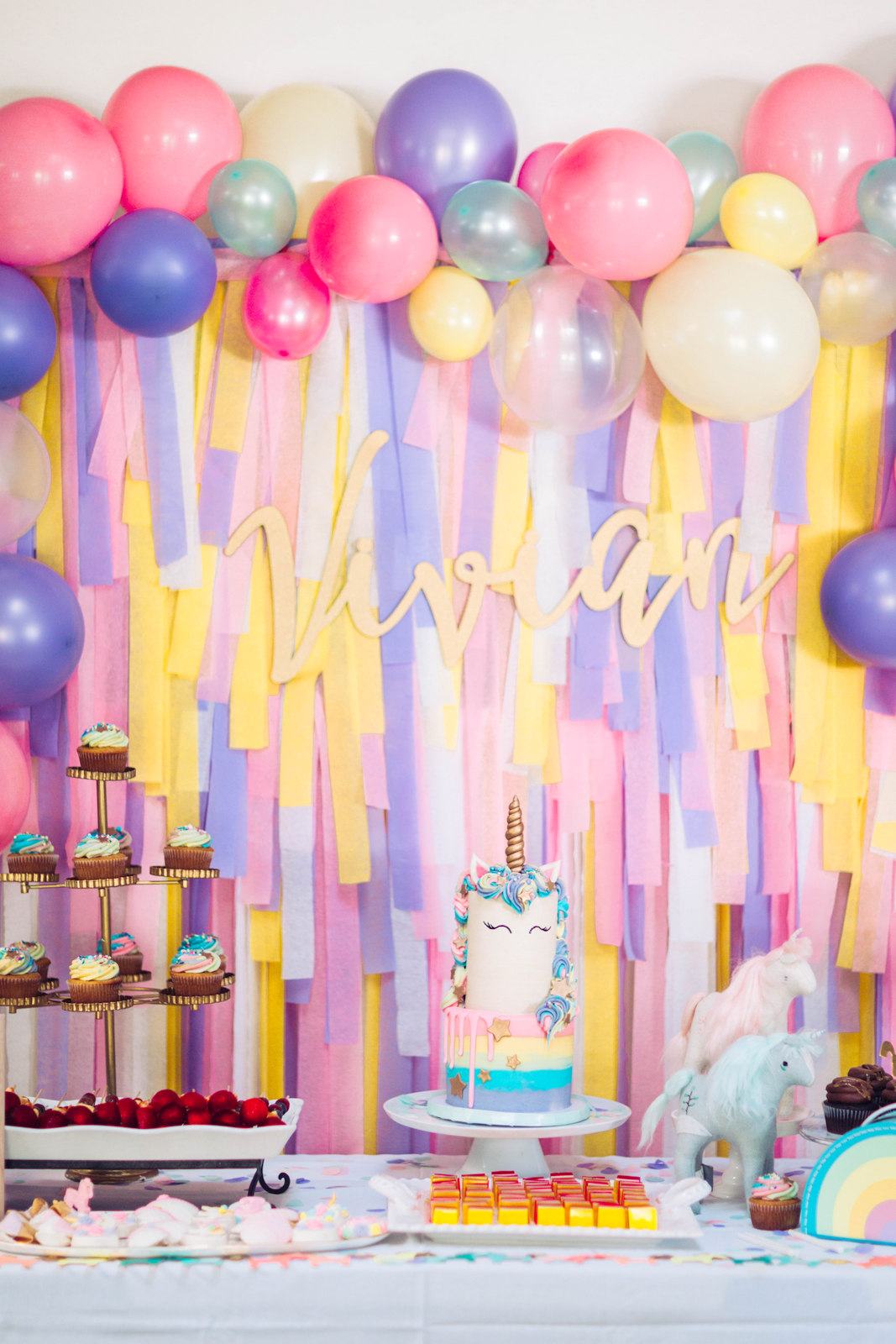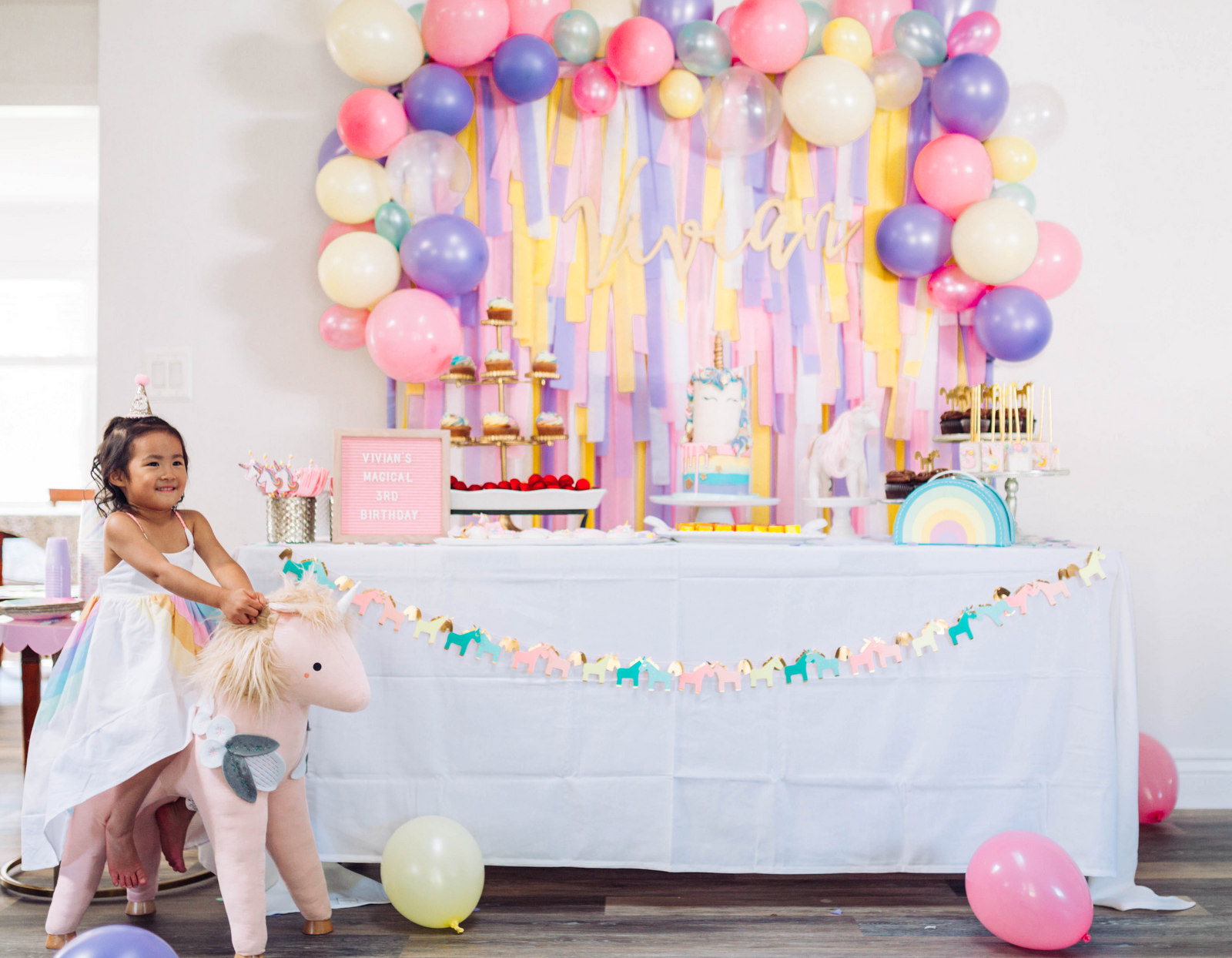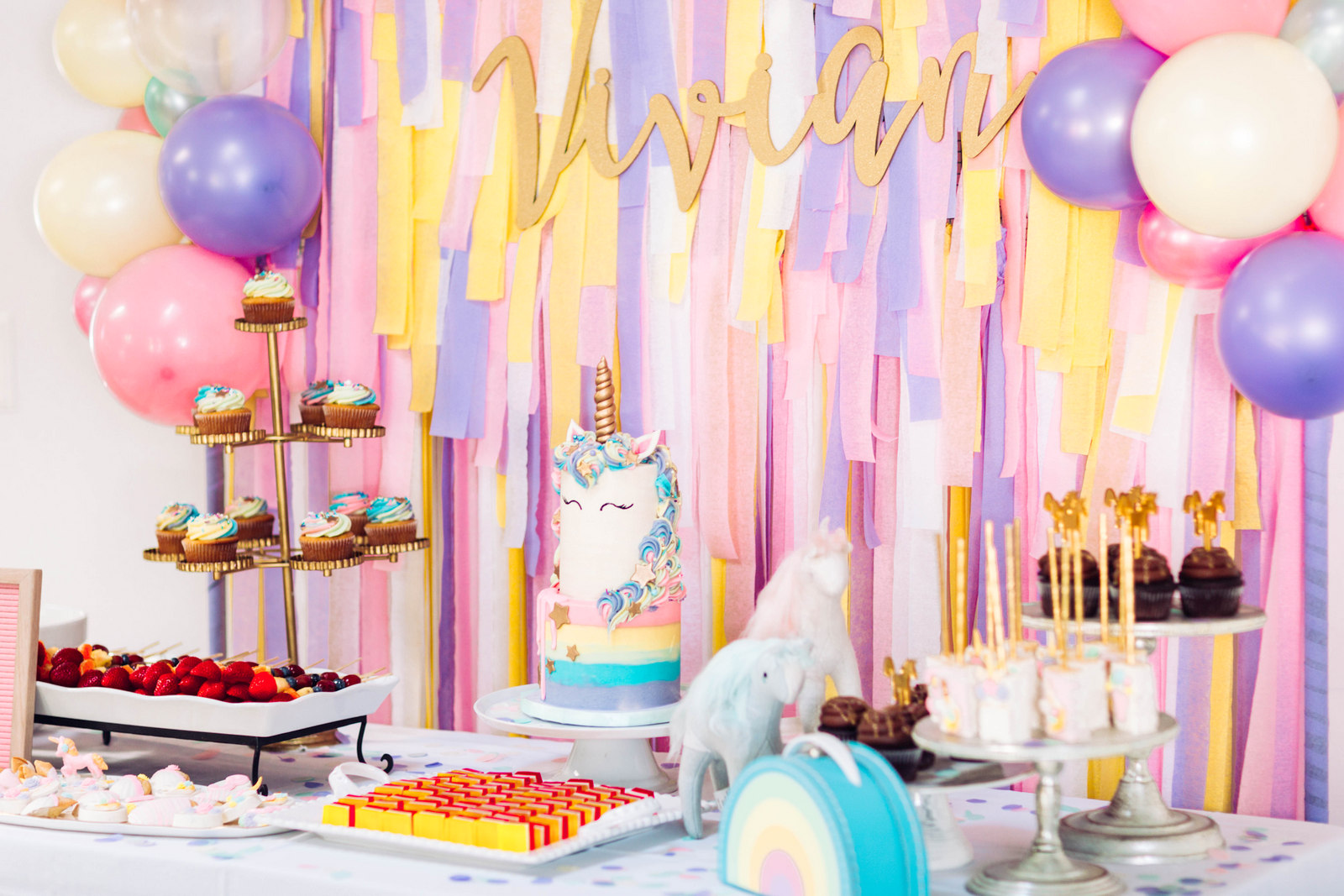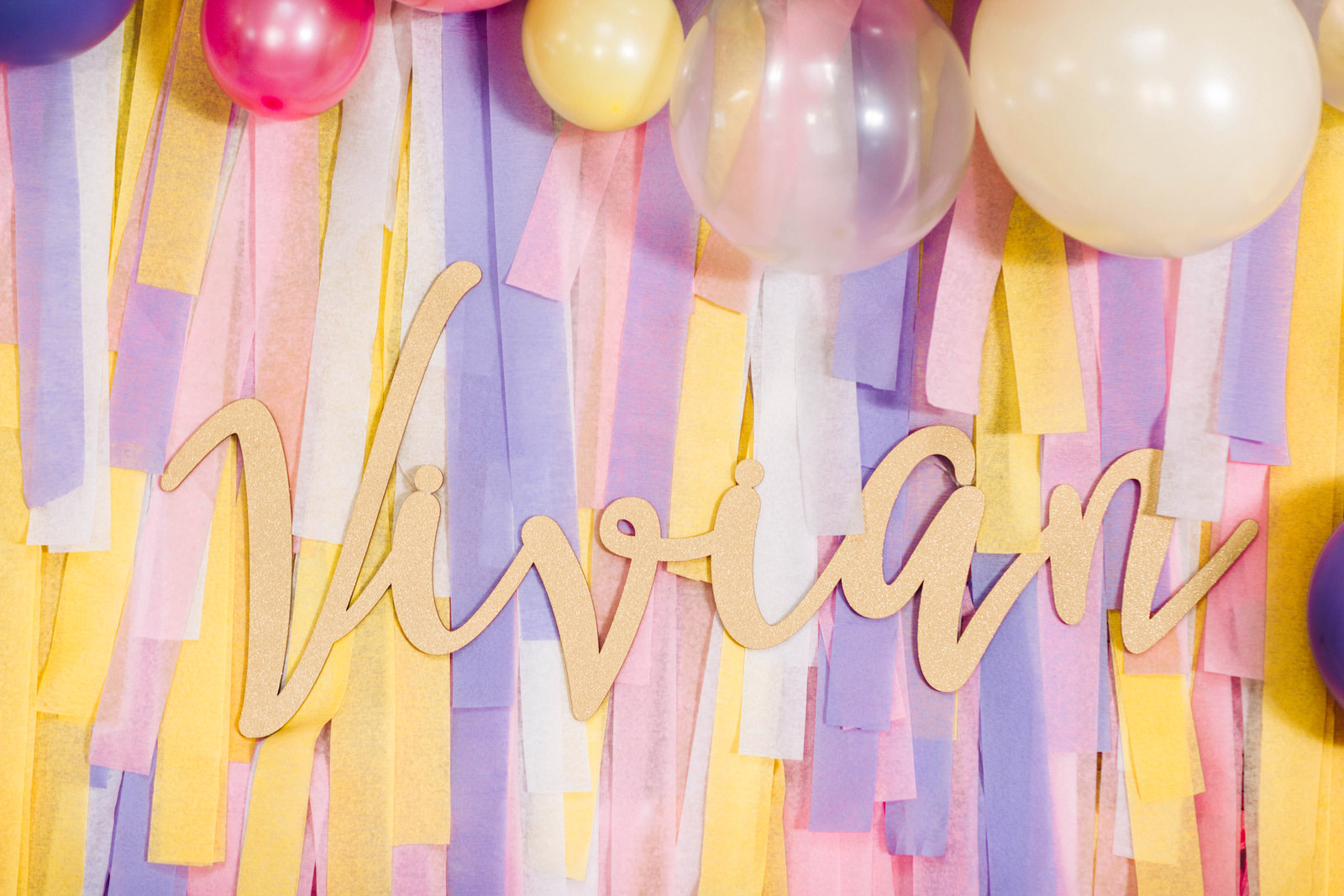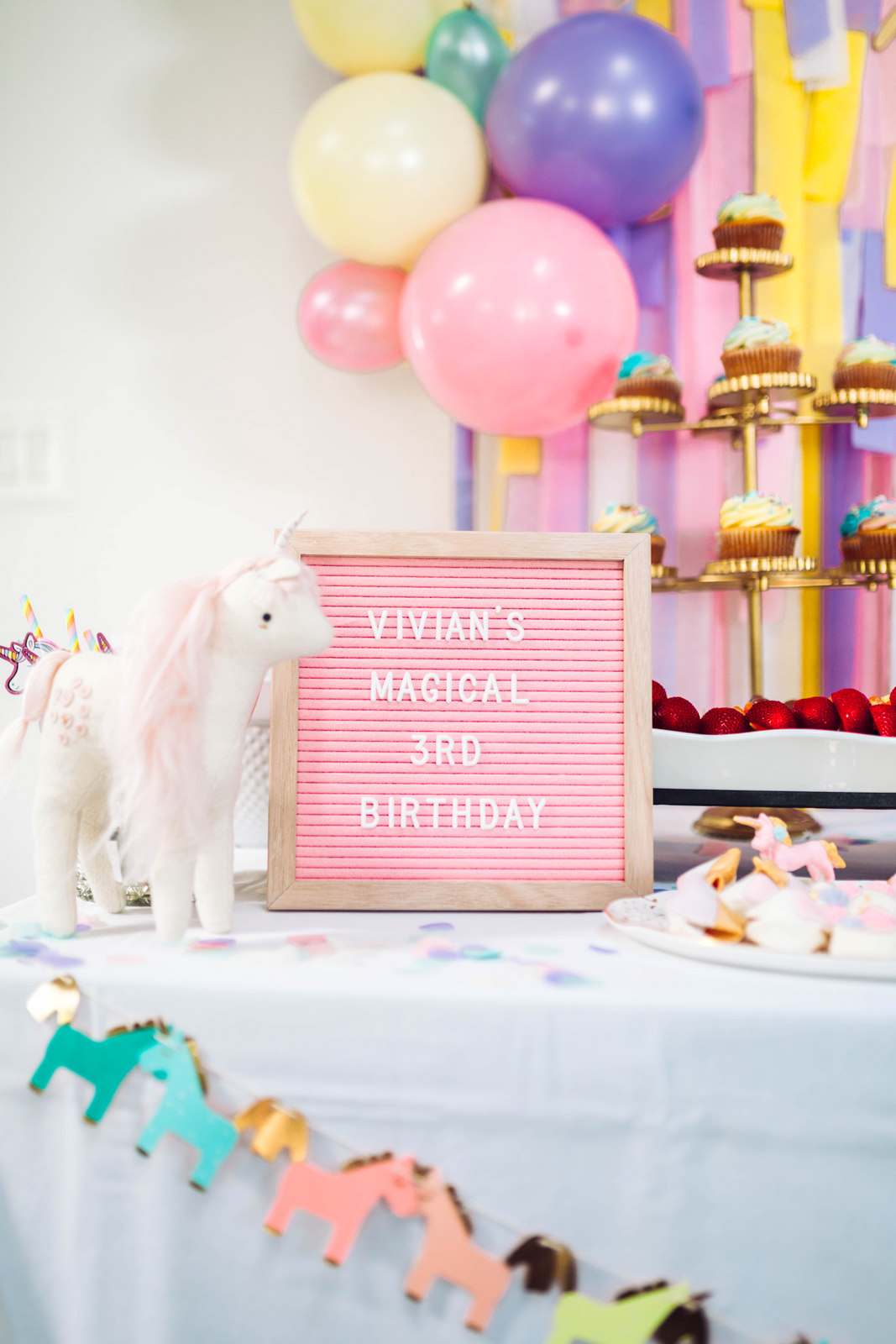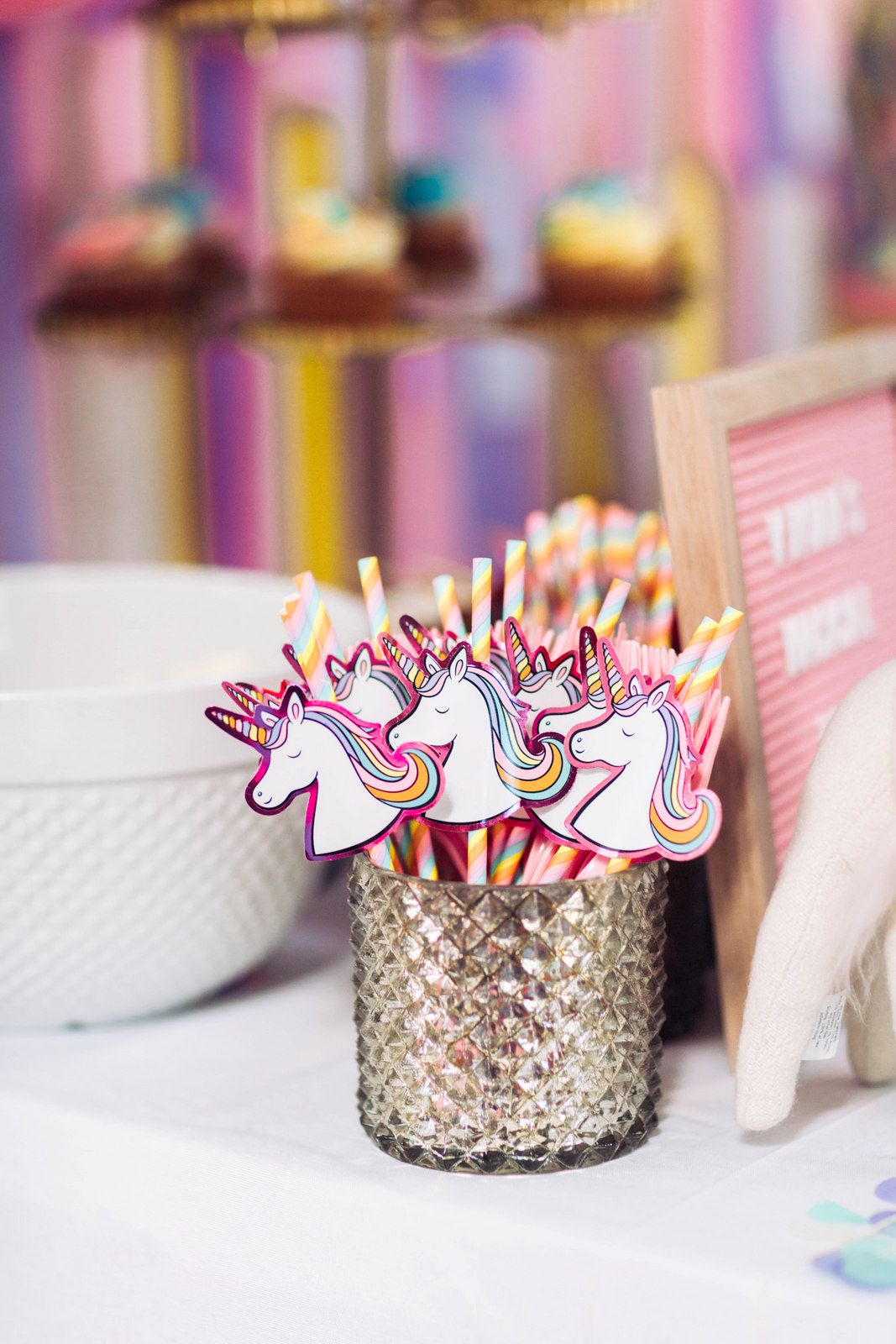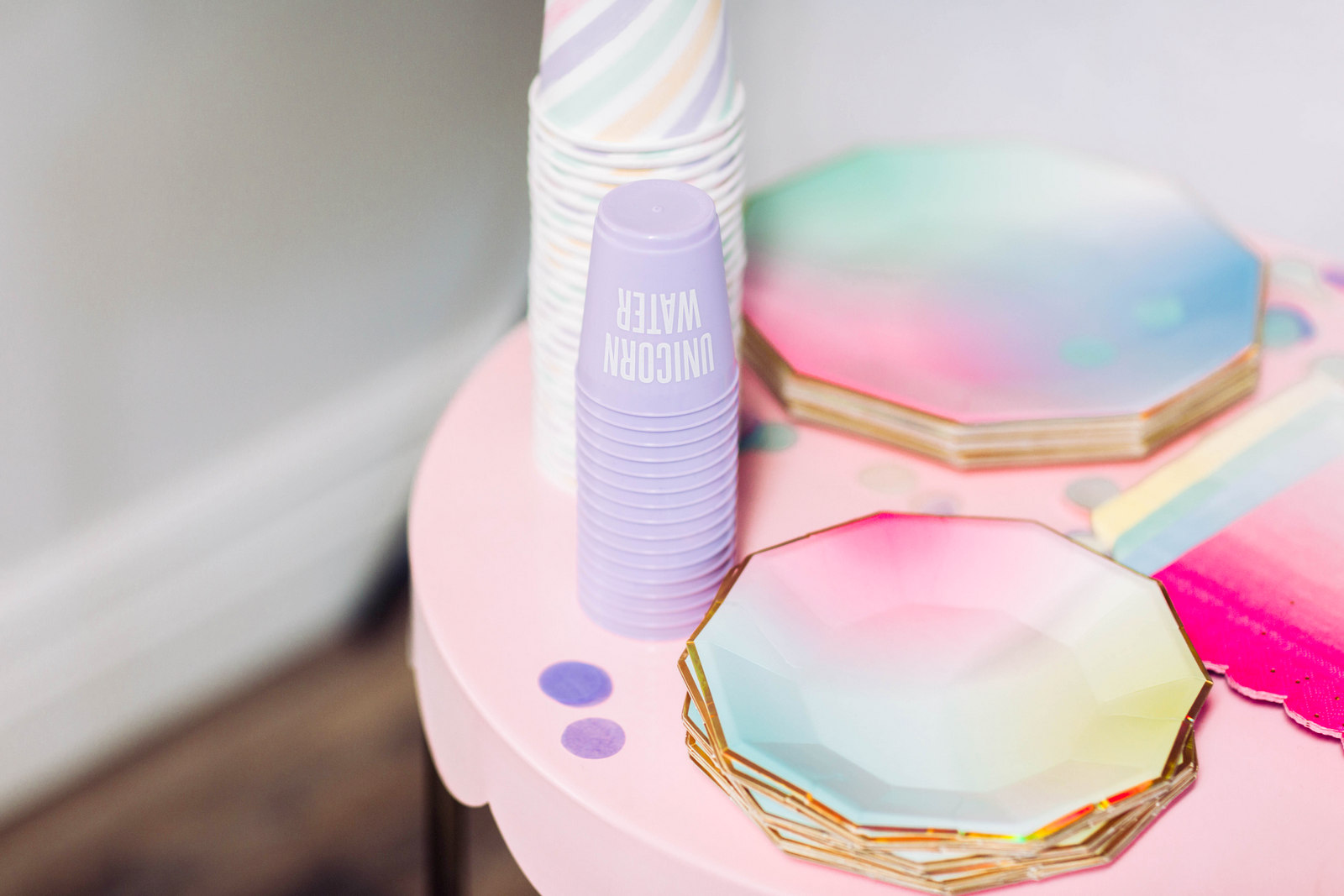 For the backdrop, I used a backdrop stand that extended about 7 foot tall and 5 foot wide. I set up a 6 foot table in front of it so it was the perfect width. And what I did was bought a green garden wire fence (or used for a chicken coop) and some fishing line. And basically, I took different colored streamers and cut them to different lengths and stuck them in the holes of the garden wire fencing. At first I was tying the crepe paper streamers through the holes, but realized that just sticking them through the holes was sturdy enough. Then I bought a balloon pump (LIFE SAVER) and a variety of colored balloons and blew them up to different sizes. Then I strung fishing line through the ends of 3 or 4 of the balloons and then tied them around the backdrop and fencing. The streamers, balloons, plates, cups, and unicorn banner were all purchased through Zurcher's, an awesome party store!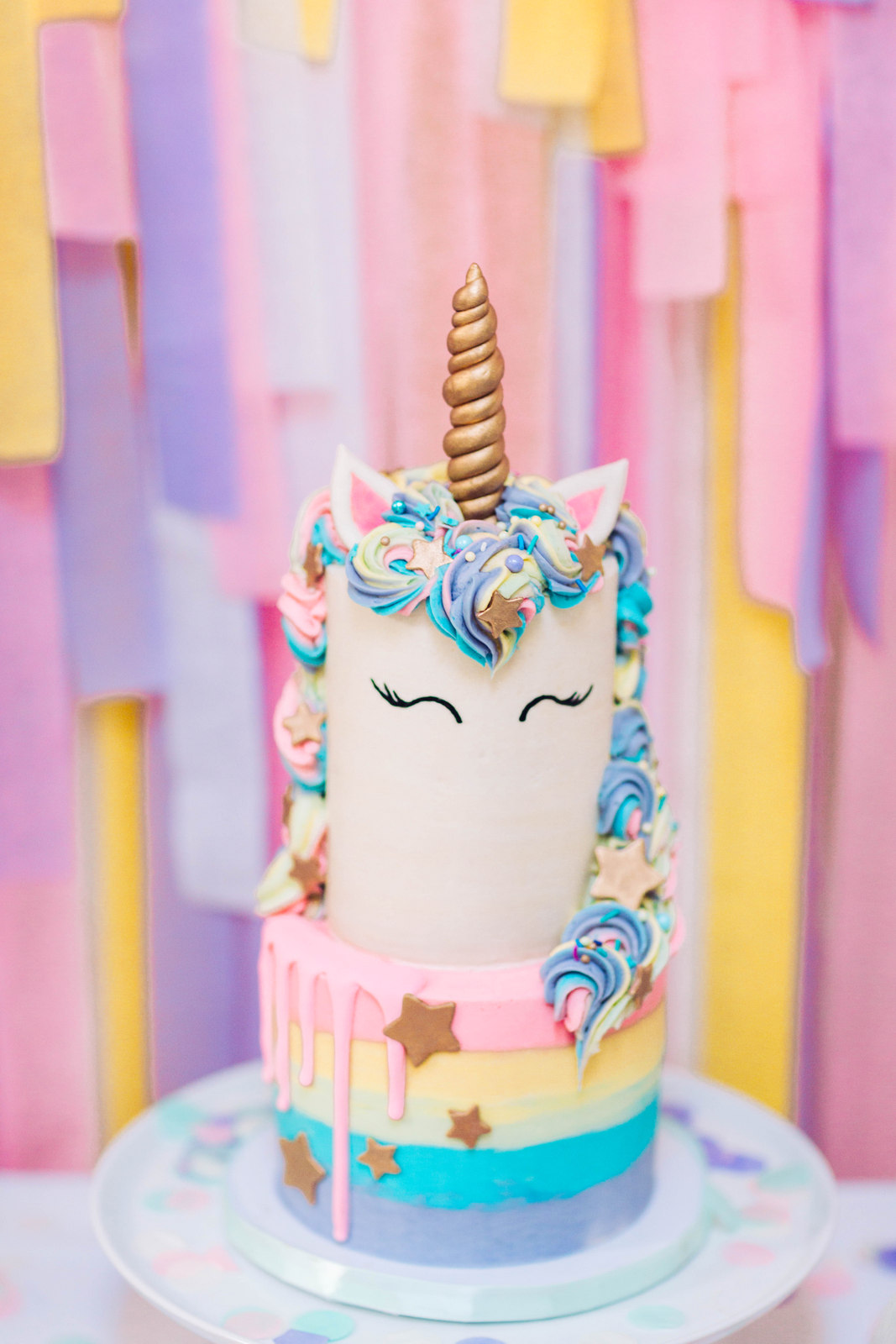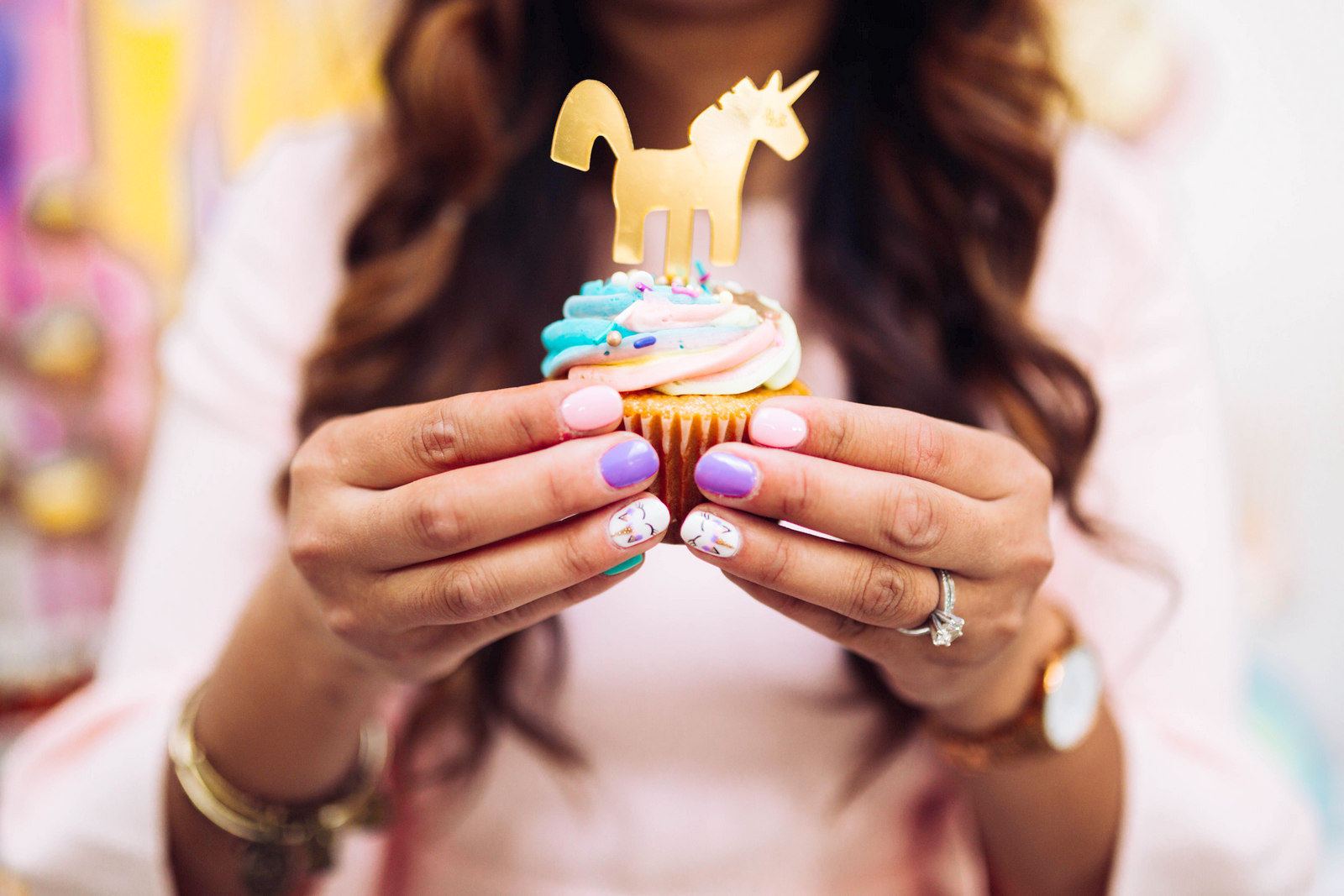 I still can't get over the amazingness of this cake by local baker, Sugar Rush! All I told her was a 2 tier unicorn cake with a pastel rainbow bottom and she totally delivered! Not to mention the cake was delicious as well! This was such the perfect centerpiece for the dessert table!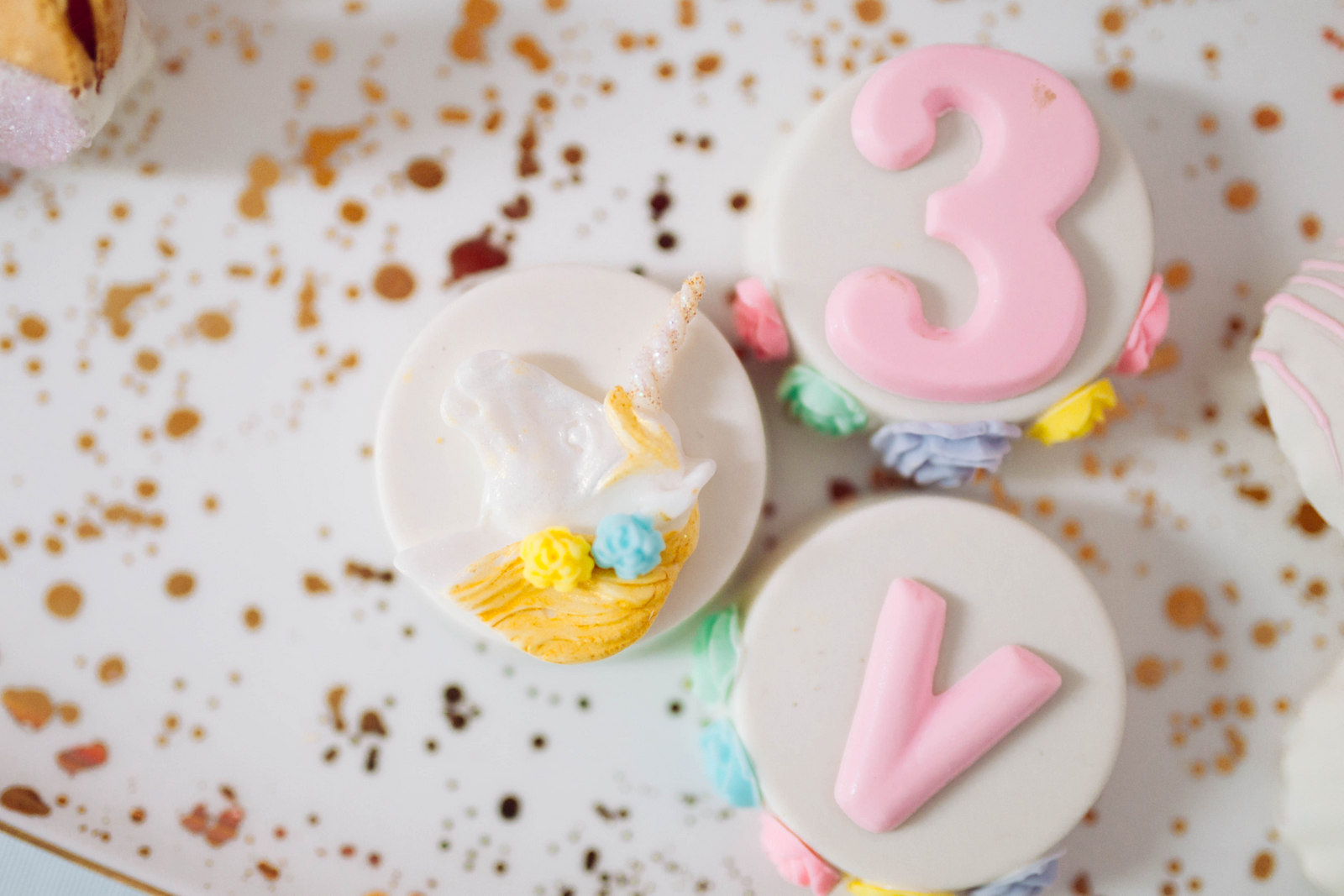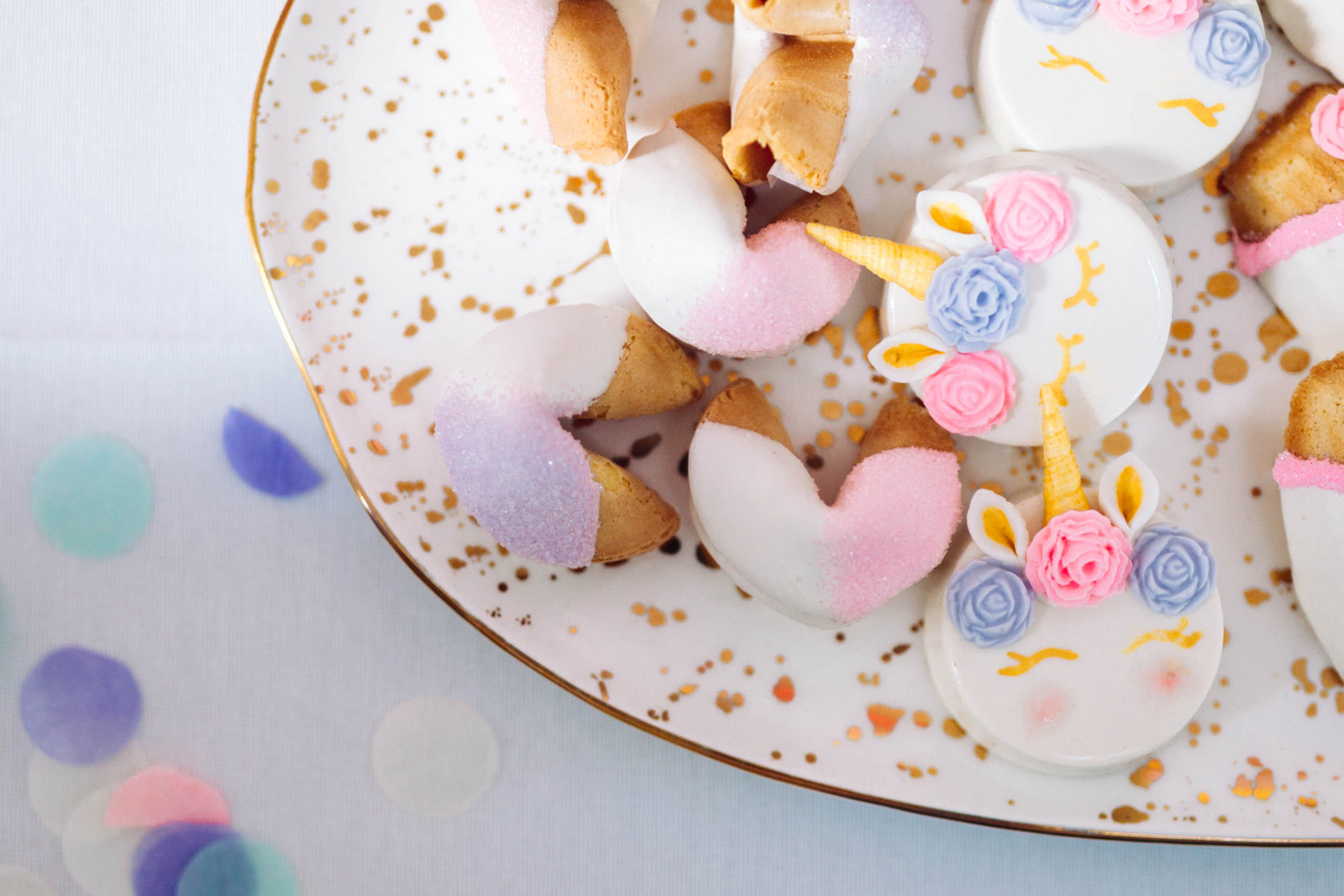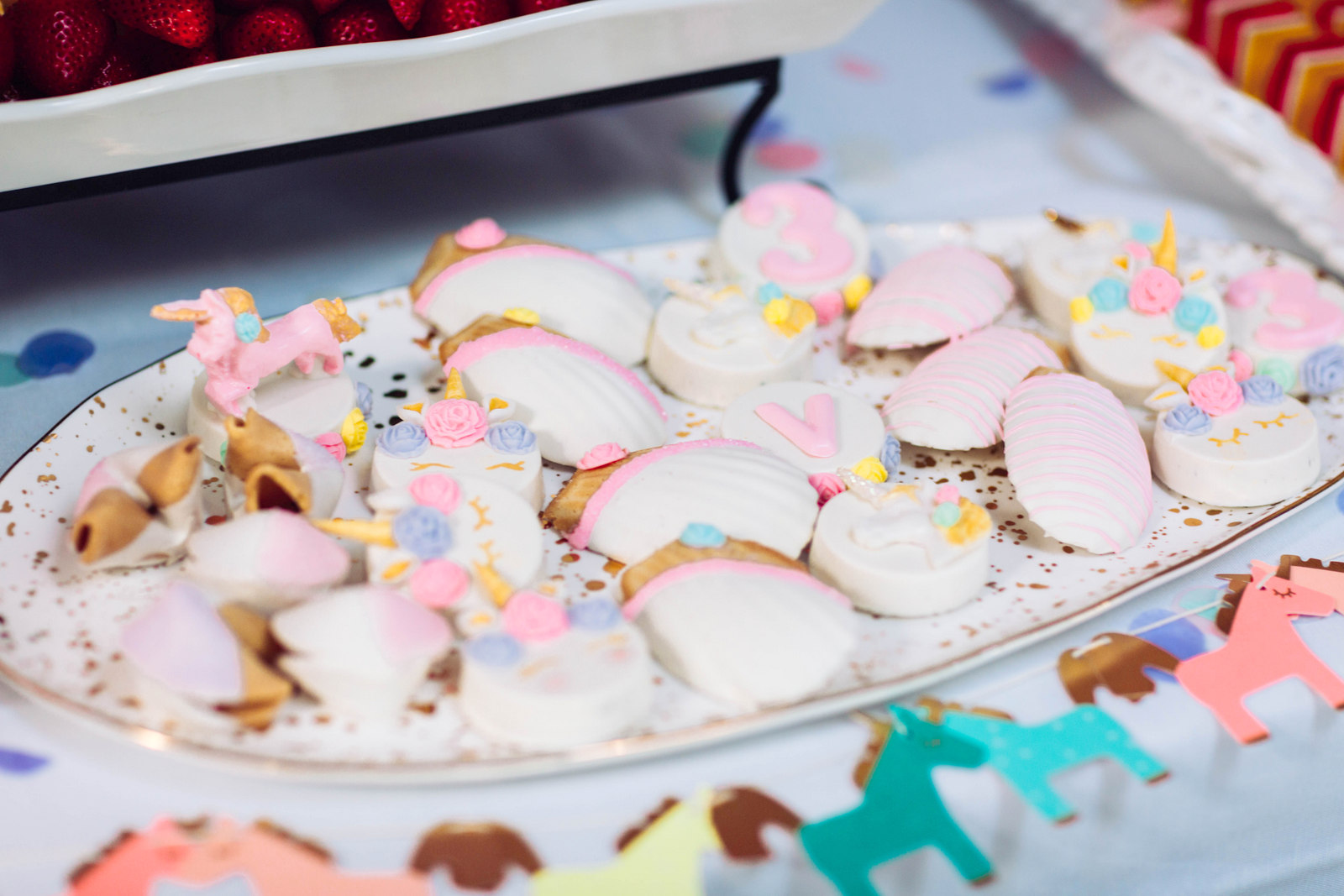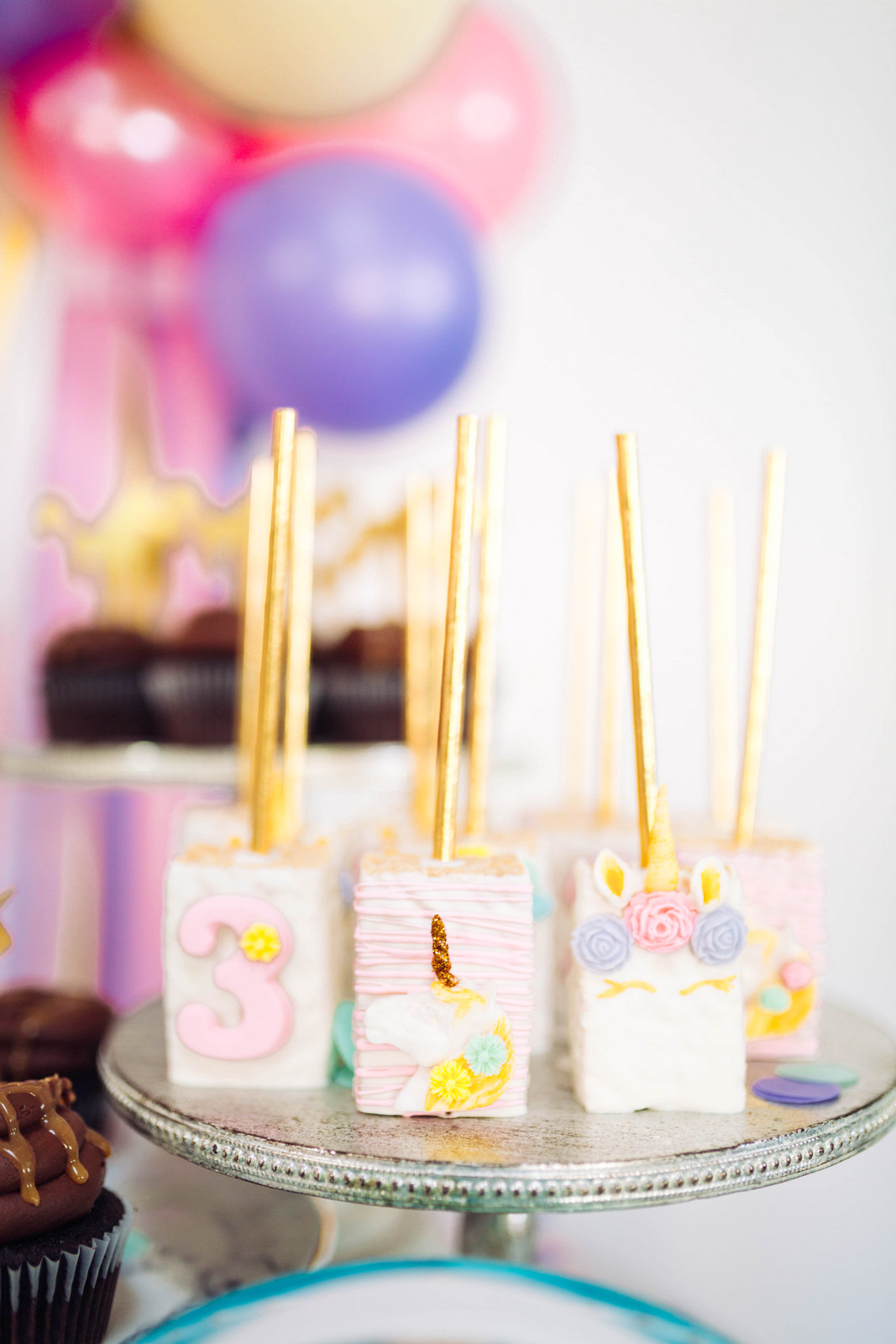 And of course my girl from Summertime Sweets, who has made stuff for me before, made the cutest little desserts that were perfect for little fingers. Chocolate covered Oreos, amazing rice krispies with unicorns, and lots of other absolutely GORGEOUS desserts to fit the color theme.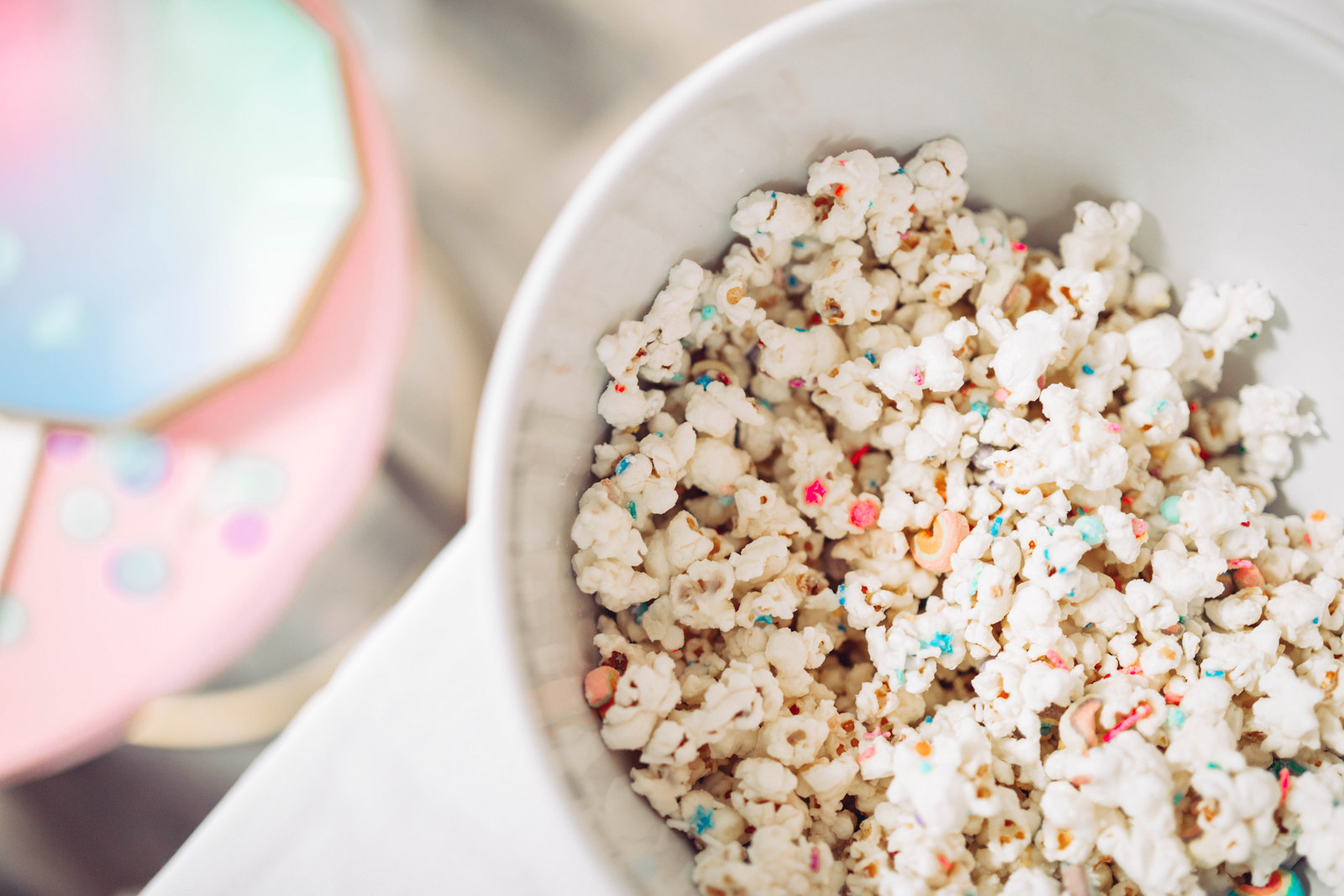 I have to admit, the only food thing I made was this fun little popcorn! I got some bagged popcorn, sprinkled melted white chocolate over it, mixed in some rainbow sprinkles and the rainbows out of a Lucky Charms cereal box, and done! Yummy and pretty!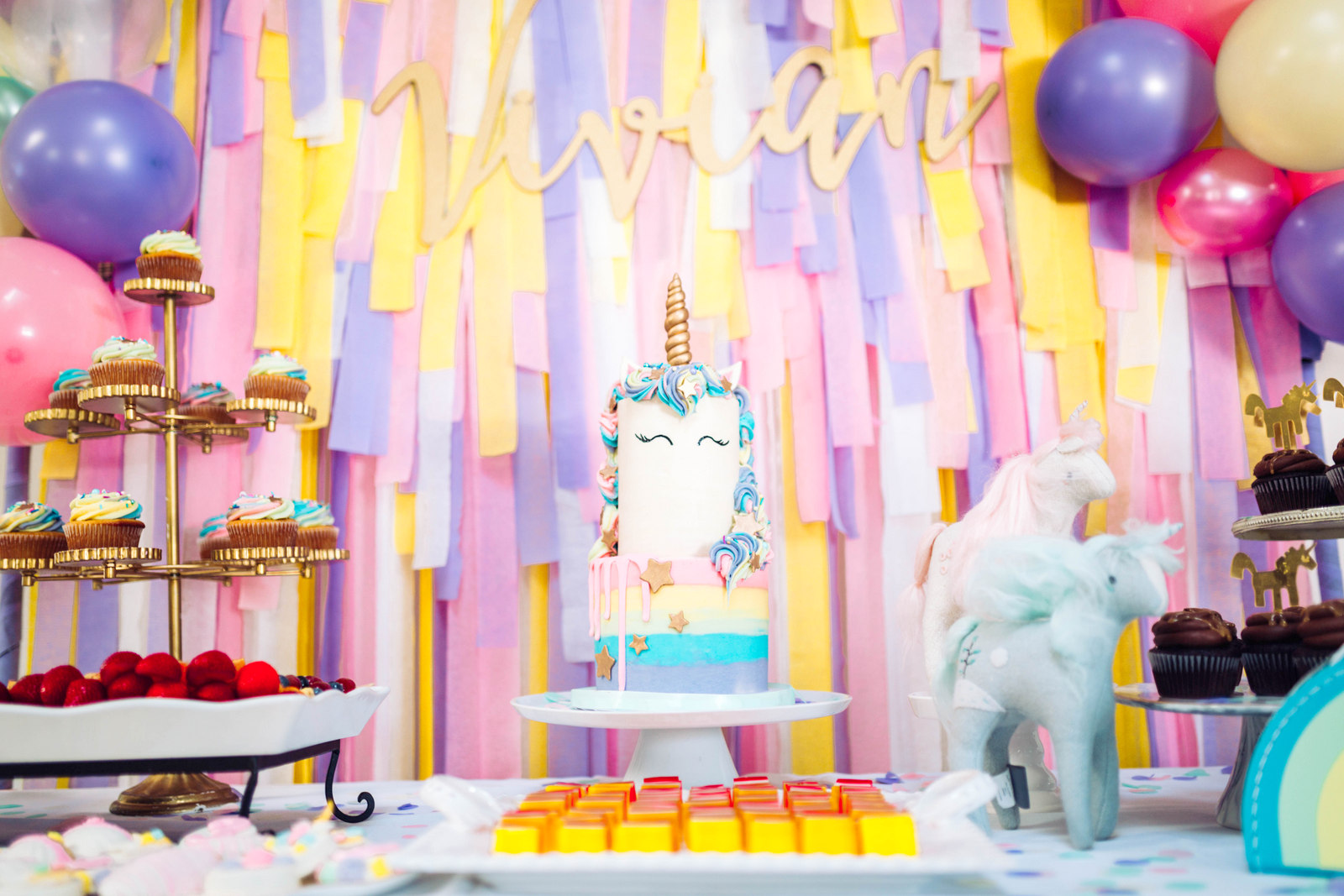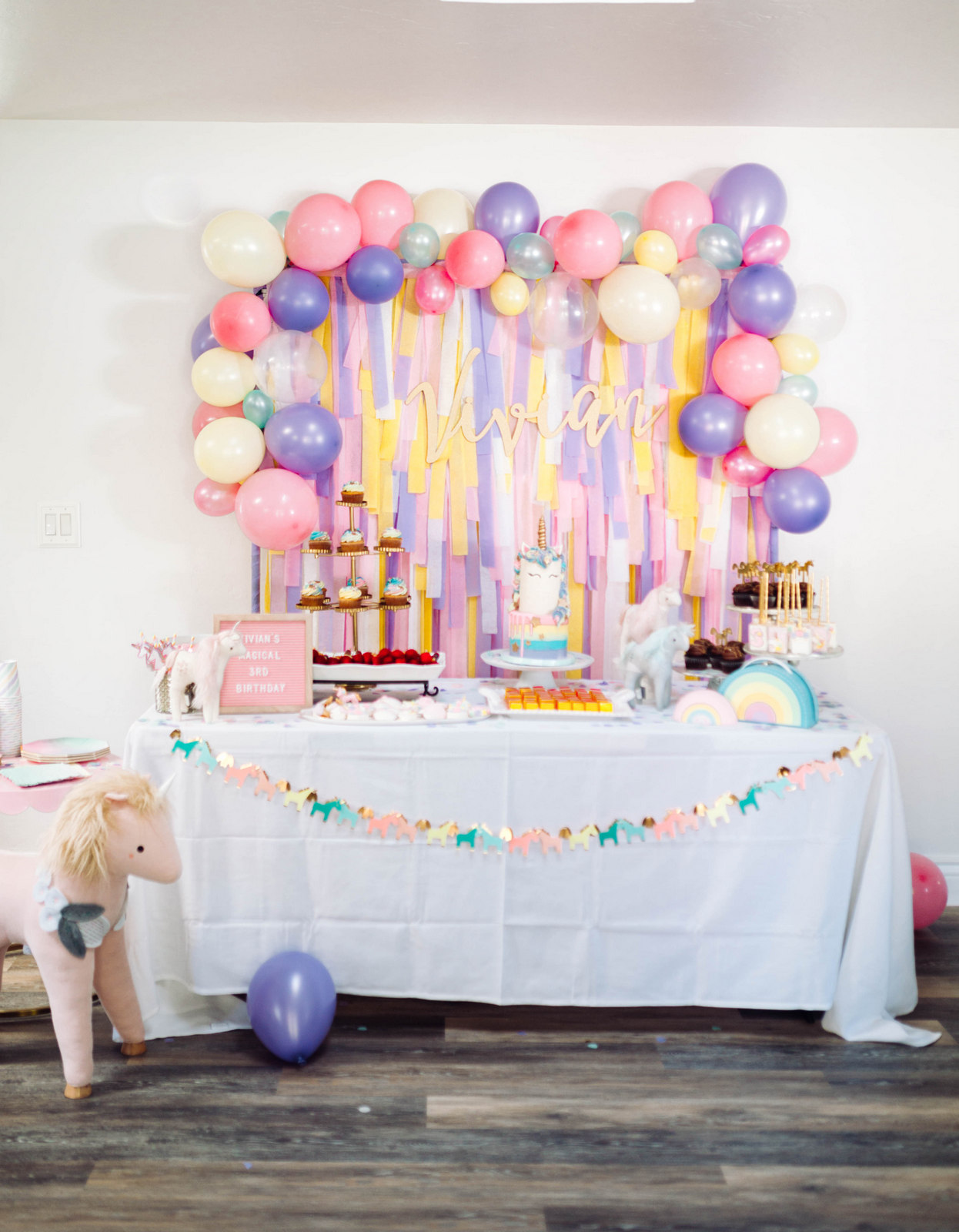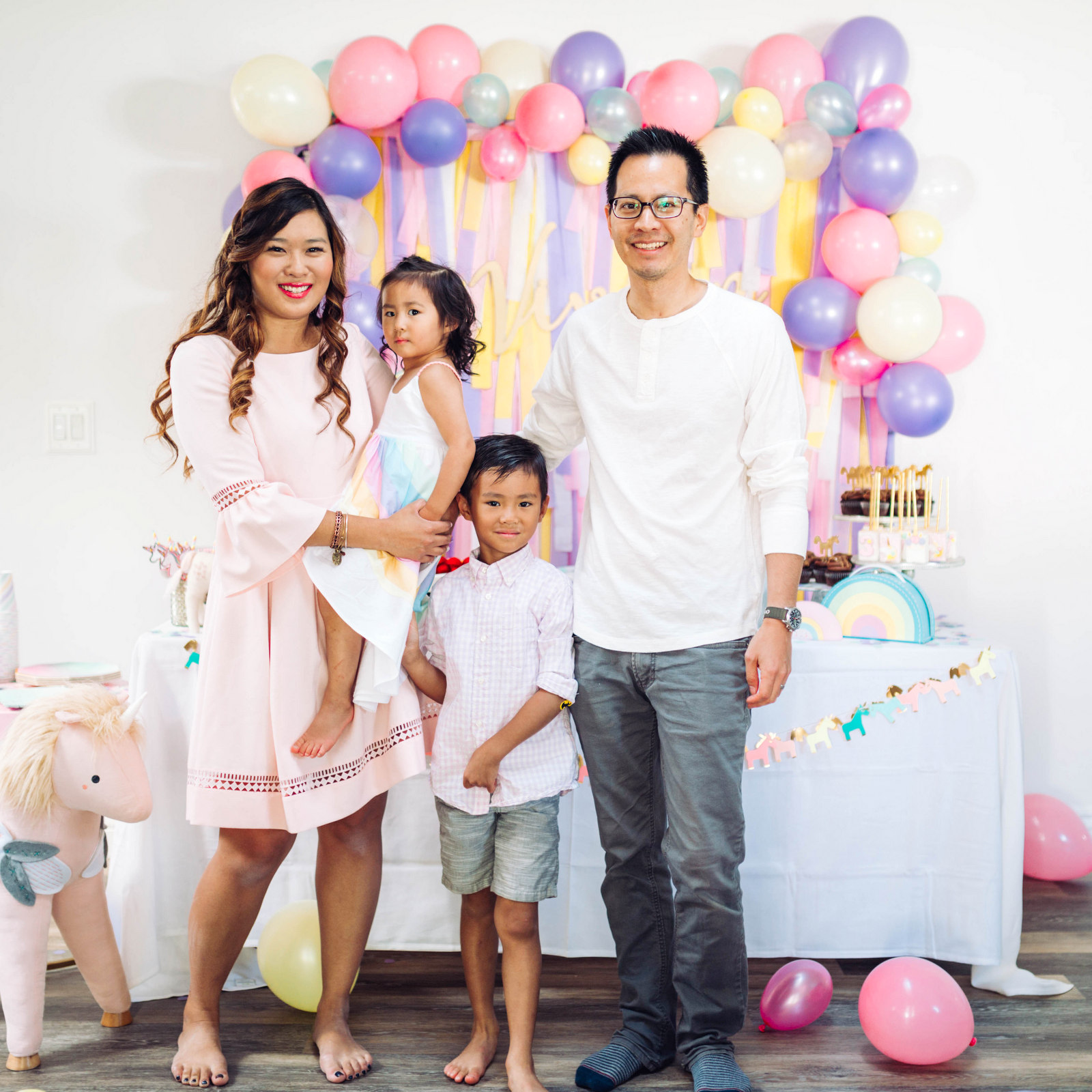 We also had a cute pink letter board, unicorn plushes, rainbow decor and of course my mom's signature 3 layer jello and some fruit in rainbow colors! One important thing for the dessert table was making sure that there was height.. plates that are low and some serving trays that are higher just to give it some more visual interest. Also, just had to give a little shout out to Pleaides Handmade, which is where Vivian's pastel rainbow dress is from. We have always loved their gorgeous clothing for kids and that dress was just perfect for her party!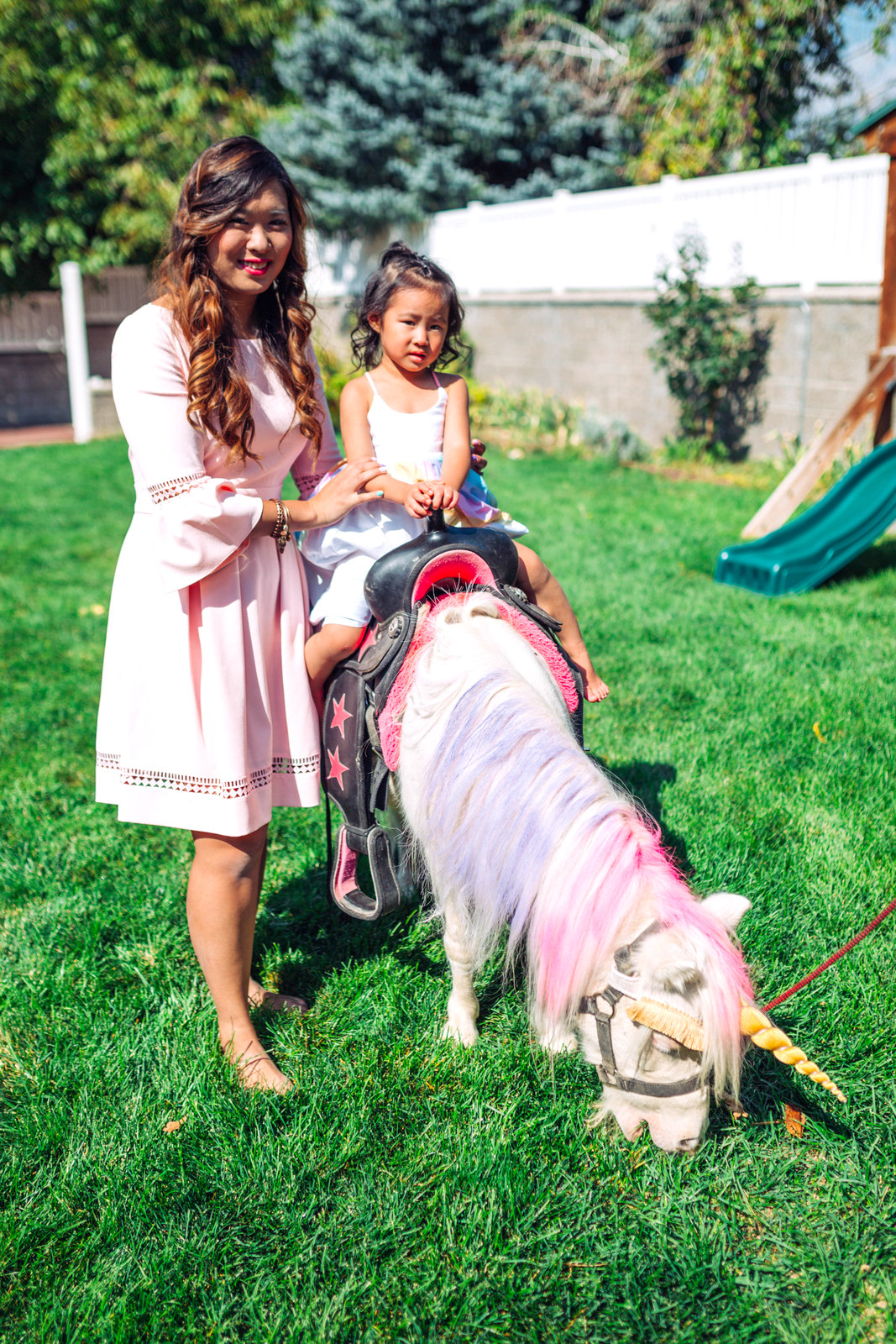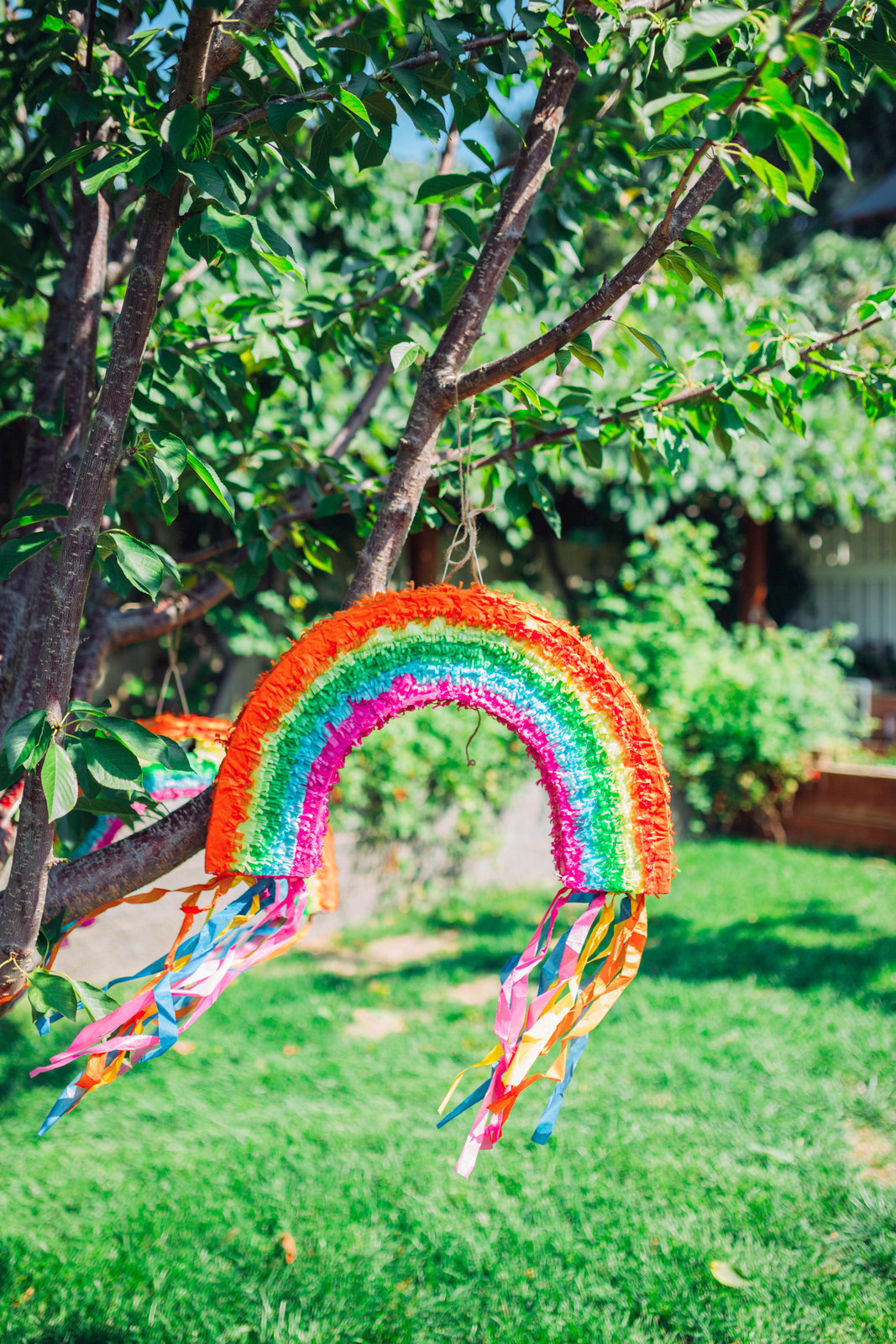 As for games, well, you guessed it, I rented a unicorn to come to our house for the kids to ride on! Say what!? Well actually, I have to admit that both my kids were slightly terrified, some others didn't want to ride it, but lots of kids wanted to ride the unicorn multiple times and were freaking out that they rode a real unicorn. 😉 We used Utah Pony Party for the pony rental – they even have opens to have a petting zoo come to your party too! We also had a pinata, which was apparently supposed to be a pull string one, but once the kids pulled out all the strings, not candy came out so we had to resort to hitting it haha!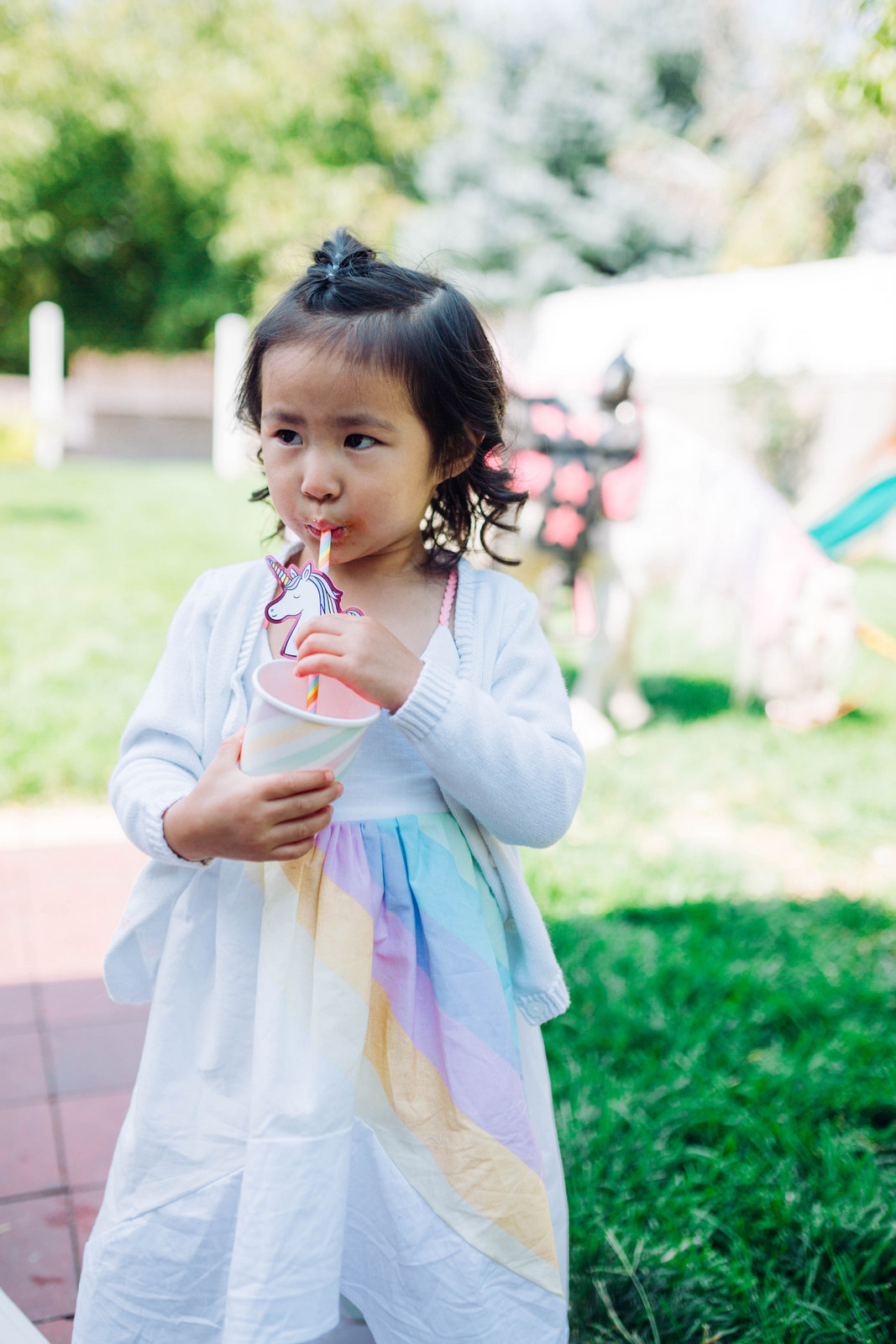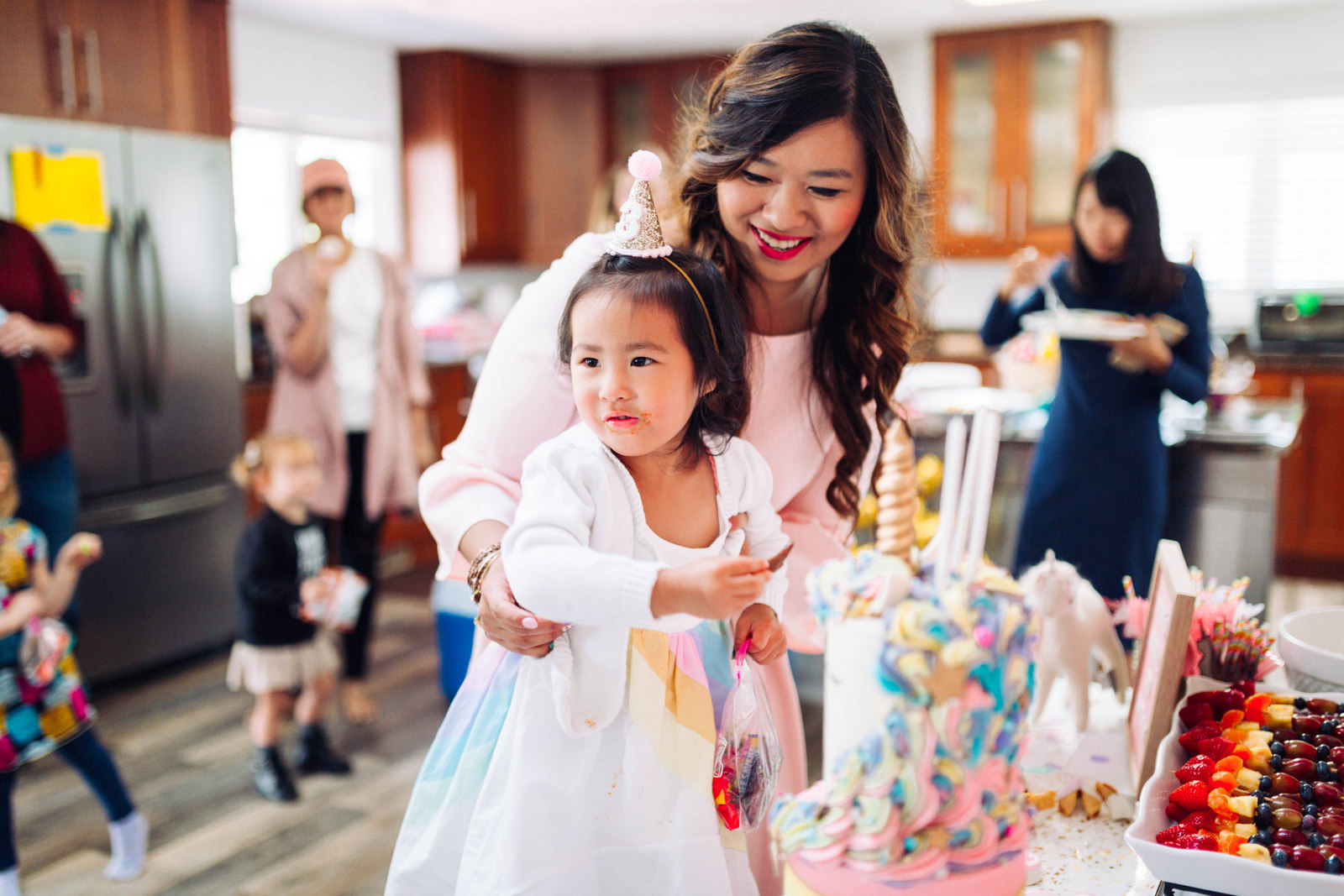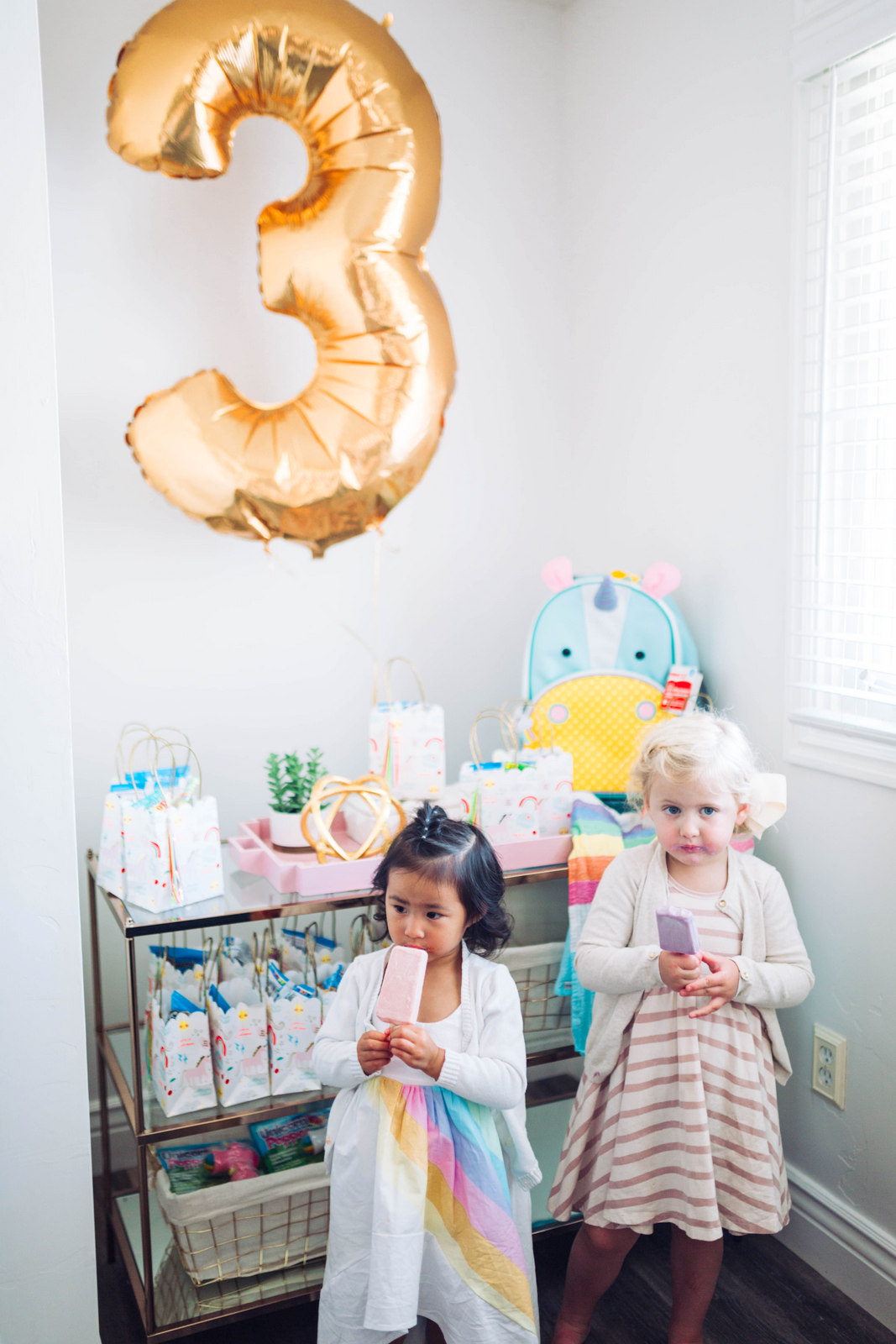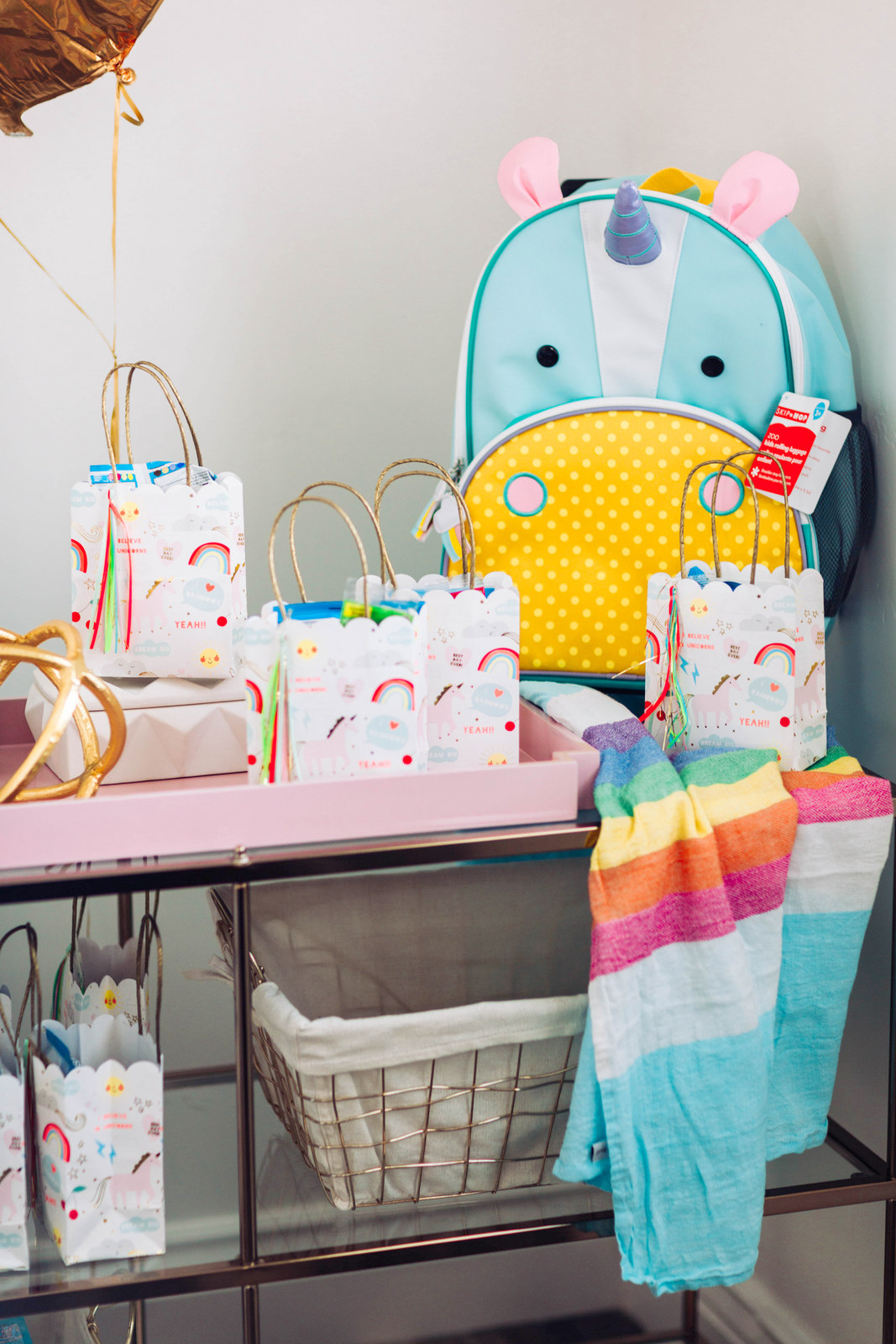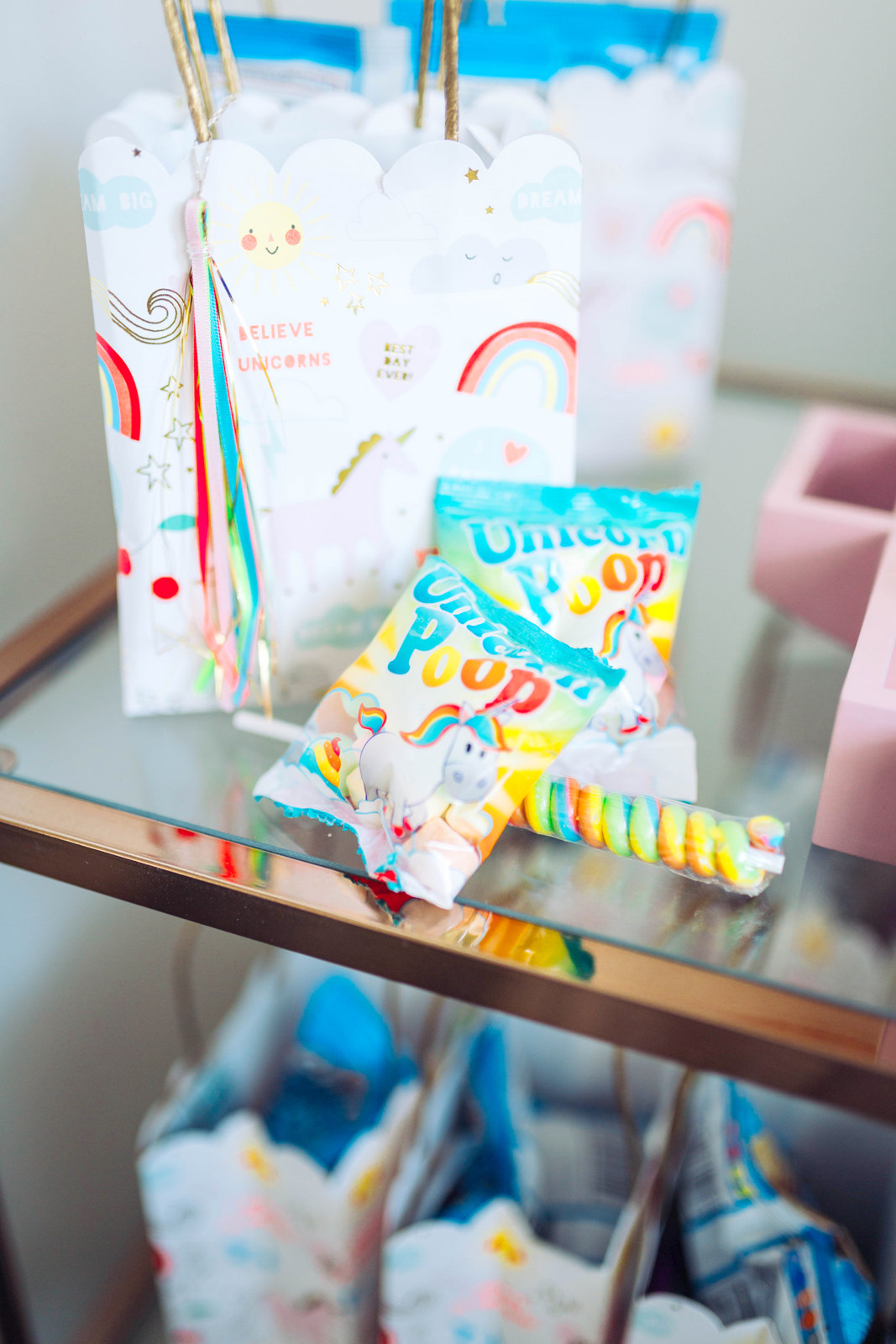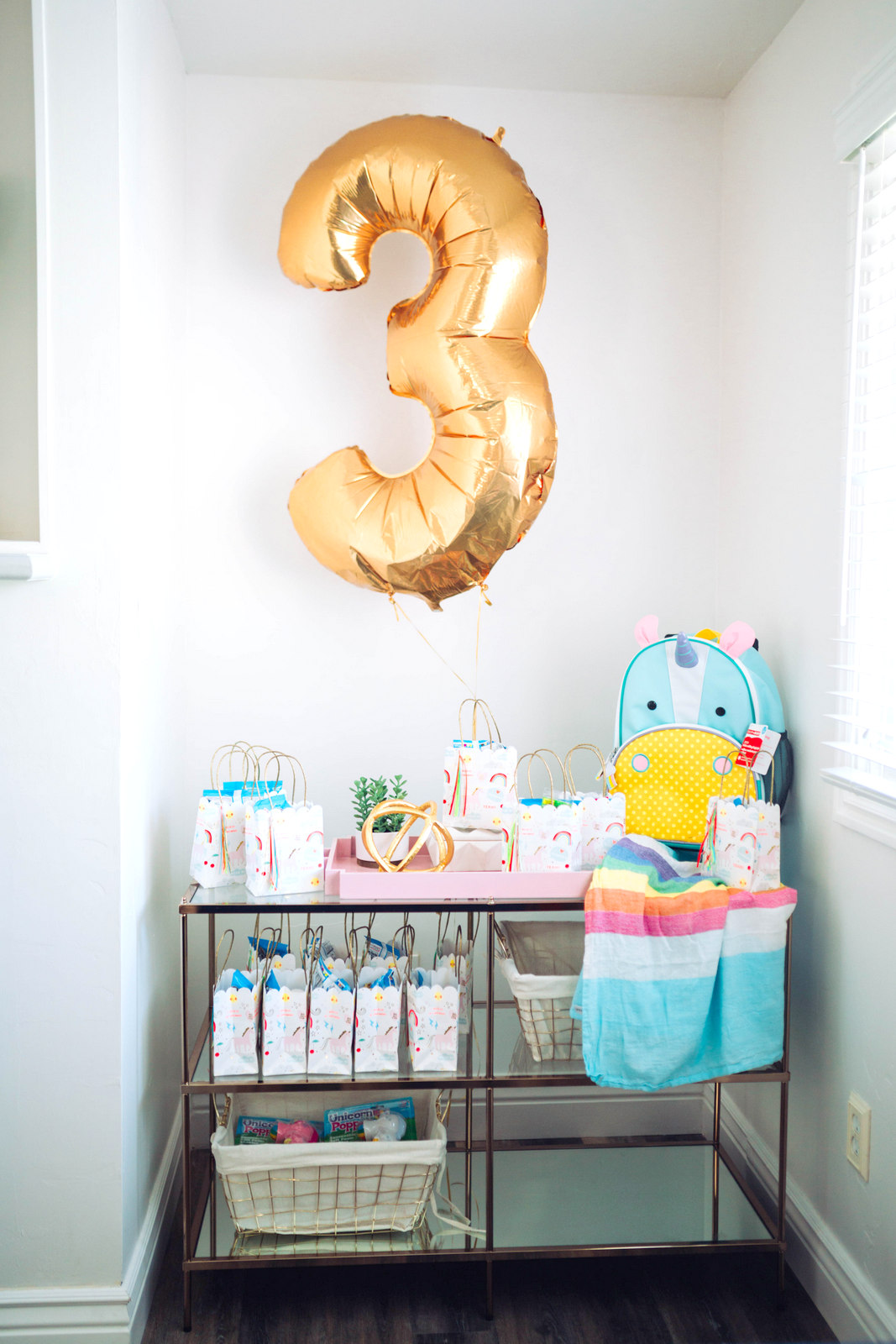 And lastly, I had set up a party favor / prizes station for the guests as they were leaving. We served Lick'd Pops popsicles in a variety of flavors (in colors to go with the party theme) so that guests could have a cool refreshment. I filled some unicorn themed goodie bags with a variety of snacks and unicorn poop (ha!). And then for some of the older kids, unicorn poppers were a real hit and the Skip Hop line of unicorn items was actually a perfect fit colorwise with our theme so those made great game prizes as well!
Party Details:
Decor:
Invitation: Qtpaperie
Backdrop Stand: Amazon
Crepe Paper Streamers: Zurcher's
Unicorn Banner: Zurcher's
Colored Balloons: Amazon
Gold "3" Balloon: Zurcher's
Ombre Plates: Zurcher's
Cupcake Toppers: Zurcher's
Unicorn Straws: Target
Ride on Unicorn: Land of Nod
Small Plush Unicorns: Land of Nod
Rainbow Suitcase: Shop Sweet Threads
Pink Letterboard: AlphaBoardCo
Gold "Vivian" sign: Ngo Creations
Rainbow Blanket: Little Big Bee
Food:
Cake/Cupcakes: Sugar Rush
Small Desserts: Summertime Sweets
Popsicles c/o Lick'd Pops
Games/Favors/Prizes:
Favor Bag: Land of Nod
Rainbow Twisty Candy: Amazon
Unicorn Poop: Amazon
Unicorn Poppers: Amazon
Unicorn Suitcase: Skip Hop
Vivian's Outfit:
Dress: Pleaides Handmade
"3" Party Hat: Little Blue Olive
My outfit:
Dress: Eliza J
Unicorn from Utah Pony Party
Photography by Shailynn Photo and Film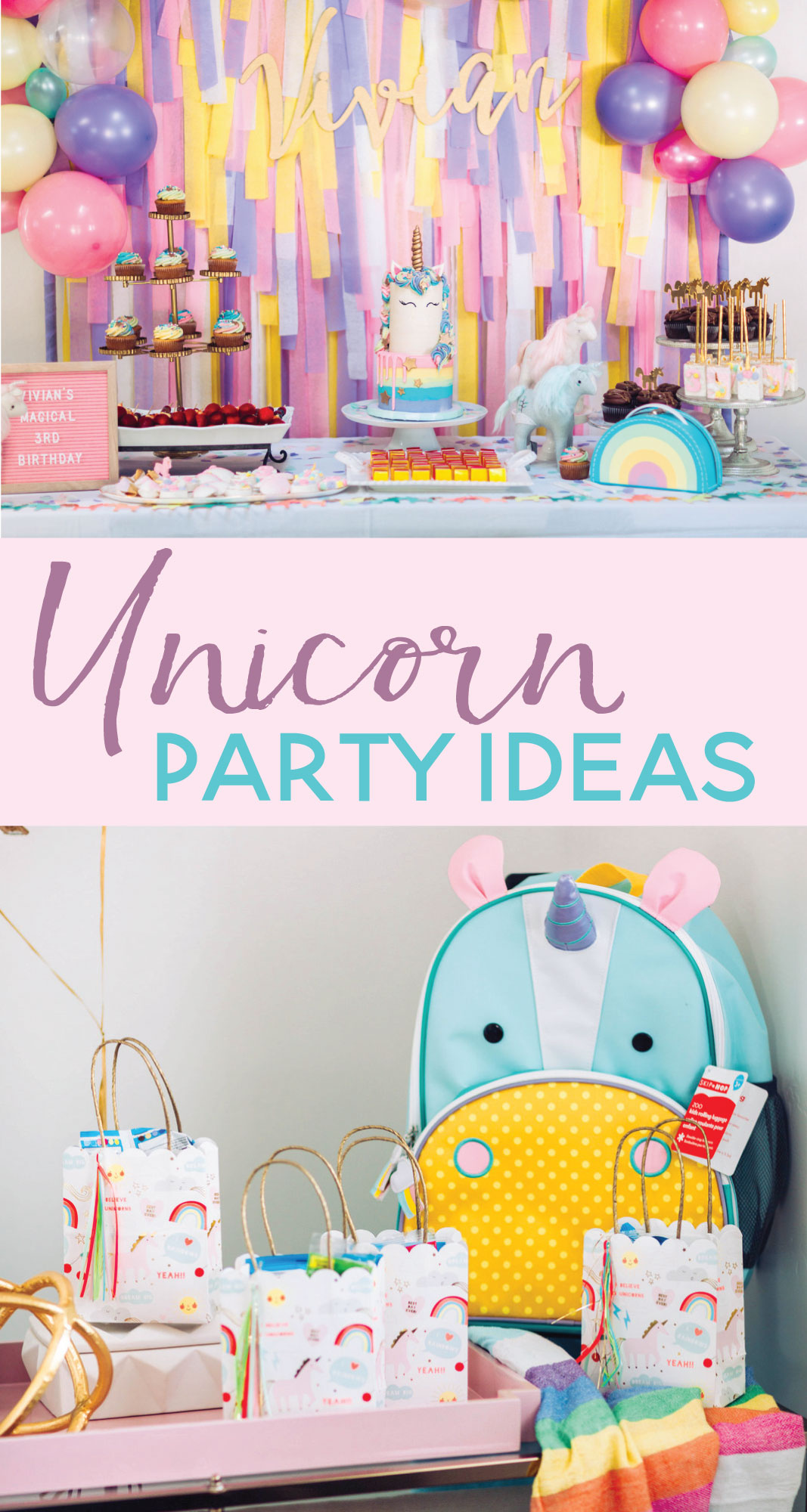 Also wanted to give a thank you to my friend Jenni for helping me with the backdrop and decorations!! If you are in Utah and need someone to help with party planning, decorations, or even decorating your Christmas tree, she is your girl!
See Vivian's 1st birthday garden party here and her 2nd birthday boho party here!